Considering that many of us spend over half of our waking hours sitting down, if you suffer from back pain, the right ergonomic office chair can be a godsend in managing your pain and relieving tension. The question is, just what is a good office chair for back pain?
The fact is, almost every ergonomic office chair claims to help with back pain, but that doesn't make it true.
Unlike most guides on the web, in this post, we actually spent hours pouring over the latest research to find out scientifically just what the best office chairs for back pain should look like. Is a high back really better? What about an office chair that reclines versus one with a 90 degree straight back? Just how important is lumbar support in back pain relief? And what about the material? We look at all the evidence before coming up with our list of 6 of the best office chairs that fit the bill, or ones that actually help with lower and upper back pain.
Straight Back or Reclining Office Chair?
When it comes to back pain relief, especially lower back pain, the angle of the backrest is critical. There are many chairs on the market that help promote good sitting posture, by either going with a straight 90 degree backrest, or even a backless design, such as a yoga ball or kneeling chair. What's good for your posture and core however may have the opposite effect on your back pain.
Numerous studies back an office chair that reclines as the best for people with lower back pain. Researchers studied various sitting positions and examined the amount of pressure each posture exerted on the participants' discs. The result?
As you can see, sitting in an upright 90" position (such as with a kitchen chair or a non adjustable office chair) produced almost 40% more pressure on the discs than sitting in a reclining chair with the backrest at a 110 degree angle. Standing produced the least amount of pressure on your vertebrates in the various postures examined, which is why if you suffer from lower back pain, it's essential to get up and move periodically.
For people with back pain- especially lower back pain- the evidence supports an even more reclined sitting angle to reduce the stress and pressure put on the discs, all of which can exasperate your condition. Using MRI scans, Canadian researchers concluded that the ideal biomechanical sitting position to reduce spinal pressure and discs wear is in a chair with the backrest reclined 135 degrees, with your two feet planted on the floor. Based on this groundbreaking research, an office chair with a robust reclining angle should be the top priority for people with upper or lower back pain.
Conclusion: An office chair with a large recline angle is best for back pain.
High Back or Low Back?
There isn't a lot of research on the height of an office chair's backrest in relation to back pain relief, though it's not hard to draw some logical conclusions.
Given that a 135 degrees reclined backrest is best for back pain, it stands to reason a high back chair with a good headrest will offer more support and comfort at that angle. As we recline, tremendous stress is put on the neck and head- the last thing you want is a low back chair that leaves your neck dangling at that position.
Image Credits: Dr Kenneth Hansraj
According to Dr. Kenneth Hansraj, a person's head on average weighs around 12 pounds at a 90 degree upright angle, though increases to 40 pounds in weight (4x the force) at a 30 degree forward angle (like staring at your phone). And while there is no similar data for the head in the opposite angle, one could imagine the force to be similar.
Conclusion: Based on these analysis, in our opinion a high back office chair that supports your upper back and even neck is better than a low back chair for people suffering from back pain.
Does a lumbar support in a chair actually help?
There is a lot of anecdotal evidence that lumbar support, especially adjustable ones, does help relieve strain and provide relief for back pain. Research by Herman Miller, a US manufacturer of high end office chairs, found that the optimal pressure distribution in a chair at the reclined position should be in the lumbar and thoracic areas. In other words, a chair with adjustable lumbar support that cushions the lower back is vital for long lasting comfort, especially at the reclined position and for people with lower back pain.
We recommend looking for chairs that offer adjustable lumbar support whose location and firmness can be adjusted, as each individual's body type is different, and being stuck with fixed lumbar support can be worse than not having one at all. Research finds that external lumbar support pillows with a cut out design improved the comfort in both healthy individuals and those suffering from lower back pain. This can be another option to consider.
Conclusion: Lumbar support in an office chair- especially adjustable ones- can help increase comfort and reduce lower back pain.
Leather or Mesh?
Finally, we arrive at the material of the office chair in relation to back pain. Does it have any bearing?
As you might have already suspected, we failed to find any studies that linked a particular fabric type to relief of back pain. The type of material to go with mainly comes down to personal preference- mesh is more breathable, easier to clean and in general longer lasting than faux or bonded leather, though the later is softer and more comfortable to the touch. Real leather is the most luxurious and durable of the bunch when proper care is given.
Conclusion: Choose the material you're most comfortable in, especially for a prolonged time.
Best Office Chairs for Back Pain
Based on all the available data out there on the types of features in an office chair to look for to relieve back pain, here are our top 6 handpicked best office chairs for back pain.
| | |
| --- | --- |
| Max Recline: | 135 Degrees |
| Recline features: | Tilts and reclines (lockable in 3 positions) |
| Headrest Adjustments: | Up/Down and Pivots |
| Capacity: | 250 lbs |
| Weight: | 46.7 lbs |
If you suffer from back pain, you know how excruciating sitting can be. The Komene Ergonomic Office Chair combines a high degree of reclining, an active lumbar support, robust neck support, plus an overall premium build quality to take the crown for the best office chair for back pain in 2019. It shares many of the same back-saving features as its luxury brand counterparts — but at just under $300 is less than half the price.
Unlike a one-size-fits-all chair that forces you to conform to it, practically every part of the Komene Office Chair is fully customizable. The long curved backrest cradles your entire spine, from neck to hips. The adjustable tilt lets you tailor the chair to your exact needs—from an upright 90 degrees to the expert recommend 135 degrees that puts the least amount of pressure on your spine, and every angle in between.
For those with lower back issues, the chair offers self-adjusting lumbar support in the form of a separate, pressure-sensitive mechanism that responds to the amount of pressure you apply. It is one of the most versatile we've seen in an office chair at this price range. As one owner with back pain said, the lumbar support is truly great for him.
Back and neck pain usually go hand in hand, and the Komene has you covered on both basis. The large headrest tilts to support your neck at any angle as you lean back. Combined with the versatile 3D armrests that moves in all four directions, and it's hard to find a chair that provides better full body support at this price range
If you're a back pain sufferer, there's little not to like about the Komene Office Chair. It keeps you comfortable, protects your back, and allows you to focus on your work without being distracted by twinges and aches.
Pros:
Perfect 135 max recline as suggested by research
3 piece backrest with pressure sensitive lumbar to provide constant lower back support
Robust headrest that is both height and angle adjustable
Aggressive waterfall edge seat to reduce pressure beneath the thighs
Cons:
All mesh design not as soft as fabric or leather for long term sitting
Some users report issues with the hydraulics after a few months
| | |
| --- | --- |
| Max Recline: | 138 Degrees |
| Recline features: | Tilts, reclines (lockable), and rocks |
| Headrest Adjustments: | Up/Down 4 Inches and Pivots |
| Capacity: | 340 lbs |
| Weight: | 49.6 lbs |
If money isn't an object, the X Chair X4 exemplifies the perfect office chair for back pain. Besides the absolutely gorgeous design and opulent cognac leather, two outstanding features that will make your back feel like a million bucks are the dynamic lumbar support and the SciFloat Infinite Recline. Each feature serves a distinct function in soothing your back and reducing tension throughout your body.
The X Chair comes with dynamic variable lumbar, or DVL. Unlike other active lumbar support whose tension and angle needs to be adjusted each time you change sitting postures or recline angles to feel comfortable, DVL automatically caters to your back as you recline, sit up straight, or even pivot. The end result is constant back support as you sit throughout the day.
For sufferers of back pain, an office chair that reclines 135 degrees is vital for reducing the pressure placed on your discs. The X4 Chair reclines all the way back to 138 degrees, but what separates its recline feature from the rest is what the manufacturer calls SciFloat Infinite Recline. In a nutshell, with the simplicity of a dial, you can tilt, rock, and recline the backrest, bringing constant micro movements to your body as you work. The dual spring mechanism keeps you from feeling as if you are falling when leaning backwards.
Rounding up the list of noteworthy features are the 4D armrests that can pivot inwards to form a comfortable "v" shape, and get this, a backrest that lifts up and down to align with your neck and back based on your height. This is truly one adjustable office chair whose only caveat is unfortunately the high price tag (over $1,300).
Pros:
Recline angle of 138 degrees exceeds what research tells us is the best angle for back pain sufferers
One of a kind dynamic lumbar support that pivots and auto adjusts based on your posture for just the right amount of lower back support regardless of posture.
SciFloat Infinite Recline enables the backrest to tilt, rock and recline with ease to totally free your back from excess tension
Adjustable seat depth to cater to people with varying thigh lengths
Soft and opulent leather with 4 different color choices (cognac, white, red, and black)
Cons:
Expensive compared to other chairs on list (over $1,300)
| | |
| --- | --- |
| Max Recline: | 150 Degrees |
| Recline features: | Tilts and reclines (lockable) |
| Headrest Adjustments: | Up/Down and Pivots 30 degrees |
| Capacity: | 300 lbs |
| Weight: | 38.8 lbs |
Hbada has always impressed me with the design of their chairs. The exoskeleton frame isn't just modern looking, but downright futuristic. But looks do little to alleviate back pain unfortunately, sensible features do. And when it comes to that the Hbada Reclining Chair does a reasonable job, especially in the sub $200 range.
To start, the range of recline on the Hbada more than exceeds the recommended 135 degrees that minimizes strains on your back. Set the backrest to 135 degrees while you're reading, or all the way back 150 degrees to let you completely extend your body and relax from time to time. For people with back pain, an office chair with a versatile recline can greatly help relieve tension in different areas of the back.
The lumbar support on the Hbada is decent, and is height adjustable to target the exact area of your back that needs more cushioning. Some owners complain of it being a little stiff however, and hard to move up and down. Compromises like these are to be expected however in a budget office chair.
With a 1 year hassle free guarantee, those looking for a ultra modern budget office chair that's kind on your back can do much worse than the Hbada Office chair.
Pros:
Sleek exoskeleton design that will enhance any room it's in
Steep 150 degrees recline with syncro tilt
Height adjustable lumbar to target any area in your lower back
Cons:
Armrests not height adjustable on its own- lowers as seat reclines
Seat depth not adjustable
Backrest doesn't rock, only recline and tilts (with tension control).
| | |
| --- | --- |
| Max Recline: | 120 Degrees |
| Recline features: | Tilts, reclines (not lockable), and rocks |
| Headrest Adjustments: | Up/Down 5 inches and Pivots 90 Degrees |
| Capacity: | 400 lbs |
| Weight: | 78 lbs |
The Steelcase Gesture is a high end ergonomic chair often talked about in the same breath as the famous Herman Miller Embody chair. We reviewed both chairs last year and found them extremely comfortable, though when it comes to an office chair that specifically helps with back pain, the trophy has to go to the Steelcase Gesture.
What differentiates the Gesture from its Embody counterpart is the choice of a high back plus a headrest. Both of these components as mentioned at the beginning of this article are vital for long term comfort for someone suffering from back pain.
In terms of lumbar support, Leap uses what it calls LiveBack technology that spans the entire lower back of the backrest. Using special materials, the lumbar flexes as you change postures to conform to your back. One owner of the Gesture who was in a car crash and couldn't sit in a regular chair for over 15 minutes says the Gesture has completely changed that. He even slept in it for 3 hours without pain. The lumbar requires very little adjustments to feel comfortable- like a second back it basically bends and contours as you shift your back, which is especially helpful for people with back pain.
The headrest on the Gesture is also a huge deal when it comes to relieving neck tension and stress. The design is especially robust, and moves up/down 5 inches and forward and backwards 4 inches to meet your head in any posture. As one owner said, with the headrest, it takes the Gesture chair from good to amazing.
About the only real shortcoming of the Gesture is the rather shallow degree of recline, at 120 degrees. A "Backstop" paddle sets how far back the chair reclines as you lean back, though it will always snap back to a relatively upright position when no force is applied. The chair was designed as a serious productivity chair, and not a reclining chair. In general however, many owners of the Gesture with back or neck pain have found the chair a godsend in helping them work pain free throughout the day, a testament to the chair's solid set of ergonomic features.
Pros:
Ships pre-assembled, save time and energy
Flexible lumbar that contours to your back at all times, and requires little adjusting
Superb 360 armrest that pivots and swirls to support your upper limbs in any position
Adjustable seat depth to cater to people with varying thigh lengths
Comfortable blend of fabric that many people may prefer over mesh
Cons:
Chair only rocks and tilts, but doesn't lock into a reclined angle
High price compared to most other chairs on the list.
| | |
| --- | --- |
| Max Recline: | 120 Degrees |
| Recline features: | Tilts and reclines (lockable) |
| Headrest Adjustments: | Up/Down and Pivots |
| Capacity: | 330 lbs |
| Weight: | 45 lbs |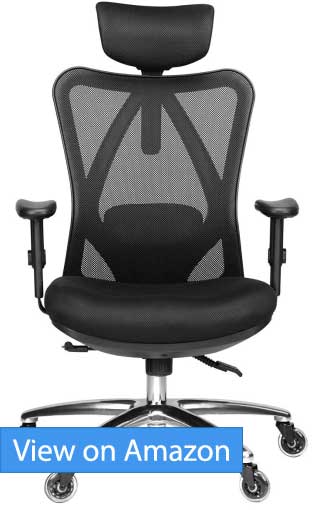 Budget office chairs are usually a hit and miss, though the Duramount manages to get a lot of it right with this ergonomic chair. Think of it as a stripped down version of the first two chairs above, with all the core features of an excellent chair for your back at an accessible price below $250.
Adjustable lumbar support? Check. The Duramount Chair's lumbar support can be adjusted for firmness, besting most chairs in the same price range. Combined with being height adjustable, and one user said he's finally found a chair that has helped with his chronic back pain.
High degree of recline? Sort of. The chair reclines all the way back to 120 degrees. A knob beneath the seat lets you adjust the tilt tension, an important feature in relieving stiffness in your back.
Adjustable headrest? Check. Like all chairs featured in this guide, the Duramount Ergonomic Chair comes with an independent headrest to cradle your neck as you recline. Measuring 12″w x 6″h, it is both height and angle adjustable for total head support.
Overall the Duramount is a decent ergonomic office chair, especially for the budget conscious. It's well made, comes with a seat that is thick and uncharacteristically comfortable for a mesh seat, with a large lumbar support area that many cheap chairs lack. In fact, the Duramount is out top pick for the best office chair in general under $200.
Pros:
Decent lumbar support with firmness and height control
Comfortable seat with extra thick cushioning
Unique clothes hanger at the back of the backrest
High quality rollerblade caster wheels that glide through hardwood and carpet surfaces with ease.
Cons:
Seat depth not adjustable
120 recline angle doesn't meet the recommended recline angle
Backrest doesn't rock, only recline and tilts (with tension control).
| | |
| --- | --- |
| Max Recline: | ~135 Degrees |
| Recline features: | Tilts, reclines (lockable), and rocks |
| Headrest Adjustments: | Up/Down and Pivots |
| Capacity: | 250 lbs |
| Weight: | 66 lbs |
In 2018 we named the Ergohuman the "best office chair for back pain" for a good reason. It shares many of the same back saving features as the X4 Chair, though in a more imposing, all mesh and metallic frame. If you prefer the breathability of mesh and a chair that will probably outlast your previous 3 chairs combined, the original Ergohuman is an awesome choice. About the only thing we didn't like was the mesh seat, which the LEM4ERG leather version fixes with a leather seat instead.
Like many of the best chairs for back pain, the Ergohuman LEM4ERG s backrest consists of 3 pieces that contours to different sections of your back for personalized support. The lumbar support is spring loaded to provide just the right amount of resistance for your lower back as you sit.
I love that the entire backrest can be moved up and down to conform to any body height. With the proper adjustments your entire back is supported, including your neck and head thanks to the ultra wide headrest. As one owner says, there "is not one curve in my body that isn't cradled perfectly" with the Ergohuman.
Two of my favorite features on the Ergohuman are the "free tilt" and adjustable seat depth features. The former basically lets you rock back and forth the entire distance of the chair's maximum recline amount (which is around 135 degrees). Combined with a seat that easily slides in and out to give your thighs and lower back more breathing room when needed, you will constantly be moving in this chair, keeping you alert and your blood circulation flowing.
The Ergohuman LEM4ERG addresses the main complaint I had with the original all mesh design of the chair, specifically, the mesh seat that lacked any padding around the edges. With the LEM4ERG version, the seat is now made of firm but comfortable foam and real leather, with a cut out for your thighs and buttocks to relieve pressure. Overall it's a big improvement over the original.
Pros:
Strong metal frame and durable mesh that will last for years
~135 degrees maximum recline angle for optimal back pain relief
Backrest tilts, rocks and reclines with ease to totally free your back from excess tension
Adjustable seat depth to give your back or thighs more breathing room
Lifetime limited warranty
Cons:
Some owners complained of faulty armrests upon arrival
Conclusion
In conclusion, while the above chairs may help alleviate pain as you sit, lets's face it, no ergonomic office chair has ever cured back pain. Strengthening your back muscles and proper exercise, a healthy diet, reducing stress and getting adequate sleep are some of the much more important things doctors recommend for addressing back pain at its roots.