Last updated Dec 17th, 2019
Picking an ergonomic office chair when you're on a tight budget is fraught with potential pitfalls. Yes you may be saving money in the short term, but how long can you be assured the chair will last? Will it even be comfortable and ergonomic to use while it's still working?
In this buyer's guide we examine and review the very best ergonomic office chairs under $200. We do all the homework for you so you don't have to, by picking only the highest quality budget chairs you can rest easy in. The office chairs that have made the list all have exceptional ergonomic features for their price, made of durable materials that won't become a dead weight in a few months, and decent warranty to top it all off.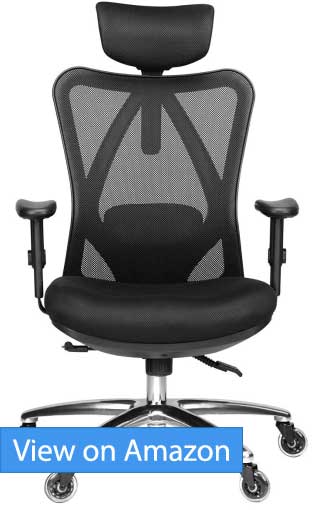 Bottom line: Bi directional lumbar support, headrest, and rollerblade style castor wheels make this the best office chair in the $200 category.
Yes the Duramont Office Chair does cost slightly over the prerequisite $200 or under theme of this guide, though I'd be remiss not to include it as part of my recommendations. In fact, the Duramont is my pick for the very best ergonomic office chair you can get for around $200 dollars. Between the high quality metal frame, ultra thick seat cushion, and rollerblade style castor wheels you usually have to shell out $40 or more to purchase, this is a chair that you can easily expect to spend $300 or even $400 for.
The gentle "s" shape of the backrest contours to the shape of your back. I love the lumbar support on the Duramont- both it's height and firmness can be adjusted, with the later using a dial. One owner of the chair said the adjustable lumbar was so comfortable, he actually fell asleep in the chair shortly after sitting down. The backrest is made of breathable mesh, which will be appreciated for sure on hot sweaty days.
The headrest on the Duramont is equally ergonomic, and can be angled to contour to the shape of your neck, besides being height adjustable. Combined with a backrest that reclines up to 120 degrees backwards and lockable, this chair can easily let you work, relax, and even take a quick nap in between.
Rounding up the list of great features are the height adjustable armrest, plus thick cushions that shouldn't sag after just a few months. A few users complained that the cushion is a little too firm, though for most people, this will be one of the most comfortable and ergonomic office chair you can get in the $200 price range. The 90 day unconditional money back guarantee doesn't hurt either.
Pros:
Stellar lumbar support that is both height and firmness adjustable
High quality steel frame that supports up to 330 pounds weight
Premium rollerblade castor wheels that glide over all types of surfaces easily.
Breathable mesh backrest and thick padded seat
Cons:
Slightly over the $200 or below requirement
Cushion a little too firm for some people
2. Smugdesk Office Chair– Runner Up for Best Office Chair Under $200
Bottom line: Robust lumbar support that provides excellent thoracic support to eliminate back pain.
The Smugdesk Ergonomic Office Chair comes with tensile strength mesh, a rotating headrest, and a 3 tier backrest to create a decent all around office chair. Add dynamic lumbar support that flexes to hug your lower back regardless of your position, and you have a budget office chair under $200 that rivals our #1 pick above, especially if you need more aggressive back support.
The lumbar support of this Smugdesk Chair is the most pronounced you will find in this list. For people with back pain or a higher curvature in their spine that find regular lumbar support inadequate, this is the chair to get. One owner of the chair commented it's such a relief to finally say goodbye to his lower back pain after using this chair.
Another highlight of the Smugdesk chair are the armrests. Apart from being height and length adjustable, they also pivot inwards. If you're often typing on the computer, adjusting the angle of the armrests are highly beneficial for supporting your forearms.
With a robust back and headrest, highly pronounced lumbar support and waterfall shaped seat, the Smugdesk office chair is our pick for the best budget office chair under $200, and for people with back pain, our top pick.
Pros:
Superb and dynamic lumbar support that provides constant support for lower back
3D armrests that pivot inwards
All mesh design that keeps you cool during hot days
Highly pronounced waterfall edge to reduce pressure in your thighs
Cons:
Backrest only tilts back 117 degrees
Casters get stuck sometimes, especially on carpet
Bottom line: High end design meets excellent ergonomics in the Hbada Reclining Office Chair.
The Hbada chair could easily be confused for a high end office chair, with its sleek contours and hefty seat frame. The chair is simply gorgeous to look at. And at under $200, it's an incredible buy.
The entire back and headrest of the Hbada is contoured to match the natural shape of the human body, providing long term comfort and excellent ergonomics. We especially love the headrest on the Hbada Chair that is both height and angle adjustable. The headrest pivots 30 degrees left and right to support your head even at an angle.
The highlight of the Hbada chair is the high level of recline. It can tilt back all the way 155 degrees. Combined with the easy to retract footrest, and you have yourself an office chair that lets you fully stretch out or even take power naps in.
The mesh used on the Hbada Reclining Office Chair is breathable. You will find that this provides a better experience when using the chair in the summer months. The mesh is very flexible and will adjust freely to the movement of your body.
There's something to be celebrated about the design of the Hbada chair as well. The white exoskeleton in combination with the black finish creates a truly striking, almost futuristic look that many owners with a keen eye are gleeful over.
Overall with a price tag of well under $200, the bottom line is, the Hbada is a budget office chair with the versatility and style of chairs that cost twice as much.
Pros:
Excellent build quality with good balance of metal and plastic construction
High end, sleek design
Large contoured back and headrest that naturally fits the shape of most people
Lockable recline from 90 -155 degrees with footrest to take power naps in
Cons:
Some larger users found the footrest flimsy
Bottom line: If you find most office chairs too hard on your bottom or back, the Smugdesk Works will blow your socks off.
The Smugdesk Executive Office Chair is an ultra plush, relaxing chair that will have your whole body sink into it in comfort. And it gets better. Unlike many executive office chairs that only rock, the Smugdesk's backrest can also tilt and is lockable (up to 125 degrees), allowing you to find the perfect angle to relax your back.
For people that often complain standard office chairs are too hard on their backs, the type of soft yet contoured lumbar found on the Smugdesk offers an unique solution compared to other office chairs.
The chair is furnished in bonded leather, which is supple and comfortable. We were impressed with the cushioning on the seat, which consist of high density foam that in combination with the leather feels very much like sitting in a leather sofa.
When it comes to adjustability, the Smugdesk functions similarly to a regular office chair. The height and angle of the chair can be modified via a conveniently located side lever. The arm rest can also be heightened up to 24″ off the ground. For good mobility this chair is fitted with polyurethane casters that won't damage hardwood floors.
Perhaps the best endorsement of the Smugdesk Executive Office Chair comes from another customer, who received the chair as a gift from her husband. Calling it the best gift she's ever gotten, it took her only 15 minutes to put together the chair, and her constant back and leg pain is now gone when she crafts.
Pros:
Deep layered cushions and armrest for people that find standard office chairs too stiff for the bottom or back.
Robust backrest that both rocks and tilts, and is lockable
Smooth bonded leather for a luxury, executive look.
Cons:
Armrest is only height adjustable
Bottom line: A heavy duty, sturdy office chair that won't let big and tall users down.
For a comfortable ergonomic office chair that works well for large users (such as one owner that measures 6'5″ and 300 lbs), the Sadie chair is probably your best bet for under $200. Everything about this chair is king size, from the seat dimensions to the extra thick cushions.
With a seat width and depth of 22" and 20" respectively, the Sadie chair is wide enough to comfortably seat large users. In fact, multiple happy owners of the Sadie measure 6'5″ and weigh anywhere between 200 to 300 lbs. The common sentiment is that this is the Sadie and extremely roomy and comfortable.
We're also a big fan of the backrest on the Sadie. Firstly, the all mesh design is firm and supportive even under pressure. It's also extremely breathable, something big users will especially support. And finally, the lumbar support is excellent for a budget office chair; it is adjustable and can be raised or lowered to properly target the area of your back that needs support.
Overall the Sadie Office Chair really impressed as a a chair catered to big and tall users while still keeping the price well below $200.
Pros:
Generous seat and backrest dimensions that even big and tall users will find comfortable
Adjustable lumbar support that raises and lowers.
Comfort seat with ultra thick cushion that's easy to clean
2 year limited warranty with stellar customer support
Cons:
Some users complained of missing parts on arrival
Back seat doesn't lock when reclined.
Bottom line: Lightweight ergonomic task chair with flip up arms for well under $200.
The Xishe Task Office Chair is a mid back office chair that strives for minimalism while still remaining ergonomic and comfortable for long sessions of sitting. It weighs in at just 28 pounds and is one of the lightest ergonomic chairs that we have ever reviewed. A light chair makes it highly portable to move around from room to room at the drop of a dime.
Gone is the headrest, which while in general we recommend, the fact is, not everyone uses it. Depending on the type of work you do, your upper body may frequently be leaning forward, making a headrest pointless. You know if you fall into that group if you've never missed the headrest on your existing chair.
The two arm rests on the Xishe Chair flip up for easy accessibility, and also makes it easy to use the chair to shuttle large things around. This is a huge plus in tight home and office settings.
The butterfly shaped lumbar support on this task chair is height adjustable, though the range is rather limited, at 1.2″.
Most owners of the Xishe task chair have found the chair to be incredibly comfortable despite the minimalist design. There is an abundance of padding on both the armrests and the seat. And speaking of the seat, its highly contoured shape plays a big role in providing that comfort, by minimizing pressure on key pressure points as you sit.
The Xishe task chair has a 300 pound weight rating. The hefty rating speaks to the build quality of the chair. Throw in a 5 year warranty including 30 day money back guarantee, and you know you're in good hands.
At the end of the day, the Xishe chair exemplifies what a good task chair should be. It's lightweight and portable, durable, ergonomic, and just as importantly, very easy to put together. The fact that it costs well under $200 is just icing on the cake.
Pros:
Solidly built with less moving parts for durability
Seat recline angle can be locked to maintain desired tilt
Thick comfortable seat foam
Really simple assembly
5 Year limited Warranty instead of the 1 year you see in other chairs on this list
Cons:
Armrest height not adjustable

No lumbar support adjustment

Only supports up to 250 pounds
Bottom line: Well rounded office chair in the budget category, with adjustable head and arm rest covered in a mesh breathable material. Also comes with an unique hanger for clothes at the back.
The Topsky Mesh Computer Ergonomic Chair with its sturdy back frame and high density mesh cover is a reliable bet for a great budget office chair.
Despite this being a budget chair (under $200), the Topsky is surprisingly versatile from an ergonomic standpoint. It comes with a height adjustable 3D headrest that can be moved up or down depending on your height, and can also be angled. The lumbar support can be pushed inwards or outwards to contour to your back more precisely, a rare feature for a budget office chair. And finally, the thick 3.5″ armrest can also be moved up or down at the press of a button.
The Topsky's mesh cover helps regulate your temperature, and is especially appreciated during summer or after you've been sitting for hours on end. The seat cushion with padded foam feels relatively comfortable to sit on.
This chair is 26 inches wide by 24 inches deep by up to 48.5 inches in height. It weighs in at just under 40 pounds.
The Topsky office Chair offers excellent maneuverability, with the chair base and casters that swivel 360 degrees to move around effortlessly, even on carpet.
We found the Topsky solidly built, with no unwanted creaking when sitting on it. The chair supports up to a maximum weight of 330 pounds, though the manufacturer recommends up to 220 pounds for prolonged longevity. The chair fully passes the BIFMA standards, which speaks to the overall quality of the chair. It comes with a 1 year warranty.
Lastly, we'd be amiss not to mention the unique clothes hunger on the back of the Topsky chair. If you're one to just toss your clothes around after you get home or arrive in the office, the hanger is a odd but welcomed addition.
Pros:
Decent build quality with skeletal back frame and breathable mesh cover
Adjustable 3D headrest that moves up/down and angles up to 45 degrees
Adjustable lumbar that moved in/outwards to fit the shape of your back
One of a kind clothes hanger at the back
Support up to 330 pounds weight (220 recommended)
Cons:
Poor assembly instructions
Headrest feels flimsy at times
Why you need an Ergonomic Chair
Our lifestyles now are particularly sedentary given our attachment to computers and other modern technology. Sitting in a chair for hours on end doing your work can lead to all kinds of health problems that you may not even be aware of. Lower back pain is one of the most common ailments in modern society. Can you afford $200 to greatly enhance your posture and decrease your chances of debilitating neck and back pain over time? Can you afford not to?
Which is the Best Ergonomic Chair under $200?
The five ergonomic chairs chosen for this review are the cream of the pop when it comes to budget office chairs under $200. Many ergonomic chairs cost a lot more than that, some with inferior ergonomic features or durability than the five that made our list.
The Duramont Office Chair is an excellent all rounder with very few compromises for a budget chair. We loved the Hbada Ergonomic Office Chair for the cutting edge style that usually costs double or even triple its price tag. The Smugdesk also offers unique benefits that people who find standard office chairs too hard on their back or bottom will really appreciate.