The competition in the budget gaming chairs space is fierce, and that's good news for you as the consumer. With proper research, some cheap gaming chairs are actually quite well made, providing decent adjustments with matching build quality that should last you at least 2-3 years.
In this guide we look at the 9 best gaming chairs under $150 currently on the market.
The Homall luxury edition gaming chair leaves most competing gaming chairs in its price range in the dust when it comes to build quality and comfort. Think of it as the original Homall chair we reviewed and love, but on steroids'.
The Homall Luxury's seat cushioning is a huge upgrade compared to its competitors'. Though still made of memory foam instead of cold cured found in much more expensive chairs, it's a good 5-inch thick. This is much heftier than on other chairs in its price range such as the GT Racing GT099, meaning it should last a lot longer, even for heavier folks.
The Homall reclines up to 155 degrees with an additional tilt of around 20 degrees. This is fairly standard on gaming chairs, and more than adequete to reduce back pressure and really relax from time to time.
We love the footrest on the Homall Luxury, another key differentiator between this and the original Homall model. The armrests on the former can also pivot, supporting your arms better when you're typing or on the phone.
All things considered, it's hard to believe the Homall Luxury costs under $150. This is a mid range gaming chair in most respects, from the amount of padding to build quality.
Pros
Kick out footrest

5″ thick padded seat that should last a long time without depressing.

2D armrests that can pivot (on the original Homall, they are fixed)

Excellent customer support
Cons
5 star base still made of nylon
Seat width of 14″ on the narrow side
The GTRacing GT099 is one of the most popular cheap gaming chairs on the market for a reason. Available in a choice of 9 different color schemes, it appeals to both boys and girls with a sitting experience best described as fun and highly adjustable. Oh yes, and its price tag comes in well below $150 for those wanting to really stretch their dollars.
The backrest on the GT099 reclines up to 160 degrees, which after the 15 degrees rocking enables you to lay virtually flat periodically. To me, this is really relaxing, providing a sort of "zero gravity" experience on a chair that costs less than $100 (at time of writing).
Like most gaming chairs, the GT099 comes with a pair of external cushions to cradle your back and cervical spine during gameplay. The neck pillow is actually height adjustable due to the way it goes through two cutouts near the top of the backrest. This design is superior to ones that use a strap to go over the headrest in my opinion.
You won't find a 5" thick seat on the GTRacing GT099; in fact, it's just adequate at 3.1", consisting of memory foam that is lower medium in terms of firmness. As a result, we wouldn't recommend this chair for heavier folks (over 230 lbs) based on the foam material and seat dimensions of 15" x 20" usable space. However, for the average folk, the seat is surprisingly comfortable I must say based on our testing.
Pros
Robust backrest that tilts and reclines up to 170 degrees
Functional external pillows that are both height adjustable
3D armrests that pivot in and out
Comfortable memory foam padding on seat
Cons
Seat and backrest padding on the thin side
Chair may start to squeak after a while
In terms of price, the GTRacing GT505 just squeaks in, retailing for a penny less than $150 at time of last check. For the increased price, you're not just getting a fabric version of the original GTRacing GT099 version, but an upgraded one in some respects.
Firstly however, let's talk about the upholstery on the GT505. Made of fabric, it feels good to the touch and isn't abrasive at all, providing a type of soothing sensation. Fabric dissipates heat a lot better than most PU leather upholstery, which can be a deciding factor depending on your body type and geography.
Besides the fabric, another major difference between this GT505 and the original GT099 model is the design of the seat itself. Thanks to the absence of high side bolsters in the former, the seat feels more spacious, giving you more room to spread your legs wide apart.
As far as adjustments, you're looking at a backrest that can recline back 170 degrees, and basic 2D armrests similar to those found on the GT505. The seat padding on the GT505 is also around 3" thick though on the firmer side. According to a user, the seat cushion feels much more comfortable after he broke it in.
Pros
Breathable fabric that's really nice to the touch
Wider seat with less intrusive side bolsters that those on the GT099 model
Firm seat padding that should provide better protection from sadding
Cons
The YITAHOME combines eye catching aesthetics with a massaging lumbar pillow to easily make its way into our best $150 list of gaming chairs.
We're huge fans of the visual design of the YITAHOME. It doesn't look like just another gaming chair. The beefy masculine backrest, relatively flat seat plus a perfectly executed two tone color scheme really helps YITAHOME stand out, and in a good way.
The Yita is a pretty big chair with decent build quality, making this sub $150 actually suitable for larger folks as well. It offers a usable seating width of around 17" thanks to the lower profile bolsters. One user that is 6'7″ and near 300lbs found the YITAHOME body construction enough to handle his weight, which is a big endorsement for such a budget chair.
On the Yita, you'll find a USB-powered lumbar massage cushion. It's nothing to write home about, but heck, it's better than nothing. Some owners actually praise the vibrating sensation provided by the pillow as "relaxing", though just bare in mind that if you want a real massage experience, you should only expect to shell out at least $50 for a dedicated lumbar massage pillow.
Overall, the Yita's striking design, decent build quality and roomy seat won us over. It probably will for you too.
Pros
Roomy seat with less intrusive, connected bolsters
Close to 4" of padding in the seat
Visually striking design
Massaging lumbar pillow included
Cons
Casters do not roll smoothly or in unicent
With over 14k reviews and an average 4 star rating (at time of last check), there's no doubt the Hbada task chair is a hit on Amazon. The main reasons? It's really cheap, decently comfortable, and comes with flip up armrests that you didn't know were an asset until you've tried them.
With flipup armrests, the Hbada task chair enables you to easily scoot under a low height desk, create more lateral space for yourself when needed, or to put oversized items on the seat. Armrests in general are good, until they aren't. Hbada takes care of these situations.
With a net weight of just 25 lbs, another strength of the Hbada task chair is its high portability. This is a chair that could easily be moved around without resistance to a different location or room in the house on a whim.
In terms of comfort, the Hbada is obviously no Herman Miller, but it's fairly comfortable, at least for non full 8 hour sitting.
As with many task chairs, don't expect a robust reclining backrest like that on the Homall or other gaming chairs either. But for those who love to rock their chair, the Hbada can tilt up to 30 degrees. And even though you cannot lock the recline angle, it has a tilt tension control knob. Customizing the force required to rock the backrest is a breeze. This might be helpful in relieving spinal pressure after long hours of sitting upright.
Shorter folks will find the Hbada task chair ideally sized for them. With a seat height range of between 16" – 19.75", it's one of the lowest on this list. A user who bought it for his 5'2" wife noted that it is very comfortable for petite individuals.
The only gripe we have with the Hbada task chair is that armrests are not height adjustable. With a height of 27.75", it isn't parallel to the height of most standard 29" tall desks. 
Pros
Space-saving design fits small spaces
Lumbar support for better posture
Ergonomic curved backrest
Soft comfortable fabric seat
Low seat height is great for shorter individuals
Cons
Backrests only tilts and rock, no recline
Fixed lumbar support
Not suitable for taller individuals
Armrest height is less than standard desk height– only goes up to 27.75"
7. PUKAMI Gaming Chair – Best Pink Gaming Chair under $150
A beautiful combination of pink and white colors isn't the only thing the Pukami gaming chair has to offer. The classic racing style chair comes in at an incredible budget for a chair with such decent build quality.
One owner of the Pukami put it succinctly when he said that the chair is way better than he had expected.
Firstly, for people who like to recline their backrest like me, the Pukami allows you to lay completely flat at a a full 180-degrees. Along with a rocking angle of 20 degrees, you're looking at poor man's version of a zero gravity chair.
For a sub $100 chair, the Pukami feels really well put together. All the controls are smooth, and while the amount of padding is just average, it's supportive and doesn't sag for the average weight person.
One shortcoming worth mentioning are the armrests. They are fixed, meaning the only way to adjust their height is to change the seat's height.
Overall, the biggest selling points of the Pukami gaming chair are the cute pink and white color scheme, respectable quality, and tying everything together a bargain basement price.
Pros
Super easy to assemble
Full recline up to 180 degree
Adjustable backrest and a high back
Nice color combo
Extremely comfortable
Cons
You know what's better than gaming chairs to relax into after a long day at work? A much bigger, more spacious gaming recliner! And for that, the Homall recliner is one of the best at the $150 price range.
With a maximum weight capacity of 265 lbs, the recliner fits gamers of different sizes. Users from 200 lbs to 290 lbs have confirmed that it holds their weight pretty well. According to a 5'10" user, the chair is just right.
As a recliner, the Homall recliner excels at supporting your entire body as you sink into the chair. The robust recline angle combined with a retractable footrest allows you to lay virtually flat while supporting you from head to your lower legs. You could even roll on your sides. The overall comfort can really be a step up from most office and gaming chairs.
The Homall recliner chair offers a built-in lumbar support. The massage feature is located in the lumbar area, which is mainly just vibrations.
With a maximum weight capacity of 265 lbs. According to a 5'10" user, the chair is just right for him . But for taller users, your feet might dangle in recline mode.
The main issue with the Homall recline chair is its lack of breathability and fixed lumbar support. PU material doesn't fare well in humid weather, so you might get a bit sweaty on your back after long sitting sessions. The lumbar support is fixed as well, so you can't adjust it or choose to not use it.
Pros
Super comfy
Pouches on both sides
Reclines fully with retractable footrest
Comfort
Adjustability
Support
Cons
Not suitable for over 5'11
Lumbar support isn't adjustable nor removable
PU leather gets sticky quite quickly
If you're gaming with a console, a typical gaming chair might be too far off the ground for your eyes to align properly with the TV. Pedestal gaming chairs are your best bet in this case. For that, the X Rocker is one of the most stylish yet feature rich options in the $150 range.
One of the features that gives the X Rocker an edge among competitors is the 2.1 wireless integrated sound system. If you're looking to avoid having to wear headphones all day, this feature is a must have. The headrest mounted speakers offer an immersive experience and clear audio. Besides, with no cords or wires to tangle with your feet or other components of the setup, you can game without the hassle of cable management.
Another thing to consider on the X Rocker is its attention grabbing design. We love the bold black, red and white color scheme. The foldable backrest is another awesome touch that makes storage and moving the X Rocker a lot easier.
You get functional neck and lumbar support to reduce pains and aches. The padded armrests add more comfort, but they're fixed so you can't adjust them. And though the X Rocker doesn't recline, there's a knob under it to tilt it a bit when you want to lean back.
During our research, we found out some users confused the X Rocker's wireless connectivity with Bluetooth. The X Rocker doesn't have Bluetooth connectivity, but it features a transmitter that you can connect to the headphone jack on your TV. You can also connect it through the aux plugs with the included transmitter.
The Falcon pedestal chair is a no brainer when you think of a budget pedestal gaming chair. It offers multiple features for your gaming needs– a sleek design, inbuilt audio system, and good back support for extended gaming periods. If that's not enough, the X Rocker is foldable, allowing for easy storage and helping you save space. Whether you're a professional or casual gamer, streamer, or need a pedestal chair in your office, the Falcon offers versatility.
Pros
Decent comfort
Sleek design and color scheme
Wireless sound system
Padded armrests
Sturdy pedestal base with swivel
Foldable for seamless storage
Compatible with most wireless systems
Cons
No Bluetooth connectivity
Fixed armrests
Chair height is non-adjustable
What to Look for in a gaming chair under $150
Buying a cheap gaming chair can be a challenge, as you don't want to end up with a chair that breaks apart after just a few weeks. To make your buying decision easier, we've compiled a list of important factors you can't afford to overlook if you want a gaming chair that will give you more bang for the buck.
A Sturdy Base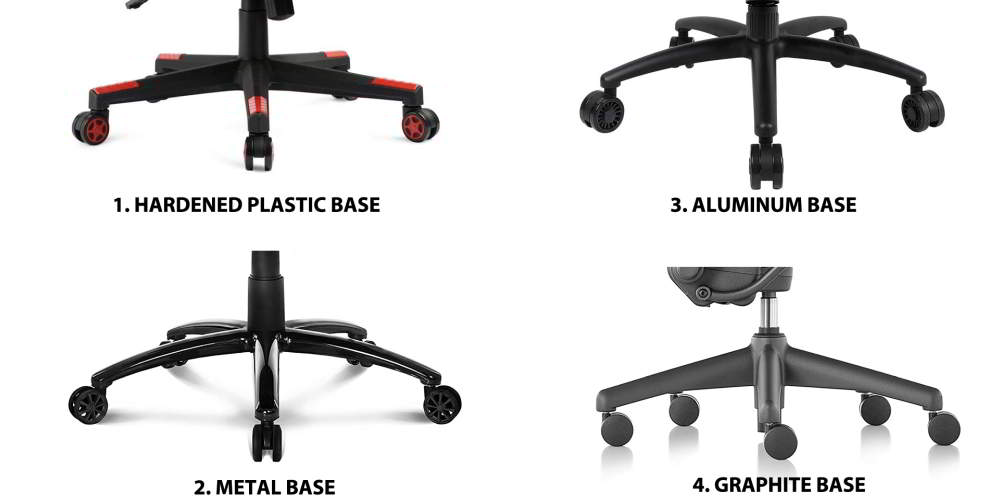 You want your gaming chair to have a strong foundation. At this price point, most gaming chairs are typically made of nylon. But that's not necessarily an issue if it has passed . A quality nylon base can usually safely handle at least 250 lbs. If you're well in excess of that weight, it's wise to spend extra cash on a more durable metal or aluminum base. And while most manufacturers will list a maximum weight limit, it's best to check buyer and expert reviews to confirm the actual capacity.
Back and Neck Support
Both neck and lumbar support are important features to consider as well. Improper seating due to poor back support results in backache and neck ache. The good news is, gaming chairs by design come with a high back and decent lumbar and neck support. Nonetheless, check user reviews to see how those features really live up. Are the pillows too soft or hard? How protrusive is the external pillows Can the neck pillow move up or down?
Cushion and Upholstery
Another aspect to pay attention to is the thickness and quality of the padding in the seat. It's no surprise that budget chairs tend to have thinner cushioning, though the type of foam used can be the main deciding factor here.
Very cheap memory foam will quickly sag in just a few months, while higher quality ones can last anywhere between 12 – 24 months before showing marked signs of depression. The gold standard is cold cured foam, though unfortunately that is found on much more expensive gaming chairs. If you're a heavy person over 300 1lbs, our advise is to always go for cold cured foam.
You should also check the upholstery. Most gaming chairs at this price point use synthetic PU leather, which isn't an issue in itself. However, cheaper, poor-quality leather can start to crack and peel after a few months of use. Read customers' feedback to see if this is a potential issue.
Warranty
Lastly, whenever purchasing a cheap gaming chair, always prepare for the unexpected. This means looking up both the return policy and warranty of the chair. Test out their support by emailing them a couple of questions, even posing as a customer to see how accommodating they really are once the product it out the door.