The gaming chair market is like a pyramid, with much of the market concentrated on the low end with chairs that cost $200 or even $100. The question is, is there any point to investing more money in a gaming chair?
AKRacing thinks so, and that's the question I'll be answering in this hands on review of their core series chairs. I'll also be comparing them with a competitor and AKRacing's other models to help you make the most informed decision.
AKRacing Brand Background
AKRacing is an American gaming chair company with its roots in automotive seats before expanding to gaming chairs and furniture in 2001.
Unlike many gaming chair brands that outsource the design and actual production to 3rd party factories to cut cost, AKRacing controls their entire manufacturing process. All of the design, production and quality control of their chairs are done in house. This generally leads to a more consistent, higher quality product, albeit at a higher cost to the consumer..

AKRacing Core Series at a Glance
The AKRacing Core sits at the lowest end of the AKRacing lineup. Even still, prices start at around $280, which is almost double that of one of my favorite budget gaming chairs, the GTRacing chair.
Here is a quick overview of the 4 models in the AKRacing core lineup: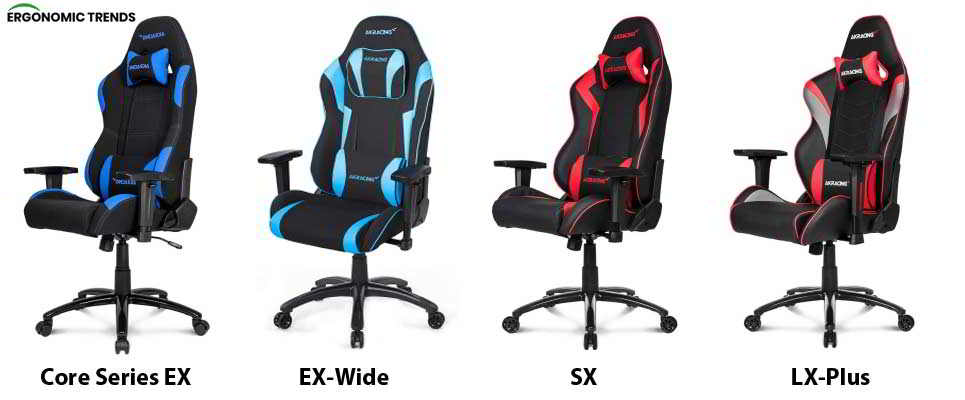 | | | | | |
| --- | --- | --- | --- | --- |
| | Core EX | Core EX-Wide | Core SX | Core LX Plus |
| Seat Dimensions (excl bolsters) | 15.5" W x 19.75" D | 17.3" W x 19.75" D | 15.5" W x 19.75" D | 15" W x 19.3" D |
| Seat Height (ground to top of cushion) | 18" – 21.5" | 18" – 21.5" | 18" – 21.5" | 19.1" – 22.2" |
| Seat cushion thickness | 4.25" | 4.25" | 4.25" | 4.7" |
| Backrest Dimensions | 21.25" W x 32.75" H | 22.6" W x 32.75" H | 21.25" W x 32.75" H | 23.5" W x 34.25" H |
| Recommended Height | 5'3″ – 6'3″ | 5'4″ – 6'4″ | 5'3″ – 6'3″ | 5'5″ – 6'5″ |
| Recommended Weight | < 250 lbs | < 290 lbs | < 250 lbs | < 270 lbs |
| Suggested Price | $349 | $369 | $399 | $449 |
| Factory Price | CHECK | CHECK | CHECK | CHECK |
| Compare on Amazon | | Compare | | |
Some other differences- the Core EX and EX-Wide feature fabric upholstery, while the Core SX and LX Plus use PU leather. The LX Plus also has more padding (around 20%) in the seat than the other three, resulting in the higher price point.

As a general guideline, if you're big and tall, the EX-Wide will be best for you within the lineup due to the wider seat. For people above 6'1", I'd recommend the LX Plus due to the taller backrest and more generous padding. For all others, the SX is your best bet.

I purchased a AKRacing Core Series SX gaming chair to thoroughly test the line's build quality, comfort, and value proposition.

AKRacing Core Series Build Quality
At a glance there are very few visual clues that give away the build quality of the AKRacing Core compared to cheaper gaming chairs such as the GTracing Chair. There are some tangle differences, however.

Firstly, the AKRacing Core SX uses dense cold foam padding and more metal parts to push the weight of the chair to 59 lbs. My boy the GTracing Chair comes in at 50 lbs.
Practically speaking, the biggest benefit of the higher build quality is that the chair is quiet as a mouse. There are zero annoying squeaks no matter how hard I try to induce them with the AKRacing Core SX. The GTracing Chair on the other hand started to squeak after a couple of weeks of usage.
Verdict: Excellent build quality. If squeaking bothers you, the AKRacing gaming chair is as quiet as a mouse.
Padding and Comfort
The seat on the AKRacing Core Series uses cold cured foam for its padding. Generally found on higher end gaming chairs, the biggest advantage of this type of foam is that it keeps its shape a lot longer, if not indefinitely. The downside is that it feels harder compared to memory or standard foam.

When I compare the seat of my Core SX with that on my GTracing chair, I actually prefer the latter. There is more give as I shuffle around without sinking in, leading to a more "plush" experience. However, I also happen to only weigh around 150 lbs. In my opinion if you're 230 lbs or more, cold foam should be your only option to prevent sagging over time. If you're on the lighter side however, memory foam is cheaper and can be more comfortable.

Where there is no disagreement is the padding on the backrest of the AKRacing Core SX. It's probably double that found on the GTracing chair, and as such, simply more comfortable. My friend immediately noticed the difference after sitting on both chairs.
Verdict: Seat cushion on AKRacing is rather stiff but long lasting due to use of cold foam. Backrest padding is thicker and more comfortable than that on cheaper gaming chairs.
Adjustability and Ergonomics
In the area of adjustments, the AKRacing Core Series offers the following:

3D Padded Armrests: The armrests on the AKRacing Core pivots and is length adjustable, besides height. They don't pivot as much as on the GTracing, though what I really like is the amount the armrests move forward and back (around 4"). This supports your arms better when you're reclined or leaning forward.
Backrest that tilts (rocks) and reclines: The backrest tilts around 18 degrees, while the recline goes as far as 180 degrees. This is as deep as any chair we've reviewed, and is slightly more than the maximum angle on the GTracing chair. Like with GTracing, the tilt is lockable and comes with tension control.
Lumbar and neck pillow: The AKRacing Core comes with an external lumbar and neck pillow. The lumbar pillow is height adjustable via straps, while the neck pillow simply goes around the headrest and as such is fairly fixed in position.
When I compare the adjustability of the AKRacing Core with a cheaper gaming chair such as GTracing, the two are almost identical.
For the sake of comparison, the AKRacing Core Chair does edge out GTracing slightly in the following:
The armrests are wider and a bit softer.
The armrests not only move forward and back, but by a good amount. This has a direct positive bearing on comfort and ergonomics.
The backrest reclines slightly more, though you'll rarely go that far anyway.
The GTracing chair however is actually better in some ways:

The armrests pivot inwards more.
The external neck pillow can be moved up and down around 4″ due to the way it's attached, via a strap that goes through the cutout in the headrest. This is vastly superior to neck pillows that simply go around the headrest like with the AKRacing Core SX chairs (other AKRacing Models may be different). It means you can move the pillow around up to 4″ to target the area of your neck that needs support without it falling off.
Verdict: Features wise the AKRacing Core is decent, though doesn't distinguish itself much from the better budget gaming chairs on the market such as GTracing.
AKRacing Core Series Verdict
Coming up with a simple verdict for the AKRacing Core Series isn't easy.
The bottom line is, this is an extremely well built and decently comfortable gaming chair, and if you own it already, the chances are you're happy with it. For new buyers however, whether it's worth the asking price depends on your profile.

First off, if money is not a factor, the AKRacing Core gets an easy recommendation from me.

Also, if a silent gaming chair with zero squeaking is an absolute must, look no further, as unlike most budget gaming chairs that will start to make unsettling noises after a while, the AKRacing Core series is dead quiet.

If you're on the heavier side (above 230 lbs), I'd also recommend the AKRacing over something cheaper due to the moulded cold foam seat padding and thicker backrest. When you're on the heavy side, the overall build quality in a chair matters exponentially more.

However, if you're simply looking for a decent and comfortable gaming chair that offers the best bang for the buck, there are other chairs in my opinion that do that better, such as the GTracing chair. It's on par with the AKRacing Core in terms of features and comfort, and in some small areas even one ups its rival that costs twice as much. As someone who is of average build and weight, you can count me in as part of this camp.

The choice is clear. Well, sort of.
Pros:
Excellent build quality with zero creaking/ squeaking
Cold form padding is resistant to sagging
Backrest reclines all the way to horizontal
Armrests move forward and back by a lot
Cons:
Costs twice as much as competitors such as GTracing
Seat cushion is on the harder side
Neck pillow isn't height adjustable