When it comes to big and tall gaming chairs, one chair I've used as a benchmark for many years is the Noblechairs Hero. Granted it wasn't the most comfortable chair I've tried, but this thing was a true big and tall chair, with the dimensions and build quality to back it up.

The Anda Seat Kaiser Gaming Chair reminds me a lot of the Noblechairs Hero in many ways, but with a few pleasant differences. If you're a large gamer in the market for a new gaming chair, this is one chair you need to pay attention to.

Overview of Anda Seat Gaming Chairs
Anda Seat started in 2007 as a producer of race car seats for car enthusiasts before transitioning to gaming chairs in 2016. This legacy is evident in some of Anda Seat's higher end models such as the Kaiser, which looks like a chair plucked right out of a high end Mercedes coupe.

The Kaiser edition is part of their big and tall series of gaming chairs. There's also the Dark Knight edition, which as far as I can tell is identical except in the colors. Here's a comparison of three of Anda Seat's offerings:
Reviewed Item
Anda Seat Kaiser/ Dark Knight
Recommended Height: 5'2" - 6'2"
Recommended Height: 5'9" - 6'9"
Recommended Height: 5'9" - 6'9"
Recommended Height: 5'2" - 6'2"
Reviewed Item
Anda Seat Kaiser/ Dark Knight
Recommended Height: 5'9" - 6'9"
Recommended Height: 5'9" - 6'9"
How We Tested the Anda Seat Gaming Chair
While we usually buy the products we review here on Ergonomic Trends, in this case, Anda reached out to us to offer a test unit of their Kaiser Edition chair for review, so full disclosure there.

Like all of our tests, I used the Kaiser gaming chair exclusively for 2 weeks. I find it can take that long for certain products such as office chairs to be broken in properly, and in turn get the most balanced assessment afterwards.

Anda Chair Kaiser Specs at a Glance
Before I dive deep into the performance of the Kaiser gaming chair, here is a quick glance at its specs. Note that some are my own measurements to provide the most practical numbers possible:

PVC leather with carbon fiber upholstery
Chair height from floor to top of seat: 20″ to 23″
Cold cured high density foam at 60-65 Kg/M³
4D armrests that are width and length adjustable
Usable seat width and depth: 18" x 20"
Backrest height: 34"
90 – 160 degree backrest recline
Tiltable backrest that can be locked
Two detachable lumbar and neck pillows
Unit weight: 73 pounds
Maximum weight: 441 lbs
Recommended user height: 5'9″ – 6'9″
I find the recommended user height range spot on, so kudos to Anda Seat for being so honest in their advertising. I'm 5'8", and my feet just barely touch the floor at the lowest seat height.
Assembly of the Anda Seat Kaiser
For a large gaming chair that weighs 73 lbs (33 kg) – even heavier than the Noblechairs Hero at 30 kg- putting together the Anda Seat Kaiser was refreshingly easy. This comes down to the fact that many pieces were pre-assembled already, and most screws were semi-fastened in their respective holes out of the box.
The assembly process wasn't totally flawless however. The Kaiser chair lost points with the poor adhesive that was used to to keep the washers in place as you screwed together two components. Some of the washers fell off, which required me to use a little diy glue to stick them back on before I could line up the two parts and drive the bolt through them.
Kaiser Chair Build Quality
The build quality on the Kaiser chair is, to put it simply, exceptional. It's one of a few chairs I've come across in the last 3 years that can go head to head with the Noblechairs Hero in that respect.
Let's start with the upholstery, which consists of PVC leather with carbon fiber added in. This creates a leather like material that is incredibly durable and tear proof, unlike PU leather. Considering that the upholstery is usually the first to give way in my past office chairs, that will be music to large users' ears.
The frame on the Anda Seat Kaiser is made of heavy duty steel reinforced with perpendicular metal bars. The weight distribution is superb, resulting in a sitting experience that feels completely stable even when I'm rocking back and forth. There are zero annoying creaks or squeaks that plague many budget office chairs.
One owner who is is 6'2 and 315 lbs remarked that the chair feels so sturdy, he feels he could ride this chair down several flights of stairs with no problems.
Kaiser Chair Size and Target Audience
The maximum weight capacity of the Kaiser is 441 lbs. The company says the ideal user height for this chair is between 5'9" and 6'9".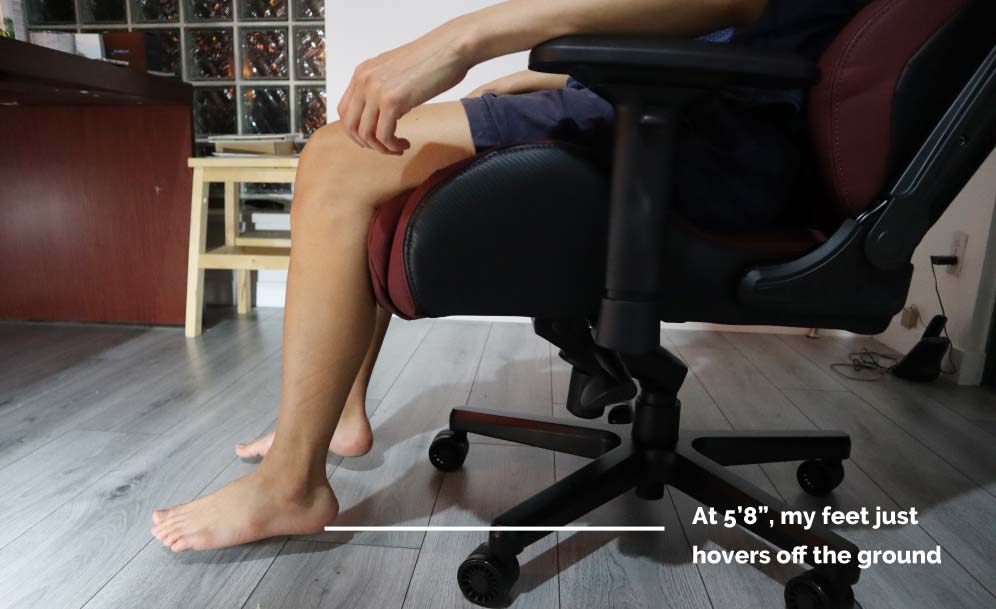 The seat height (measured from floor to the top of the seat cushion) falls between 20″ to 23″, As someone who is 5'8", my feet manage to just touch the floor at the lowest setting. A footrest is a good idea if you are my height or shorter.

In terms of dimensions, the usable seat width without the side bolsters is around 18". This is 2" narrower than that on the Noblechairs Hero. My estimate is that if you're really wide (over 360 lbs and below 6′ at the same time), that's when the seat might start to feel restrictive due to the side bolsters.
Since I'm nowhere near the maximum weight capacity, I scoured the net looking for feedback from very large owners that are both tall and heavy. Here are a couple of them (paraphrased):
I am 6'8" tall and 300+ lbs, and this chair is an absolute dream. I've been dealing with herniated disks for 2 years, and this is the most supportive and comfortable chair I've owned
"I feel like I could ride this chair down several flights of stairs. It's THAT sturdy. I'm 6'2 and 315 lbs."
I'm 6'1″ 380 and the chair has held up well. The wings are annoying but it has encouraged me to lose weight.
Moving on, what about comfort, including for people that may fall slightly outside the recommended body size? That's what I'll explore next.
Seat and Backrest Comfort
At the end of the day, nothing else matters if the gaming chair isn't comfortable to sit in. Nothing. And this is where Kaiser knocks it out of the park, creating a sitting experience that is close to perfect. It's even more astonishing considering I'm not the ideal body size for this chair.
A few factors contribute to the heavenly experience for both big and to a large extent average size users.
Weight Distribution
The first is the excellent weight distribution of the chair that makes it effortless to tilt and recline the backrest. On the Noblechairs Hero, I always felt like pushing a log when rocking the backrest even after adjusting the tension knob. Not so on the Kaiser.
Excellent Seat Padding
The second factor is the thick padding, especially inside the seat. I'm reminded of the spin on Goldilock's remarks: "Too soft! Too firm. Just right!".
The seat cushion on the Kaiser consist of high density cold foam, which tends to hold its shape much longer than standard memory foam. That's especially important if you're on the heavy side. The problem with cold foam though is that it's usually quite firm.
Somehow Kaiser has managed to add enough of the cold stuff and at the right density for the seat to actually feel yielding, comfortable and supportive all at the same time. That's a great accomplishment when you consider the cold foam seat on my Noblechairs still feels stiff even after 2 years.
The External support pillows
Ok, at first sight, I was just as skeptical of the external support pillows as the next person. The neck pillow in particular looks downright excruciating.
It's a different story once I actually rested my body on them. The contours line up really well with the curvature of my spine and neck. There is a bulge in the neck pillow that naturally guides my head to the right position.
The one downside of the neck pillow is that its position is fixed, meaning it won't cater to everyone in the same way.
You'll notice how large the pillows are as well. They cover the entire backrest, and basically add a second, removable back to the chair. Apart from the additional padding, they also serve to decrease the seat depth, making such a large chair more comfortable for people that are more of the average body size like myself.
Backrest Tilt and Recline
A robust tilt and recline mechanism form the basis of any good ergonomic chair. The two work in tandem in reducing spinal pressure build up and increasing blood flow to your back.
What's so great about tilting and reclining the backrest on the Anda Seat Kaiser is how effortless they are done. There is a smoothness in the mechanics that just encourages you to move your back and change the recline angle constantly to best suit the task you're doing.
The backrest can recline all the way back to 160 degrees. More notably however, the seat angle can also be locked, plus the armrests can be lowered enough to slide under a standard desk that's 29" tall, This makes it possible to actually work at a highly reclined angle with the Kaiser chair:
While I'm certainly not encouraging you to work in such as supine sitting position for too long at a time, for short bursts of time, it can be extremely relaxing, and helps take a big load off of your back. As such, the Anda Seat is one of the best gaming chairs for people with back pain.
Anda Seat Kaiser Final Verdict
The Anda Seat Kaiser is a true premium gaming chair for big and tall users. From the build quality, sitting comfort to ergonomics, this is a chair on the same level as the very best gaming chairs I've reviewed. Yes it does cost twice as some other big gaming chairs, though the adage "you get what you pay for" definitely applies here.
I can't quite give the Anda Seat Kaiser a perfect score, but it deserves close to that. Here's a summary of the chair's pros and cons:
Pros:
Superb build quality that will easily last 5 years and longer
Cold foam seat that's as comfortable as memory foam but longer lasting
PVC and carbon fiber upholstery that's tear resistant
Extremely smooth and stable tilt and recline mechanism
Lifetime warranty
Cons:
Armrests get "stuck" sometimes during adjustment
Neck pillow position is fixed, making it potentially uncomfortable for people outside the range of recommended heights
Usable seat width of 18″ means ultra wide people may find it inadequate
---
Related Reviews