As an ergonomist, I'm often asked what the best type of chairs are for the back. Most commonly, people want to know whether they should opt for a traditional office chair, or the less subdued gaming chair with its undeniably flamboyant qualities.
The fact is, even if you're not a gamer, there are a few compelling reasons why your next office chair should be a gaming chair if you suffer from lower back pain. However, the devil's in the details as always.
Read on to find out when a gaming chair is better for your back compared to a normal office chair.
What Types of Postures Contribute to Back Pain?
First off, regardless of how you sit, prolonged sitting as a part of a sedentary lifestyle puts you at a higher risk of developing back pain. That's because in any sitting posture, more pressure is exerted on your spine relative to standing (40% to 90% more according to Cornwell University).
Combine increased back pressure with reduce blood circulation, and you can imagine why people who sit for a long time are much more prone to developing back pain.
Different Postures' Effect on Back Pressure
Having said, we all need to sit, and different sitting positions affect the spine differently. Take a look at the following diagram, which shows the amount of pressure exerted on the spine based on various standing and sitting postures: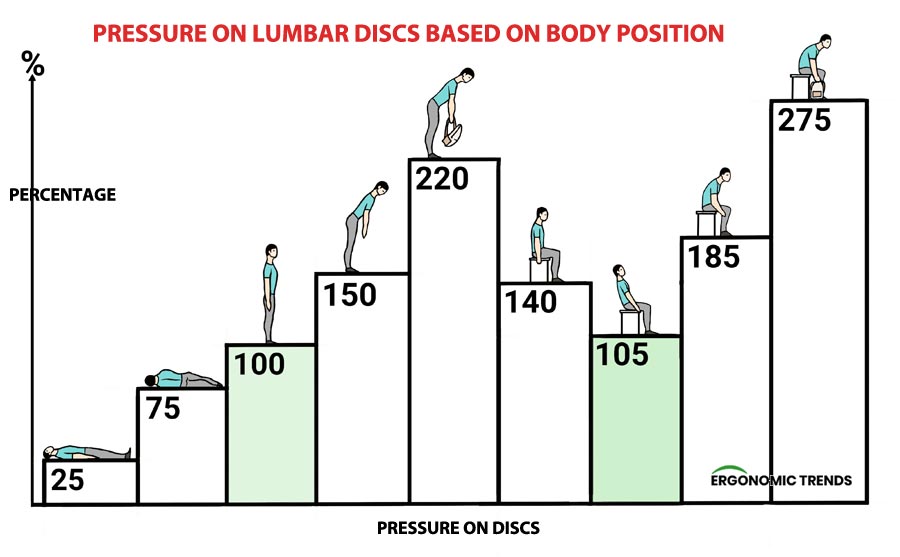 As you can see, in the sitting position, a reclined posture produces the least pressure on your back.
What Makes Gaming Chairs Different from Standard Office Chairs?
Modern gaming chairs mainly model after the design of racing car seats, making them easy to discern.
Before diving in on the question whether gaming chairs are good – or better – for your back compared to regular office chairs,, here's a quick comparison of the two types of chairs:
| | | |
| --- | --- | --- |
| | Gaming Chair | Office Chair |
| Headrest | Fixed | None or as a separate piece |
| Backrest | Often winged | Wingless |
| Seat Pan | Bucket seat | Flat |
| Seat Edge | Slightly raised | Sloping edge |
| Backrest Recline | High level of recline | None to High |
| Lumbar Support | Detachable pillow | Fixed, adjustable, or self-adjusting lumbar support |
| Armrests | Usually 3D or better | 2D or better |
| Design | Flashy colors and aesthetics | Muted colors and styles |
Ergonomically speaking, some of the design choices of gaming chairs work in their favor, while others don't. Read about all the differences here.
Are Gaming Chairs Good for your Back?
The short answer is "yes", gaming chairs are in fact good for your back, especially relative to cheaper office or task chairs. Common design choices in gaming chairs such as a high backrest and neck pillow are all conducive to providing maximum support for your back while encouraging good posture.
A Tall Backrest
Gaming chairs often come with a high back. This means that it offers complete support for the entirety of your back, along with your head, neck, and shoulders.
The human vertebral column, or spine, runs the entire length of your back. If you have back pain, a tall backrest (versus mid back) in a chair is better to support the entire column as you sit, versus just the lower back that many office chairs are designed to do.
The height of the backrest in gaming chairs typically range from 30″ up to 33″. Measure yourself to make sure it's tall enough to cover your entire torso.
Pro Tip: Most gaming chairs' backrest come with "wings" that are purely for aesthetics, modeled after those on racing car seats that help keep the driver in place as he swirls left and right. If you're a large person, look for a wingless backrest, or one that is extra wide to ensure there is enough wiggle room for your back when you sit.
Robust Backrest Recline
This is one of defining features of most gaming chairs that make them so good for your back- robust tilting and reclining.
Even a sub $100 gaming chair lets you tilt, rock, and recline the backrest past 135 degrees, some even to a near 180 horizontal. Compare this to budget office chairs, where you'll usually find a mid backrest that only tilts around 10 – 15 degrees back, and that's it.
Dr Waseem Bashir of the University of Alberta Hospital led a study that affirms the importance of robust reclining in a chair for relieving spinal pressure. They observed that a seated position with a backrest recline angle of 135° puts the least amount of strain on the back.
With virtually all gaming chairs, you're able to achieve a back friendly recline angle, while this is usually only possible in more expensive office chairs.
Pro Tip: Do not confuse reclining with slouching. In slouching, your entire body slides forward, leading to compression of the neck, chest and lower back. Slouching is one of the worst positions for back pain.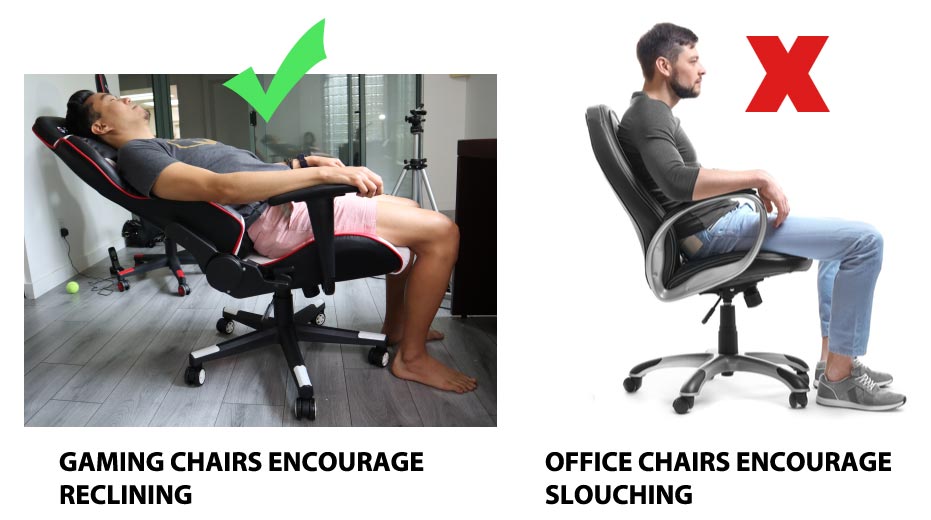 Office chairs with backrests that don't recline can encourage slouching and poor posture, as you're forced to slide forward to reduce pressure on your back, inadvertently adding to it.
External Neck Pillow
Virtually all gaming chairs come with an external neck pillow that do a good job of supporting your neck, especially in the reclined position. This in turn helps relax your shoulders and upper back.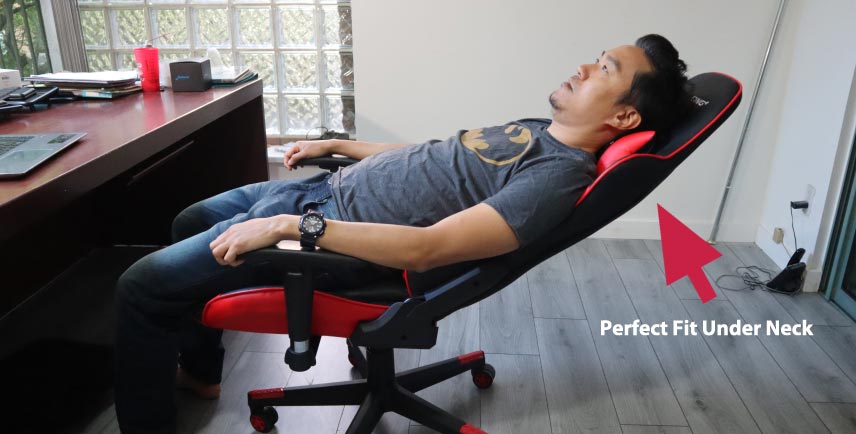 The neck pillow on a gaming chair fits right in the curvature of your cervical spine, since all of them are designed to be height adjustable. This allows you to lean back while still maintaining your spine's natural alignment and neutral posture.
Having said that, you will find even better neck support in certain office chairs where the neck support is a separate component that is both height and angle adjustable. Still, the cervical spine support that you see in gaming chairs are in the right direction ergonomically.
Pro Tip: Pick a gaming chair that has a neck pillow with straps that go through the cutout in the headrest. This will allow you to move the neck pillow up or down, right where you need the support.
Lumbar Support Pillow
Almost all gaming chairs come with an external lumbar pillow to support your lower back. Some are better than others, though overall they are an asset for your lower back I've found.
The lower part of our spine has a natural inward curve. Prolonged sitting tires out the muscles holding the spine in this alignment, leading to slouching and leaning forward in your chair. Eventually, the stress in the lumbar region builds up to the point that can create back pain.
A lumbar support's job is to take some of the burden off these muscles and your lower back. It also fills in the space created between your lower back and backrest to prevent your from slouching while gaming or working.
According to a 2010 study, even a basic lumbar support can put your head and neck in a more favorable postural alignment. This in return helps reduce stress on your back.
Gaming chairs offer the most basic of lumbar supports, mostly being just either a block or a roll. However, they are advantageous for back pain in two ways:

Almost all of them are height adjustable (by pulling on the straps), letting you target the exact region of your back that needs support.
They are removable if not comfortable.
Pro Tip: Since the lumbar pillow on gaming chairs are removable, if you don't find it comfortable, replace it with a third party lumbar pillow instead. For back pain, a curved or one with a cut out for the posterior pelvic tissues may be better. See the post "Best Lumbar Support Pillows" for our list of recommended lumbar pillows.
What to Look for in a Gaming Chair for your Back
While the overall design of gaming chairs can help with back pain, there are still some things in particular you want to pay attention to when picking out a gaming chair.
There is nothing more important than making sure the dimensions of the gaming chair fits your body properly. A mismatched chair can exasperate everything from neck pain, back pain to sciatica.
Backrest Height
Let's start with the backrest. Check its height to make sure it roughly matches up with the length of your upper body. The location of the neck pillow (factoring in the amount of height adjustment) is especially important.
The typical gaming chair's backrest height ranges between 30″ – 33″. This makes it suitable for the average height person between 5'3″ – 6'3″. Examples include the GTRacing and Homall gaming chairs.
If you're below 5'3″, look for a backrest that is shorter than 30″ to ensure the neck pillow fits under your cervical spine when you lean back. A good example is the AKRacing California chair.
If you're above 6'3″, look for a backrest that is taller than 33″, such as in the Anda Seat Dark Demon.
Seat Angle Lock
Gaming chairs with seat angle lock can be very helpful for back pain, by making it easy to work in a heavily reclined position.
In gaming chairs with this features, the angle of the seat when you recline the backrest can be locked, so even when you stop exerting back pressure, the seat remains pointing upwards:
Seat angle lock can be found in some high end gaming chairs, and facilitates working with your back reclined (thus reducing spinal pressure). See our list of the best gaming chairs for back pain for chairs that support this feature.
Seat Dimensions
Seat dimension is another important consideration to ensure your lower back is able to rest flush against the backrest, and that there's a 1 – 2 inch gap between the seat's edge and end of your thighs.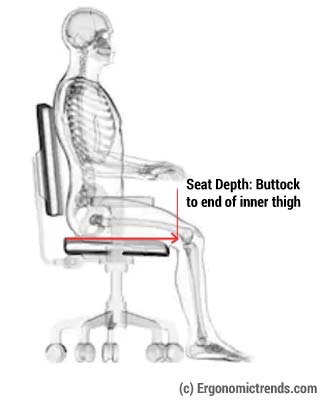 To start off with, pay attention to the seat depth of the gaming chair. If the seat pan is too long or short, it can cut off circulation to the end of your thighs. This in turn can exasperate sciatica.
If you're on the short side (<5'3″), strive for a seat depth of 18″ or less.
Big and Tall folks (> 6'5″) should look for a seat depth of 20.5″ or more.
By the same token, examine the seat width to ensure the seat's edge doesn't dig into your thighs.
When measuring the seat width, make sure to measure the usable width that does not include the side bolsters.
For people over 250 lbs, look for a usable seat width of at least 16″ or more.
Seat Height
A chair's seat height should be such that when your knees are bent at a 90 degree angle, your feet touch the floor fully.
If the seat is too tall even at its minimum setting, your feet may dangle off the floor, causing pressure build up underneath your thighs.
If the seat is too short even at its maximum setting for your legs, this forces you to flex your knees or extend your legs, putting pressure on your hips and thighs.
Refer to the following table to get a general idea of the ideal gaming seat height based on your height:
| | |
| --- | --- |
| Maximum Seat Height (from floor to top of seat cushion) | Maximum User Height |
| 18" | 5'8" |
| 19" | 6'1" |
| 20" | 6'3" |
| 21" | 6'6" |
| 22" | 6'8" |
| 23" | 7'1" |
| 24" | 7'3" |
This means if you're 5'8" for example, you should look for a gaming chair with a maximum height of 18" or higher:
3D to 4D Arms
You may wonder what armrests have to do with back pain.
Well, the human arms and hands collectively comprise of close to 10% of your body weight.
3D or even 4D armrests on a gaming chair are an asset because they support your arms in more positions, taking pressure off your shoulders as a result. The less weight your back has to borne from the upper body, and better it is for any back pain.
Look for gaming chair arms that pivot inwards to support your arms when you're on the keyboard.
Length adjustable armrests are especially useful to support the weight of your arms when you're in a reclined position as your upper body shifts backwards as well.
The Verdict
At the end of the day, using a gaming chair won't help you win your games, but it can protect your back, encourage proper posture, and lessen your risk of developing back and neck pain. Relative to budget office chairs, you'll generally find that gaming chairs are more comfortable and ergonomic.