When it comes to pain derived from using a mouse, wrist pain such as CTS gets the most attention. However, another very common repetitive injury is arm pain, characterized by tingling, cramping, or a sense of heaviness in the arm and shoulders.
In this article 'll explain how using a mouse can cause arm pain and what you can do to fix it.
What is Mouse Arm?
Mouse Arm, also called Mouse Shoulder, or Mouse Arm Syndrome, is an umbrella term used to discomfort and pain in the affected shoulder and arm due to (over)use of a computer mouse. Mouse arm is a form of Repetitive Strain Injury.
Jan Bernholt, an orthopedist from Duesseldorf calls Mouse arm the "modern form of classical tennis elbow".
How Does Using a Mouse Cause Arm Pain?
When you think about it, operating a mouse is actually a complex fine motor skill that involves many muscles in the body. As you hold and move the mouse, your operating shoulder is probably internally rotated, your forearm extended, and your wrist and fingered constantly engaged to grip and maneuver the cursor where you want it to go. Muscles in the back and neck that we don't typically think are involved such as the rhomboids and levator scapulae are all activated.
When you repetitively use these muscles, no matter how small their movements, they become overstretched. Overtime, the stress can lead to pain in the forearm, shoulder, and even neck, causing what's called mouse arm.
Treatments to Fix Arm Pain from Using a Mouse
Often times, arm pain from using a mouse will go away on its own with the proper ergonomic adjustments and exercise. However, if the pain persists for longer than a few weeks, consult your doctor.
Here are some effective treatments for arm pain to try first.
Reposition the Mouse closer towards you
The first thing to try is to reposition your mouse so it's closer to your body during use. This minimizes overreaching, a posture that overloads the operating arm and shoulder.
One way to do this is to replace your current full size keyboard with a 10-keyless one, or a keyboard without the numeric pad. Then, position the mouse adjacent to the keyboard. Studies have shown such a set up to dramatically decrease muscle activity in the regions that can trigger arm pain.
Another solution is to use a type of mouse called the roller bar mouse. Positioned directly in front of the keyboard, the long stationary bar design virtually eliminates any chance of overreaching.
Reduce Forearm Pronation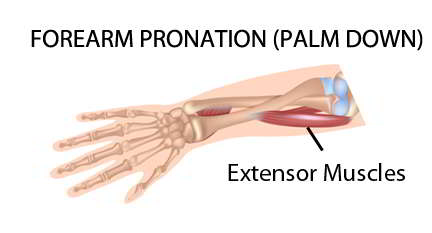 Sustained forearm pronation is another common cause of arm pain from using a mouse. During use of a normal mouse, you turn your palm facing the desk surface, engaging and overtime stressing muscles in the posterior forearm.
To reduce forearm pronation, consider switching to either a vertical mouse or pen mouse that encourage a handshake position. Also called the neutral position, this greatly reduces activity in the extensors muscles, relaxing the entire forearm.
Check your Sitting Posture
Poor sitting posture in general can cause pain and discomfort to your shoulders and arms. When typing and mousing, check that your elbow is at a 90 degree or larger open angle. A good way to do this is to adjust your chair for the ideal seat height.
Improve the Mobility and Strength of your Arm and Shoulders
Beyond postural adjustments, exercise can be very effective in treating and even preventing arm pain. The proper movements improve the mobility and strength of your arm and shoulder, which protect them against injury and promote a speedier recovery.
The following are some great exercises to do for mouse arm, starting from the shoulders and neck and working our way down to the wrist. Do them at least once a day.
For the Shoulders and Neck
Shoulder Shrug
Sit on a chair with your back in a neutral position, and your neck relaxed. Your hands should be on your sides with your thumbs pointing forward.
Raise your shoulders towards your ears until you feel tension. Hold this position for three to five seconds before bringing your shoulders down to relax.
Neck Rolls
Stand tall or sit straight on your chair. Keep your shoulders away from your ears.
Gently roll your neck in a circular position. Alternate between clock and counter clockwise
For the Chest
Chest Opener
In a seated or standing position, bring your hands to the back of your head. You should open your elbows wide.
Then take an inhale while you simultaneously push your chest forward and gaze up.
Take an exhale as you bring your chin to your chest, rounding the upper back and getting the elbows close to each other.
Chest and Shoulder Blades Stretch
Start by standing with your feet as wide as your hips.
Bring your hands to the back and clasp your fingers. You should bring your palms together here, even if you have to bend your elbows slightly.
Now, squeeze your shoulder blades together, bring the knuckles down, and gaze up.
Stay in this position for 10 seconds and repeat five or more times.
For the Arms and Wrist
Wall Triceps Stretch
Move your body close to the wall and place your tricep flat on the wall with your elbow bent 90 degrees
Push your armpit towards the wall and hold this position for 30 seconds. Here is a quick video demonstrating the stretch.
Forearm and Wrist Extension
Extend your arm straight in front of you with the palm facing up
With the other hand, grip all fingers of the extended arm from underneath and pull towards you
Hold this position for 10 seconds
Wrist Rotator
Start by resting your elbows on your desk or table.
Make a fist with your thumbs on top of the other fingers. Now, slowly roll your wrists clockwise for ten rounds. Repeat counterclockwise for ten rounds.
Note: See the post "Best Hand and Wrist Exercises for Computer Users" for more helpful hand exercises.
Manual Therapy for Arm Pain
Finally, if you need to consult a doctor for your arm pain, most likely he/ she will prescribe manual therapy in the form of chiropractic therapy, dry needling, massage, stretching, or shockwave therapy. Specialists in those fields include osteopaths, physiotherapists, myotherapists, and chiropractors.