In the world of ergonomics, armrests on office chairs are actually rather controversial, believe it or not. Opponents say they often prevent the user from getting close to the desk, or my exert pressure on the soft tissues of the forearm and elbow, leading to tendinitis.

As far as I'm concerned, all of the arguments against armrests can be addressed simply by picking out the right ones for your body type and workspace. The question then is, what are the right armrests in an office chair?

In this post, I'll go over all the factors you should consider when picking out an armrest in an ergonomic chair, so you're not left hanging in the end, literally.
This article is part of our "Choosing an Ergonomic Office Chairs" Series:
Armrests on Ergonomic Office Chairs- What You Need to Know
The Argument for Armrests
First thing's first, let's examine all the facts and studies that show the importance of armrests in an office chair as far as ergonomics are concerned:

The arms and hands together comprise around 12% of your total body's mass. That's a lot of weight to be holding up unassisted for many hours.
Studies have shown properly configured armrests can reduce the load on your spine by about 10% of your body weight.

[1]

Proper forearm support can also help reduce pain in the neck and shoulders, by relaxing the upper trapezius and deltoid muscles, according to the Journal of Physical Therapy Science.

[2]

When standing up, using the armrests on your chair as leverage reduces the force in the hips by 50%

[1]

. For older people or those with hip issues, armrests are a must.
Armrests significantly delay the onset of fatigue. Without support, extending the arm by 8 inches forward results in fatigue in less than 10 minutes, while with support,the time is extended "considerably".

[3]
But Wait, there's a Catch
Ok, so armrests on office chairs are not a bad idea after all, but there in one important caveat: In order for armrests to deliver on the promised benefits instead of the opposite, they need to fit the user properly. And since each user is different, the key to ergonomic armrests is adjustability.

From height, length, width, to pivot, the more adjustable the armrests are, the more likely you will be able to tailor it to support your body type and posture properly.
What to Look for in Office Chair Armrests
The following are the main ways armrests can be adjustable in an ergonomic office chair, and what you need to know for each type of adjustment:

Height Adjustable
Most armrests are at the very least height adjustable, though the story doesn't just end there. One of the main arguments against armrests is that they can prevent the user from getting too close to the desk, forcing you to strain your back and neck to reach your workspace.

The ideal height range of armrests should be such that it is high enough to be level with your desk, and low enough that it can go under the desk when needed. Measure the amount of clearance space you have under your desk to get the proper measurements.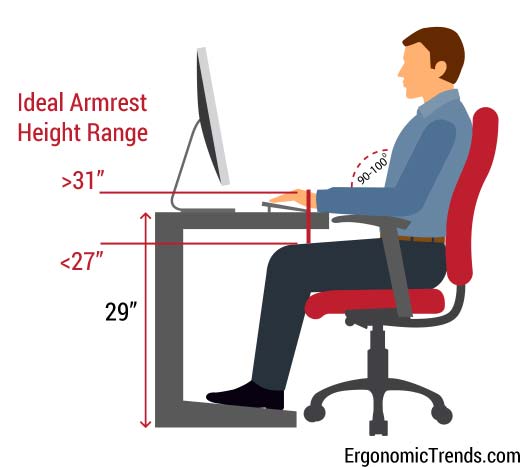 For example, the height of a typical non adjustable desk is around 29". Based on that, look for armrests that can lengthen to 29" or more, and go down to 27" or less, Take into account the height range of the seat pan when deriving these numbers:

Width Adjustable
Apart from height, width adjustability is arguably the most important feature to look for in armrests.

When sitting, your elbows should be directly under your shoulders. Since each person's shoulder width differs, having armrests that can be moved closer or farther away from your torso are crucial to supporting them, especially if more than one person will be using the chair.

Look for armrests whose width can be adjusted up to 4 inches, which based on studies accommodates 90% of the population.
Pivoting Armrests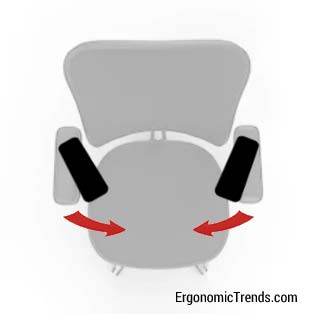 Pivoting armrests can be angled inwards or out to form a "v" shape. If you frequently assume arms positions where your wrists are close to each other without the support of the desk, pivoting armrests can be highly beneficial in providing full coverage of your forearms in those positions.

A perfect example is texting on your phone. Your wrists are close to each other with your forearms forming a tight "v" shape and bearing the weight of the phone on their own. This is when pivoting armrests become a godsend.

Armrests that pivot inwards are far more useful than those that pivot outwards. Look for a minimum of 15 degrees inwards tilt.
Length Adjustable
Some armrests are length adjustable as well, meaning they slide forward and back to maximize coverage of your forearms in various postures. This can be useful in certain body positions where you are heavily leaning back or forward.

Personally the only time I've found the need to adjust the armrests' length on a chair is if were positioned incorrectly for me in the first place, by being too far back or forward.

Flip Up Armrests
Finally, there are armrests that can be dismissed altogether when not in use, by flipping up.

Flipup armrests can be a good choice in the following situations:

Shared office environments where some people prefer an armless chair and some don't.
If you often perform tasks where armrests get in the way, such as playing the guitar.
If you live in tight quarters or have a desk with low clearance space underneath.
From an ergonomic standpoint, flip up armrests usually present a compromise. The way the hinges are designed, very few flip up armrests offer any adjustability other than flipping upwards. See here for a list of good office chairs with flip up arms.

Weigh the pros and cons carefully, and make sure the default height and width of the armrests match your desk and body before going with this option.

Adjustable Armrests in Office Chairs Comparison Table
So as you can see, there are quite a few things you should consider when choosing the best armrests for your next office chair.

Here is a comparison table to make things a little easier. All of the chairs below offer excellent ergonomics overall, though with differing levels of armrests adjustability to fit individual requirements:
References