Did you know that pressure on your spine varies greatly among the most common postures we all assume daily? Sitting upright for example exerts up to 40% more pressure on the lumbar spine compared to standing.
The following chart illustrates the various pressure levels on the back in different body positions.
Disc Pressure Chart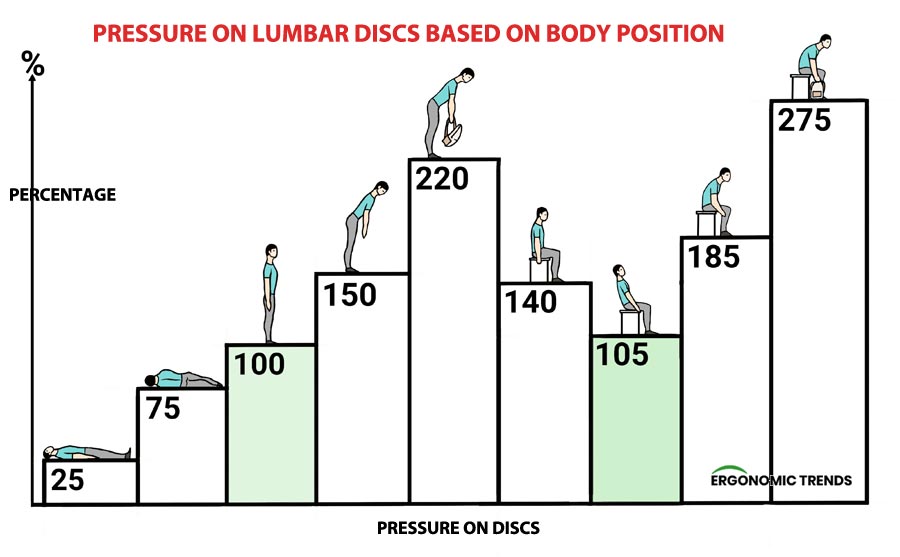 Disc pressure is the lowest in the supine position, which is defined as laying down on your back. The body weight is evenly distributed and supported in this posture. [1]
Conversely, disc pressure is the highest when lifting weight from a seated, forward leaning position. Spinal pressure can be 25x more than when laying down .
Standing exerts less pressure on the back compared to most typical sitting positions. In a standing position, the natural curvature of the lumbar spine is preserved, distributing the compression force more evenly across the entire spine. [2]
Sitting upright exerts 40% more pressure on the spine relative to standing. [3]
Sitting with a flexed spine, or in the slumped position, can add about 30% more pressure to the back compared to upright sitting.
In the seated position, reclining the backrest 135 degrees was found to generate the least amount of pressure on the spine. [4]
Why is Slouching so Bad?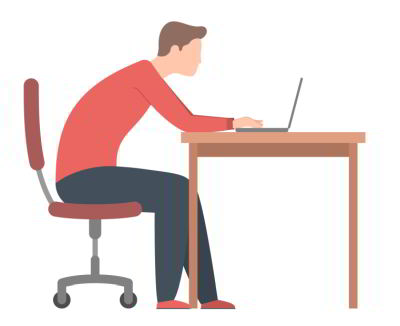 As you can see from the chart above, slouching is one of the worst sitting postures for your back. In a flexed (forward bending) posture, the back has to cope with both compressive and shear forces that in a neutral spinal position such as standing are minimized.
When we slouch, the spine has to work overtime to keep the discs from both collapsing and sliding forward. It feels good temporarily, as the usual muscles that assist with maintaining a neutral spine is now deactivated, such as your core and lower back muscles. But guess who's left picking up the slack? Your spine. And that's a recipe for lower back pain over time.
The problem with slumping is that oftentimes, you may not even be aware you're doing it. If you're looking at your phone, the chances are, you're probably slouching. If your monitor is positioned too low or the text on the screen is hard to read, it's also natural for your upper body to gradually lean forward.
The key to avoid slouching is just to mentally check in on your sitting posture from time to time:
Back should be straight with a slight lordosis (inward curve) in the lower spine
Even weight in the hips. Do not cross your legs.
Shoulders should be pulled back but relaxed
Neck is straight with the ears aligned with the shoulders
The fact is, all of us will eventually slouch after sitting for a long time as the muscles supporting the spine start to tire. This is why it's a good idea to get up every 30 minutes to take a break and move around or stretch.
References Used