For many parents, just getting their kids to school on time with all the things they need- homework, signed consent documents and sports gear- is a major accomplishment. But it appears there's one more thing that should be taken into account- backpack safety and ergonomics.

Recent research studies have raised alarm over the incorrect use of backpacks. According to data from AOTA, of the 75 million students who use these packs, nearly 42 million carry ones that are too heavy for them. With such excess loads, your child is at a risk of developing a musculoskeletal disorder and postural dysfunction.

To avoid this, you should teach your child safety practices. Here's a rundown of the most important backpack safety tips for kids.
Use Wide Shouldered Backpacks
The width of the shoulder straps has a significant effect on how comfortable a backpack is. More specifically, a child should wear a backpack with wide instead of narrow shoulder straps.

Narrow straps tend to exert too much weight on just one area of the shoulder. As KidsHealth explains, narrow straps cut into the shoulders, pressing tightly onto the nerves and this restricts proper circulation. As a result, a child may start experiencing a tingling feeling or numbness in their arms and hands.

Wider straps are better as they are able to distribute weight more effectively by increasing strap-to-shoulder surface area.

Always Wear Both Shoulder Straps
Based on a 2016 study published in the Spine Journal, wearing a backpack incorrectly is a major contributor of back-related injuries in children.

Dr. Bautch, one of the researchers of the study, reveals that one of the reasons why children suffer from back-related injuries is because they carry heavy loads on one shoulder. This in turn causes the most frequently loaded shoulder to be lower and this may even lead to lateral spinal curves.

To avoid these health problems, you should train your child to always wear their backpack on both shoulders so the weight is distributed uniformly on both shoulders.
Lighten the Load
It's a common sight in schools throughout the world- kids carrying overloaded backpacks as they rush from home and between classes. Whether your child is using a wheeled or non-wheeled backpack, weight is a vital factor that should be taken into account.

Research scientists from the University of Granada (UGR) and Liverpool John Moores University conducted a study to determine the ideal weight a child should carry in their backpack.

Based on their findings, they concluded that for a wheeled backpack, the load should be no more than 20% of their bodyweight. For those who carry backpacks on their backs, the load should not exceed 10% of their bodyweight.
An easy way to lighten the load is to ask your child to carry only those books they'll use for that day. If they don't plan to use certain books, then there's no need to carry them.
Lift the Backpack the Right Way
Few students pay attention to how they lift their backpacks. But this is another crucial aspect to be considered.

To lift a backpack correctly, train your child to start by bending their knees as if they were performing a squat. Next, they should hold the bag with both hands before they stand up. If the pack is slightly heavy, they should place it on a table or chair before they turn to place it on their backs.

Use Backpacks with Waist and Chest Belts
According to the National Safety Council, one of the things you should look for when purchasing a backpack for a child are waist and chest straps.

A chest strap takes a bit of the pressure off your toddler's shoulders and redistributes it to their upper body muscles. Similarly, a hip belt transfers pressure from their shoulders and onto their hips.
Ensure Proper Positioning of the Backpack
Another aspect that plays a huge role in your child's safety is positioning the backpack correctly.

The ideal position of the backpack is slightly below your shoulders and above your hips.
A lot of children tend to wear their backpacks really low. This adds tremendous pressure on the shoulders and lower back. It also creates a wobbly backpack that sways as the child walks, further adding stress to the body.
Educate your kids on adjusting their backpack's straps properly so the backpack falls between the shoulders and hips when worn.
Look for Backpacks with Multiple Compartments
A backpack with lots of compartments not only helps to keep items organized, but also allows your children to manage the weight of the items better, thus reducing stress on the body.
Put the heaviest items such as text books or laptops in the back compartments and toward the center. This lessens the force exerted by those items due to a concept called Moments. The same principle explains why a bag of groceries held close to your body feels lighter than if your arms were more stretched out.
Remove Backpack when Standing for a Prolonged Period
As studies have shown, excessive backpack weight makes a child vulnerable to back pain. This further increases their risk of suffering from chronic back pain in adulthood.

Thus, the longer your child carries a school bag, the higher the risk of suffering from related health problems. To mitigate this risk, train your child to rest their packs whenever they can. For instance, if they have to wait for 10 minutes or more for the school bus in the morning, they can take off the backpack as they wait.

Clean Out the Backpack Every Few Weeks
One question you should ask your child is whether they need all those items they carry in their backpacks every day.

Of course, there are a couple of items they can't do without. But what about those sunglasses they were using during summer camp and the crumpled receipts? It may seem like these items don't weigh much individually. But collectively, their aggregate weight sums up to a lot, and this can weigh down the pack. To avoid this, train your toddler to clear out their backpacks every few weeks and get rid of items they no longer need.

Choose Self-Standing Backpacks
As we recommended earlier, it's wise for your child to remove their backpack when they have to stand for a prolonged period. For such situations, it also helps to have an ergonomic backpack that is self-standing once it's placed on the ground. This way, less back bending is required to pick them up, thus protecting their backs.
Backpack Ergonomics and Safety Infographic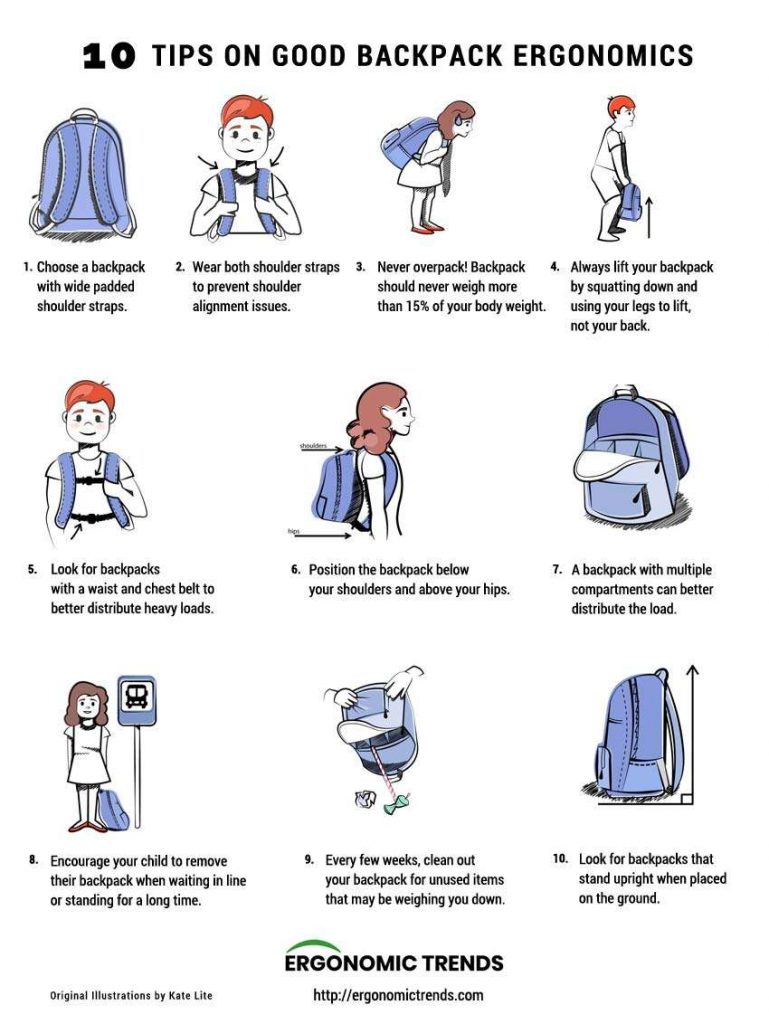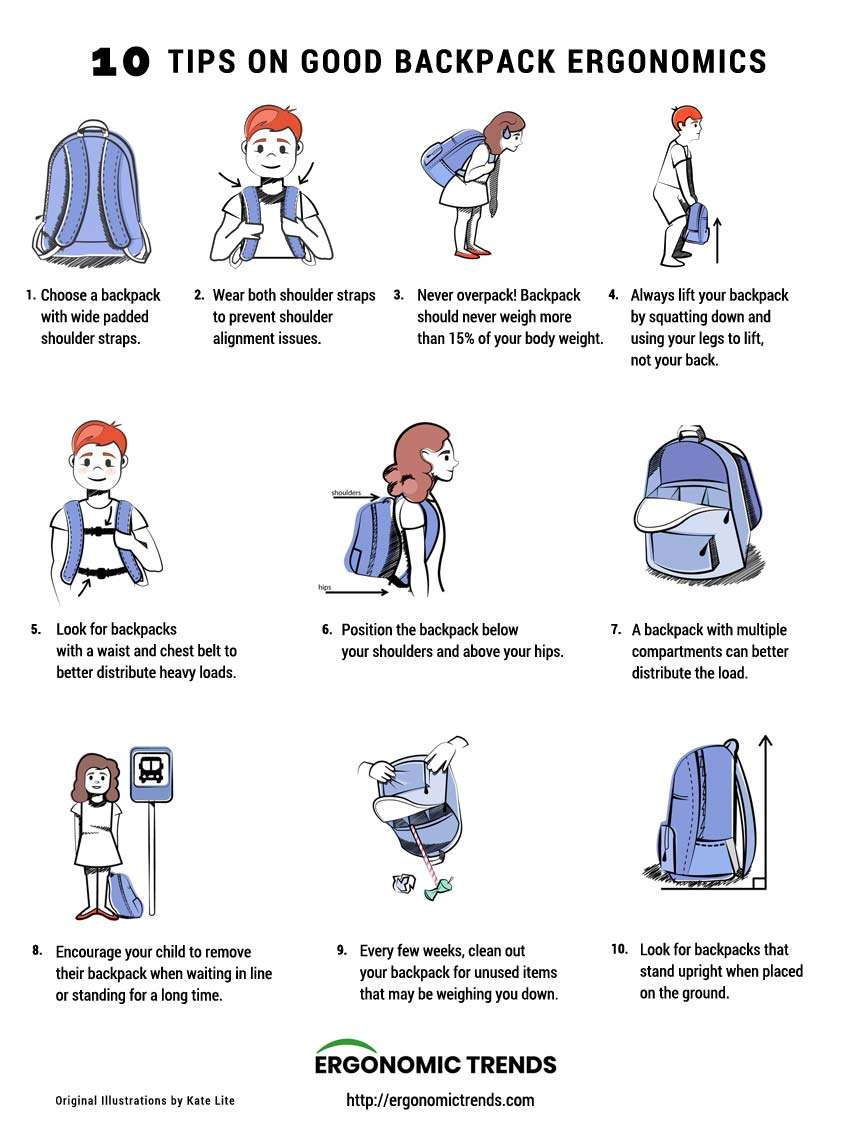 Final Word
Backpacks provide an easy way for kids to carry their books and supplies. But when used incorrectly, they can also be a health risk. Keep your children safe by training them the safety tips mentioned above. 
Related Posts