Most of us are guilty of making computer posture mistakes, be it slouching or craning our necks when looking at screens. The unfortunate bit is that some have taken these practices to be the norm, despite the mounting evidence of how bad posture affects our health.

The first thing to correcting bad computer posture is to be aware of them when you sit. Only then can you replace it with the proper posture.
Here are 7 of the most computer posture mistakes you're probably making right now, and how to correct them.
1. Sitting Upright at a 90 Degree Angle
Remember how you were taught from an early age to sit with your back upright? Well, it turns out that this isn't the best posture to adopt, at least not for an extended amount of time.

Researchers from the Radiological Society of North America carried out an experiment to determine the "proper" sitting posture. Using a positional MRI machine, they examined results from 22 participants who had no prior history of back pain or surgery.

The volunteers were asked to sit in three different postures:
Hunched forward position
A 90-degree sitting position
A reclined position where the patient leaned back to 135 degrees.
The result?
"A 135-degree body-thigh sitting posture was demonstrated to be the best biomechanical sitting position, as opposed to a 90-degree posture, which most people consider normal".
In other words, an upright sitting posture is far from the proper one that conventional wisdom may have us believe. A slightly reclined position exerts significantly less pressure on our spine, bottoming out at 135 degrees.
I'm certainly not suggesting you should always sit with the backrest reclined at 135 degrees- it's a great angle to relieve back pressure whilst taking a break, but introduces its own postural problems when trying to work. There is no doubt however that sitting at a 90 degree upright angle for a prolonged amount of time places excess stress on your back and spine.
Personally I always set my backrest at a 100 – 110 degrees angle. This is a comfortable angle that reduces back tension while still allowing me to interact with my workstation easily.
2. Slouching or Leaning Forward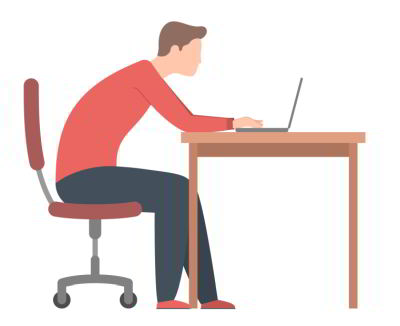 Another postural mistake you're probably making, even unconsciously, is leaning forward while you use the computer. While the upright position places unnecessary pressure on your spine, slouching causes even worse health effects.

Based on this study done by BioMed Research International, one of the effects of slouching is a reduction in lung capacity. What this means is that the amount of oxygen reaching your body tissues and organs like the brain decreases.

Your chest muscles are supposed to expand as you breathe, allowing your lungs to fill up with air. But when you're slumped low in your seat, your chest muscles tighten, restricting the extent to which they can expand. The result? Rapid shallow breathing!

There are a few solutions that can help:
Set reminders on your phone to check in on your posture every hour.
Use a posture correction brace for 30 minutes daily for a few weeks. These devices enforce the proper posture and build up muscle memory so the correct posture sticks.
Alternate between a good study chair and an active sitting chair such as a kneeling chair. These chairs discourage slouching and engages your core as you sit.
According to experts, the best long term solution for combating slouching is to find ways to strengthen your core. Exercises such as dead bugs, squats and planks are all superb routines to incorporate for that purpose.
Here is how to do deadbugs at home, one of my absolute favorite core strengthening and spine lengthening exercises:
3. Adjusting your Office Chair Height based on your Feet
What is the first thing you do when you get to your workplace? If you're like most people, you probably adjust the height of your seat so that your feet are resting on the floor. But you're adjusting your chair all wrong.

The right way to adjust your chair's height is so your forearms are at the same height as your desk with elbows forming a 90-100 degrees open angle:
At this position your shoulders are relaxed, and it's much easier for your wrist to assume a neutral position when typing.
If you adjust your seat correctly and your feet end up dangling in the air, you should look for a footrest to prop them up. This way, your feet will be resting flat on the platform while your knees form a 90-degree angle. Alternatively, look for an ergonomic desk that is height adjustable to lower or heighten your entire workspace to the optimal level.

4. Typing with a Positive Keyboard Angle
Most keyboards these days have two feet at the far end to prop them up and make it easier to reach the back keys. Apparently, these things have been a compulsory feature since the 1980s.

While the extended feet make it easier to see and reach the back keys, they have one major flaw: they create a positive slope angle. This forces your wrists into an unnatural typing position where they're angled backward. This is called wrist extension, and over time can cause nerve damage and even CTS.
To fix the bad keyboard typing angle, do one of the following things:
Retract the two feet at the end of the keyboard, and increase the height of your chair so your forearms are parallel to the keyboard or slightly above it while your elbows are bent. The key is so your wrists are either completely straight or sloping down slightly.
Better yet, install a keyboard tray to create a negative tilt when you type. This puts your shoulders and forearms at the most relaxed position possible while maintaining a neutral wrist according to research.
If you're using a laptop, raise the screen by putting the laptop on a stack of books or laptop stand, and use an external keyboard to achieve good typing ergonomics. See more ergonomic tips for laptop users.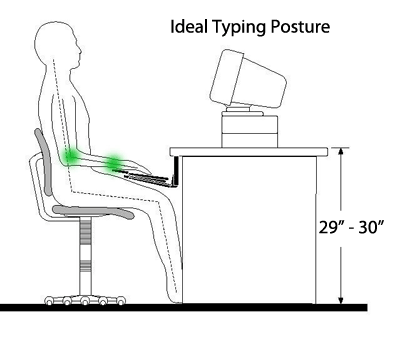 5. Standing more than you are Sitting
We have all been inundated with the benefits of standing at work lately, from lowering the risk of heart disease, curing back pain, improving productivity, to probably helping you find the meaning of life (ok I made up the last part).
Due to all the media attention on the health benefits of standing, another common computer posture mistake you're probably making is standing for too long.
When you stand for multiple hours, the circulatory system has to work much harder to maintain blood flow to the upper body because it's working against gravitational forces. As a result, it increases oxidative stress and causes blood to pool in the legs.

So what is the ideal amount of time to stand compared to sitting? According to a ground breaking study by the University of Waterloo, the golden ratio lies between 1:1 and 3:1 in favor of standing.
So for example, if you sit for 30 minutes, you should spend the next 30 minutes standing. At a maximum, sit for 15 minutes and stand for 45 minutes.
Variety in sitting posture is the key to good ergonomics. Besides sitting and standing, also consider kneeling and squatting for a few minutes every day. These active sitting postures have been shown to be better than sitting for inducing muscle activity.
6. Setting your Monitor too High or Low
All too often, individuals pay attention to the position of their keyboards and mice but forget about the monitor. But positioning your monitor correctly is equally important to designing an ergonomic workstation.

Place it too high, and you'll be forced to tilt your head backwards. Place it too low and you'll have to lean your neck forward. This is how you should position your monitor:
Directly in front of you and at the center- you shouldn't have to twist your neck or body when looking at the screen.
Adjust the monitor's height so the top of the screen is at or slightly below eye level
At a reasonable distance, about an arm's length away to prevent eye strain.
7. Holding up the Phone with your Hands or Shoulders
We've all done it- holding up the phone with your shoulder while working away in the office or public space. Speaker phone is not an option since you're not at home.
The problem is, tilting your neck to hold up your phone places a tremendous amount of train on the neck and shoulder muscles. It's a fast track way to developing chronic neck pain later in life.
The solution? Get a good pair of portable headsets. A study done by the Santa Clara Valley Medical Center found that headsets reduce muscle tension by up to 41%. They're convenient, and they free both of your hands, enabling you to work on other things.
Conclusion
Being aware and observing proper posture is the best way to avoid computer-related injuries down the road. Yes it takes constant reminders and time to fix bad habits, and the end result is a healthier and more productive you.