Ergonomic Ball Chairs are popping up everywhere in the office and at home, and for good reason. Also called Balance or Yoga Ball Chairs, these highly portable sitting apparatus make a perfect compliment to your regular office chair in today's hazardous work environment.
The health benefits of using balance ball chairs are numerous, and include affordability, improved posture, a stronger core, and flexibility, since many ball chairs can also be used as exercise balls too.
Choosing a quality ergonomic ball chair can be challenging, since they, well, pretty much all look like a ball. In this comprehensive review we go beyond the exterior to pick out the best ball chairs you should get based on usability, durability, and specific use cases.
Bottom Line: With adjustable legs and back and a sturdy metal frame and rubber lumbar support, this is the best overall balance ball chair for your money.
While most ball chairs offer limited adjustability, the Isokinetics Inc. Adjustable Fitness Ball Chair isn't one of them, letting you adjust both the legs and back similar to a traditional chair. You can set the legs to 4 different heights, and the back to four different positions to find the most comfortable position. Plus, with so many color options, it's an excellent ball chair for any setting.
We love the choice of metal as the material for the base of the Isokinetics Chair, which departs from most other ball chairs with a stand that are made of plastic. This should hold up better over time. The backrest consist of a rubber cylinder that's also quite comfortable to rest your back on from time to time.
Another feature that sets the Isokinetics ball chair apart from the competition is the size of the wheels. While most office chairs have 2" wheels, this one has 2.5" wheels that provide more stability, durability, and maneuverability.
With all the adjustable features and long lasting metal frame, this is bar none the best balance chair you can get to help improve your posture and engage your core as you work.
Pros
Larger wheels to easily move on nearly any surface
Numerous color options to find the perfect chair for your personality and style
Metal frame which is much more durable than its plastic counterparts.
Removable ball so it can be used for exercise or yoga
Non-latex material has anti-burst technology so there's no fear of sudden collapses
Cons
Special filling instructions means it takes 2 days initially to inflate ball
Ball can slip through frame if not properly inflated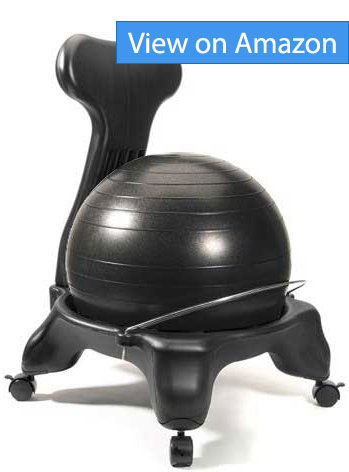 Bottom Line: Durable ball and ergonomically designed stand and backrest.
When getting a ball chair, it's always smart to buy one that can handle all possible use cases ahead of time, and the Luxfit Exercise Ball Chair does just that. The hallmark feature of the ball chair is the removable stand and backrest, which instantly doubles the chair's function from exercise ball to also a traditional chair that helps engage your core and promote a straight back. The backrest that extends upwards of 2.5 feet allows lets you lean back against it and relax if you want a break from engaging your core muscles while working, something that most ball chairs even with a stand don't offer.
The build quality of the LuxFit Ball Chair is superb, with extra thick lining and large heavy duty wheels to move the ball from room to room effortlessly. The two back wheels lock on demand, which is especailly helpful when you're using it an an exercise equipment.  It supports a weight capacity of up to 300 lbs. All in all you can't go wrong with the Luxfit Chair, both as a ball chair and exercise ball.
Pros
Designed by health experts specifically to help with back problems
Large wheels that move easily and are long-lasting
Stand keeps ball off the floor and clean at all times
Removable ball to use as a regular exercise or yoga ball
Cons
Wheel placement may interfere with where you put your feet
Plastic ball stand and backrest may not last over time.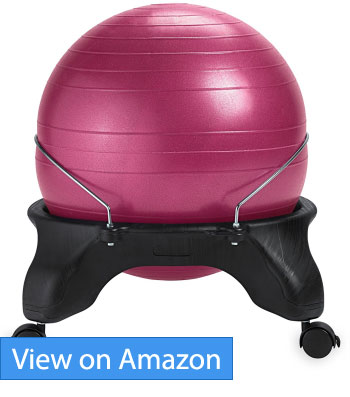 Bottom Line: Classic backless balance ball with optional leg extenders for people serious about improving their posture and core.
When it comes to balance and yoga balls, Gaiam is a household name. They've built their name on reliable, ergonomically centric chair designs, and this backless model is the best representation of the Gaiam name.
The backless nature of the Gaiam ball Chair is a blessing to people serious about ditching their poor posture while sitting, and a curse to those that aren't. Without a back, the ball forces you to sit in an upright position at all times, with your core engaged. Granted, some of us are simply not as fit as others, and require the support of a backrest from time to time. For the rest of us that are mainly conditioned and enabled by our office chairs to slouch or hunch over, the Gaiam Backless Chair is a great option to finally help you kick that bad habit.
While the Gaiam lacks a backrest, it does come with a base with 4 wheels, two of them lockable to prevent unwanted movements. The base is a welcomed addition, as it gives the ball that extra height for you to use with your standard desk. For people that need an extra boost (or people with long legs), optional leg extenders can be purchased to lift the chair 2″ higher.
About the only thing I didn't like about the Gaiam balance chair are the two chrome bars that hold the ball in place inside the base. They are rather thin and may be the weak link in this otherwise durable chair.
Pros
Backless design forces good posture and an engaged core
Comes in a number of color choices
Sturdy base that lifts the chair up for height and cleaniness
Extremely simple and easy to assemble
Cons
Chrome bars that keeps ball in place inside the base feels flimsy
Bottom Line: This chair has an incredibly stylish design so you can put it literally anywhere. It's also backless for improved posture and stationary for maximum stability.
For those who are turned off by the appearance of most ball chairs, this is the chair for you, since you wouldn't know it was a ball chair just by looking at it. A breathable mesh cover hides the inflatable ball and most of the base so all you see is a great-looking chair.
From an ergonomic perspective, the Safco Products Zenergy Ball Chair will help you improve your core and posture since there's no backrest or armrests to lean against. This allows you to sit up straight and centered on the ball.
Pros
Most stylish ball chair we've come across
Glides on legs makes moving the chair easy
Made to last with high-quality, durable materials
Vinyl fabric is easy to wash and keep clean
Two size options allow you to pick the size that fits you and your desk
Cons
More expensive than other ball chairs
Ball is not removable and cannot be used for other things
Bottom Line: A luxurious, self standing ball chair for people looking for a ball chair to compliment an existing working chair.
Vivora Luno deviates from most standard ball chairs in the high quality artisan materials used that make the chair a worthy compliment to any home or office setting. And without a base, it's compact enough pull out for a few hours and stow away just as quickly when not in use.
There are so many options when it comes to the choice of artisan covers for the Vivora Luno Self-Standing Ball Chair that you'll be sure to find the perfect one for you. Every cover is durable and made with high-quality material that's easy to keep clean. I'm a big fan of the leather-like covers.
On top of the covers, the other feature that helps this ball chair stand apart from the rest is the self standing design. It doesn't require a base yet won't roll away when you set it down, so you can take it from your home to the office to the gym as often as you need.
Pros
No assembly required except to pump up the ball
Stylish cover allows it to fit well in any room
Easy to maneuver on any type of flooring
No backrest ensures improved posture and core muscles
Portable so you can take it with you wherever you need it
Cons
May be difficult to properly inflate fully
Too small to use with some desks
Will a Ball Chair Help with back pain?
Yes! For most people, sitting on a ball chair helps alleviate back, neck, and shoulder pain that is associated with sitting in traditional chairs for long periods of time. This is because when sitting in a ball chair, it forces you to have better posture which provides pain relief.
What are the benefits to getting a ball chair?
In addition to helping alleviate back pain, ball chairs can help improve posture, strengthen your core muscles, and help increase blood circulation. Increased blood circulation is associated with a decrease in a number of dangerous heart conditions.
They can also improve concentration because it allows you to move your body as your work. This small amount of movement can keep you awake and alert in part because you're moving but also because of the increased circulation that happens when you move throughout the day.
Ball Chairs also encourage you to pause and exercise throughout the day, using the ball as an apparatus. There are literally countless exercise or yoga routines that involve an exercise ball you can incorporate into your daily routine to break the cycle of the "new smoking" that is sitting for too long in a traditional chair. The following Youtube video shows a series of pilates and yoga routines one can easily do with their balance balls and without moving around:
How long can you sit in a ball chair?
Most people can sit in a ball chair for the same amount of time that they use a traditional chair for. However, there are some people that report increased pain when first using a ball chair. Often, this is a result of your back muscles being stretched to maintain proper posture, and will usually go away over time.
When you first get a ball chair, it is recommended that you use it for as long as you are comfortable before switching back to your normal chair. Then, as your body gets stronger and you get used to it, you can use the ball chair full-time.
How long does it take to see results from a ball chair?
While some people find instant release from pain when using a ball chair, most people will need more time to adjust to it. Typically, between one to two weeks are needed to start seeing results from using a ball chair, so don't be surprised if you don't experience instant improvement.
Can ball chairs be used to replace an office desk chair?
Yes. There are many people that have replaced their traditional office desk chair with a ball chair. This has helped them gain all of the benefits of the ball chair as they use it all day long while at work. However, because each person's body is different, with different stamina and fitness levels, don't feel discouraged if you feel the need to alternate between a ball and regular chair every few hours. A kneeling chair is also worth looking into as a stepping stone towards using a ball chair full time.
Related Reviews