If you think standing is inherently better for your health compared to sitting, think again. Like any stationary posture, prolonged standing comes with its own set of health issues, such as the risk of developing varicose vein and lower back pain. [Source 1] [Source 2]
With that said, a simple yet effective way to counteract inactivity while standing is to use a balance board. This simple device encourages micro movements in your legs as you stand, which is crucial for preventing blood from pooling in your veins that is the root of a lot of the health problems.
Here are the best balance boards we've found in the market for 2021.
The Best Balance Boards at a Glance
Fluidstance Balance Board
Patented edge limits heel to toe motion
Non-microbial cushioned surface
Rubber bumpers minimize noise
California-made
Fluidstance's The Plane Cloud is our favorite pick because it's a winner for both you and the planet. Made in the USA, this high quality rocker board has been proven by Mayo Clinic to keep you healthier and happier at a minimal cost to the environment.
The Plane Cloud is a convex shape balance board with noise-reducing rubber stoppers at the ends. This beginner-friendly wobble board offers 360° freedom that mimics the natural ankle movement. Together with the deodorizing textured foam top, it's like you're walking on clouds while working.
What sets The Plane Cloud apart from other balance boards, however, is its eco-friendly construction. The center weight is made from recycled sawdust while the top deck is reprocessed rubber tires. The base is molded from 100% post-industrial high-molecular HDPE which is one of the strongest recyclable plastics available.
According to one avid fan of The Plane Cloud, this environmentally-aware build and health-conscious design makes her feel twice as good because she's able to stay fit while helping the planet.
What we don't like about The Plane Cloud is its high price. However, considering its durability and the added expense of processing recycled materials, it is still quite reasonable.
Overall, for its cool design, durability, comfort, and health benefits, we give the The Plane Cloud a double thumbs up. Watch the video to see how to use the Plane Cloud.
Pros:
Great for beginners
Made in the USA using recyclable materials
Soft top feels comfy
Solid build
Cons:
Expensive
Might be underwhelming for experience balance board users
Sale
Leopard Swivel Bar Stool
8.5° tilting angle
Supports up to 320 lbs
Anti-fatigue massage points
Non-slip and anti-scratch rubber base
The FEZIBO is our pick for those who are new to the standing desk and balance board scene., Featuring a minimal tilt, this 2-in-1 product offers just the right amount of instability for beginners to keep you active throughout the day.
The FEZIBO only has a small tilt angle of 8.5°. Compared to the other balance boards in our lineup, it is the most stable and less distracting model to use with your standing desk. Even those with poor balance can actively stand with no worries of falling.
To further relieve your tension, this rocker combines the best of balance boards and anti-fatigue mats. The high-density latex top has massage points that will boost your blood circulation while rocking. You basically get a massage and a mini workout while working!
The varied terrain created by the massage points will make you want to keep moving. This is how one buyer described her experience with the FEZIBO.
Just like with The Plane Cloud, the FEZIBO probably won't satisfy you though if you're looking for a more intense mini workout. We've also seen mixed reviews about its durability, with some saying that it started to fall apart after a few months of heavy use.
The FEZIBO might not be the most intense balance board in the market but we love it for its fatigue-reducing and movement-inducing qualities. This is for you if you want to get these benefits with a beginner-level balance board.
Pros:
Low-impact and easy to use
Massage points relieve stress
Low tilt angle
Won't slip and scratch your floor
Cons:
Might be too easy for some
Top part might get loose after months of heavy daily use
If you have excellent balance or are fairly fit, the Revolution 101 is the perfect partner to go with your standing desk. Featuring a durable and cushioned construction, this 2-piece roller style board will challenge your limits.
The Revolution 101 comes with a handcrafted oval board and roller with removable stops so you can adjust its difficulty. It also has a thin Durasoft cushioning which makes standing easier on your feet.
With practice and overtime, many users have successfully incorporated the Revolution 101 Board with their standing desk to keep the body nimble and moving constantly.
One thing you won't have to worry about is the Revolution 101 suddenly breaking. This is a heavy-duty made bad boy that can support up to 400 lbs of weight.
Because the Revolution 101 is challenging to use, it might take away your focus from your work. We advise practicing it on the carpet and with your full undivided attention until your balance is improved to the point where you can use it while working.
The Revolution 101 might have a high difficulty but it comes with higher rewards. This is definitely worth the effort and time spent learning.
Pros:
High weight limit
Cushioned surface lessens fatigue
Adjustable difficulty with the removable stoppers
Lightweight and portable
Cons:
On the expensive side
Might be too difficult for some
URBNFit Balance Disc
13" diameter
Raised massage points and non slip grip
Made from eco-friendly materials
Includes pump and inflation needle
The URBNFit Balance Disc made it to our list because of its versatility and portability. Be it for active sitting, active standing, exercise, or lower back support, this has you covered.
This product is a 13" disc which you can inflate using the included needle and hand pump. Once deflated it is very light and space saving, making it easy to bring with you to the office, gym, and home.
One mom mentioned how she bought several of the URBNFit because it's so versatile. She uses one as a seat cushion so it's like having the benefits of a yoga ball in a chair. It's also her go-to lumbar support when she's doing computer work.
She likens it to a wobble board as well because you can balance on it when standing while working, cooking, and washing the dishes. Finally, she uses it as an exercise aid to add more fun and variety to her workout.
The massage points on the surface are dual purpose. They really get the blood going when you sit, lean, or step on them. Plus, it prevents you from slipping when used with your standing desk.
Depending on how big your feet are, the URBNFit might be too small for you since it's only 13" in diameter. That said, if it was bigger it wouldn't be as portable or versatile as it is now.
Not convinced yet? The cherry on top is its very affordable price. For about $20, you get a balance disc that you can use in multiple ways to help you stay fit and alert.
If you're having trouble inflating your URBNFit, you can check out this quick video guide.
Pros:
Multi-purpose and portable
Affordable and durable
Massage points improves blood flow
Great for users of all ages including kids
Cons:
Too small for people with large feet
Some people have trouble inflating it
Yes4All Wobble Balance Board
15.75" diameter board supports up to 300 lbs
360° rotation with 15° tilting angle
Non-skid design
Removable base
Active standing doesn't have to be expensive. If you're on a limited budget, the Yes4All Wobble Balance Board will fit right in.
It might cost a fraction of the price of other balance boards, but the Yes4All can still hold its ground. Featuring a 15.75" diameter and 300 lbs capacity, it's suitable even for the big and the tall. Since it's a wobble board, it can rotate in all directions. It's slightly more difficult to use than the FEZIBO since it has a 15° tilt angle.
After graduating from an easy to use rocker, one buyer said she got the Yes4All because it doesn't break the bank. Plus, it's just challenging enough that it doesn't distract from her working. She said that it engages her glutes and core without having to worry about falling and hurting herself.
Most of the complaints about the Yes4All are about the anti-slip sandpaper-like stickers on the surface. After a few months of daily usage, it's almost gone, according to one review. In this case, we suggest replacing it with some grip tape.
Functional, fun, and cheap, it's a great deal for anyone who wants a medium difficulty balance board to pair with their standing desk.
Pros:
Budget price
Medium difficulty with the 15° tilt angle
Wide surface
Comes in a variety of color options
Cons:
Anti-slip surfaces fades easily
Poor customer support
Last but not least is an extremely robust balance board that also doubles as an anti-fatigue mat. This lets you stand longer, and when you wish to, move your body all without switching boards.
The Fitterfirst has four foam legs which attach by velcro to the stained baltic birch rectangular board. Depending on how you arrange the foam legs, you can adjust the difficulty of rocker or tilt direction. Once you're done balance training, you can position the legs at the corners to turn it into an anti-fatigue mat for the rest of your standing period.
One Fitterfirst fan said that it makes work so much more fun because you can bounce and shift while listening to music. Definitely no more sleepy afternoons for this guy.
Meanwhile, another buyer mentioned that the Fitterfirst has helped him remove the pressure from his challenged hips and knees.
It's really hard to find something to complain about the Fitterfirst. The only things we could think about is that it's not for people who are looking for an advanced level balance board. It's also a tad pricey.
At the end of the day, you really get what you pay for with the Fitterfirst. It looks good, it feels good, and you can even have fun with the various leg arrangements.
Watch this video to see the Fitterfirst in action.
Pros:
Has adjustable foam legs to switch between an anti-fatigue mat and rocker
Legs can be rearranged to tweak the rocker difficulty
Slightly bouncy and fun
Stained wood adds to the aesthetic and grip
Cons:
A bit pricey
Not for advanced balance board users
How Long Should I Stand at a Standing Desk?
Research on the optimal time to stand versus sit at work has so far been inconclusive, to say the least. However, one of the most comprehensive studies to come out recently comes from the University of Waterloo. It found that the golden ratio lies between between 1:1 and 1:3; that is, for every 30 min of sitting, you should stand for at least 30 min, or up to 45 min of standing for every 15 min of sitting.
Using a balance board during your standing phase, however, should be limited to a maximum of 20 minutes. This is enough to counteract the negative effects of standing while still keeping you productive.
Benefits of Using a Balance Board When Standing (According to Science)
Using a balance board to supplement your standing phase has many proven health benefits. Here are some of them:
Using a balance board with a standing desk negates the ill effects of prolonged standing by adding frequent leg movement and boosting blood circulation.
Since using a balance board is considered a low-impact activity, it's suitable for people of all ages.
Weight-bearing exercises like using a balance board can help increase bone mass, prevent osteoporosis, and improve basic functions like bending and reaching.
According to a 2017 study, balance training can help improve memory and spatial cognition.
Using a balance board strengthens the core and stabilizes the muscles, especially in the lumbopelvic region. The back, shoulder, glute, and leg muscles are also targeted, making it a full-body workout.
Because you get a mini workout while using a balance board on workdays, your body won't get shocked when you try to catch up on your weekly exercise regime.
A 2018 research found that using a balance board while working can boost your energy expenditure without affecting your productivity.
Since balance boards keep you moving, it can keep you alert while working.
Adding a balance board to your work routine can boost your spatial perception, coordination, language development, focus, and ankle joint strength for injury prevention.
What Are the Different Types of Balance Boards?
There are five types of balance boards, each with different levels of difficulty and benefits.
Rocker Balance Board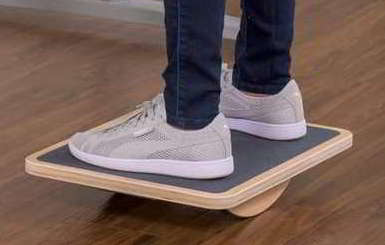 The rocker is the most beginner-friendly out of the types of balance boards on the market. It's flat and rectangular with a semi-circle stationary base so its range is limited.
Depending on the board's positioning, you can only rock it either side to side or front to back.
Because of the rocker's ease of use, it won't interfere with your work even if you're not good at balancing.
Wobble Balance Board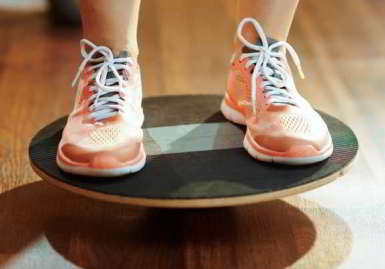 A wobble balance is slightly harder to use than a rocker. It's flat and circular with a stationary dome-shaped base.
The upside down bowl base means that there's a 360° range of motion, creating lots of ways to exercise on it. Your goal is to stand on it and let it tilt in various directions without letting the edge touch the floor. The smaller the base is, the harder it is to do this.
Start with a wobble board with a large base. Once you get the hang of it, you can increase the difficulty by buying another wobble board, this time with a smaller base.
Spring Balance Board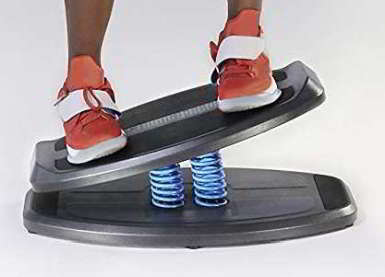 First sold in 2013, the spring balance board is fairly new to the scene. It's composed of two flat boards that are connected by 4 compression springs.
To use it, you'll have to engage different core muscles to maintain your balance while the springs push the board back.
Using a spring balance board can be quite difficult. Only use it if you have good balance and you're confident that it won't affect your productivity if you use it with a standing desk.
Half Balance Ball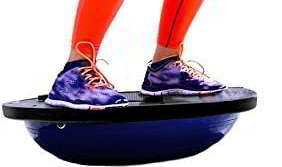 A half balance ball is well, a half of a ball. Kidding aside, it is an inflated half sphere with a flat bottom. It can be moderately difficult to use depending on your fitness level.
To use it with your standing desk, you can either stand on the spherical or bottom side, depending on the difficulty level that you want.
Compared to the other types of balance boards, half balls can be quite unsightly in the office because of its large size and heavy weight. However, they offer the widest range of exercise possibilities with some even coming with resistance bands.
Roller Balance Board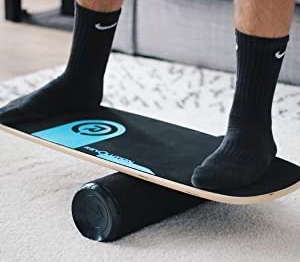 The roller has a flat and rectangular board with a rolling cylindrical base. The two levels of instability – the rolling base and the tilting board – make it the most challenging out of all the balance boards.
Because of its difficulty level, it can take away your focus from your work. In fact, professional surfers, water skiers, and snowboarders often use it to train during the off-season.
Balance Board vs Anti Fatigue Mat
Anti fatigue mats are used to lessen the fatigue caused by standing for long periods of time on hard surfaces like cement floors. These are typically made using materials like rubber, carpeting materials, vinyl, and wood.
Unlike balance boards which are unstable, anti fatigue mats stay firmly on the ground. Some are flat while others have bumpy terrain to massage your soles.
Balance boards and anti fatigue mats aim to keep you moving and counter the negative effects of standing for a long time. Both have their advantages and one isn't always better than the other.
Balance boards are best when:
You want a mini full body workout as you stand
You get bored with standing still quickly
Anti fatigue mats are best when:
You're not allowed to use balance boards in the office due to liability issues
You have very poor balance and you want to start with something easier
You tend to lose focus when using a balance board