Last updated: March 16th, 2021
If you weigh 400 lbs, you may have trouble finding an office chair that is large and sturdy enough to be comfortable. An office chair has to be well made with quality materials to withstand the frequent use that it will receive; for this reason big and tall chair owners often have to shell out more for a heavy duty chair that will fit their needs. As a big guy, if you've been disappointed time and time again by office chairs that broke too quickly or just cannot accommodate your size comfortably, you're in luck.
In this guide we research the very best big and tall office chairs with a high weight capacity of 400 lbs or over for large people who need a reliable, heavy duty ergonomic office chair. Special attention is paid to the dimensions of the seat to make sure they are wide and deep enough as well to accommodate large users, as what good is a sturdy chair if you can't fit comfortably in it?
So without further adieu , here's out list of the five best heavy duty office chairs with a 400 pounds capacity in 2018.
For one of the best leather office chairs in the market for large folks that won't break the bank, the honor goes to the OFM ESS. This is a true 400 lbs capacity executive chair that's been field tested and validated by scores of large folks.
One owner that is 300 lbs said he's destroyed every chair he's sat in until the OFM ESS. Another 350 lbs user also offered high praise for the chair even after 3 years of sitting in it for 12+ hours a day.
The seat on the OFM ESS is a generous 24" wide and 21" deep. Users say that this chair isn't just a regular chair that has been reinforced, it is specifically designed with large people in mind.
Segmented padding on the seat and back of this chair provides just the right amount of support at each ergonomic point. The stitching is secure and the bonded leather upholstery is smooth. A leather expert review this chair reports being impressed with this chair's value.
Many users of heavy duty office chairs have had the experience of chairs breaking on them; OFM address this worry in the ESS Big and Tall Executive Chair by providing a Limited Lifetime Warranty. One user commented that when a rod in the chair mechanism broke, customer service was prompt in communication and sent a replacement part to make the chair whole again.
To sum up, the OFM Big and Tall Executive Chair is a stylish and sturdy executive office chair. It has a timeless look that would fit well in any office, and its high weight capacity makes it a great option for large users.
Pros:
400 pound capacity and 24" by 21" seat gives users plenty of space
Segmented cushions provide good ergonomic support at seat and back
Limited Lifetime Warranty ensures longer chair lifespan
Cons:
Upholstery is bonded leather, not genuine
Armrests are not height adjustable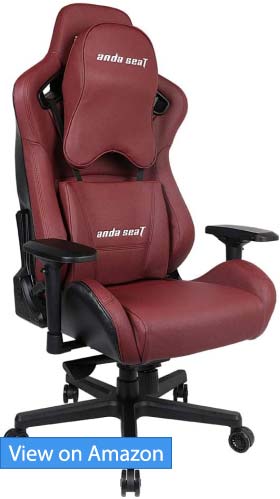 The Anda Seat Big and Tall Gaming Chair is a true big and tall gaming chair with high-tech foam padding and rock solid stability. If you're into gaming or just looking for a chair with a bolder design, this is hands down one of the best 400 lbs capacity gaming chair you can get.
First of all, the Kaiser Edition Gaming Chair is purpose built for large people over 400 lbs, with a heavy duty base and T-mechanism that is so sturdy, one owner measuring 6'2″ and 315 lbs feels like he cruise on the chair down a flight of stairs with no problems.
The backrest on the Kasier reclines up to 160° with no feeling of toppling over, a rare achievement for heavy duty chairs with a capacity over 400 pounds. To safety support a large person at that angle, the Kaiser's frame consists of thick steel tubes that is 30% thicker than similar heavy duty chairs'.
Complimenting the versatile backrest are equally impressive 4D armrests. Adjust their length, width, and even angle to support your arms at any angle as you game. Length adjustable armrests are especially important to support your forearms in a heavily reclined position.
A big part of comfort in any office chair is the seat cushioning and lumbar support, and the Anda Chair Kaiser delivers on those front too. The high density cold foam used was designed to withstand heavy weights without sagging while still offering a good amount of elasticity. The detachable lumbar and headrest surprised us the most, offering stellar support in your lower back and neck as you wish to lean back in the chair.
Finally, with all these features, it's important to not forget the 'big and tall' description in Kaiser's Big and Tall Gaming Chair'. This chair has a maximum weight capacity of 441 lbs, with the ideal height range being between 5'9″ and 6'9″.
In summary, the Anda Seat Kaiser is the best heavy duty gaming chair that can accommodate up to 400 lbs in the market right now. There isn't space to describe all the features this chair has, You can read our full review of the Anda Seat Kasier if you need more details.
Pros:
High density foam seat that doesn't sag easily
Extremely stable backrest tilt and recline
Ultra solid metal frame that's 30% thicker than similar chairs' on the market
Life time warranty on most parts
Cons:
Headrest pillow isn't height adjustable
Usable seat width of 18″ may be inadequate for really wide people
The Space Seating Big and Tall Mesh Seat has a simple look and design, but the sturdy capacity of this chair and the amazing breathability of its seat and back make it a great option for users up to 400 pounds.
As with the other chairs on this list, Space Seating's Big and Tall Mesh Seat is an office chair made for big and/or tall people, and the seat's vital statistics reflect this. The weight capacity is 400 pounds and the seat is 22" wide by 21″ deep. One large 375 pound owner happily extolled "Holy fat! This is the best chair I've ever purchased for my home".
While this chair does look pretty basic, it hides some pleasant surprises, such as a lumbar support pillow held against the mesh of the back. Lumbar support is very important for keeping good posture and avoiding back pain, and the pillow on this chair is part of what makes it such a high-quality model. One user said that the lumbar support was the subject of many comments when the chair first arrived.
One other nifty feature the Space Seating Big and Tall Mesh Seat has is height and width-adjustable armrests. Height adjustable armrests, to be fair, are relatively common in high-end office chairs, but width-adjustable armrests are more rare and give this chair more utility for large users. One user commented that the armrests were perfect in their adjustability.
The price tag on this chair may be surprising; after all, it is a manager-style chair, not even an executive. However, keep in mind the quality of the materials and the special heavy duty design used in making this office chair as factors for explaining the high price.
All in all, the Space Seating Big and Tall Mesh Chair isn't flashy, but it is comfortable and well-constructed for large users. If you're looking for a comfortable and high-quality office chair to use and don't need anything fancy-looking, this could be the chair for you.
Pros:
400 pound capacity and 22" wide seat for large users
Unobtrusive lumbar support keeps good posture and prevents back pain
Height and width-adjustable armrests allow for accommodation of many sizes of user
Cons:
Price is high for a manager-style office chair
Shorter users report not being able to touch the floor when sitting in this chair
HON's Wave Big and Tall Executive Chair is an ergonomic office chair with a breathable mesh design. If you liked the style of the Space Seating Seat but would like the taller back and head support that comes with an executive-style chair, the HON Big and Tall Executive Chair is a great option.
The weight capacity of the HON Big and Tall Executive Chair is 450 pounds, the highest on this list. The seat is 22" wide, fairly standard for heavy duty office chairs. One 425 pound user said that this chair lasted where other big and tall chairs had broken.
One impressive feature of this chair is the tilt control. One knob controls the tilt tension, so you can adjust how much give the chair has when you lean back, and another knob locks the tilt if you want the back to stay at a certain angle. Users comment that this chair feels very sturdy and the tilt works smoothly, but it can squeak at higher levels of tilt tension.
Finally, the HON Big and Tall Executive Chair is simply comfortable for large users. The mesh back and seat are breathable, so sweating shouldn't be an issue even for people who weigh 400 pounds, and there is lumbar support included to keep your posture good. One user reported that these designs did make the chair comfortable, specifically that mesh kept him cool enough to prevent excess sweat.
Overall, the HON Big and Tall Executive Chair provides lots of comfort for a reasonable price, and it boasts a higher weight capacity than even most heavy duty office chairs. The design is executive, but the mesh back and seat keep this chair as cool as anything else on this list.
Pros:
450 pound weight capacity outshines other heavy duty chairs
Tilt control allows customization for personal comfort
Mesh seat and back plus lumbar support make this chair comfortable for large users
Cons:
Armrests have been reported to break or degrade easily
Chair back can squeak when tilt tension is set high
And finally, we have the Clatina Big and Tall, a large office chair that manages to keep both big folks and their wallets happy with its 400 lbs limit and budget friendly price. We're also big fans of the sleek lines and extremely supple feeling bonded leather upholstery.
An all metal 5-star base allows this heavy duty office chair to balance and support up to 400 lbs. Multiple users in the 300 pound range report this chair being sturdy and comfortable when other chairs had fallen to pieces in a matter of months.
Even better, the Clatina Executive Chair has size to match its strength. The seat has a wide width of 24.2" and a depth of 30.7" to ensure that its users don't feel pinched in. One user says that he chose this chair specifically for its impressive seat depth and that it is perfect for a tall person.
In terms of ergonomics, the Clatina comes with a highly contoured waterfall seat edge that minimizes pressure build up underneath your thighs. The backrest also tock, though like many executive chairs, only by a small amount (around 10 degrees)..
It should be noted that the leather upholstery of this chair is bonded leather, not genuine leather. This means it has a higher propensity to peel over time compared to real leather.
Overall, the Clatina Big and Tall is a sleek and capacious office chair well suited for big and tall users on a budget. It has the right look for a sophisticated den or an elegant office and the generous size to go along with such roles.
Pros:
Sturdy construction supports users up to 400 pounds
Wide and deep seat is accommodating for larger people
Padding is generously thick and upholstered with detailed stitching
Cons:
Upholstery is bonded leather, not genuine
Backrest only rocks, but doesn't lock into an angle.
What to Look for in a Big and Tall Office Chair
As a large chair user, be aware of what features a chair has to keep you supported, and also be careful to note the specific weight capacity and dimensions of each chair. As you are probably aware, 'big and tall' can mean a lot of things, and some big and talls are bigger and taller than others. When looking for a heavy duty office chair, then, it is more important to pay attention to specifics than it is when purchasing a standard-sized chair.
The list of heavy duty chairs here are the very best in their class, with not only a high 400 lbs weight capacity, but large seat dimensions to make sure you don't feel pinched when seated. The guide includes a wide variety of chair styles, from racing-style gaming chairs to austere leather models that wouldn't be out of place in a Victorian den. As you search for chairs, it's important to find one that is both comfortable and appealing to your personal tastes as far as style is concerned. But if you start from this list, you should be in good hands.
Related Reviews