Being tall might have its advantages, but it can also be a major hindrance when it comes to choosing suitable furniture such as office chairs and computer desks.
Most modern computer desks cater to average height people, leaving persons above 6′ tall in awkward working positions when seated. The result is a hunched back, cramped legs and bent neck that can lead to many chronic issues down the road.

Here are the main issues with standard desks when it comes to accommodating a tall person:
Legroom is often inadequate under regular sized desks.
Desk top is too low, leading to poor placement of your arms to type or write.
Low desk top also leads to a hunched over posture of the upper body and neck when working.
The result is discomfort and medical problems in the long run from sitting in a compromised position.

In this guide we'll look at the most important information tall people need to know when shopping for the ideal computer desk that caters to their height properly.
See Also: Best Desk Risers and Standing Desks to Help you Stand Periodically at Work.
Ideal Desk Height Guidelines for Tall People
As a starting point, tall people who are around 6′ should opt for a computer desk that is at least 29″ tall. For every added inch of height, add around 0.4″ to get the ideal height for a desk:
6' tall: Look for a desk that is around 29" high (tabletop height)
6'1" tall: Look for a desk that is around 29.4" high
6'2" tall: Look for a desk that is around 29.8" high
6'3" tall: Look for a desk that is around 30.2" high
6'4" tall: Look for a desk that is around 30.6' high
6'5" tall or taller: Look for a desk that is around 31" or higher
Of course, these numbers are just general guidelines. In the field I find many tall people actually prefer desks that are higher than the recommended numbers above. In that case, an ergonomic desk that is height adjustable might be the better option.
Best Computer Desks for Tall People Reviewed
With that said, here are my top choices for the most ergonomic, durable, and practical computer desks for tall people in 2019:
| | |
| --- | --- |
| Desk Height | 42.5″ |
| Desk Surface Dimensions | 47.6″ L x 23.6″ W |
| Warranty | 12 months |
Mr Ironstone's sleek and minimalist computer desk is an excellent choice for people over 6′ tall. With close to 42.5″ of maximum clearance underneath, tall people can even extend their legs out underneath thanks to the open design.
This computer desk features a simple design with 47.6″ inches of ample surface space (length wise), easy assembly and thick MDF tabletop with a metal frame to give you a simple desk ideal for any room or office.

The primary highlight of this computer desk is the height adjustable desktop that goes from a low 27.9″ to a high of 42.5″. This ensures that regardless of your height, there is a setting that's perfect for you. Four wheels that are lockable let you move the desk easily from one space to the next.

One 5'11" tall owner of the Ironstone desk echoed the height advantage of the desk compared to others she's owned. She said that this is the only desk that fits her height perfectly both when sitting down and standing. It even bests some standing desks in terms of its maximum height.
Despite the desk's impressive height range, it should be noted that this isn't really a standing desk, as adjusting the height requires two people, making it difficult to do so at a whim. However, at less than $200, the Ironstone desk is also far cheaper than full fledged standing desks.

The desktop is also completely flat with no lip, making it ideal for attaching clamps for monitors and even a keyboard tray.

A few users do report some quality control issues with some desks being shipped with incorrectly sized screws. However, the same people note that the company has amazing customer service, taking the initiative to provide a replacement after reading the reviews.

The minimalist design also makes the table extremely easy to assemble, something that multiple users have lauded. Most owners have no problems putting together the desk in under 30 minutes.

All in all, the Ironstone computer desk is ideal for a tall person seeking a simple yet functional and stylish desk that is well-built and ideal for multi-purpose use.
| | |
| --- | --- |
| Desk Height | 30 inches |
| Desk Surface Dimensions | 60" L by 23.75" W |
| Warranty | 12 months |
The Monarch Specialties 7145 computer desk follows a similar modern design language to Bon Augure's offering, with the added benefit of storage space. Moreover, at 60 inches in length and measuring 30 inches in height, it gives you plenty of workspace and copious amounts of legroom for your taller frame.

The computer table features a slick design with very clean edges giving it a modern look. The highlight feature is the 60 inches of desktop real estate it provides, easily accommodating two monitors and a desktop PC. The huge desktop also ensures you have plenty of space underneath to hold a large office chair comfortably.

Much like the Bon Augure, the table features a particle board desktop covered in a tasteful wood veneer. The frame is supported by a metal leg on one side and a set of drawers with a metal bracket on the other.

The two storage drawers and open cubby radically increase the practical value of this desk. You can choose which side of the desk to install the drawers on, which is a feature many people applauded.

The table also features a flat surface that is great for writing, something missing in the Bon Augure due to its textured surface. However, like the Bon Augure, it doesn't have any height adjustability, although adding monitor stands and keyboards trays is extremely easy.

The addition of drawers adds a few additional steps to the desk's assembly. That said, people were also quick to note that the instructions are quite clear and well explained with illustrations to aid the assembly process.

To conclude, the Monarch Specialties 7145 gives you a sturdy and modern design with lots of storage and a generous desktop easily able to accommodate multiple computers.
| | |
| --- | --- |
| Desk Height | 32.5 inches – 41.5 inches (raised) |
| Desk Surface Dimensions | 47.2" L by 24" W |
| Warranty | 18 months |
Stepping away from the minimalist design of the last two desks, we chose to include Tribesign's Rustic Lift Top computer desk as our first truly adjustable desk for tall people.

The highlight feature of the desk is the lift-top, raising your desktop between 32.5" and 41.5". This allows this desk to double as a standing desk. Standing desks are great for ergonomics, giving you essential breaks from long periods of sitting and thereby the debilitating diseases associated with sitting all day.

The lifting mechanism is also well-engineered, allowing to raise the desktop with minimal effort and up to 40 pounds of equipment. However, the desktop can only transition between completely raised or completely lowered with no intermediate positions.

Rounded corners and adjustable footpads that allow you to level the desk on uneven surfaces show the thought put into the design of this desk.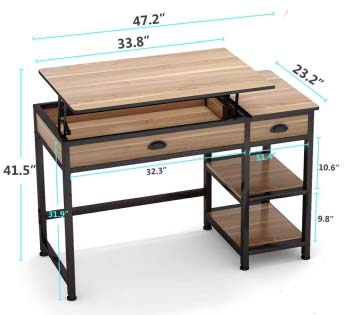 The desk also features plenty of storage space. One large drawer under the lifting top and another at the side. Two open shelves reside under the drawer on the side. The drawers are also shallow to ensure that you have plenty of leg space under the desk. The desk also features a stylish slot at the back for cable management.

At 47" in length, the desk does offer less real estate but this also makes it great for small office spaces. This combination of a compact design with a raising top to double as a standing desk makes this desk a highly ergonomic prospect ideal for taller people.
| | |
| --- | --- |
| Desk Height | 30.8 inches – 40 inches (raised) |
| Desk Surface Dimensions | 50" L by 23.47" W |
| Warranty | 5 Years |
The Sauder Harbor View LiftTop Desk gives you the same hybrid desk setup as Tribesign's offering, but with a much larger 50" desktop and a charmingly rustic design.

The lift top features a familiar design with a conveniently located latch that can be used to lift up the desk. The desktop rises upwards and forwards up to a height of 40", providing prime ergonomics for working while standing.

The desktop, as well as the lifting mechanism, are also very sturdy, easily accommodating up to two monitors on the raised platform. As with Tribesign's LiftTop Desk, the standing desk only features two height settings with no intermediate positions possible.

The desk comes with narrow drawers to maximize legroom for taller people. A low crossbar at the very back of the desk also allows you to stretch your legs uninhibited while still providing a place to rest your feet with ease.

Another major highlight of the table is lots of practical storage, with one large file sized drawer, one smaller drawer as well as an open shelf available to store things easily. However, the storage space under the lift top can only be accessed by lifting the top, as the faux drawer front does not open. A conveniently located slot at the back of this drawer allows for easy cable management.

All in all, the Sauder Harbor View LiftTop Desk features a great combination of excellent ergonomics catering to tall people who want to stand from time to time to mitigate the ill effects of sitting for too long.
| | |
| --- | --- |
| Desk Height | 29.9 inches |
| Desk Surface Dimensions | 55.1″L x 23.6″W (for both sides) |
| Warranty | 12 months |
Moving to L shaped tall desks for people who need the extra real estate, we feature Topsky's original L-Shaped desk. With its versatile shape, ample desktop space and huge amounts of storage, this desk is ideal for taller people looking for a stylish and practical computer desk.

Topsky made a name for itself producing gaming chairs, and their foray into computer desks has been successful as well.
Thanks to the minimalist design, putting together the Topsky computer desk is very straightforward. The sturdy steel frame and high quality mdf board can withstand weights of up to 300 pounds.
In terms of ergonomics, the table features dual 55" x 23.6″ desktops with slim metal legs tapering to the side. Combined with the taller than average 29.9″ desk top height, this allows the user to easily house a large chair with ample legroom, especially since you have no under desktop drawers to eat away your legroom.

An interesting optional accessory is an optional filing cabinet you can get if you need storage space to go along with the computer task.

If you're looking for an easy to assemble, deep L shaped desk with an above average height, you can do much worse than the Topsky Computer Desk.
| | |
| --- | --- |
| Desk Height | 30 inches |
| Desk Surface Dimensions | 59″L x 21.7″ (on both sides) |
| Warranty | 12 months |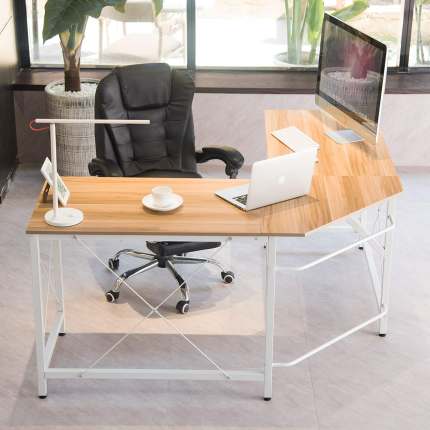 If seemingly unlimited desktop space is what you require, then Mr Ironstone's L-Shaped desk is the ideal option for you. With a massive 118 total inches length wise of desktop space, coupled with a 30 inch height, it easily accommodates tall people who use multiple computers, laptops, and printers.

The primary feature of this table is the L-shaped design which makes it ideal for fitting into corners, giving you huge desktop space in a surprisingly compact package that can even fit in small offices. The shape also allows you to swivel within your chair and seamlessly work across the surface of the entire desk, minimizing strain on your body.

The L-shaped design also gives this table a huge amount of desktop real estate. This allows it to easily accommodate monitors and stands, printers, and even TVs as some reviewers are proud to show off.

The computer desk features a minimalist but very sturdy metal frame construction with a MDF board desktop. Thin but strong X-shape bars tie the metal frame, making the desk rigid and sturdy while maximizing the available room for you to stretch out your legs. The simple design also makes it easy to assemble, something plenty of reviewers are quick to point out.

The frame also features a low crossbar, which at 9" inches above the ground, doubles as a footrest running along the length of the entire table. This gives you an easy place to rest your feet no matter what part of the desk you are using.

That said, the simple design does come at the cost of little to no adjustability. The table does come with adjustable leg pads though, making it great for uneven surfaces.

All in all, the IronStone Computer Desk is ideal for anyone above 6 feet looking for a large amount of desktop space in a compact package that can be easily navigated while sitting comfortably in your chair.
Checklist for what to Look for in an Ergonomic Computer Desk for Tall People
Table height

Needless to say, table height is the foremost concern when it comes to choosing a computer desk suited for taller people. The handy conversion height guidelines provided in the top section should give you a good idea for what table height is ideal for your height. The key takeaway- the table top height should measure at least 29″ tall for a person over 6′.

Moreover, how you will be mainly using your desk is just as important.
You can go with a slightly lower desk than the guidelines if you will be using it primarily for typing.
In contrast to this, opt for a taller desk if you will be using it often for writing or drawing. Ergonomically a table top that is closer to you is conducive for tasks that require fine motor skills.
Leg Room

The ideal desk should be able to easily accommodate your long legs as well as allow you to comfortably stretch your legs.
When looking at leg room under a computer desk, it's inadequate just to look at the desk top height, as some desks have drawers or thicker than average desk top panels that take up extra space. Measure the space from the floor to the bottom of the table top instead.
Adjustability

Having multiple levels of adjustability is always a great feature to have in any desk, and is even more important when it comes to choosing computer desks for taller people. In particular, being able to adjust the height of the desk can be a huge asset for very tall persons that require non standard height desks, such as those over 6'7″.

Having an adjustable height computer desk also enables the desk to be used as a standing desk, something health experts generally agree is good for you.

Quality and Durability

Lastly, you want your desk to be a high-quality product built to last you for years to come.
You can use a number of criteria to gauge the quality of the desk. The choice of materials, as well as the warranty period, are good indicators of the manufacturer's confidence in their product.
User reviews, especially those of people matching your height or medical issues, are also an amazing source for gauging a desk's quality.
Related Resources