Do your arms or elbows often feel sore at the end of a long computing day? Where there is a problem, there usually is a solution.

Armrests and elbow pads can be very helpful in supporting your arms in various positions, which together with your hands consist of 10% of your body's weight. In fact, many people find good relief using them for musculoskeletal disorders like bursitis, carpal tunnel syndrome, cubital tunnel syndrome, and even just elbow pain.

In this guide, we'll review a few of the best armrests and elbow pads we think you should try if you spend a lot of time in front of the desk and computer.
The Pretty See Armrest does a great job of augmenting your office chair's armrests to extend support of your arms all the way to your wrists as you work. For people whose arms get quickly fatigued from using the mouse, this is a particularly effective product.

Installation is simple enough, and works with any desk up to a thickness of 2". Just rotate the heavy duty screw all the way up to secure it to the desk.

The Pretty See is ambidextrous and can be positioned to support either your left or right arm. It also has an adjustable 180° ball joint that enables the armrests to swivel and get out of the way or cater to a different working posture easily. This is a great feature missing in many other desk armrests on the market.

A little bit more padding would improve this product though. The good news is that it is easy to remove and can be replaced with a thicker memory foam padding if you like.

Overall, the Pretty See is simple but dependable armrest that can minimize wrist pressure and neck, arm, and shoulder pain. Make sure to grab two pieces if you need dual arms support.

Pros:
Easy to install and cheap
Has a 180° swivel
Has an ambidextrous design
Cons:
Thin padding
Faux leather cover peels easily
The Vivo Desk Armrests can be thought of as a beefed up version of the Pretty See product above, combining a mouse pad, palm cushion, and extended armrest all rolled into one. It is also mountable to either your chair or desk, providing two ways to augment your current workstation.

To start, the armrest can be clamped on to desks up to 1.5" in thickness without using any tools. As mentioned, it can also be attached to your chair's armrest instead, using velcro straps. If you often push back your chair to put your feet up on the desk, the second option lets you continue to use the mouse even from a distance.

Just like the Pretty See, the Vivo has a 180° rotation feature which allows you to find the right angle for support. One user especially liked this, saying that it helped alleviate the stress on his wrist and shoulder.

Unlike the Pretty See, however, the Vivo comes with a 4.2" x 2.4" memory foam palm rest and enlarged area to rest your mouse on. This helps keep your mouse close to you whatever the distance between your chair and the desk.

All in all, if you're looking for a desk armrest where you can rest your mouse on as well, you could do a lot worse than the Vivo.

Pros:
Can be attached to either the desk or your chair
180° rotation
Supports your mouse as well
Cons:
Not too durable
The palm rest might be too thick for some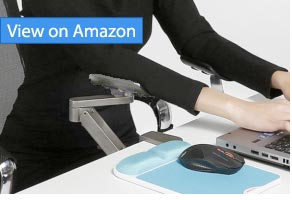 If you need a helping hand supporting your arms in virtually any position possible, a pivoting wrist and elbow pad works better than an armrest.

For one of the best ergonomic elbow pads out there that can help prevent shoulder, arm, and wrist pain, the Fuzadel gets our vote for the best contraption available.
Aside from being easy to use and durable, this alloy rotating desk extension offers a wide range of motion to support all of your arm postures as you mouse, write, or even use the keyboard.

The Fuzadel Elbow Pad is made of durable aluminum alloy, and can support up to 24 pounds of weight. Plus, you can extend it up to 12 inches long. One buyer said that this works well for his husband who can't get close enough to his desk because of his beer belly.

Our favorite thing about the Fuzadel is its adjustability. For horizontal adjustments, you can tweak the 180° rotatable bracket. There are also the 360° rotatable bracket and elbow pad to support your arms no matter your sitting position. You can even keep the vertical bracket in a stationary position by tightening the screw by hand.

The only thing it really lacks is thicker padding. After a while, the thinly padded elbow cups becomes uncomfortable. On the bright side, you can take this as a reminder to get up and stretch.

Overall, we love the Fuzadel for its ability to prevent arm, shoulder, and wrist pain while also reducing eye fatigue.

Pros:
Supports the weight of your arms in any position
Durable and sturdy
Easy to install
Cons:
Thinly padded
Can be confusing to adjust at first
The SKYZONAL Keyboard Mount Tray not only helps you maintain neutral wrists as you type, but also instantly increases your desk space. This extra-wide tray mounts in at desk level and can be adjusted or folded as needed.

It has metal clamps that can be attached to tables up to 2.36 inches thick. Once attached, the 25.6" x 9" tray can stably support your arms while also keeping you a healthy distance away from your monitor to minimize eye fatigue.

To make resting your arms on the Skyzonal more comfortable and to help maintain neutral wrists, you can slope the entire tray up to 10° downwards.

Our favorite feature, though, is its ability to be folded down when it's not in use. Another buyer agrees, saying that this is a great addition to her home office because she lives in a small apartment. We also like the black and walnut brown appearance since it works well with most workstation color schemes.

Performance-wise, there's nothing to complain about the Skyzonal. However, the quality of the sewing is on the sloppy side.

Despite this small drawback, we highly recommend giving the Skyzonal a try if you want to get full arms support while increasing your workspace at the same time.

Pros:
Space-saving
Supports downward sloping for more natural arm and wrist positions
Easy to install
The Aloudy Memory Foam Chair Armrest Pad is a simple solution for people suffering from sore elbows due to hard armrests. Coming in a set of 2, this affordable product combines quality foam and a soft polyester cover to relieve your pressure points as you work.

With dimensions of 9.5" x 4.5" x 1.5", the pads can fit on armrests 6 to 11 inches long. The high-density foam material is thick and overall holds up well. A buyer who suffered from elbow pain because of her chair's hard plastic armrests said that this product helped eliminate that pain.

The cover is made of breathable polyester material with a velvet finish. This means that not only does it look nice, it's very comfortable to use as well. You can even choose from three colors – black, blue, and gray.

The advertising is a little misleading though. It uses good quality foam, but it isn't memory foam. It also accumulates dirt and sweat faster because of its velvety finish.

Despite this false advertisement, the Aloudy does a fine job of keeping our arms and elbows comfortable and supported at all times. You can use it to cover peeling armrests as well.

Pros:
Available in 3 different colors
Soft and breathable
Stays in place
Machine-washable
Cons:
Not memory foam
Easily gets dirty
If you tend to move a lot while working, it might be hard to find armrest pads that really stay in place. Behold the Aneforall Anti-Slip Armrest Pad which features a non-slip back, adjustable straps, memory foam padding, and a polyester cover.

Unlike the Aloudy which can be either too tight or too loose on your armrests, the Aneforall is more flexible because it uses adjustable straps to stay in place. In fact, one buyer said that this worked perfectly with both his old and new computer chairs which have different armrest lengths.

It doesn't lack in terms of comfort either. The Aneforall uses 1-inch thick memory foam and polyester fabric to ease the pressure on your elbows and arms while you mouse and type.

Cleaning is very easy as well. Just unzip the zipper to remove the cover and put it in your washing machine.

At the end of the day, the Aneforall is still a great buy if your chair's armrests fall outside the typical dimensions or shape that work with slip on armrests.

Pros:
Compatible with different types of armrests
Easy to clean
Supportive and soft
Cons:
Has static buildup
Material can be a little itchy for some people
Last but not least, do you tend to rest your elbows more often on the desk than on the chair? If so we suggest giving the Jelbows Ergonomic Gel Pads a try. Available in 4 colors, these medium-soft pads are cheap, portable, and do a great job of cushioning your elbows against the hard surface of your desk.

For a very affordable price, you get 2 gel pads. Mix and match the sizes, which range from 4" to 6" in diameter.

We like that gel pads are just the right firmness to provide enough support without causing nerve compression. A buyer who has cubital tunnel syndrome mentioned that this helped with the symptoms after just a few uses.

They're on the sticky side so the pads stay in place without ruining your desk surface. However, they're also easy to take off, allowing you to bring them wherever you go. Of course, you can just get another pair since the Jelbows is reasonably priced.

The best thing that we liked about the Jelbows is its durability. Some palm rests split open and spill the gel after a few months of use. Since the Jelbows is solid gel, you won't have to worry about that happening.

The one drawback to this product is its stickiness. It's a dirt magnet so you have to clean it regularly. The good news is that you can simply wash this with soap and water.

All in all, the Jelbows is a great pick for anyone looking for a way to prevent nerve compression and musculoskeletal disorders.

Pros:
Right firmness
Easy to clean
Non-slip
Durable
Cons:
Accumulates dirt easily
Can feel slightly sticky to the skin
Has a strong odor at the beginning
Common Types of RSI in the Arms, Wrists, and Shoulders You Need to Know
Bursitis
Bursitis is characterized by an inflammation of the bursa, causing irritation and swelling around the elbow tip.

It is most often seen in students and office workers who lean their elbows on hard surfaces like desks and armrests. But, bursitis can also be caused by trauma, direct hit, infection, or autoimmune conditions.

Using armrest pads can help prevent bursitis in an office setting where you're always typing or leaning back to read documents. Taking frequent breaks from repetitive tasks is just as important.

Most of the time bursitis can be treated with self-care techniques. Resting and protecting the swollen elbow is a must. To help with the pain, you can take over-the-counter painkillers and use ice packs.

To know more about bursitis, check out this helpful video:
Tendinitis
Tendinitis is an inflammation or irritation of the shoulder, elbow, or wrist tendon. Symptoms include mild swelling, tenderness, and dull pain for the affected joint.

The risk for developing tendinitis increases with old age, certain sports, and jobs where you have to do repetitive motions like mousing and typing for too long.

Proper workplace ergonomics like adjusting your chair, keyboard, and desktop, and using an adjustable armrest to support your arms and elbows can prevent tendinitis. You should also take a lot of short breaks to minimize excessive stress on your tendons, especially for prolonged periods of repetitive tasks.

Most of the time, tendinitis can be treated with rest, physical therapy, and painkillers. In severe cases, surgery might be needed.
Cubital Tunnel Syndrome
Cubital tunnel syndrome (CTS) occurs when the ulnar nerve is compressed, stretched, or irritated. It can cause pain, weakness, loss of sensation, or tingling, especially in the hand and fingers.

Direct pressure like leaning your arm on a hard armrest or stretching the nerve by keeping your elbows bent to work for long periods of time can cause CTS.

Using soft armrest pads to ease the pressure on your arms while also providing support can prevent CTS. Changing positions and quick stretches also help.

To treat CTS, the best thing you can do is to avoid its causes. You can also wear a splint at night to prevent bending while you sleep. If it worsens, surgery might be needed.

You can also check out a doctor's explanation of Cubital Tunnel Syndrome below:
Thoracic Outlet Syndrome
Thoracic Outlet Syndrome (TOS) is most commonly characterized by a numbness or tingling sensation in your arms and shoulders, especially when you raise your arms.
There are three types of TOS – neurogenic, venous, and arterial. Depending on which part is compressed, the symptoms can range from pain, weakness, swelling, poor blood circulation, to bluish discoloration.

TOS can happen as a result of trauma, tumor, pregnancy, certain conditions, and repetitive arm movements. It is also aggravated by poor posture, ergonomic setups, and motions.

To prevent TOS in an office setting, use padded armrests to ease the pressure on your joints. Take frequent breaks from repetitive activities as well to minimize tissue wearing.

Non-invasive treatment of TOS includes stretching, physical therapy, and the application of hot or cold packs. If left untreated, it can cause permanent damage and will require surgical treatment.