Last Updated: Nov 23rd, 2021
There's an old saying: "You're either in your bed or in your shoes, so it pays to invest in both." Most gamers would probably add an ergonomic chair to that list. In the modern world where so many people sit for hours gaming on a computer, spending $200 or so on a quality gaming chair that will keep you comfortable and without aches for long hours makes all the sense in the world.
At the $200 level, you can expect great gaming chairs that come with some unique features that can really minimize common ailments associated with gaming for too long. This includes back pain, nick stiffness, and carpal tunnel syndrome. Dedicated lumbar and neck pillows, bucket seats, height adjustable armrests and even some chairs with dedicated footrests can be found in gaming chairs at this price level.
In this guide we handpick the very best budget gaming chairs under and around $200 so you can finally game in comfort and in better health, all the while without leaving a hole in your wallet.
Note: Prices subject to change. Check final price before purchasing.
The GTRACING Gaming Chair (full review) is a boldly styled chair with ergonomic comfort and an impressive recline. Whether you work on your computer or use it mainly for gaming, this chair can keep you comfortable and in good posture for hours. While it may be a bit too flashy for an office setting, this GTRACING chair is perfect for your desk at home.
One of the first things to look for in an ergonomic gaming chair is how it will treat your back. In addition to the winged curve of most racing-style chairs, the GTRACING Gaming Chair has adjustable pillows for neck support and lumbar support, which means you can sit back comfortably without worrying about future back pain or bad posture. One user said that this gaming chair was more comfortable than any office chair he had used before.
In addition to feeling great, this chair looks awesome as well. A striking two-color palette draws the eye, and even the wheels have a sharp look. Many people like to match the look of their chair with their computer, so if you have a boldly-colored battlestation, this could be the gaming chair for you. Several users of this chair mention the coloring on this chair as a big plus.
Finally, the GTRACING Gaming Chair has an above-average level of adjustability, especially among other gaming chairs in the $200 range. One disabled owner of this chair commented that this chair's adjustment options perfectly met their needs. The back reclines up to 170°, so you can practically lie down in this chair if you want (perhaps detach the lumbar pillow first, though). The high recline of the backrest makes this gaming chair a solid option for any sort of work or relaxation that involves sitting.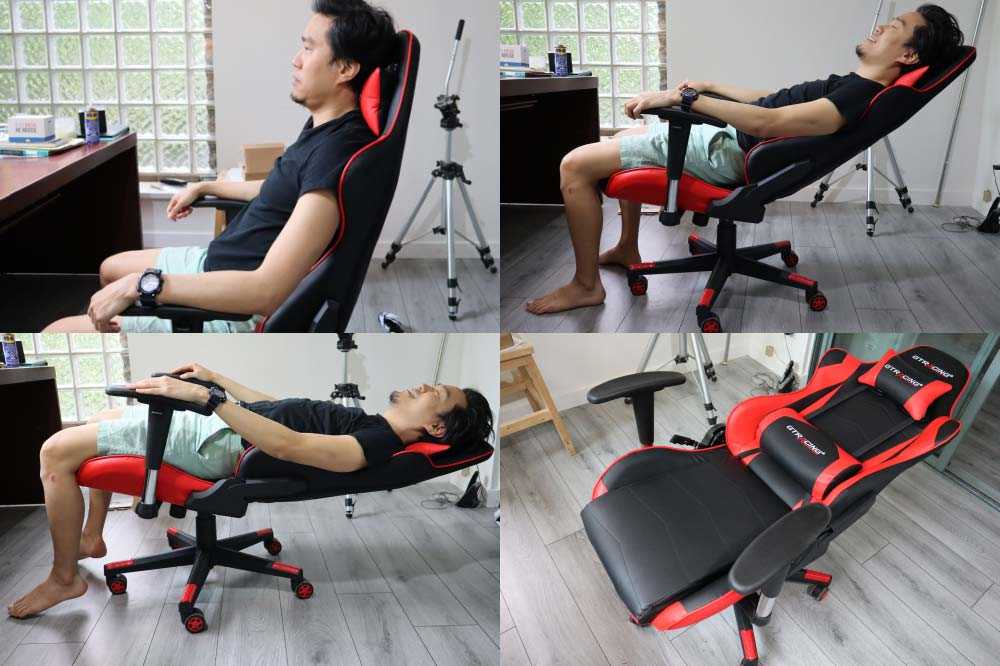 All in all, the GTRACING Gaming Chair is one of the most well rounded gaming chairs in the $200 range, with adjustability both for comfort and utility. If you're looking for a chair that has these features and a keen look to boot, this is a solid best.
2. Kcream Gaming Chair– Best PC Gaming Chair with Footrest
The Kcream Gaming Chair comes at a slightly higher price than the GTRACING Gaming Chair, but it also offers the next level of comfort and higher build quality in our testing. If you like to sit in a highly reclined position often to watch a movie or read, the added footrest will also make a world of a difference.
The backrest of the Kcream gaming chair can recline up to 155 degrees. That's less than the 170 degrees found on the GTracing chair above. However, this is still flat enough to benefit hugely from the footrest the chair comes with. One owner of the Kcream says it's by far his favorite part of the chair after a long day at work.
Comfort and build quality wise, the KCream really took us by surprise. It's on a whole new level compared to all other $200 gaming chairs we've reviewed. The seat cushion is an incredible 5″ thick, the armrests are very wide, and the backrest is also generously padded:
One of the biggest worries when buying inexpensive gaming chairs is that they will begin to break down after a few years of use. The build quality of the Kcream gaming char is simply exceptional. There is zero annoying squeaking, and all the components feel extremely well made. The only hint that this is still a budget chair is the nylon (hardened plastic) base.
In terms of dimensions, the Kcream is basically a heftier version of the GTRacing chair above. The seat is wider, the armrests are bigger, and there is overall more padding inside both the seat and backrest. Check out the size difference in the seat between the Kcream and GTRracing:
Overall most people will appreciate the larger dimensions, though there's one caveat. The seat depth on the Kcream is very deep, at 22.5″. For people 5'7″ and shorter, it may be too deep (the bottom of your thighs may brush up against the edge of the seat).
All things considered, the Kcream is one of the best gaming chairs we've reviewed in the $200 range. In fact, if you're 5'8″ or taller, it's hard to find a better gaming chair around this price point in our opinion.
The Marvel Avengers 400 lb Gaming Chair is specially designed for larger users with features such as an wide seat and a colossal backrest. If you find that most gaming seats you try are either too small or flimsy, it's definitely worth giving this one a look.
This chair has a weight capacity of 400 pounds. The seat is 23 inches wide with gentle wings to hold you in place as your body shifts from left to right while fighting your way out of a war zone. The seat's padding is high-density foam to resist undue compression. One owner who measures 6'3″ and weighs 350 lbs said this was the most comfortable chair he's owned.
The key to a good big and tall gaming chair is the build quality, and the Marvel Avengers is a step up from most budget gaming chairs in that respect. The frame of the chair is made of 1.5mm thick metal tubes, compared to many gaming chairs that use 1.2mm or even 1mm thick ones.
Another stand out feature of this Marvel chair is the high degree of recline. The backrest can be locked anywhere between 90 degrees all the way back down to 180 degrees. Whether you're gaming, chilling, reading, or even napping, the Marvel has your back, literally.
One potential downside to keep in mind, especially if you're above 6'4″ is how high up the seat rises from the ground. Even at its highest setting, the seat raises only around 18″ off the ground (measured from the ground to the top of the seat pan). This is a puzzling choice considering the chair is intended for tall users. While one user who is a 6'4" says the chair height works for him, in our estimation anyone taller than that will start to find the seat too low for them.
To sum up, the Marvel Avengers Large Gaming Chair is perhaps the best option for big and tall people who want a big gaming chair without paying a premium for it. At just over $200, this chair is a steal.
The Healgen big and tall is unique among gaming chairs in what it doesn't have, and as such makes it ideal for larger gamers. The seat on standard gaming chairs are usually "winged" to hug the user as he sways left to right, though this can create a cramped sitting experience for wider people. This Healgen chair does away with the side bolsters to create a seat that is one of the widest we've reviewed.
The seat on the Healgen Big and Tall is an incredible 22.4″ in usable width. One user that is 340 lbs says it fits in perfectly.
Like the other Healgen chair on this list, this one comes with a robust recline feature paired with a pull out footrest. The backrest can recline all the way back to 155 degrees. At that angle, it makes perfect sense to have a footrest to prop up your lower limbs as you watch a movie or take a quick nap. We love that the armrests also move back as you recline, supporting your arms to create a feeling of suspension.
Another note worthy feature found on the Healgen Big and Tall chair is the large waist pillow for your lower back. It has a built in vibration feature powered using USB. Like most cheap massage pillows, it's nothing to write home about, though nonetheless a nice touch for a budget gaming chair that costs under $200.
No products found.
If you're tired of the aggressive, racing design that adorns most gaming chairs, the Essentials Gaming Chair is a breath of fresh air. Its non discrete, compact design makes for a comfortable gaming chair that will easily blend in with your room or office even when you're not gaming.
Most owners of the Essentials Chair were thoroughly impressed with the quality and comfort of the chair, especially considering the well below $200 price. The seat is upholstered in SofThread Leather, which is a premium, softer version of the standard PU leather covering. It's cool to the touch, with a sense of refinement often lacking with bonded leather chairs.
It should be said that this chair doesn't have as many extra feature as some of the others on this list. For example, the backrest only tilts as you apply force to it, though doesn't recline. The armrests are not height adjustable either, though they do flip up for easy storage. If all you need is a comfortable place to sit while you work or play on your computer, this chair is more than good enough.
The Essentials Mid-Back Computer Gaming Chair is a very affordable ergonomic gaming chair and has good warranties to support it. If you are looking for something simple but comfortable, Essentials has you covered.
For female gamers or those that simply like the color pink, the Pink version of our top pick is definitely worth a look. You get similarly robust adjustments and comfort of the original GTRacing chair, but packaged in n feminine splash of pink and white colors.
While the colors exude cuteness and calming vibes, the chair is good for more than just that. With a strong metal frame, wide backrest, a firm foam lower back pillow, and a soft headrest, this GTracing gaming chair supports correct sitting positions during longer gaming sessions or work while keeping back pain at bay. Plus, it reclines between 90 and 170 degrees, offering three lockable positions that facilitate working, reading, and resting.
The chair is well padded while its PU leather covering is skin-friendly, allowing you to use the chair while wearing shorts or sleeveless tops without discomfort. The seat bears a thicker high-density sponge for extra support to the bottom and is wide enough for petite women and girls to sit cross-legged.
The minimum seat height can be lowered to 17" allowing even women and teens who are short to sit without dangling their feet. The maximum advertised capacity is 300lb, though we recommend that you're 230 lbs or lower based on our testing.
The key to a gaming chair that caters well not just to people that are large, but specifically, tall as well is the maximum height of the seat plus dimensions of the seat and backrest. The Von Racer the only budget chair that ticks all three.
The seat height range of the Von Racer gaming chair is 20.5″ to 22.8″. This is one of the highest we've seen, and makes it ideal for people that are tall to sit in without having to extend their legs forward. One 6'3″ user says his feet just touch the floor at the lowest setting.
The seat width and backrest height on the Von Racer also mean business. At 21.7″ and 33.5″ respectively, it's hard to imagine anyone except perhaps Shaq feeling cramped in this gaming chair.
We were impressed by the amount of padding on this chair as well The seat cushion is close to 6″ thick, along with an oversized lumbar pillow to embrace your entire lower back regardless of your size. An owner that is 6'5″ and 250lbs says the Von Racer is the only chair that is large and comfortable enough for him to sit in for 8 -9 hours a day.
At the end of the day, if you're both big and tall, the Von Racer should be your first consideration for a budget gaming chair that will actually fit you, and fit you well.
We finish our list with the GTRacing Pro Gaming Chair, by all means a great budget gaming chair with generous padding all around. What makes this one stand out however is the clean and stylish white color.
If your room decor or wall color is dark, choosing a white gaming chair creates the perfect compliment. The GTRacing chair's PU leather is dyed in standard white and fairly resistant to discoloring.
The seat cushion of this chair is padded with high-density foam and is around 4″ thick. This is a step up from most budget gaming chairs in the $200 range that feature 3″ thick cushions, such as the first GTracing chair in our lineup. The sides of the backrest are also generously cushioned.
Like any good gaming chair, the GTRacing Pro comes with an robust backrest to relax your back and provide important napping breaks between long gaming sessions. It can recline up to 170 degrees, and capable of rocking 20 degrees to release back tension.
GTracing offers excellent after-sales support on this chair: replacement or money back within 30 days and a 12 month warranty on all parts. One user said that they found customer support to be very responsive and helpful in solving their problems.
All in all, the GTRacing Pro Gaming Chair is a great ergonomic gaming chair with a choice of attractive color schemes, especially the white PU Leather option that is rather rare in the world of gaming chairs.
The different types of Budget Gaming Chairs Explained
When it comes to budget gaming chairs, the traditional PC gaming chair isn't the only form factor. In the below we discuss the different options, all of which have good models that cost less than $200:
Rocker Game Chairs
Rocker Chairs are closer to the floor than most other conventional-style chairs, and are designed with the gamer's comfort in mind. Normally, they are equipped with padded backs, a scooped L-shape, and headrests, and chair arms. The more higher-end ones can also be equipped with speakers and subwoofers, padded-vibration for the back and underside, RCA inputs, and wireless receivers.
However, while the Rocker Game Chair is a fantastic choice when it comes to temporary comfort and enhancing the gamer's experience, it is a poor choice ergonomically for long term gaming, however. The rounded L-shape does not promote a straight and neutral spine, which can add extra tension around the cervical (or upper) spine and shoulders. This will add excessive tension to the area, especially after playing for hours.
The Rocker Game Chair also does not allow for the feet to be placed flat on the floor, which can result in stiff hips and knees after long periods of time. For the living or gaming room as a chair to host your friends, however, it's not a bad choice, usually costing less than $150.
Pedestal Game Chairs
The next step up from the Rocker Chair is the Pedestal Chair. Like its counterpart, the Pedestal Game Chair is close to the ground and is normally padded to enhance comfort. However, the chair is raised slightly off of the ground and is normally equipped with armrests and a headrest. It also rocks and rotates around a raised pedestal instead of straight from the ground or off of raised wheels.
The structure is also more optimal than the Rocker Chair in terms of spinal neutrality. In addition, the armrests allow for a more relaxed upper body, and helps to prevent rounded shoulders and added tension to the neck and upper back.
However, the Pedestal Game Chair does not allow for the hips and knees to open and unflex, since the feet cannot be placed flat on the floor. Instead, they are forced into constant flexion and can be left stiff and painful if playing for long hours at a time. Like rocker chairs, pedestal style gaming chairs are best for the living or gaming room to host friends, or for pairing with TVs which are close to the ground.
PC Gaming Chairs
The PC Gaming Chair differs from the Rocker Chairs because it is well-raised off of the floor. This is due largely in part because PCs are normally set up on a desk or table, not on the floor, and so the more optimal positioning would be to sit up higher, with the feet placed firmly on the ground.
PC Gaming Chairs are also padded and are equipped with headrests and armrests for maximal comfort while playing. They have a similar swivel feature and feel of an office chair, however PC Gaming chairs contain a "bucket style" seat to enhance comfort when sitting for long hours.
PC Gaming chairs are the most ergonomic choice of gaming chair. They had detachable cushions, built-in lumbar support, and even have the ability to lean back 180 degrees to take pressure off of the spinal cord when sitting for long periods of time.
What's more, the PC Gaming Chair has the ability to place the feet flat on the floor, which helps to alleviate tension from the hips and knees. Instead of being constantly flexed, these joints have a chance to stretch out and relax during playtime.
Bean Bag Gaming Chairs
Unsurprisingly, the Bean Bag Gaming Chair is placed directly onto the floor and, like most conventional bean bags, offer little to no back support. In fact, Bean Bag Gaming Chairs offer almost no amenities that other chairs offer, such as: headrests, armrests, RCA inputs, lumbar support, detachable cushions, or speakers.
However, Bean Bag Gaming Chairs are padded and offer immense comfort to a gamer. They are also lightweight, flexible, and affordable, which makes them a great choice for young gamers strapped for extra money or space.
In terms of ergonomics, however, the Bean Bag Gaming Chair is one of the more poor options because it does not allow for great support, nor the ability to keep the back straight and the feet flat on the floor. If you already suffer from mild to severe back issues, the Bean Bag Gaming Chair is not for you — especially when playing for hours at a time.
Memory Foam Gaming Chairs
If you prefer the look, design, and feel of a Bean Bag Gaming Chair but require more support, the Memory Foam Gaming Chair would be your preferred chair. It has the same exact feel as a Bean Bag Gaming Chair but, like classic memory foam products, also offers far more support and comfort than a conventional Bean Bag Gaming Chair.
The Memory Foam Gaming Chair is also much larger than most plain Bean Bag Gaming Chairs, which makes it a viable choice for any gamer of any size. What's more, memory foam contours to the body of the man or woman that is sitting atop it, so it will offer support exactly where you need it the most! Because of this feature, the Memory Foam Gaming Chair can offer exceptional lumbar and upper back and neck support, which will protect your joints and muscles during long playing times.
However, much like the Bean Bag Gaming Chairs, the Memory Foam Gaming Chair comes with no additives that can enhance the player's experience. While it is brilliant to enhance the player, it does not come equipped with extra padding, headrests, armrests, or any electronic add-ons, such as: RCA inputs, speakers or subwoofers, or vibration options.
The Memory Foam Gaming Chair is also ill-advised for those who suffer from tight hips, because the feet are far too close to the floor. This will stiffen the hips and make them more irritable, especially after playing for long hours.
Picking a Good Budget Gaming Chair under $200
In terms of both budget and ergonomics, a PC gaming chair usually excels compared to other types of gaming chairs. All of the reviewed gaming chairs above come in at less than $200, and for those on a really tight budget, there are even ergonomic gaming chairs costing less than $100. For that money, you are getting a full blown gaming chair with adjustable seat height, 2D or even 3D armrests, a tall back, and neck and lumbar support to support your entire body properly as you game.
As you make your buying decision, make sure that the chair you get is the right size for you and has all the features you want; as you can see, there are a lot of options, so you can likely find something that checks all your boxes, not just some.
If you're on a tight budget, don't be afraid to get chairs that aren't made by huge brands; there's no sense in paying a lot more for a brand name if you can get something almost as good or better for a lower price. However, you should be aware of reviews and of the policies for warranties and returns if the chair you choose isn't what you expect. Most of the gaming chairs included in this guide come with very decent warranties.
Finally, be sure to value your own health and comfort when you make a decision on buying an ergonomic gaming chair. If you spend hours each day sitting at a computer, it might be worth spending more on a chair than you would on a piece of furniture you just use every now and then. There's a reason why ergonomic chairs are becoming so popular in this modern age of computers, and an investment now could make your back thank you in the future. Hopefully this guide has been helpful, now get out there and look at some chairs!
Related Reviews