If you have large hands, your current mouse may be too small for you. Take a look now at your hand as you hold the mouse- are some of your fingers protruding beyond the edges of the mouse? Are your fingers in a "clawed" position instead of fully relaxed? Either of these observations may mean it's time for you to get a bigger mouse.
In the following guide, we review and show you the 7 best ergonomic mouse for people with large hands.
Do I Have Big Hands?
So what is considered "big hands"? According to Healthline, the average adult male hand measures 7.6″ from the tip of the longest finger to the first crease under the palm. This means if yours is longer, your hands are considered above average. For the sake of picking out an appropriately sized mouse, the same number applies to females as well.
Read on to see exactly how to measure your hand size.
How to Measure Hand Size for Mouse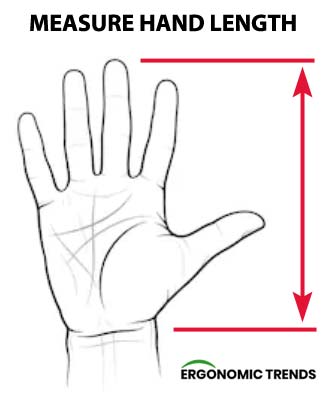 To measure the size of your hand, take a tape measure and derive the distance from the tip of your tallest finger to the first crease at your wrist.

If your measurement is above 7.5″, this is considered large by manufacturers that offer their products in different sizes.
Mouse Size Chart
Here's a summary of the various hand size measurements and the type of mouse you should get:
| | |
| --- | --- |
| Hand Size (length) | Mouse Size |
| Below 6.75″ (17.1cm) | Small |
| 6.75″ to 7.5″ (17.1 – 19cm) | Medium |
| 7.5″ – 8.5″ (19 – 21.6cm) | Large |
| Above 8.5″ (21.6cm) | Extra Large |
Of course, finger length is just one measurement used to deduce hand size. The length of the widest part of your palm or circumference are two other metrics commonly used. The only way to truly tell if a mouse will fit you is to take it for a spin.
7 Best Mouse for Large Hands at a Glance
Best Overall Mouse for Big Hands
Dimensions: 5.7 x 3.3 x 2.9 inches
Weight: 5.3 ounces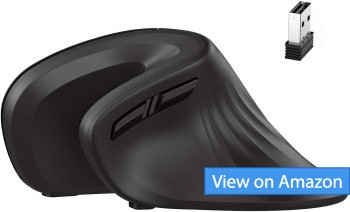 First on our list is the iClever TM209G, a horse-shoe shaped vertical mouse that caters to people with either medium to large hands equally well due to its robust shape.
The iClever isn't the largest mouse on this list, though it works surprisingly well even for people with bigger than normal hands. This is due to the "open ended" design that lets you decide how closely to hold the mouse without sacrificing support. For people with very big hands for example, simply leave some distance between the palm and the edge of the mouse when gripping it.
Besides its shape, we also dig a couple of other things about the iClever mouse.
First is just how quiet and smooth the clicks are. It seems to take less effort to depress, and also enables you to click away guilt free in public areas such as the library.
We also like the grooves found where your palm comes in contact with the mouse. The varied texture provides some gripe while keeping your palm cool during prolonged use.
Outstanding Features
Versatile Horseshoe shaped vertical design
Smooth and quiet clicking
Precise tracking at 3 adjustable resolutions
Tested for up to 5 million clicks
What Other Owners Say
I wasn't expecting much when I got this but I felt my wrist pain getting better almost right away.
The mouse's shape takes some good used to.
Runner Up for Best Large Mouse
Dimensions: 4.84 x 3.54 x 2.87 inches
Weight: 4.1 ounces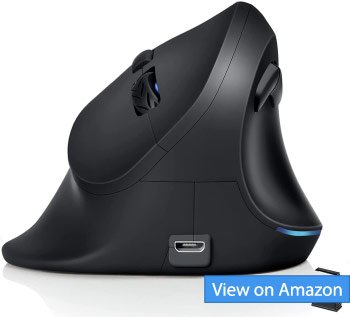 Following closely behind in second place is the Autley, a hefty vertical wireless mouse that can mitigate pinky pain as well as wrist injuries caused by sustained improper positioning.
The Autley has a mini lip on the right side where you can rest your pinky finger to keep it from rubbing against the desk. It employs the classic vertical design that encourages the hand to stay in an almost perpendicular position to the desk. One owner who switched from a normal mouse to the Autley said his wrist pain disappeared as a result.
In terms of size, it's definitely a mouse for the big-handed. Multiple people with large hands say the mouse fits them like a glove when others wouldn't.
The main difference between the Autley and the iClever TM209G is that the former is rechargeable while the latter needs one AA battery. Over time, buying batteries can get expensive so that's something to consider.
Outstanding Features
Pinky finger rest
Silent left and right click
Easily switchable DPI
Lasts about 15 to 25 days per charge
What Other Owners Say
My hand rests comfortably on the mouse at about 45°. The wrist pain I had with my standard mouse is gone.
Wish it connects directly to Bluetooth so it doesn't use up one of the few ports on my laptop.
Best Large Mouse for Thumb Pain
Dimensions: 7.09 x 4.72 x 1.97 inches
Weight: 10.56 ounces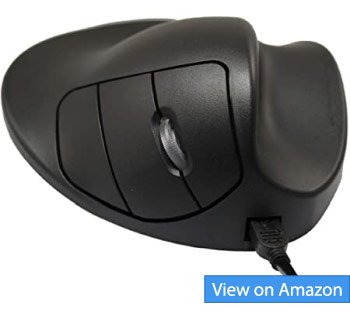 Designed with help from the Erasmus University in Netherlands, the Hippus Handshoe Mouse's sprawled out profile allows your hand to completely rest on it with virtually no gripping needed. This means all 5 digits of your fingers are completely at ease when operating the mouse.
One of our favorite things about the Hippus mouse is its thumb rest that helps prevent excessive thumb movement. For people with thumb pain, the mouse cradles and protects the thumb like few other mice do.
One person who purchased the Hippus mouse for a friend with severe hand arthritis said his friend was finally able to use a mouse when he couldn't previously with any conventional mouse.
Similar to the Autley, the Hippus is wireless which you can charge even while using it. Every charge lasts about 4 weeks with moderate use.
The problem with the Handshoe Mouse is that it's not ideal for people with wrist pain. The gentle 20 degree curvature of the mouse requires more forearm pronation to grasp than most vertical mice. This means this is a mouse focused mainly on fingers ergonomics. Plus, it's rather pricey at around $100 (at last check).
Outstanding Features
Comes with a dedicated thumb rest
RSI-preventing contoured shape
Lasts almost a month per 3-hour charge
Sleep mode available
What Other Owners Say
I have multiple hand issues but I haven't felt any pain since getting this months ago.
There's an annoying lag every time I turn it on. At this price point, I expected better.
Best for Carpal Tunnel Syndrome
Dimensions: 4.56 x 3.63 x 3.25 inches
Weight: 9.1 ounces
If you suffer from carpal tunnel syndrome, a vertical mouse with an aggressive slope is recommended, as this helps guide the forearm into the perfect neutral position where there is little twisting of the wrist. And the mouse that does this better than any other is the Evoluent mouse, which comes in a large size.
Evoluent created the world's first vertical mouse in 2001 and has been refining the design since. The large version targets people with large hands measuring at least 7.8" from the wrist to the tip of your middle finger. Otherwise, make sure to check out their small and medium offerings too.
Despite a sloped design that's close to 70 degrees, holding on to the mouse is surprisingly easy. This is thanks to the highly concave thumb rest that prevents the rest of your hand from slipping off the mouse. A lip to support your pinky finger further keeps your hand in place.
Compared to the other mice so far, the Evoluent VMDL comes with a 6.9" wired USB connection. It also has programmable buttons which should allow you to hyperscroll and adjust the screen brightness among other things. Unfortunately, the accompanying software is outdated and laggy.
Outstanding Features
Aggressive vertical design to prevent wrist strain
Grooved buttons for easy handling
Physical button for adjusting the pointer speed with light indicators
What Other Owners Say
3D modelling work is a bit slow with this mouse. The tradeoff is I can now mouse for hours without any pinching pain in my wrist and thumb.
I can't use the software without lagging every minute so I have to settle for the default button functions.
Best Big Mouse for Left Handed Users
Dimensions: 5.0 x 3.0 x 2.5 inches
Weight: 3.35 ounces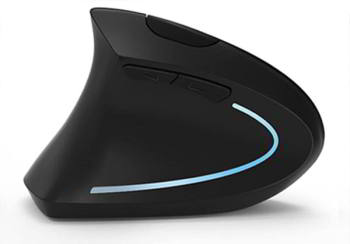 It's hard to find large mice, let alone large mice for left-handed users. Among these rarities, our favorite is the Lekvey for its compact yet ergonomic design.
Just like our top pick the iClever mouse above, the Lekvey features an open ended design that lets you choose how closely to grip the mouse. This is great news for people even with very large hands, as they can simply choose to hold the mouse more loosely to align the buttons with their fingers.
You'll find Forward and Back buttons where your thumb goes. The button on the top lets you cycle through 3 DPI settings. It's set up as a left-handed mouse so the left and right clicks are reversed. If you want it to perform just like a right-handed mouse, you can change it from the mouse properties in Devices and Printers.
The Levkey isn't without issues, however. While the noiseless buttons are nice, they offer no tactile click so it can take some getting used to to not press too hard. There isn't any battery indicator either and the mouse hibernates too quickly.
Outstanding Features
Caters to lefties
Uses two AAA batteries
Reversed right and left clicks
Vertical design promotes a healthy wrist position
Convenient Back and Forward buttons
What Other Owners Say
It's not bulky or heavy. I'm still acclimating to the mirrored position but totally worth it since I can mouse without having wrist pain at the end of the day.
When I get intermittent tracking problems, I never know if it's because of the battery or the surface underneath.
Best Large Mouse for Gaming
Dimensions: 4.93 x 2.77 x 1.53 inches
Weight: 3.52 ounces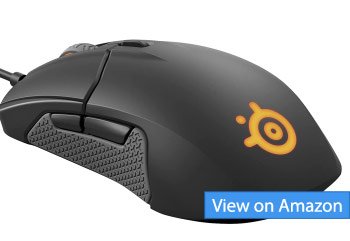 The SteelSeries Sensei 310 is a mouse for big hands that can help you win games in style.
Aside from catering to medium to large hands, this lightweight mouse has an ambidextrous design that's well-suited for claw and palm grip styles. What's more, the sides are lined with silicone to provide a better grip. It sports a ultra-low-latency, rapid-response tracking and advanced jitter reduction for real-time response time and accurate mousing.
If that's not enough to convince you, the SteelSeries Sensei 310 also comes with split-trigger buttons with 50 million click mechanical switches for a fast response and consistent feel.
The software is excellent to say the least. It's intuitive and has more offered functions than more popular gaming mice. It also has onboard memory so whatever settings you choose get carried over when you use it with another computer.
Of course, gaming simply isn't as cool if you don't have cool lighting. The SteelSeries Sensei 310's not only has 16.8 million colors available, it even offers reactive illumination to show when you're low in HP or getting those kills.
Outstanding Features
Great for gamers with medium to large hands
Ultra responsive tracking and buttons
Ambidextrous design
Prism RGB illumination with lightning sync
Onboard memory and top of the line software
What Other Owners Say
This mouse is so balanced it would work well no matter what grip style you have. Also dig the various customizations.
Having a braided cord would definitely be an improvement. As it is, it sometimes catches on the surface of my mousepad.
Best Large Trackball Mouse
Dimensions: 9 x 3 x 8 inches
Weight: 3.14 ounces
For big-handed folks suffering from CTS or tendonitis due to unnatural wrist rotation, a large trackball mouse that keeps your forearm completely stationary like the Logitech Trackman is one of your best options.
Its ambidextrous design consists of a large ball in the middle with Back and Forward buttons on each side which you can navigate using either your fingers or palm. Aside from letting you use your larger muscle groups, you can even switch between your left and right hands to distribute the stress. If you don't use Back and Forward commands that much, you can easily change them to other functions.
Aside from being ergonomic and fitting for large hands, the Trackman has other things going for it including the ability to work on almost any surface. It's also space-saving since you don't actually need to move the mouse itself.
One improvement that Logitech can do is add a dedicated button for scrolling. While you can assign a scrolling function to one of the buttons, it just doesn't work in all applications. Since you can't scroll, it's hard to zoom in and out as well.
Outstanding Features
Can be used with either hands
Programmable buttons
Trackball design lessens wrist and forearm fatigue
Works on almost all surface
What Other Owners Say
I've been using this mouse for more than 10 years for all tasks including gaming. It's responsive, and even better, it isn't painful!
I love this mouse. If only it had a dedicated button for scrolling, there's nothing I could ask for more.