If you have small hands, you're probably having trouble finding an ergonomic mouse that properly supports you, as most mice on the market cater to regular to large hands. Without proper support, highly repetitive tasks like clicking and mousing can aggravate conditions like thumb and finger pain, carpal tunnel and wrist tendonitis.

In this buyer's guide we hand pick 7 of our favorite ergonomic mouse in 2021 for people with small hands, should you fall into that category.
7 Best Ergonomic Mouse for Small Hands At a Glance
Let's look at our picks for the best small mouse based on different needs of specific users.
Do I Have Small Hands?
First thing's first- do I have small hands? Knowing this is crucial before you opt for a mouse geared towards this group of people. If you end up choosing a mouse that's too small, pain in your fingers can develop over time due to the "clawed" position it forces your fingers to assume. On the other hand, a mouse that is too big is just as bad, fatiguing your entire hand as you constantly shuffle to reach different buttons.
So what is considered "small hands"? In general, if the distance between the tip of your longest finger to the first crease of your wrist measures below 6.75″ (17.1cm), you have small hands. This is based on data for what is considered small for men, which overshadows what is considered small for women obviously.
Read on to see exactly how to measure your hand size.
How to Measure Hand Size for Mouse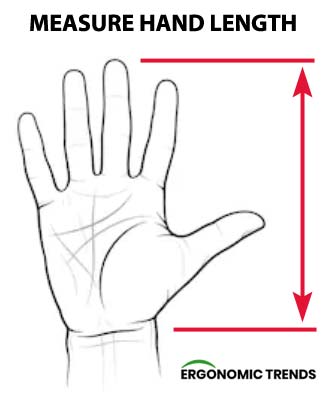 To measure the size of your hand, lay it flat on a flat surface with your palm side up. Take a tape measure and measure the distance from the tip of your tallest finger to the first crease at your wrist.

If your measurement is under 6.75 inches (17 cm), your hands are considered small and should choose a small mouse. If it's between 7.5 inches to 8.5 inches, your hands are considered large.
Mouse Size Chart
Refer to the following chart to see how the size of your hands would be classified as as far as size:
| | |
| --- | --- |
| Hand Size (length) | Mouse Size |
| Below 6.75″ (17.1cm) | Small |
| 6.75″ to 7.5″ (17.1 – 19cm) | Medium |
| 7.5″ – 8.5″ (19 – 21.6cm) | Large |
| Above 8.5″ (21.6cm) | Extra Large |
While the size of your hands (and the corresponding mouse you should get) are mostly based on the length of your hands, it is also important to consider other factors when picking out the ideal mouse. For example, look at the width and height of the mouse too, because this will affect how your fingers are distributed over the mouse.

Even hands of the same size can have differently proportioned fingers. A large palm usually means shorter fingers, so in this case, opt for the smaller mouse size if your hand size falls between two categories.
Best Overall Mouse for Small Hands
Dimensions: 4.1 x 2.7 x 2.3 inches
Weight: 3.2 ounces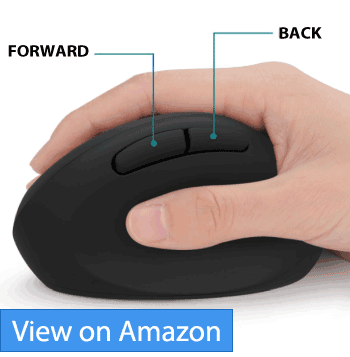 Our pick for the best overall mouse for small hands is the Jelly Comb Wireless Mouse. The compact design combined with closely placed buttons make it perfect for people with smaller hands to rest their hands on and manipulate using.
In terms of dimensions, Jelly Comb measures just 4.1″ long and 2.7″ tall. Many owners on Amazon with such small hand profiles have remarked on how they have finally found a mouse that fits their hands perfectly.
In terms of ergonomics, the Jelly Comb is a vertical mouse that minimizes any forearm pronation when held. This reduces the chances of compressing the medium nerve that runs through the wrist, which overtime can result in CTS.

Finally, we also love the adjustable 800/1200/1600 DPI setting of the Jelly Comb mouse. This lets you adjust the sensitivity of the mouse pointer, which is another feature that helps decrease muscle fatigue while improving productivity.

Outstanding Features:

Compact vertical design that's perfect for people with small hands
Very durable with a long lifespan, passing the 5 million clicks test
Quiet and smooth clicking
Adjustable DPI setting to adjust the precision
Well placed Forward and Backward buttons
What other owners say:

Perfect performance with no lagging and easy set up. All you have to do is plug in the USB receiver and you're good to go. The tracking is reliable and super precise.
While the design is sleek and ergonomic, there were times the mouse would freeze on me.
Runner Up for Best Small Mouse
Dimensions: 4.1 x 2.61 x 2.26 inches
Weight: 5.12 ounces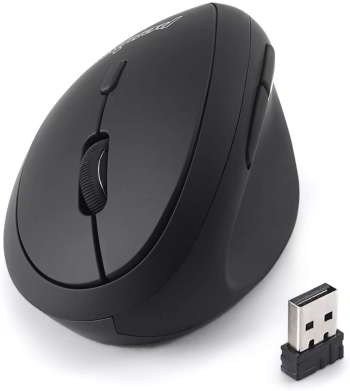 The Perixx Ergonomic Mouse finishes just behind the Jelly Comb Mouse above for best ergonomic mouse for small hands. Its dominative size and vertical design reduces the number of muscles needed to operate the mouse.

The Perixx Perimice is even smaller than the Jelly Comb mouse, making it perhaps the most compact mouse we've come across. One user with small hands that measure less than 6″ from wrist to tip says the Perixx fits his hands perfectly.
We love the 6 buttons found on the Perixx that keeps things simple but still highly functional. There is a back and forth button located near the thumb, and a DPI settings switch to control the cursor speed easily between 800/1600.
The Perixx mouse comes in a wired and wireless version.
Outstanding features:

Semi vertical design to help maintain a neutral wrist
Silent mouse clicks to avoid bothering other people during work
6 easily accessible button including a DPI switch
A wired and wireless version available
What other owners say:

The design of this mouse fit my hand like a glove. Other vertical mice can be too tall, causing tendon problems at the top of my hand.
The back and forth buttons do not work on a Mac.
Best Small Mouse for Thumb Comfort
Dimensions: 4.61 x 4.02 x 3.19 inches
Weight: 5.9 ounces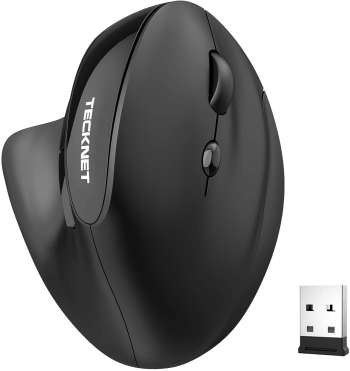 Like the Jelly Comb mouse, this wireless mouse from TeckNet is a diminutive vertical mouse that encourages a neutral hand position. However, what sets it apart is the highly contoured left side that allows your thumbs to rest fully and minimize the strain on it. This is why we picked this as the best small mouse for thumb pain.

Another great thing about the design of this mouse is its dual wired and wireless design. The built in 300mAh rechargeable battery takes 3 hours to recharge and can last up to 30 days. It also comes with a USB C cable to connect and use as a wired mouse while the battery is being recharged.

Outstanding Features:

Highly contoured mouse with a dedicated thumb rest.
1 year warranty with lifetime technical support
Forward and Back buttons placed well, close to the thumb rest
5 adjustable DPI levels: 2600/2000/1600/1200/800
What other owners say:

This is exactly the mouse I'm looking for, as someone with small hands and carpal tunnel syndrome.
My favorite thing about this mouse is that you literally never have to change the battery, ever.
Best Small Mouse for Carpal Tunnel Syndrome
Dimensions: 5.4 x 3.7 x 3.5 inches
Weight: 7 ounces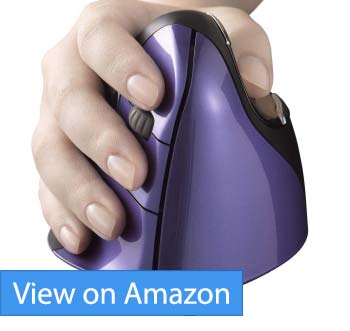 If you suffer from Carpal Tunnel Syndrome or just wrist pain, the key to not exasperating your condition when operating a mouse is to maintain a neutral wrist position as much as possible. And that's exactly what the Evoluent Vertical Mouse does best. It comes in three sizes, with the small option topping our choice for the best small mouse for people who suffer from any form of CTS or wrist pain.
The shape of the evoluent is basically a regular mouse tilted 90 degrees on its side. Even as a vertical mouse, this is an aggressive design, though for a reason- it helps virtually remove any twisting of the wrist as you hold it, which can agitate the medium nerve and aggravate pain in that area.
The Evoluent mouse also comes with dedicated grooves for all your fingers.
This helps secure them from in place as you maintain the optimal handshake position There is also a ledge at the bottom to prevent your pinky finger rubbing against the desk.

Outstanding Features:

Aggressive vertical design to minimize forearm pronation and twisting of the wrist.
Dedicated groves for all of your fingers to rest
Programmable mouse buttons
Adjustable mouse speed using a physical button
What other owners say:

This mouse was perfect for me because I have to use a mouse for hours in my job, and I suffer from tendonitis. The well-thought out design minimized stress on my wrists and tendons.
As much as I liked the design, I found the mouse to be a bit heavy at 7 ounces and harder to move.
Best Small Mouse for Left Handed Users
Dimensions: 4.3 x 2.6 x 2.2 inches
Weight: 2.4 ounces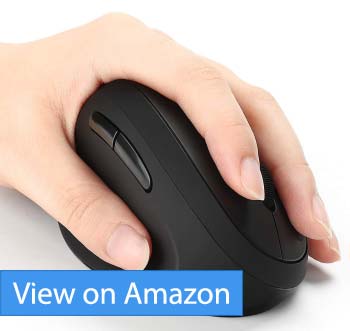 Very few computer mice are designed for small hands, let alone left-handed users. That's why when we come across one that caters to both groups, and does it so well, we're excited. The mouse we're talking about? The Jelly Comb Small Left Handed Mouse.
This Jelly Comb Mouse features the same compact and vertical design that makes the first Jelly Comb mouse on our list above so ergonomic and loved by people with smaller hands. The soft buttons are also a great hit with owners. However, the main difference with this as mentioned is that it's optimized for left hand users.
At 2.4 ounces, the Left Handed Jelly Comb Mouse is even lighter than the first Jelly Comb mouse we reviewed.

Outstanding Features:

Quite short for a vertical mouse, at only 2.2 inches, making it ideal for small hands
Auto sleep function after 10 minutes of inactivity for power saving
Very durable and can withstand over 5,000,000 clicks
Reliable 2.4 G wireless connection at a 15m radius
Lip at the bottom prevents thumb rubbing against the desk
What other owners say:

Working in the computer trade, I work for up to 8 hours every day with a mouse. I've always found that other 'ergonomic' mice to be ineffective and they still caused aches. This Jelly Comb mouse, however, has been fast responding, quiet, accurate and I've noticed less aches in my wrists.
My only issue with this is that it is not compatible with Apple products.
Best Small Mouse for Gaming
Dimensions: 4.45 x 2.83 x 1.57 inches
Weight: 2.82 ounces (without cable)
A lot of gaming mice are overly large and clunky, making them unsuitable for gamers with small hands. Enter the Logitech G3000s. With its small profile, ultra-fast responsiveness and ambidextrous design, it is not hard to see why this was our pick for the best gaming mouse for smaller hands.
Firstly, the Logitech G3000s is suitable for both left and right hand users with its symmetrical design. Furthermore, it's extremely compact, at just 4.5″ long and 1.4″ tall. One owner with small hands says that both him and her 9 year old son find the mouse comfortable to operate.
In terms of gaming features, the G3000s comes with 9 programmable buttons, onboard memory profiles and customizable DPI. The main shortcoming of the G3000s mouse to keep in mind is the maximum 2,500 DPI setting, which may not be enough for certain ultra fast paced games.
Outstanding features:

3 onboard memory profiles, allowing use on different computers with the same profile
Ergonomic and small design that is fit for both left-handed and right-handed users
Different, customizable color settings for each profile
Wide range of DPI settings for decent sensitivity, ranging from 250 DPI to 2,500 DPI
What other owners say:

One of the best gaming mice that is value for money. Its streamlined design makes the buttons easy to reach. This is also one of the few gaming mice that can be used comfortably by lefties like myself.
It did take some time to get the hang of using all the buttons, and it wasn't weighted like the ones I'm used to.
Best Small Trackball Mouse
Dimensions: 8 x 6 x 2 inches
Weight: 10 ounces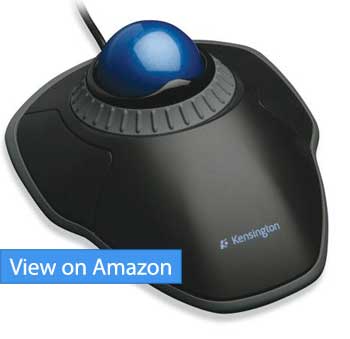 Our pick for the best small trackball mouse is this Kensington Orbit Trackball Mouse. The size of the trackball is small yet responsive, making it perfect for people with small hands. The scrolling ring sets this mouse apart from most trackball mice, and users rotate it when they want to go up and down a webpage.

Traditional mice requires users engage your wrist in a constant "windshield" motion to manipulate the cursor, stressing the wrist and forearms over time. With the Kensington Orbit, all of these motions are transferred to the fingers and trackball instead, minimizing wrist movement and putting less stress overall on your extremity. There is also a detachable wrist rest to cushion your wrist as you work for long hours.
The Kensington Orbit further stands out from other trackball mice in terms of ergonomics with the unique scrolling ring that has become one of the favorite features of many owners.

Outstanding Features:

Small responsive trackball that's perfect for small hands and even children.
Unique scroll ring that minimizes stress on your index finger for scrolling
Wired connection eliminates the need for batteries
Ambidextrous design that can be used by both right and left-handed users
What other owners say:

As someone who spends hours on end with graphic work requiring extremely high precision, the Kensington Orbit stepped up to the role. My hand fit perfectly over the mouse and I love the scrolling ring, which makes browsing documents so much easier.
While the scrolling ring was great for certain functions, I found it a bit too sensitive at times, finding myself doing things unintentionally a lot.
Conclusion
When it comes to choosing a mouse with small hands, there is no one size fits all. It all depends on your preferences for button placement and requirements for work. It also depends on what you want to use the mouse for, to browse large documents or for heavy gaming use? If it's the latter then you'd want much better DPI settings and greater customizability of button functions.

Most of the mice featured on this list follow an ergonomic vertical mouse design, which encourages a neutral palm position. This limits how much your forearms twist and as this leads to issues like carpal tunnel syndrome. To differentiate them, you need to think about specific design requirements and weigh them against each other. For example, most vertical mice with thumb rests are not ambidextrous, and can only be used on one hand. Is ambidexterity more important to you than resting your thumb or fingers?