Updated: Nov 9th, 2021
Considering that many of us spend over half of our waking hours sitting down, if you suffer from back pain, the right ergonomic office chair can be a godsend in managing your pain and relieving tension. The question is, just what is a good office chair for back pain?
The fact is, almost every ergonomic office chair claims to help with back pain, but that doesn't make it true.
Unlike most guides on the web, in this post, we actually spent hours pouring over the latest research to find out scientifically just what the best office chairs for back pain should look like. Is a high back really better? What about an office chair that reclines versus one with a 90 degree straight back? Just how important is lumbar support in back pain relief? And what about the material? We look at all the evidence before coming up with our list of 6 of the best office chairs that fit the bill, or ones that actually help with lower and upper back pain.
Best Office Chairs for Back Pain at a Glance
For those of you in a rush, here are the 6 best office chairs for back pain currently on the market based on our in depth research (further below) on what makes for the most effective office chair for back pain:
See Also:
Straight Back or Reclining Office Chair?
When it comes to back pain relief, especially lower back pain, the angle of the backrest is critical. There are many chairs on the market that help promote good sitting posture, by either going with a straight 90 degree backrest, or even a backless design, such as a yoga ball or kneeling chair. What's good for your posture and core however may have the opposite effect on your back pain.
Numerous studies back an office chair that reclines as the best for people with lower back pain. Researchers studied various sitting positions and examined the amount of pressure each posture exerted on the participants' discs. The result?
As you can see, sitting in an upright 90" position (such as with a kitchen chair or a non adjustable office chair) produced almost 40% more pressure on the discs than sitting in a reclining chair with the backrest at a 110 degree angle. Standing produced the least amount of pressure on your vertebrates in the various postures examined, which is why if you suffer from lower back pain, it's essential to get up and move periodically.
For people with back pain- especially lower back pain- the evidence supports an even more reclined sitting angle to reduce the stress and pressure put on the discs, all of which can exasperate your condition. Using MRI scans, Canadian researchers concluded that the ideal biomechanical sitting position to reduce spinal pressure and discs wear is in a chair with the backrest reclined 135 degrees, with your two feet planted on the floor. Based on this groundbreaking research, an office chair with a robust reclining angle should be the top priority for people with upper or lower back pain.
Conclusion: An office chair with a large tilting or recline angle is best for back pain.
High Back or Low Back?
There isn't a lot of research on the height of an office chair's backrest in relation to back pain relief, though it's not hard to draw some logical conclusions.
Given that a 135 degrees reclined backrest is best for back pain, it stands to reason a high back chair with a good headrest will offer more support and comfort at that angle. As we recline, tremendous stress is put on the neck and head- the last thing you want is a low back chair that leaves your neck dangling at that position.
Image Credits: Dr Kenneth Hansraj
According to Dr. Kenneth Hansraj, a person's head on average weighs around 12 pounds at a 90 degree upright angle, though increases to 40 pounds in weight (4x the force) at a 30 degree forward angle (like staring at your phone). And while there is no similar data for the head in the opposite angle, one could imagine the force to be similar.
Conclusion: Based on these analysis, in our opinion a high back office chair that supports your upper back and even neck is better than a low back chair for people suffering from back pain.
Does a lumbar support in a chair actually help?
There is a lot of anecdotal evidence that lumbar support, especially adjustable ones, does help relieve strain and provide relief for back pain. Research by Herman Miller found that the optimal pressure distribution in a chair at the reclined position should be in the lumbar and thoracic areas.
Given this, a chair with adjustable lumbar support that cushions the lower back is vital for long lasting comfort, especially at the reclined position and for people with lower back pain or sciatica. According to Mayo Clinic, people with sciatica – lower back and thigh pain due to irritation of the sciatica nerve – can also benefit from a chair with good lumbar support.
We recommend looking for chairs that offer adjustable lumbar support whose location and firmness can be adjusted, as each individual's body type is different, and being stuck with fixed lumbar support can be worse than not having one at all. Research finds that external lumbar support pillows with a cut out design improved the comfort in both healthy individuals and those suffering from lower back pain. This can be another option to consider.
Conclusion: Lumbar support in an office chair- especially adjustable ones- can help increase comfort and reduce lower back pain.
Seat Edge Design

Finally, for people with back pain, especially lower back pain, the design of the seat edge can also be more important than you think.
For a lot of back pain sufferers, the pain isn't just localized to the back region, but can spread to the thighs and even lower legs.
Take for example people with sciatica, a symptom caused by pinched or compression of the spinal nerves. Sciatica sufferers often experience shooting pain that can run the path of the entire sciatic nerve, from the lower back to the thighs and even legs.
If your back pain extends to your thighs or legs, an office chair with a waterfall or flexible edge can be very helpful in reducing pressure and promoting blood circulation in that region as you sit. The result is less numbness and even pain in your lower limbs.
Conclusion: Choose the seat with either a waterfall or flexible seat edge to relieve pressure build up behind the thighs.
| | |
| --- | --- |
| Max Recline: | 135 Degrees |
| Recline features: | Tilts and reclines (lockable) |
| Headrest Adjustments: | Up/Down and Pivots |
| Capacity: | 275 lbs |
| Weight: | 57 lbs |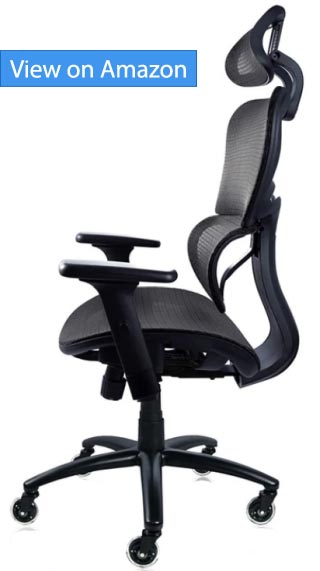 If you suffer from back pain or sciatica, you know how excruciating sitting can be. The Nouhaus Ergo3D Ergonomic Office Chair combines a high degree of reclining, self adjustable backrest tension, robust neck support, plus a highly contoured waterfall seat to take the crown for the best office chair for back pain in 2020. It shares many of the same back-saving features as its luxury brand counterparts — but at just around $300 is less than half the price.
Unlike a one-size-fits-all chair that forces you to conform to it, practically every part of the Ergo3D Office Chair is fully customizable. The long curved backrest cradles your entire spine, from neck to hips. The adjustable tilt lets you tailor the chair to your exact needs—from an upright 90 degrees to the expert recommend 135 degrees that puts the least amount of pressure on your spine, and every angle in between.
For those with lower back pain or sciatica, the chair offers an intelligent backrest that automatically adjusts its tension based on the amount of pressure you apply. It is one of the most versatile we've seen in an office chair at this price range. As one owner with back pain said, the backrest cradles him regardless of whether he's leaning backwards or forward.
Back and neck pain usually go hand in hand, and the Ergo3D has you covered on both basis. The large headrest tilts to support your neck at any angle as you lean back. Combined with the versatile 3D armrests that moves in all four directions, and it's hard to find a chair that provides better full body support at this price range
If you're a back pain sufferer, there's little not to like about the Nouhaus Ergo3D. It keeps you comfortable, protects your back, and allows you to focus on your work without being distracted by twinges and aches.
Pros:
Perfect 135 max recline as suggested by research
Intelligent backrest with pressure sensitive tension to provide constant lower back support
Robust headrest that is both height and angle adjustable
Premium roller blade casters that are smoother and longer lasting
Cons:
All mesh frame may be too hard for some people
Poor packaging with missing parts
| | |
| --- | --- |
| Max Recline: | 135 Degrees Tilting |
| Recline features: | Only tilts and rocks |
| Headrest Adjustments: | Up/Down 3 Inches and Pivots |
| Capacity: | 300 lbs |
| Weight: | 50 lbs |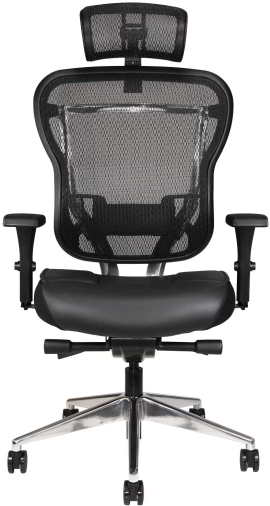 The Oak Hollow Aloria is one of the best executive office chairs we've come across, not just in terms of build quality, but comfort and adjustability that will benefit most people with back pain, especially sciatica.
The seat on the Aloria is light years ahead of most competitor's thanks to the supple cowhide leather upholstery. Unlike PU leather, real leather is both breathable and much more durable, giving you the best of both worlds.
What makes the seat stand out for people with back pain however is the waterfall seat edge and seat depth adjustment setting. The two features promote good circulation under your thighs, and is especially important if you suffer from sciatica.
For people with lower back pain, an adjustable lumbar support and rocking backrest are also vital. The Aloria chair comes with both. The tilt mechanism allows the backrest to tilt into 4 angles, with the maximum degree being around 135 degrees. The result is a chair many people with back pain have come out praising because of how it's managed to reduce or even eliminate their back pain.
Rounding up the list of noteworthy features are the 4D armrests that can pivot inwards to form a comfortable "v" shape, and a robust headrest that moves vertically and angles to fit the contour of your cervical spine. This is truly one adjustable office chair whose main caveat is unfortunately the high price tag, at around $600 at time of writing.
Pros:
Extremely comfortable real leather seat with depth adjustment
Adjustable lumbar support that moves up and down
Backrest tilts into 4 lockable positions, up to 135 degrees
Height and angle adjusting headrest
Cons:
Backrest only tilts but doesn't recline to a locked angle
Relatively expensive at $600
| | |
| --- | --- |
| Max Recline: | 165 Degrees |
| Recline features: | Tilts and reclines (lockable) |
| Headrest Adjustments: | External pillow |
| Capacity: | 290 lbs |
| Weight: | 77 lbs |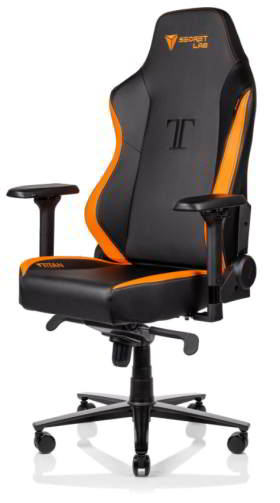 Even if you're not a gamer, gaming chairs are worth looking into if you suffer from back pain due to a couple of distinct features many of them possess. And for that the Secretlab Titan Evo chair ranks as one of our favorites.
To start, most gaming chairs simply trounce regular office chairs in how far back their backrests can recline. The Secretlab Titan Evo for example can go all the way back to a near horizontal 165 degrees. A heavily reclined backrest not only helps relieve spinal pressure for longer, but can relax your entire body.
Furthermore, the Titan supports an unique type of advanced tilting that can further relax your back as you work called multi-tilt. In short, the angle of the seat itself as it points upwards can be locked in as well. This lets you work in a heavily reclined position, by positioning your entire body upwards similar to a zero gravity chair: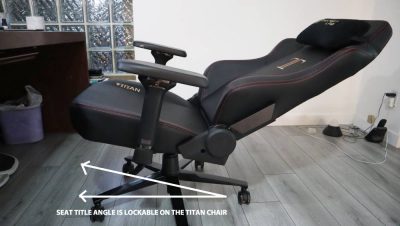 The Secretlab Titan Evo 2022 Edition improves upon the 2020 model we we've reviewed last year in two important ways. Firstly, the lumbar support can now move up and down as well in addition to being depth adjustable. The neck pillow uses a magnetic connection that makes it effortless to move it up/down or even removed, all the while easily staying in place when you do need it. Simply brilliant.
Pros:
Exceptional build quality with zero squeaking
Premium tear resistant PU leather upholstery
Wide 4D armrests
Decent built in lumbar support and exceptional magnetically connected neck pillow
Backrest reclines 165 degrees with multi-titl
Cons:
Maximum lumbar depth may still be too shallow for some people
Backrest sometimes get stuck when reclining it.
| | |
| --- | --- |
| Max Recline: | 120 Degrees |
| Recline features: | Tilts, reclines (not lockable), and rocks |
| Headrest Adjustments: | Up/Down 5 inches and Pivots 90 Degrees |
| Capacity: | 400 lbs |
| Weight: | 78 lbs |
The Steelcase Gesture is a high end ergonomic chair often talked about in the same breath as the famous Herman Miller Embody chair. We reviewed both chairs last year and found them extremely comfortable, though when it comes to an office chair that specifically helps with back pain and even sciatica, the trophy has to go to the Steelcase Gesture.
What differentiates the Gesture from its Embody counterpart is the choice of a high back plus a headrest. Both of these components as mentioned at the beginning of this article are vital for long term comfort for someone suffering from back pain.
In terms of lumbar support, Leap uses what it calls LiveBack technology that spans the entire lower back of the backrest. Using special materials, the lumbar flexes as you change postures to conform to your back. One owner of the Gesture who was in a car crash and couldn't sit in a regular chair for over 15 minutes says the Gesture has completely changed that. He even slept in it for 3 hours without pain. The lumbar requires very little adjustments to feel comfortable- like a second back it basically bends and contours as you shift your back, which is especially helpful for people with back pain.
For people with sciatica with pain that extends to the thighs and legs, the Steelcase Gesture comes with a flexible seat edge that bends to reduce pressure in your thighs as you sit. This can greatly help with pain in those areas thanks to better blood circulation.
The headrest on the Gesture is also a huge deal when it comes to relieving neck tension and stress. The design is especially robust, and moves up/down 5 inches and forward and backwards 4 inches to meet your head in any posture. As one owner said, with the headrest, it takes the Gesture chair from good to amazing.
About the only real shortcoming of the Gesture is the rather shallow degree of recline, at 120 degrees. A "Backstop" paddle sets how far back the chair reclines as you lean back, though it will always snap back to a relatively upright position when no force is applied. The chair was designed as a serious productivity chair, and not a reclining chair. In general however, many owners of the Gesture with back or neck pain have found the chair a godsend in helping them work pain free throughout the day, a testament to the chair's solid set of ergonomic features.
Pros:
Ships pre-assembled, save time and energy
Flexible lumbar that contours to your back at all times, and requires little adjusting
Superb 360 armrest that pivots and swirls to support your upper limbs in any position
Adjustable seat depth to cater to people with varying thigh lengths
Comfortable blend of fabric that many people may prefer over mesh
Cons:
Chair only rocks and tilts, but doesn't lock into a reclined angle
High price compared to most other chairs on the list.
| | |
| --- | --- |
| Max Recline: | 120 Degrees |
| Recline features: | Tilts and reclines (lockable) |
| Headrest Adjustments: | Up/Down and Pivots |
| Capacity: | 330 lbs |
| Weight: | 45 lbs |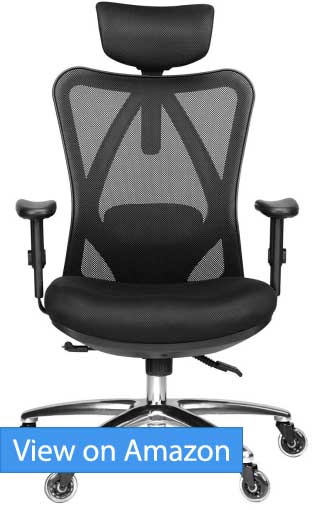 Budget office chairs are usually a hit and miss, though the Duramount manages to get a lot of it right with this ergonomic chair. Think of it as a stripped down version of the first two chairs above, with all the core features of an excellent chair for your back at an accessible price below $250.
Adjustable lumbar support? Check. The Duramount Chair's lumbar support can be adjusted for firmness, besting most chairs in the same price range. Combined with being height adjustable, and one user said he's finally found a chair that has helped with his chronic back pain.
High degree of recline? Sort of. The chair reclines all the way back to 120 degrees. A knob beneath the seat lets you adjust the tilt tension, an important feature in relieving stiffness in your back.
Adjustable headrest? Check. Like all chairs featured in this guide, the Duramount Ergonomic Chair comes with an independent headrest to cradle your neck as you recline. Measuring 12″w x 6″h, it is both height and angle adjustable for total head support.
Overall the Duramount is a decent ergonomic office chair, especially for the budget conscious. It's well made, comes with a seat that is thick and uncharacteristically comfortable for a mesh seat, with a large lumbar support area that many cheap chairs lack. In fact, the Duramount is out top pick for the best office chair in general under $200.
Pros:
Decent lumbar support with firmness and height control
Comfortable seat with extra thick cushioning
Unique clothes hanger at the back of the backrest
High quality rollerblade caster wheels that glide through hardwood and carpet surfaces with ease.
Cons:
Seat depth not adjustable
120 recline angle doesn't meet the recommended recline angle
Backrest doesn't rock, only recline and tilts (with tension control).
| | |
| --- | --- |
| Max Recline: | ~135 Degrees |
| Recline features: | Tilts, reclines (lockable), and rocks |
| Headrest Adjustments: | Up/Down and Pivots |
| Capacity: | 250 lbs |
| Weight: | 66 lbs |
In 2018 we named the Ergohuman the "best office chair for back pain" for a good reason. It shares many of the same back saving features as the Nouhaus Ergo3D, though in a more imposing, all mesh and metallic frame. This is a chair that will probably outlast your previous 3 chairs combined.
Like many of the best chairs for back pain, the Ergohuman backrest consists of 3 pieces that contours to different sections of your back for personalized support. The lumbar support is spring loaded to provide just the right amount of resistance for your lower back as you sit.
I love that the entire backrest can be moved up and down to conform to any body height. With the proper adjustments your entire back is supported, including your neck and head thanks to the ultra wide headrest. As one owner says, there "is not one curve in my body that isn't cradled perfectly" with the Ergohuman.
Two of my favorite features on the Ergohuman are the "free tilt" and adjustable seat depth features. The former basically lets you rock back and forth the entire distance of the chair's maximum recline amount (which is around 135 degrees). Combined with a seat that easily slides in and out to give your thighs and lower back more breathing room when needed, you will constantly be moving in this chair, keeping you alert and your blood circulation flowing.
Pros:
Strong metal frame and durable mesh that will last for years
~135 degrees maximum recline angle for optimal back pain relief
Backrest tilts, rocks and reclines with ease to totally free your back from excess tension
Adjustable seat depth to give your back or thighs more breathing room
Lifetime limited warranty
Cons:
Some owners complained of faulty armrests upon arrival
Other Remedies to Alleviate And Prevent Back Pain
Getting a good ergonomic chair is only a part of the solution when it comes to alleviating or even preventing back pain. Take a look at the following suggestions by experts and as backed by various studies.
Stretches and Exercises for Back Pain
If you already suffer from lower back pain, be sure to consult with your doctor before performing any kind of physical exercise or stretches.
For the following stretches, we consulted with our friend Josie, a certified yoga instructor, on a few yoga poses that help alleviate lower back pain and strengthen the muscles in the back and core as well.
Hip Lift
Lie down on your exercise mat looking up towards the ceiling. Make sure that your back is comfortable on the floor and your arms are positioned at your sides. Your feet should be pressed against the mat. Then:
Lift your hips up towards the ceiling as you feet remains flat on the ground.
Your shoulders, knee, and hips should form a straight line
Squeeze your glutes and tighten your abs as you head and feet remains flat on the floor, your eyes gazing towards the ceiling.
Hold this position for 20 seconds, come down, then repeat for 10 sets.
Supine Twist
Supine twist is great for back pain, but specifically for people suffering from sciatica, as it stretches the entire lower back, hamstrings, and thighs.
Lie on your back with your palms facing upwards.
Bend left knee, placing left foot on the right knee.

Drop the left knee over to right side of body, twisting spine and lower back
Keep shoulders flat to floor.
Hold for 6-10 breathes before switching sides.
Cat-cow stretch
Get down on all fours with your knees on the mat and your fingers spread wide to provide some stability. Make sure that your back is in 'tabletop position', your head should be neutral and your eyes should be focused on the mat.
Then, begin by going into cow position:
Inhale and push your stomach down to the mat while moving your chin and your chest up.
Gaze straight forward or slightly up as you hold this position for 5-10 seconds.
Next, from the cow position, move directly into the cat position:
Exhale and move your stomach into your spine.
Now round your back and tuck your chin gently towards your chest. Hold this position for another 5-10 seconds.
Plank Exercises
According to Dr Jordan, planks are God's gift to people with lower back pain. The reason? They are very effective in strengthening the muscles in your back and core, which reduces the weakness in the lower back and limits the pain that you feel.
Dr Jordon suggests doing plank exercises every day, for 3 minutes:
A minute on planks that focus on the centre
A minute on planks that focus on the left
A minute on planks that focus on the right
With that said, here are 3 great plank exercises to strengthen your back and alleviate back pain. Again, if you already have back pain, talk to your doctor first before performing any kind of physical exercise.
Low Plank (forearms on floor)
Start by lying on the floor with your forearms flat on the ground and your elbows aligned or slightly below your shoulders
Push your body up a few inches above the floor while your forearms remain flat against the floor
Engage your core so your body forms a straight line
Make sure that your feet are flexed, the bottoms of your toes should touch the floor.
Remember to breathe! You should relax your head, keeping it in a 'neutral position'.
Hold the position for about 20 seconds and then lower yourself to the floor. As you get stronger, hold the position for longer and longer.
Repeat the movements.
Side Plank
Start by assuming the 'low plank' position.
Now, rotate to your left so that the body's weight is balancing on the right arm. Make sure that your feet are stacked on top of each other, with your right foot underneath your left one.
Hold the position for about 10 seconds, return to your original 'low plank' position and move back down onto the floor. As you get stronger, hold the position for longer and longer.
Now, repeat the exercise but rotate to the left and make sure your left foot is under your right one.
Keep going!
High Plank
Begin with all fours on the ground, your arms spread shoulders width apart and straight, like in a sit up position
Ground your feet and engage your core and glutes as you lift your whole body up in a straight line
Look slightly ahead and relax your next into a neutral gaze
Hold the position for about 20 seconds and then lower yourself to the floor. As you get stronger, hold the position for longer and longer.
Foods and Supplements for Lower Back Pain
To reduce the pain that you feel in your lower back, strengthening your bones and abdominal and back muscles can go a long way.
According to dietitian Nicolette Pace, using diet to counter back pain is an "emerging field". Various research suggest that tart cherries, soy, and brightly colored fruits and vegetables can reduce inflammation and treat lower back pain. They can't stop the pain completely but they aid the healing process.
There are a few different types of food you should consider adding to your diet if you suffer from back pain. These include:
Potassium-rich foods
According to a report on Sunday Express, Dr Axe suggests that potassium rich foods can:
Reduce swelling
Aid muscular/nerve functions.
To increase your potassium intake, try to eat leafy greens, cultured dairy and bananas.
Omega-3 fats
According to Dr. Cruciani, foods that are high in Omega-3 can help to fight inflammation and manage back pain. This means that it's important for patients suffering from lower back pain to increase the amount of fish and flaxseeds in their diet.
Foods that are rich in Calcium and Vitamin C
NDTV brought attention to the value of calcium and vitamin C rich food for back pain. These two nutrients help to strengthen your back and reduce the weakness in your body, which may be a source of the pain. If you'd like to increase your vitamin C and Calcium intake try to include food like strawberries,bell peppers, oranges,and broccoli, milk and cheese into your diet.
Vitamin D supplements
According to the US National Library of Medicine, Vitamin D deficiency is linked to lumbar spinal stenosis, and back pain is one of the symptoms of this illness. As such, including Vitamin D supplements into your diet can be very important. We'd recommend seeing a doctor for the exact dosage, as they will take your individual requirements into account.
AromaTherapy and Massages for Back Pain
There are a number of aromatherapy oils which help with back pain. According to the US Library of Medicine, they have a positive effect on treating back pain.
To avail their effect, mix a carrier oil with one of the following essential oils. Then, massage the blend of oils onto your back. Using essential oils in combination with massage can be a powerful 1-2 punch to alleviating back pain. According to researchers, in a study involving 400 individuals with back pain, weekly massages improved the average pain that was experienced by patients by 2 points when measured on a 10 point scale. When the patients underwent a 10- week intervention period, 36% of them reported that their pain was almost gone.
Here are a few oils great to use in combination with massaging for lower back pain:
Eucalyptus Essential Oil
Its strong anti inflammatory properties makes this a commonly used aromatherapy oil.
Peppermint Essential Oil
Peppermint is known for its anti-inflammatory and pain relieving properties. This makes it a great choice for patients suffering from lower back pain.
Lavender Essential Oil
This oil has a multitude of uses but like eucalyptus, it stands out for it's anti-inflammatory properties.
Marjoram Essential Oil
The Marjoram oil has antispasmodic properties, which makes it great for reducing pain, muscle tension and spasms.
Other Effective Lower Back Remedies
Hot/cold compresses
According to studies published by the US National Library of Medicine, hot and cold compressors can help with pain relief.
If you are experiencing back pain after an injury, then ice packs can help to ease the pain by reducing the inflammation and numbing the area. You should make sure that you apply it for no more than twenty minutes at a time.
If your muscles are stiff and achy, then a hot compress or a heating pad can help to relieve the pain. Just be careful that the compress doesn't burn your skin.
We'd also recommend checking your injury with a doctor before choosing which compress to use; the wrong one could do more harm than good.
Devil's claw
Devil's Claw is extracted from an African plant and according to a report released by U.S. National Library of Medicine, its anti-inflammatory properties can help to manage back pain, with studies finding it as effective as some NSAIDs ( Non-steroidal anti-inflammatory drugs).
Choose and take a devil's claw product daily with at least 50 to 60 mg of harpagoside, the active ingredient in devil's claw. According to UHN, a lower dosage has shown to be significantly less effective than the aforementioned amount.
Turmeric
Turmeric is a spice commonly used in Asian curries and is rich in Curcumin, which has powerful anti inflammatory properties and is generally safe for use by adults.
There are many ways to incorporate Turmeric into your diet, from taking turmeric supplements, making turmeric and ginger tea, to cooking with turmeric.
Note that people with gallbladder issues however should avoid using it, according to the NCAAM.
Capsaicin
Capsaicin can desensitize the channel which sends pain signals to the receptors in the brain. Capsaicin is effective when applied topically to the back for lower back pain relief.
According to the National Health Research Institute, a double blind study using Capsaicin topically on patients saw a 25% improvement in current back pain after 3 weeks. The majority of patients rated the efficacy "excellent".
In the study, one patch (12 x 18 cm) containing 22 μg/cm2 capsaicin per day was applied to the area of pain in the morning. Patients were told to keep the patch in place for 4 to 8 hours.
Conclusion
In conclusion, while the office chairs may help alleviate pain as you sit, lets's face it, no ergonomic office chair has ever cured back pain. Being mindful how you sit, strengthening your back muscles and proper exercise, a healthy diet, reducing stress and getting adequate sleep are some of the much more important things doctors recommend for addressing back pain at its roots.