New Rankings for April 2021
An ergonomically designed chair is specifically made to keep our body in a comfortable position with minimal strain and to maintain good posture. Having said that, the sheer amount of conflicting information and reviews on the internet creates more confusion than clarification. The term "ergonomic" has become a marketing term that seemingly applies to every office chair out there, making it very difficult for anyone shopping for an ergonomic office chair to make an informed decision.
And this is why I've created this guide. I've put in over 100 hours of research, testing, and comparing to come up with the ultimate list of ergonomic office chairs you should purchase based on specific needs you may have:
Best overall ergonomic chair for your health
Specific pain points such as back or next pain
Your budget
Preferred material, such as leather or fabric instead of mesh
Specific features such as footrest or armrests.
Regardless of which chair you choose, each one below represents the very best in its category in terms of ergonomics, comfort and durability, giving you the piece of mind that the chair will properly serve your body and wallet. Lets get started.
| Product | Award | Why It's so Good | Details |
| --- | --- | --- | --- |
| Herman Miller Aeron | Best Overall Office Chair | Advanced mesh seat with different pressure zones and PostureFit dual lumbar for continuous back support. | Check Price |
| Sidiz T80 Chair | Best Overall Office Chair (Runners Up) | Superb neck rest and forward tilting fabric seat. | Check Price |
| Nouhaus Ergo3D | Best Office Chair for Back and Neck Pain | 3 tiered adjustable backrest and lumbar target the back precisely to release back and neck pain. | Check Price |
| Oak Hollow Aloria | Best Office Chair for Back and Neck Pain (Runner's Up) | Adjustable seat depth plus 4 different tilting angles. | Check Price |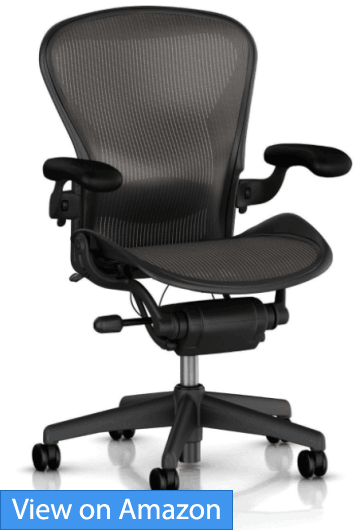 In the world of ergonomic chairs, there's the Herman Miller Aeron, and there's the rest. Continuously improved since its inception in 1994, the latest remastered Aeron chair is a masterpiece in sitting ergonomics that gets you as close to "healthy sitting" as humanly possible based on today's technology.
Don't be fooled by the rather unassuming look of the chair. The Aeron's advanced materials and lumbar support actually adapt to the way you sit. This creates what many owners call an "air like" sitting experience where all the body parts feel supported, akin to floating.
The biggest let down for me on the Aeron is that there is no seat depth adjustment. This means it's more important than ever to get the right chair size (A = small, B = mid size,, and C = large) if you don't want the edge of the seat digging into your thighs when you sit.
The best ergonomic office chair isn't one with the most adjustable features, but rather, a chair that feels so natural to sit on it almost disappears after a while. Billed as the world's first "health positive" chair, the Aeron chair manages to accomplish that impossible feat, which is why we've bestowed it the best ergonomic office chair of 2021.
⤷ Runner's Up for Best Office Chair: Sidiz T80 Chair
Best Office Chair for Back Pain- Nouhaus Ergo3D
The Nouhaus Ergo3D Mesh is our pick for the best office chair for back pain, in no small part due to the innovative 3 piece backrest that targets the back and neck aggressively for tension relief. One Ergo3D Mesh user with chronic lower back pain commented on how such a design has greatly helped him get through hours of sitting without pain.
If you suffer from back pain already, an office chair with a more protruding lumbar can help greatly, especially if it is adjustable to target the exact area of your back that is tender and needs pressure relieved. The Nouhaus Ergo3D does this so well like no other chair, and hence takes the award in the back pain relief category.
If there's one thing missing in the Ergo3D Mesh, it's the lack of any padding to soften the all metal frame and mesh design. While most people with back and neck issues will find great relief in the well defined lines and lumbar support found in the Ergo3D Mesh, others may miss the softness and comfort that a fabric or leather chair brings.
The Nouhaus Ergo3D is one of the most solidly built – and relatively affordable – chair I've come across, with a 3 tiered backrest and adjustable headrest that anyone suffering from back pain will likely embrace. If you've sat on mesh office chairs before and can tolerate the harder surface compared to leather or fabric, the Ergo3D is one of those investments that should hold up for many years.
⤷ Runner's Up for Best Office Chair for Back Pain: Oak Hollow Aloria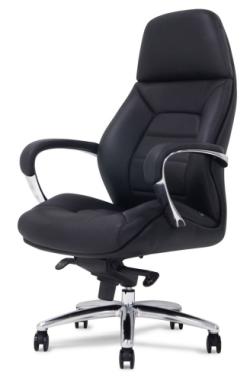 For people that crave the softness and opulence that a leather chair brings to the table (and office), the Gates Executive Office Chair is your best choice in that category. The Gates Chair uses top grain Italian leather that's both soft and durable. You won't find cheap imitation or PU leather on this chair.
One owner of the Gates Executive Chair lauded the "stunning" design of the chair, while another remarked how the chair is the most comfortable he's ever sat on.
A couple of minor things I don't like about the design of this luxurious office chair. First are the armrests, which consist of one solid curved piece that are not adjustable in any way. I suspect however that any changes to this design would result in a less aesthetically stunning chair. Secondly, the recline degree of the backrest is rather shallow.
People choose genuine leather chairs for the silky smooth contact that mesh or fabric chairs simply cannot match, plus the projection of prestige and status. As such, it's great for any business setting. When it comes to the best genuine leather office chair with an incredibly comfortable feel and backrest, the Gates Leather Executive Chair is a tough act to follow.
⤷ Runner's Up for Best Executive Office Chair: Staples Sorina Executive Chair
When it comes to budget office chairs, the trick is to find one that's not just comfortable and ergonomic, but one that doesn't turn into a pile of scrap metal and plastic after just a few months. Sadly many of the chairs in this category are just that.
We picked the Sihoo M57 Mesh office chair as the best budget ergonomic chair for a reason. This is essentially an improved version of the Sihoo M18 that we reviewed recently.
While the Sihoo all mesh design promotes breathability, your mileage for long term comfort will vary. Some users have complained about the seat and back area being rather hard, though by the same token others appreciate the firmness that has kept them upright and in the proper posture even after many hours.
There are no shortage of budget office chairs out there, though very few with the features that Sihoo offers and overall build quality. A $80 dollar chair that falls part after a few months or causes back pain is not a bargain. For that reason the Sihoo gets our nod for the best budget office chair.
Reclining Office chairs let you recline the backrest all the way down to a sleeping angle, turning your office chair into a first class cabin seat on a whim. Read the newspaper, unwind your back and neck, or even take a power nap by reclining the backrest and pulling out the footrest. For one of the best reclining office chairs currently in the market, look no further than the Duramont Executive Reclining Chair.
The Duramont Executive Reclining Chair ticks all the right boxes for a very comfortable office chair with a high degree of recline.
The weak link in the Duramont Reclining Chair is the rather flimsy footrest. For average weight users, it works great, though for heavier set people (above 250 pounds in particular), resting your feet can cause the chair to tilt forward. This isn't so much an issue with this chair specifically as it is reclining office chairs in general, due to the weight distribution of standard office chairs.
For heavier users, you should consider an office chair with an ottoman instead for maximum support. The great news is, Duramont is well known for their excellent customer service, including a 90 days unconditional money back gauarentee if you find the chair unsatisfactory for any reason.
We didn't buy into the hype either – until we actually tried the chair ourselves. The Secretlab Titan is simply one of the most refined and well built gaming chairs we've ever reviewed. If you're looking for a sleek gaming chair with the sophistication and ergonomics of a high end office chair, this is it.
The latest Secretlab Evo 2022 comes in three editions- Small, Regular, and XL depending on your height and weight. The Regular size sits in the middle that's perfect for people between 5'7″ – 6'2″ and less than 220 pounds. Some other highlights:
The best of an ergonomic office and gaming chair- that's what the Secretlab Titan offers.
Best Fabric Office Chair (non mesh): Sidiz T50 Chair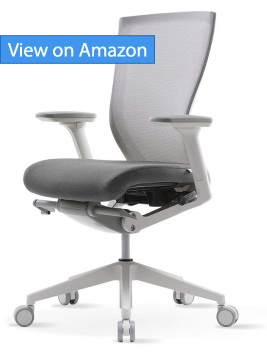 In the world of ergonomic chairs, the South Korean made Sidiz T50 stands out for a couple of reasons- its ability to forward tilt, plus highly breathable and washable fabric seat cover.
In our 30-day test of the Sidiz T50, we found the chair to be extremely well made despite being predominately plastic.
There are a few faults on the Sidiz T50 worth mentioning. The padding on the seat is rather thin, and can be an issue if you're on the heavy side. The lumbar support could also use some padding, since it's made of plastic and can become uncomfortable if dialed too close towards you.
For the best ergonomic office chair in the armless category, our pick goes to the Hon Volt Task Chair (Also See Office Chairs with Flip up Armrests). The emphasis here is on the word "ergonomic"- unlike most armless chairs that have very limited adjustability, especially in the tilting of the backrest, the Hon Volt Task behaves more like a full featured ergonomic chair, sans the arms.
I love the backrest on the Hon's Volt, which is quite large to fully support my back, and comes with syncro tilting. The backrest tilts at a higher rate than the seat as you lean back, allowing your feet to remain on the ground throughout. Many tasks chairs do not even recline at all, which is an important ergonomic feature to enable micro movements and to release back tension.
The Hon Volt is quite large for a armless stool, weighing over 29 pounds with dimensions 20" w by 18" depth. Contrast that with our 2nd choice for best armless office chair, the AmazonBasics Low Back Task Chair below. The later weighs around 26.5 pounds with dimensions 18.7" x 16".
Some users find the Hon Volt too large for comfort, and not so easily maneuverable from room to room. If you're looking for a portable armless chair for small areas like the kitchen or bathroom, our runner's up for best armless chair below may be a better option.
If you're looking for an armless office chair for prolonged sitting, or one you don't need to move around a lot, then the Hon's Volt is your best option in 2021.
Last but certainly not least, we have the Chairman Ergonomic Drafting chair, the perfect ergonomic companion if you use a standing or tall desk like many people these days.
What's so awesome about the Chairman drafting chair is its unique ability to forward tilt up to 15 degrees. This creates the perfect position to lean on the chair for support as you stand, reducing pressure on your back while your body still remains upright.
How to Pick an Ergonomic Office Chair
Picking out an office chair may not be as exciting as shopping for the latest Nike's runner's or Tommy Hilfiger jeans, but the impact on you can be much greater. An ergonomically designed office chair properly supports your lower back, keeps your spine in alignment, plus cushions your bottom without cutting off circulation to your thighs as you sit for many hours on end.
With the average American spending upwards of 13 hours a day sitting, the importance of a good ergonomic office chair then cannot be overstated.
When it comes to ergonomics in an office chair, there is no one size that fits all. That's why adjustability is so important in an office chair. More often than not, you will only find the ideal seat height, arm rest angles, tilt angle and lumbar support position after several days of fine tuning your office chair. In fact many users of my top office chair pick, the Herman Miller Engage Chair, echoed this exact sediment after they purchased the chair. It took around a week of tinkering with the settings before getting everything just right. The point is, adjustability is good, precisely because there isn't one size that fits all, but there is the ideal setting for each person. Don't purchase an office chair that limits your options for configuring the chair.
Mesh, Fabric, or Leather Material
Let's begin with something a little superficial, literally- the material of the chair. The two dominant types of office chair surfaces are mesh and leather (faux or genuine leather), though fabric office chairs can also be found. Each offers distinct pros and cons you should consider.
Mesh: Elastic and made of synthetic materials such as Polypropylene, mesh creates an office chair surface that holds up well and is highly breathable. If you are in a hotter climate and are prone to sweating, mesh is a good option to minimize the uncomfortable experience of your thighs or back sticking to the surface of your chair on a sunny day.
The downside of mesh is often the lack of cushioning, especially around the edges of the seat where the mesh meets the frame. This can be remedied by putting a cloth over the edge of the seat where the thigh meets the frame if you start to feel discomfort. One of the most comfortable mesh office chairs I've ever sat on is the Herman Miller Aeron. The seat uses a combination of a steep waterfall edge design, flexible frame, and advanced mesh that features different tension zones to minimize any discomfort.
Fabric: Fabric is a popular choice in the home, adorning sofas and dining chairs, though they can be found on office chairs as well. Often made of a combination of cotton, vinyl, or even hemp, fabric does offer a familiar experience as your clothing, with colors and designs to match any decor. The popular Serta Microfiber Office Chair for example comes in a dazzling array of color choices, from sky blue, beige, ivory, to the more traditional white, black, gray, and brown colors.
The biggest issue to contend with when choosing fabric is stains. If you like to snack or even eat your meals in your office chair, make sure your chair doesn't get a taste of it, as you can't simply toss your chair into the washer like a T-shirt at the end of a buffet line. Spot cleaners are effective when applied immediately.
Mold buildup is also a possibility in hotter climates with fabric chairs. There are many home remedies you can employ to combat the problem effectively, such as taking the chair out on a sunny day to eliminate any moisture that mold thrives on, or using an alcohol solution periodically to spray the chair. Take into consideration these nuisances when going for a fabric office chair.
PU Leather ((Polyurethane): The most popular form of leather found on office chairs, PU or faux leather is a synthetic material that looks and feels similar to real leather, but can be produced cheaply. The advantages of PU leather over genuine leather are that it is water resistant and easy to clean, and generally easier to maintain. Like all leather materials however, it is not as breathable as mesh or cotton fabric chairs, something to consider if you spend long hours at a time in your chair.
Bonded Leather: Bonded leather is a good choice for people who crave the supple touch of real leather, but don't want to pay a shiny penny for it. Made from real leather scraps mixed in with faux leather, it's usually softer than PU leather, though can't quite hold a candle to top grain leather.
One disadvantage of bonded leather is the tendency to peel over time, compared to genuine leather which is much more durable in this regard. For anyone that have bonded leather chairs or couches in their house, they've probably witnessed this first hand already. It doesn't affect the functioning of the chair in any way, though can become unsightly. Selective patching of the peeled areas isn't practical, and usually requires a more expensive upholstery of the entire chair cover if you decide to keep the chair
Genuine Top Grain Leather: Top grain real leather chairs are usually made from
cow or buffalo skin. The top surface of the skin is sanded to remove any natural grain and imperfections, resulting in a material that is both luxurious and durable. Unlike bonded leather that have a tendency to peel over time, top grain leather ages much better, and with proper care, can last even a lifetime. If your budget allows for it, genuine leather is the obvious choice over any other type of leather for both its feel, elegance, and durability, as seen in the Gates Leather Executive Chair, our pick for the best real leather office chair.
As prized as real leather is when it comes to office chair upholstery, it is not without pitfalls. Stains on leather surfaces need to be treated immediately to avoid permanent staining, which might not be feasible if you have kids in your household. Continuous exposure to direct sunlight may also fade and dry up the leather, making it unsuitable for outdoor use. And last but not least, real leather office chairs are usually many times more expensive than PU or Bonded leather chairs. The bottom line is though, take care of genuine leather chairs, and they can serve you a lifetime.
Tilting and Reclining Backrest
Unless you are able to sit perfectly upright for many hours every day like a zombie, having an office chair that tilts and even reclines is very important for releasing tension in your lower back, finding the most comfortable position to watch a movie, or even taking a quick nap.
There are several types of tilting and recline mechanisms in office chairs, the most common being:
Basic Tilting: With basic tilting, the chair's seat, armrest, and backrest all move in unison backwards. This is generally not preferred in an office chair, as it means your entire lower body and arms will be tilted upwards as well, making it difficult for your eye sight to remain parallel to the floor..
Syncro Tilt Mechanism: In syncro tilting, the backrest of the chair and seat both tilt, but at a different ratio (usually 2:1). This keeps the seat at a relatively flat angle and your feet planted on the ground. Syncro tilting is generally more ergonomic than basic tilt, as it keeps your knees and arms at the preferred 75-90 degree angle that doctors recommend you maintain when working.
Multi-function Tilt Mechanism: In multi-function tilting, the seat and backrest can be tilted independently of each other to customize the preferred angle for both. While in theory this is superior to syncro tilting, most people will find a robust syncro tilt mechanism more than enough, without the extra levers needed to adjust the seat and backrest angles separately.
Reclining backrest: A reclining backrest generally refers to a backrest with a high degree of recline, usually 135 degrees or over (upright is 90 degrees). Look for reclining backrests that can be locked at any angle between the two spectrums for ultimate flexibility, as found in the Songmics High Back Executive Swivel Chair.
My advice when it comes to backrests is to look for an office chair with syncro or multi-function tilting, and tilt tension control so you can adjust how much effort it takes to tilt the backrest. Some office chairs come with a "free floating" setting that turns the chair into a rocking chair essentially, which can be a nice touch.
Seat Depth Adjustment
With an adjustable seat pan depth, a lever is often used to move the seat forward or back. Found in higher end ergonomic office chairs such as the Herman Miller Embody and Steelcase Leap Chair, this option is an important but often overlooked function. It ensures the bottom of your thighs are fully rested on the seat of the chair regardless of your torso length or body size. By adjusting the seat depth, you can also better position your lower back against the backrest, enhancing your posture and providing better support for your entire back.
Dedicated Headrest for Neck Support and Pain Relief
If you suffer from neck pain, or like to lean back often throughout the day, look for a office chair with a high back or dedicated headrest for dedicated head and neck support.
A headrest that is height adjustable is critical to ensuring it properly aligns with the back of your head regardless of your height or sitting posture. Some office chairs accomplish this with a backrest that can be raised up and down, though ideally you want both. This lets you adjust the position of the headrest and lumbar support independently to align with your back and neck. The X4 Chair for example, one of my picks for best ergonomic office chair for back pain, comes with such a robust design.
Some headrests can be angled as well up or down 30 degrees to better fit the curvature of your neck. It's a nice option to have in addition to it being height adjustable.
Don't neglect the armrests
And last but certainly not least, there are the armrests. At a minimum, make sure the armrests are height adjustable, so your arms are not dangling when typing on the computer. Here are the main features out there to consider for armrests on an ergonomic office chair:
2D Armrests: These are armrests that are adjustable in one more way other than the basic up and down. Most commonly, 2D armrests can be moved in and out horizontally as well to fully support your arms even if you're leaning forward or have longer arms.
3D Armrests: These armrests add another dimension on top of 2D armrests for adjustability. Most commonly, this means pivoting armrests that angle in or outwards 5 degrees. This is very useful for supporting your arms when they are in a tight "v" shape position. Common tasks that put your arms in this stance include using your smartphone with both hands, interacting with your tablet with only your hands etc.
4D Armrests: And finally, there is the grand daddy of armrests, with an equally splashy name. These armrests build on top of 3D armrests with yet another adjustable aspect. The most common addition is the ability to push the armrests in and out
Generally I'd recommend armrests that are at least 2D. Although in theory the more adjustments the better, most people will rarely tinker with the armrests beyond two dimensions. My runner's up for best ergonomic office chair, the Steelcase Leap Chair, comes with 4D armrests for people who often feel their arms are neglected when seated.
Proper Posture When Sitting at your Chair
Even the best ergonomic office chair won't help you much if you practice poor sitting habits. These include sitting cross legged in your chair, craning your neck forward to work on the computer, or sitting in a slumped position. All of these positions restrict healthy blood flow and build up uneven tension in your body that leads to back and neck pain, and even muscular diseases over time.
According to Spine-health, the proper way to sit in an office chair involves the following:
Make sure your back is aligned against the backrest of your chair. When we're tired, we have the tendency to slouch or lean forward, which leads to misalignment of the spine and shoulders. Avoid this, and instead get up and take a quick walk or stretch.
Your arms should be bent at an angle between 75-90 degrees against the armrest of the chair. Adjust the height of your armrests if they are too high or low.
Both feet should be firmly planted on the ground when seated. Avoid sitting cross legged or with your feet underneath your bottom, which restrict blood flow to your limbs. If your feet are too short to reach the floor, purchase a footrest.
Keep your knees even with your hips and at a 90 degree angle. Pull your shoulders back so it is straight.
And most importantly, do not remain seated for hours on end. Alternate between standing, sitting, and taking short breaks. Cornell University's research recommends the following regime:

Sit for 20 minutes
Stand for 8 minutes
Move for 2 minutes
As you can see, there is a lot involved when picking the best ergonomic office chair for YOU. Hopefully this guide has helped eliminate a lot of the guesswork for you, knowing that every chair featured in this guide are the very best at what they do.