Note: Last Updated Dec 6th, 2020
Sitting for extended periods of time on "normal" chairs can result in crippling stress to your spine and neck. It can also lead to development of back pain, neck stiffness and affect the lumbar region.
When you look at all the negative effects associated with sitting in general, it's a no brainer to invest a few hundred dollars on a good ergonomic chair, considering the long term positive effects and money saved on healthcare in the long run.
In this buyer's guide we review the very best ergonomic office chairs you can get for under $300 (or around). These ergonomic chairs offer a far better back-rest, head-rest, arm-rest adjustments and improved lumbar support compared to less expensive chairs. Some of them even come with adjustable lumbar support that can be moved up or down to cater to your lower back precisely. 3D Arm rests are plentiful with chairs that made our list, which can angle inwards to match the angle of your arms as you type. Adjustable headrests that can be risen to match the height of individuals are also found.
Lets dive in now to see our picks for the best ergonomic office chairs under and around $300.
Note: Prices subject to change. Check final price before purchasing.
Best Office Chairs Under or Around $300 at a Glance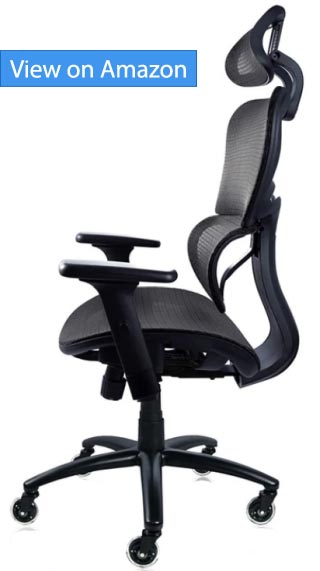 Bottom line: Best Overall with robust 3 tier backrest, 3D armrests and adjustable headrest.
The Nouhaus is a versatile ergonomic office chair with a level of adjustability usually found on much more expensive chairs. Specifically, everything from the head rest, seat back, arm rest, to the lumbar support can be modified to achieve the perfect level of ergonomics and comfort.
Users with frequent lower back or neck pain will find the Nouhaus Chair a life saver. The ergonomic chair features a 3 tiered contoured backrest that arches like the shape of your back, offering support where you need it the most, usually in your lower back. Unfortunately, the height of the lumbar support is not adjustable, though for most people, it seems to be perfectly placed and requires no adjustment anyway.
The backrest of the Nouhaus Chair consists of an all-mesh material that keeps you cool even after prolonged contact. It supports a recline angle of 135 degrees, the perfect angle to reduce spinal and back pressure, according to experts.
I love the arm rests on the Nouhaus , which can be angled inwards and out, apart from just being height and length adjustable. For the arms, this is one of the most important ergonomic features to look for, as an angled armrest lets you assume a more neutral position as you type.
All in all, with so many adjustable features and an assembly process that only involves just a few screws, the Nouhaus Ergonomic Chair is one of the very best you can get in the $300 range.
Pros:
Three-tiered back rest with adjustable lumbar
Comfortable headrest that angles
3D Arm rests that angle inwards
Two sets of casters for both carpet and hard floor
30 Days Money Back Guarantee
Cons:
Lumbar Support position not adjustable
Bottom line: Breathable ProGrid back, one-touch height adjustment and adjustable arm-rest with PU pads
The Office Star High Back chair offers excellent back support and works well for users who complain about chairs that do not provide adequate lower back support. The back-tile comes with tension adjustment, allowing users to adjust how far back the chair reclines. A built in lumbar ensures your lower back is supported as you work.
What I love most about the Office Star Progrid chair is its overall durable and no nonsense design. When you spend $300 on a chair, you expect it to last a good few years.. The solid metal base and plastic parts of the Office Star all feel extremely sturdy, and built to last. Heavier people can also rest easier knowing the chair is solidly built.
The one downside of the chair is the narrow chair width, at around 20 inches. This may not suit people with larger waistlines. Tall users might also find it harder to comfortably rest their legs as they might end up resting on the frame.
The Office Star Chair is easy to assemble due to the relatively fewer number of moving parts. Considering the price, solid materials used in the chair and the ergonomic features it offers, this ergonomic office chair offers great value for the money for people looking for an ergonomic, dependable chair with decent back support.
Pros:
Sturdy metal frame and excellent materials
Breathable back with lumbar support
One-touch pneumatic adjustment of seat height
Adjustable tilt tension
Adjustable arms with PU pads
Gunmetal finish
Cons:
Relatively narrow seat width, at 20 inches.
Assembly instructions lacking step-by-step directions
Sale
Bottom line: Heavy duty executive chair with up to 450 pound weight limit and 5 year limited warranty.
HON Big and Tall Executive chair is designed to accommodate the entire spectrum of people in terms of height or size. At 42.88 height x 30.25 width x 25.63 depth inches, even extremely large users will have no problems feeling at home in the chair. Its 450 pound weight limit and 5 year warranty further assures you this chair was built to handle anything.
The ergonomic features of the Hon Big and Tall Chair start with arm rests that not only move up and down vertically, but can also be angled inwards or outwards to cater to your arms' natural resting position. The lumbar piece located at the back of the seat can be moved upwards to support the area of your lower back that needs it the most.
While the Hon Big and Tall Chair tilts and reclines like any ergonomic chair, it's noteworthy to mention the maximum allowed angle is rather shallow, and the entire seat tilts backwards (not just the back rest). If you're looking for a chair with a high degree of recline for kicking back, the Hon Big and Tall is probably not your best option then. This is a chair built to work comfortably in.
Like the other parts found on the Hon Chair, the durable wheels and resin base allow effortlessly wheeling over all kinds of surfaces. The 360-degree swivel is smooth, letting you easily swivel around or pull up to desks.
For people who love a big seat to sink into, or tall or heavy users that could never quite feel comfortable in regular office chairs, the Hon Big and Tall Chair is one of the best ergonomic chairs to get, especially in the $300. The chair uses high-quality materials and is built to last. The firm padding and solid rocker ensure that the chair lasts for a long time. And lastly, putting the chair together is also easy and requires little time and effort (around 20 minutes average).
Pros:
Ultra wide seat dimensions and weight tolerance to accommodate all users.
Breathable mesh material with 2 layers of padding for comfort
Adjustable lumbar support that can be moved up or down
3D arm rests that can be angled inwards or out.
Adjustable tilt tension
Cons:
Relatively narrow seat width, at 20 inches.
Assembly instructions lacking step-by-step directions
Bowery Fully Adjustable Management Office Chair (White/Grey)
Highly adjustable modern office chair designed for all day comfort
Poly-cotton foam seat features a 5-position sliding seat adjustment for multiple seat depths
Reclining lock feature provides 4 locking angles when you decide to sit back and kick your feet up
Bottom line: The only chair at the $300 price range that features a elastomer backrest for self adjusting back support.
The Bowery office chair is often spoken in the same breathe as the Herman Miller Sayl chair, but at around half the cost.
The highlight of the Bowery like with the Sayl is the highly breathable, flexible elastomer backrest. It automatically confirms to your back regardless of your posture and offers continuous support as you move and shift in your chair.
Apart from the high tech backrest, the Bowery also comes with sliding seat depth adjustment. This ensures that regardless of your body size, there is just enough spacing between the edge of the seat and end of your thighs to promote good blood circulation.
The installation instructions are also easy to follow and users can get the chair ready by counting just a few bolts and screws. The product comes with a 2 year long manufacturer's warranty. This means the company is confident that the chair is built to last.
Pros:
High tech elastomer backrest that offers continuous back support
Reclining backrest that is lockable at 4 different angle
Sliding seat depth adjustment
Superb customer support with 60 money back guarantee
Cons:
Cushioning is rather firm and needs time to break into
Armrests are only 2D
Sale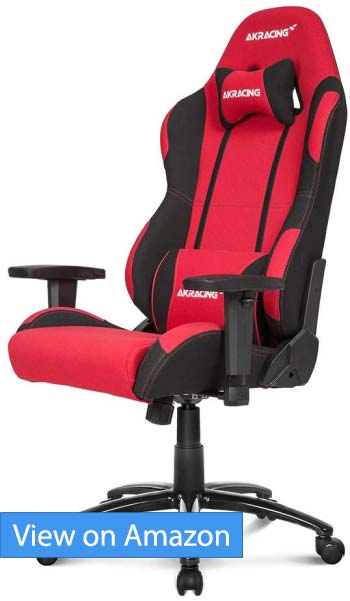 Bottom line: High quality, squeak free gaming chair that will last many years.
The world of gaming chairs can be a dubious one when it comes to quality. If you're willing to spend a little more though, you won't have that problem with the AKRacing Core Series (read full review). This is a high quality chair with premium parts that should last you a few years at least.
To start, the AKRacing chair is completely squeak free, a testament to how well put together the chair is:
The seat cushion consist of high end cold cured foam that is resistant to sagging. This is especially important if you're on the heavier side, as cheaper gaming chair seats tend to depress quickly under heavier weight.
In terms of adjustability, the chair also earns high marks. The large 3D armrests not only pivot in and out, but move forward and back to support your arms whether you're leaning forward or reclined. And speaking of reclining, the backrest can recline all the way back an incredible 180 degrees. That's the highest in any chair we've come across.
We're a big fan of the AKRacing brand due to its consistency in quality. This is thanks to their manufacturing process that takes place all in house. From design, testing, to production, AKRacing takes ownership of the entire funnel, resulting in chairs that are consistent in build quality.
The AKRacing Core EX-Wide costs in the neighborhood of $300, and is ideal for people between 5'4″ – 6'4″ and less than 290lbs.
Pros:
Superb build quality with zero creaking/ squeaking
Cold form padding is resistant to sagging
Backrest reclines all the way to 180 degrees
Armrests move forward and back by a lot
Cons:
Costs twice as much as competitors such as GTracing
Seat cushion is on the harder side
What to Look for in An Ergonomic Chair in the $300 Range
When it comes to ergonomic office chairs, $300 is considered a mid to lower level price point.
Although you probably won't see leather in $300 chairs, mesh is commonplace, and is arguably a better option for many people, as it's more breathable and provides better air circulation. However, as mesh fabric, especially wire mesh, is firmer, it does not easily deform, which means a user might have to buy an extra layer of padding for more comfort. You can elect for chairs with faux leather in the $300 price range, though be aware that mesh is more durable; faux leather can wear down more quickly and ruin the looks of the whole chair, which you don't want.
You should look for and expect the following features when purchasing an ergonomic office chair in the $300 price range:
Armrests should be fully adjustable, including ability to angle inwards and out.
Backrest tilt tension and seat depth should both be adjustable
Built in lumbar support
Minimum weight capacity should be at least 250 pounds, a reflection of the chair's sturdiness.
Headrest (if present) should at least be height adjustable.
In general, you will be able to find a high quality mesh ergonomic chair in the $300 range, such as the ones we've reviewed above. What you will be missing out compared to higher priced chairs such as the Herman Miller Task Chair are usually higher quality materials (for longevity), multiple tension zones to adapt to different parts of your body better, and more padding or real leather for comfort. However, at $300, this is a sweet spot in terms of the features you will get at a very affordable price point.
Related Reviews