Saddle chairs have been used by professionals such as dentists and beauticians for many years now. With the focus on better sitting posture and health, these chairs have also began to make their way into ordinary offices and homes.
If you're looking to improve your posture, strengthen your core and reduce back pain, a saddle chair may be worth looking into. In this guide, I'll go over the main benefits of saddle chairs and stools, plus the best ones you should pick based on your body size and needs.
What is a Saddle Chair / Stool?
As you might have guessed from its name, a saddle chair is shaped like an equestrian saddle. The unique shape puts the user in a forward leaning position with the hips and knees bent at around 135°, versus the 90° angle that comes with sitting in a regular office chair.
In a ground breaking study done by Danish surgeon A.C. Mandal, he found a forward leaning seat helped the spine maintain its natural curvature the best, and as such is the most suitable position for long periods of sitting. It can be especially helpful for people with lower back pain, and can even help prevent chronic back pain from developing.
Watch the video below to see how a saddle stool is used:

Saddle Chair Benefits According to Studies
Using a saddle chair has many proven benefits due to its forward tilting shape:

What to Look for in a Saddle Chair
There are two types of saddle stools available – solid and divided. A divided saddle stool is split in the middle with some models even having an adjustable gap. This design can be more beneficial for men (more on this later).

Here are some other things you should consider when buying a saddle stool.
Contour: The more contoured the seat is, the more support you get. But, this also increases the chance that it might not fit you. If you want to buy a highly contoured saddle chair, make sure to give it a try first.
Firmness: A saddle chair takes a while to get used to for beginners. To make it more comfortable during the transition, we advise getting a softly cushioned one first before moving on to the firmer options.
Backrest: If you intend to use your saddle stool for many hours on end (such as in the office), consider getting one with a backrest. Otherwise, alternate it with a regular ergonomic office chair.
Tilt: Look for saddle chairs that come with tilting if possible. This allows you to adjust the seat according to your anatomy for comfort.
Seat Height: A saddle stool is higher than a regular office chair so you're basically maintaining a supported standing posture. Set it too high and you risk irritating the groan area. Set it too low and you'll slump. When properly done, the perfect leg bend is 120° to 135°.
Desk Height: Since a saddle chair is higher than a regular office chair, a height adjustable desk is a must. You can also opt to buy a desk riser or stand and skip buying a new desk.
Best Ergonomic Saddle Chairs Reviewed
With a good grasp on the benefits of saddle chairs, plus what to look for when purchasing one, here is our picks for the best ergonomic saddle stools for your office and home.
For beginners, we recommend the 2xhome Backless Rolling Saddle Chair with its gently contoured, well-padded seat and adjustability.

The slight contour of the 2xhome Backless is more forgiving, helping new users easily make the transition from a standard office chair to the saddle stool. One customer also liked that the seat is a bit more padded than other brands- this allows him to use the chair for a longer period of time.

Aside from being tilt adjustable, the seat height goes from 22" to 28.25" as well. These are two important features that will help you find a comfortable position.

There are mixed reviews about the 16" wide seat, however. For short people 5'3" in height or less, the seat will be too wide. If you're 5'4" to 6'2" tall and less than 250 lbs, the seat and the height adjustment are just right to put you at that desired 120 to 130° leg bend.

At the end of the day, if you're new to saddle chairs and you're within the mentioned height, the 2xhome Backless is your best bet.

For people who intend to use the 2xhome Rolling Saddle Chair as their primary chair for many hours on end, this version comes with a backrest to provide respite from the anatomically correct upright posture from time to time. Once you feel that you are balanced and toned enough to use the saddle chair without the backrest, you can simply take off the back.

Pros:
Height and tilt adjustable
PU leather upholstery looks classy
Has thicker padding than regular saddle chairs
Comes with a 1-year warranty
Easy to assemble
Cons:
Seat might be too wide for some
Nylon casters should be replaced with softer casters if you have hard floor.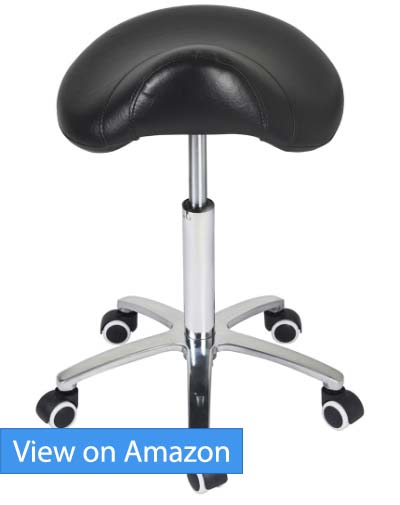 If you prefer a slightly narrower seat than the 2xhome and have a hard floor, then the Antlu Saddle Stool Rolling Chair is a must-try.

With its 13.8" wide seat and a 21.2" to 27.9" height adjustment, the Antlu is geared towards buyers who are on the slim side. Aside from being cushy, it is slightly more contoured than the 2xhome as well. One customer said that he has significantly less back pain after using this product for 8 hours since it pushes him into a more natural position.

In terms of aesthetics, the Antlu looks chic with its synthetic leather cover and is very easy to clean. Its polyurethane and rubber wheels won't scratch your hard floor. It also doesn't require any tools and just snaps together for easy assembly.

The problem with the Antlu is that it does not have a tilt function. This means for some it can be difficult to find a comfortable position. The high front hump also makes it hard to use for men.

Overall, this product can be a good choice for you if you're already used to sitting on a saddle chair and know what fits you.

Pros:
Cushy and height adjustable
400 lbs capacity
Easy to assemble
Good for hard floors
Cons:
Doesn't tilt
High front hump
Our best pick for men is the Kanewell Twin Adjustable Saddle Stool, a split saddle chair with a good combination of adjustability and aesthetics.

This product boasts of patented adjustable seat width, tilt, and center gap. This makes it possible to maximize the benefits of split saddle stools such as good blood circulation and improved sexual health for men.
One happy customer also mentioned that the design removed the high hump which a lot of solid saddle chairs have, making it more comfortable for men to use.

Another factor that puts the Kanewell on our list is its availability in three sizes. Add to that its seat height adjustment and it'll be a cinch to get the 120 to 130° leg bend. The top-grain leather cover is the cherry on the cake for this saddle chair.

The problem with the Kanewell is that the padding is on the thin side. This makes it hard to use it for the entire workday, in which case we recommend getting a good ergonomic chair to alternate it with.

As long as you don't need to use the Kanewell for extended periods of time, it is a great choice for anyone wanting to boost their pelvic health, especially men.

Pros:
Uses top-grain leather
Flame-resistant
Adjustable seat width, height, tilt, and center gap
Available in 3 sizes
Divided design gives additional health benefits
Cons:
Thin padding
Not suitable for long periods of sitting
Expensive
For short people, we highly recommend the Safeplus Beauty Saddle Stool with its pneumatic lift, backrest, and midsized seat.

To start, the Safeplus has the lowest seat adjustment on our list at 20.5" to 26.0", making it suitable for petite users. The PU leather covered seat, on the other hand, is somewhere between the 2xhome and Antlu at 13.4" by 15.0". According to one buyer, it fits him and his wife perfectly because they're slim, but that it might not be big enough for larger users.

Completing this saddle stool is the removable backrest that can help you until you feel toned enough to maintain a natural position without added support. We also like its compact build that makes it suitable for space-challenged work areas.

The only thing you have to be aware of is that the Safeplus is thinly padded. For some, this will make it hard to be used for long periods of time.

Once you get used to the hardness, however, and you're short and slim, the 300-pound capacity Safeplus can help you reduce your back pain.

Pros:
Suitable for short and petite users
Removable backrest
Compact build
Unexpensive at less than $60
Cons:
Thin padding
Not for tall and large users
Tall users with a problematic back can get ample support with the well-padded FRNIAMC Adjustable Saddle Stool Chair.

With a seat height adjustment of 22.5" to 29.5", the FRNIAMC is taller than most saddle chairs. It has a leather-upholstered, gently-sloping seat. The final touch for comfort is the reclinable backrest, which according to some users, helps them use the saddle chair longer.

For carpet users, the nylon casters of the FRNIAMC will work well. It's also easy to assemble and comes with a 1-year warranty for a worry-free investment.

The one thing that's lacking about this saddle chair is a seat tilt function. The seat is also on the small side so it won't fit wide users.

All in all, the 450-pound capacity FRNIAMC will fit most buyers with a slim and tall build. It's also good for saddle chair neophytes because it has a good amount of padding and it isn't too contoured.

Pros:
Well-padded and gently contoured seat
For the slim and tall
Covered with leather
Reclinable backrest
Cons:
No seat tilt
Not suitable for wide buyers
The tallest chair on our list, the Capisco Saddle Office Chair is fully adjustable and eco-friendly. With a seat height adjustment of 22" to 31", this is a great fit for tall office workers who want to achieve the perfect leg angle.

We love that the Capisco has an adjustable seat depth, back height, and back tilt. In fact, this is the chair Joe Rogan uses and credits with helping him come back from back pain.
What sets it apart, however, is the unique backrest design that enables you to change from a standard seated position to a sideways lean or reverse seating. This versatility allows you to flow from one position to another as you change tasks throughout your work day. In fact, according to one satisfied buyer, the combination of these features ended his three-year back and thigh pains in just a few days.

The Capisco is made from 50% recycled materials and is up to 90% recyclable. As such, this is the saddle chair to get if you're environmentally conscious. It is Greenguard certified and the pneumatic lift comes with a 10-year warranty so you know you're decreasing your carbon footprint by investing in a long-lasting product.

The main disadvantage of the Capisco is its high price. Additionally, it isn't suitable for buyers who weigh more than 250 pounds.

If you have enough to invest in the Capisco, you'll find out that it's well worth its price. You can even pick among three versions, with the Puls Plus being our favorite for the added cushion.

Pros:
Tall seat height adjustment
Has adjustable seat depth, back height, and back tilt
Environment-friendly
Thick padding
Cons:
Expensive
Not for very heavy users