A symbol of status, executive office chairs add comfort and and an influx of authority to your workspace. Usually made of real or artificial leather fitted over a sturdy frame, a good executive office chair shouldn't just feel luxurious, but come with the good adjustments that properly support your body through long meetings or grueling work sessions.
And therein lies the problem- most executive chairs look opulent, but lack important ergonomic features that cam quickly become very uncomfortable to sit on after a while due to the lack of adjustments.
In this guide I've handpicked my top executive office chairs for 2021 for productivity and comfort. All of them are made of ultra comfortable synethetic or real leather, with a wide range of adjustments such as lumbar and tilting to create a chair you can sit on for hours without back and neck pain.
All Executive Chairs at a Glance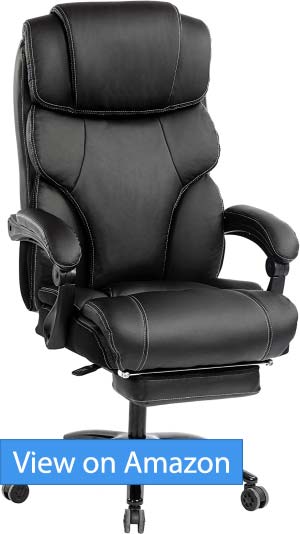 Bottom Line: The best budget PU leather executive chair with a high back and footrest.
Leather Type: Polyurethane leather
With an aesthetically pleasing blend between a chrome base and black polyurethane leather, the KCream Executive Office Chair looks and feels like it was made for a true executive, without the exorbitant price tag.
The cushioning on the KCream Executive Chair is best described as plush, and memory foam that provide good support without being overly firm. The backrest and even armrests are generously padded as well, making the chair feel like a giant pillow cradling your body.
One of the standout features ergonomically is the versatile backrest. Unlike many executive chairs that restrict the back movement to only a few degrees, the KCream Office Chair tilts, rocks, and can recline all the way to 135 degrees. This makes a huge difference in easing back pressure throughout the day.
With the high level of recline also comes a kick out footrest. This is another rarity in executive chairs that enables you to take a quick CEO nap effortlessly.
The five-pointed metal base supports a maximum body weight of 300 pounds. Nylon casters enable smooth and quiet movement so you don't have to worry about damaging your beloved hardwood floors and carpets. The sturdy frame has passed BIFMA quality checks, ensuring high stability and durability.
With a plush faux leather finish, memory foam seat and versatile backrest, the KCream Reclining Chair represents one of the best values for those looking for an executive office chair on a budget.
Pros:
Ultra comfortable thick cushioning all around
Versatile backrest that tilts and reclines 135 degree
Kickout footrest
Easy to assemble
Cons:
The chair makes a creaking noise for some people
Armrests are not height adjustable.
Bottom Line: A well-designed chair that delivers unparalleled comfort and ergonomic support, albeit at a steep price
Leather Type: Polyester breathable mesh
Designers Bill Stumpf and Jeff Weber consulted over 30 physicians and academics to produce this ergonomically advanced chair that emphasizes health, improves focus, and provides ergonomic support.
At first glance, the Herman Miller Embody Chair tells you that it means business. The unique aesthetic of the hourglass-shaped backrest and exoskeleton-like frame around the backrest and wide seat will definitely set your workspace apart from the others. The chair is available in a wide range of colours like blue, green, and red.
Unlike most office chairs that require you to adapt to it, the Embody Chair works in reverse- automatically adjusting to your body regardless of your weight or sitting posture.
The flexible backrest on the Embody Chair for example is constructed similar to a human's back, and bends and conforms to your back perfectly to support every vertebrae of your spine no matter how you sit, whether upright or reclined. There is no silly dial or levers to constantly adjust to position the lumbar support properly- the entire backrest cradles you automatically,
Equally impressive is the seat on the Embody with 8 different tension zones. Called pixated support, the seat cradles every part of your behind as you shift around, all the while remaining highly breathable thanks to 4 layers of space aged materials. Indeed, Herman Miller claims that sitting in Embody chairs can improve heart and lung functions, helping users stay focused and ward off fatigue.
Other functions include a tilt limiter (maximum tilt of 45 degrees), adjustable seat depth, and adjustable arms. Some users have taken issue with the lack of back-and-forth adjustability for the armrests.
In lieu of padding, the meshed polyester backrest and seat enables cooling and breathability even after prolonged sitting. However, the backrest can be stained (being made of the same material as that of many clothes).
In contrast to many chairs that look like they are used by executives, this chair is truly meant for VIPs who can afford it. While this chair provides much more quality and comfort than its cheaper alternatives, the price (which is its greatest disadvantage) may be too expensive for average working people.
Herman Miller has a 12-year and 3-shift warranty for this chair, which it ships fully assembled to buyers. For that price, we're not surprised the company is providing such services.
According to designer Jeff Weber, "You can't design without empathy". While the chair may be expensive for many, there is no doubt that the makers were serious in their quest to make a quality chair that benefits others.
Pros:
Well-designed, ultra high-quality product
Strong graphite frame compared to plastic chairs
Unrivalled comfort and weight and back support
Highly adjustable frame for more fine-tuned comfort
Cons:
Expensive, unaffordable to many people
May need some time to get used to the chair and adjust it for comfort
Bottom Line: Real Italian leather chair on a sturdy frame that exudes quality and status.
Leather Type: Fine Grain Italian leather
The Gates Genunine Leather Chair truly exudes opulence and luxury, with real Italian leather finish and a choice of black, white, and milky white colors that will instantly transform your office into a high end corner office.
It measures 29.6 by 28.1 inches (Depth x W) and has a height range of 48 – 51.1 inches and a maximum weight capacity of 275 pounds.
The voluminous foam padding covered by genuine leather on the armrests, backrests, and seat ensures a full chair figure and a cozy sit. The high-density padding means that the chair will be relatively firm – most people will find the chair comfortable, though some may find it too stiff.
The genuine leather of the Gates Executive Chair really elevates this chair to a class of its own, and feels great to sit on. Caring for the leather may require more effort than polyurethane or polyester chairs however. The upside of real leather however is its longevity against wear and tear. You won't run into the common issue of peeling over time with bonded leather, for example.
In addition to the ample padding, the S-shaped backrest of the Gates Executive Chair ergonomically follows the shape of the spine. The chair not only tilts backwards, but can be locked into one of 4 positions. The sides of the backrest curve inwards to hug your sides and keep you sitting in a centered and upright posture. Moreover, the waterfall design of the seat allows for adequate lower limb circulation while eliminating leg fatigue.
It should be noted that shorter people may have trouble resting their heads against the fixed headrest for optimal comfort. However, users have noted that is it not a major issue, as the headrest seems to be quite large and forgiving.
All in all if you're looking for a real leather executive chair that just emanates luxury while providing great comfort, the Gates Executive Chair is our top pick.
Pros:
Genuine leather imbues a high-quality look and feel
A sturdy and well-built leather chair that balances quality and value
Padding allows comfortable and ergonomic sitting over long hours
Choice of three great color choices- black, white, and creamy white
Cons:
Headrest position is fixed – optimal chair comfort may be height-dependent
Relatively firm padding may not suit everyone
Armrests not adjustable.
Bottom Line: Affordable, stylish, and low-maintenance chair that offers comfortable ergonomic support
Leather Type: Polyurethane leather
The Yamasoro chair uses two layers of high-density memory foam padding with additional springs for a comfortable and ergonomic sitting experience.
Instead of genuine leather, which some users may find inconvenient to maintain, the polyurethane leather covering is soft, durable, waterproof, and most importantly easy to clean.
In terms of ergonomics, the Yamasoro Executive Office Chair proves to be a very robust chair, especially given its budget price. The chair can recline backwards up to 40 degrees from an upright position, with the tilt angle lockable to find the perfect working or resting position.
The armrests are foldable, meaning they can go up when tucked underneath the desk or for an easy exit. Feel free to use this chair when napping, playing games, or doing work.
The chair has a maximum weight capacity of 350 pounds, measuring 29.2 by 28.3 inches (Depth x W) and has a maximum adjustable height of 45.3 inches.
The chair is available in black, brown, and white colours for the padding – the black noise-reducing nylon casters and silver five-star base are the same across all varieties.
Pros:
Padded armrests, backrests, and headrests for good ergonomic comfort below $200
Armrests can be lifted up and backrest can be tilted back as needed
Polyurethane leather covering offers a sophisticated feel that is easy to clean
Cons:
Fixed headrest position and relatively long seat may not be ideal for all body types
Some buyers have had issues with faulty piston and tilt functions
Bottom Line: Elegant reclining executive chair that will be the center of attention in any office or room.
Leather Type: Suede
If you're looking to make a high end statement with your office chair without breaking the bank, the suede leather, rustic looking Ovios Executive Chair fits that bill perfectly.
Adorning the exterior of the Ovios is soft suede leather that comes in a choice of 3 colors- light brown, dark brown, or gray. Many owners have commented on how supple the upholstery feels, unlike PU or faux leather that feels more plasticky.
We were also pleasantly surprised by the backrest on the Ovios. It tilts and reclines generously, all the way to 150 degrees. Whether you're working on your computer or casually reading a document, the backrest can be adjusted to suit your desired posture.
The only downside of the Ovios we've found is that it does squeak sometimes when rocking the backrest. It's not serious enough to become distracting. Other than that, this is one of the most elegant, unique pieces of office chair that is also comfortable in an executive chair out there.
Pros:
Elegant and rustic looking design in choice of 3 colors
Supple suede upholstery that feels better than PU leather
High reclining backrest to ease back tension
Cons:
Chair squeaks sometimes when rocking backrest
Suede material not as durable as genuine leather
The Difference Between PU, Bonded, and Genuine Leather in Executive Chairs
In general executive office chairs are made from one of three types of leather:
Polyurethane (PU) leather is artificially made from a polymer without real leather components. Also called faux leather, it is cheap, soft, durable, waterproof, fade-resistant, and easy to clean.
Bonded leather is made from leftover hide, including the dust and shavings. These leather pieces are bonded together with polyurethane and is the cheapest leather.
Genuine leather is the most expensive leather that we know and as such is great if you're going for high class and fashion. While being the most aesthetic, comfortable, and breathable, it is also difficult to clean and maintain compared to the other leather types.
There is no one leather type that fits all. For people on a budget but crave the look and feel of real leather, PU/faux leather is a good choice. Bonded leather does contain real leather content, though have a tendency to peel over time. If your budget allows it, top grain genuine leather is more durable, though comes with its own trappings, mainly being hard to clean due to leather's sensitivity to certain cleaning products.
What ergonomic features should I look for in an executive chair?
Since most people sit in their chairs for many hours each day, features that provide spinal support are probably the most important when picking an ergonomic executive office chair. Backrests that accommodate the natural curvature of the spine ensure a proper sitting posture.
Make sure there is adequate padding and angling of the backrest, seat, and armrests for good total body distribution. Adjustable functions for height, back and seat tilt, and armrest angle and position are important in avoiding long-term injuries like carpal tunnel and back pain.
Should I choose leather or mesh chairs?
Leather chairs give off an air of status and sophistication, and are also quite comfortable. However, they may also require maintenance (such as for genuine leather) or do not provide adequate cooling, especially during hot days or in tropical climates. Mesh chairs are made of polymer that may not feel as nice as leather; however, they enable heat evaporation and air circulation through the small holes to keep the user cool throughout long sedentary periods.
Do the best executive chairs have the most adjustable features?
Not necessarily – having more functions won't help if they don't let you sit ergonomically! A highly adjustable chair may even be non-conducive to your health if it is not adjusted to accommodate a proper spinal curvature and shape. However, more functions mean more versatility – users can take short naps in tilt-adjustable chairs, alternate between resting their arms or working in armrest-adjustable chairs, or adjust the headrest up or down to accommodate different heights. In the end, nothing beats a chair that provides the best ergonomic comfort for you, even if you can only adjust its height.