Updated: Nov 23rd 2021
For average sized gamers, there's an endless array of choices in the marketplace when it comes to ergonomic and affordable gaming chairs. Not quite the case for big and tall people however, especially men. A good gaming chair for larger people must not only support a much heavier weight, but be large enough in the right places- especially in the seat and backrest- to not have you feeling like a canned sardine when sitting.
It's with all these factors in mind that we present the best gaming chairs for large users you can get in 2019, We spent hours researching dozens of chairs to distill the list down to just 5 gaming chairs that you should consider. Here they are:
Best Big and Tall Gaming Chairs at a Glance
| | |
| --- | --- |
| Weight Capacity: | 441 pounds |
| Seat Dimensions (excluding wings): | 18″ W x 20″ L |
| Back Rest Height: | 34″ |
| Weight: | 73 lbs |
| Warranty: | Lifetime warranty on most parts |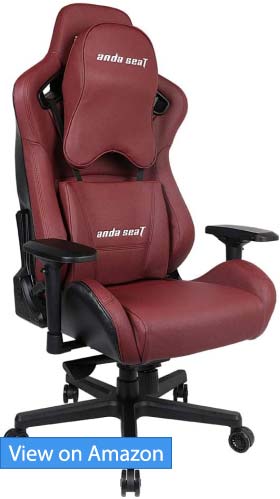 The Anda Seat Big and Tall may not be the cheapest gaming chair on the market, but it is an absolute tank that will probably outlast any chair you've bought before it while keeping you in supreme comfort as a large user.
Firstly, even Anda Seat says this isn't a chair for everyone- the ideal height range of the chair is between 5'9″ and 6'9″ tall, and under 441 pounds. How's that for honest marketing? If you fit that large profile however, there is probably no sturdier, more thickly cushioned and comfortable gaming chair than this one. Even as a 5'8″ average build user, I was blown away by how comfortable the large chair was for me.
Three editions of the chair are available- Dark Knight, Kaiser, and Dark Wizard. Which one to go with just depends on your choice of colors.
Reading some of the reviews from large owners of this chair may have you thinking they all work for the company. One 6'8" tall and 300+ lbs user said this is the most supportive and comfortable chair he's owned. Another 6'2″ and 315 lbs user says the chair is so sturdy, he feels he can ride it down a flight of stairs without problems.
Many elements come together to justify the higher cost of this chair. The chair's frame consist of over-sized metal bars that push the total weight of the chair to over 73 pounds. The upholstery is made of PVC leather mixed with carbon fiber that is virtually tear proof. And finally, to better withstand heavy loads, the seat's padding consist of expensive cold foam that is as comfortable as memory foam (in this case) while holding its shape better over time.
Two things that surprised me most about the Anda Seat Big and Tall were the comfort of the external pillows, plus the stability of the tilt and recline mechanism. Dispute being a heavy chair, rocking or reclining the backrest all the way back to 160 degrees is effortless, unlike on many big and tall gaming chairs where it felt like I was pushing a log. The lumbar pillows were also surprisingly comfortable, and acts like a second, more flexible back.
As a testament to the build quality, Anda Seat offers a lifetime warranty on most parts of these chairs. If you're a large user that has shredded every chair in the past in short order, you may just have met your match with this gaming chair.
Pros:
Excellent build quality that will easily last 5+ years
Cold foam padding that's as comfortable yet longer lasting than memory foam
PVC leather and carbon fiber upholstery that's tear resistant
Extremely stable and robust tilt and recline mechanism
Lifetime warranty
Cons:
Armrests get "stuck" sometimes when adjusting their width
Neck pillow position isn't height adjustable
Usable seat width of 18″ means ultra wide people may find it inadequate
Weight Capacity:
Regular: 220 pounds
XL: 395 pounds
Seat Dimensions (excluding wings):
Regular: 22″ W x 19.3″ L
XL: 22.8″ W x 19.7″
Back Rest Height:
Regular: 33.5″
XL: 35″
Weight:
Regular: 76 lbs
XL: 82.7 lbs
Warranty:
5 year warranty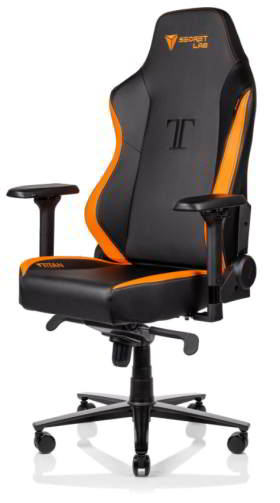 There's a reason why SecretLabs have risen to become perhaps the most well known brand in gaming chairs – the quality of their products is second to none. And that's exactly what you want when you're a big dude, both for your safety and the chair's longevity.
The base Titan model (read full review here) is their mid range product that caters to users up to 286 lbs. If you're above those metrics, there's an even larger Titan XL model with a 400 lbs capacity.
Like the Anda Seat Big and Tall above, every faucet of the Titan chair is exceptionally designed and built for longevity. The 5 star base is made out of aluminium that's lighter yet tougher than metal. The padding inside the seat consists of SecretLab's proprietary cold cured foam that will virtually never sag, and the chair's PU leather upholstery is 4x tougher than standard PU leather.
In the adjustments department, the SecretLab Titan also mirrors the Anda Seat almost point for point. The robust tilt mechanism not only tilts and reclines a high degree, but can be locked at any angle. The armrests are also 4D, including being width adjustable to cater to people with extra wide shoulders. Unlike the Anda Seat however, the lumbar support is built in and is depth adjustable via a dial.
The biggest difference between the Anda Seat and SecretLab Titan is in the cushion firmness. The later feels firmer. Which one to choose is largely dependent on personal preference (ie: do you prefer a soft or firmer mattress)?, though I will say it is easier to maintain good back posture with the Titan due to the more contoured backrest and increased firmness of the padding. At the end of the day however, I suspect you'll be extremely happy with either picks.
Pros:
Built like a tank with aluminum base and PU leather upholstery that's 4x stronger than competitors'
Backrest tilts, reclines up to 165 degrees, and lockable at any angle
Proprietary cure foam padding that balances firmness with softness
4D armests with durable metallic internals
Cons:
Cushion firmer than AndaSeat for those that prefer a plush seat
| | |
| --- | --- |
| Weight Capacity: | 400 pounds |
| Seat Dimensions (excluding wings): | 21″ W x 20″ L |
| Back Rest Height: | 33.5″ |
| Weight: | 55 lbs |
| Warranty: | 1 Year Warranty on Parts |
The market for budget big and tall gaming chairs is fraught with deception. Many cheap gaming chairs simply arbitrarily inflate the weight capacity or even chair dimensions to appear suitable for bigger users when they are anything but. FantasyLab is among the small handful of budget gaming chairs that actually has the build quality and dimensions to accommodate large users without falling part in a few months.
Make no mistake, the FantasyLab is a large gaming chair. The seat measures 21″ wide and 20″ deep, and without the traditional bolsters on the sides of the chair, the entire area is reserved for your bottom. One large owner said there was simply no comparison between the FantasyLab seat and that found on most others due to the flat pan design of the FantasyLab that just made it so much more spacious and comfortable to sit in.
The large and tall backrest on the FantasyLab towers at 33.5″ tall. Even the detachable lumbar pillow is extra large, cushioning your entire lower back instead of traditional dinky ones found on regular gaming chairs that seem to poke you more than cradle. The massage feature on the pillow sadly though is just a gimmick, providing more of an annoying vibration than actual massages.
In terms of ergonomics, the FantasyLab Big and Tall chair is pretty adjustable. All the key part of this chair can be independently adjusted to fit individual body sizes and heights. It has a 360-degree swivel and a backrest recline /rocking lock system that lets you lean back to any desired angle up to 155 degrees, the perfect angle to alleviate back tension. The armrests are wider and come with 3D adjustment which include up and down, forwards and backwards, and pivoting. The seat height can also be adjusted between 20.5″ to 22.8″.
With a price point of under $250 dollars, the FantasyLab gaming chair offers one of the best cost to value ratio we'e seen in a truly big and tall gaming chair. And this is why it slides into the #2 spot on this list.
Pros:
Large seat with thick memory foam padding

Large lumbar cushion that supports the entire lower back

Versatile backrest that rocks and tilts up to 155 degrees
Hand-welded structural steel integrated frame with a 400 pounds weight capacity
Cons:
Some people received damaged parts from poor packaging

Pillow massage function is pretty useless
| | |
| --- | --- |
| Weight Capacity: | 400 pounds |
| Seat Dimensions (excluding wings): | 23.4″ W x 20.4″ L |
| Back Rest Height: | 34″ |
| Weight: | 57 lbs |
| Warranty: | 5-year warranty on the upholstery, 10-year warranty on the steel frame and base |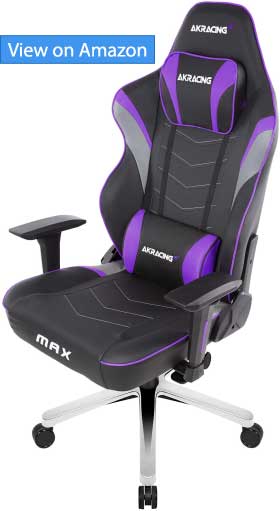 Next, let's move on to the AKRacing Masters Series Max Gaming Chair, another beast of a chair for big people, especially the horizontally inclined. It features the widest seat we've seen in a gaming chair, measuring over 23″ without any bolsters to get in the way.
As mentioned above, the AKRacing Chair stands out from other gaming chairs because it's extremely roomy at 23.4" wide. This means that men with large builds and long extremities can position their legs however they want while playing. Spread your legs, sit cross legged, whatever your favorite position is. Take advantage of the 180° reclining function to relax as one user have done while waiting for your game to load.
We've talked about size but, of course, maximum comfort requires more than just that. Support is a must too and fortunately, it's one area where this unit does not lack. The AKRacing Masters Series Max comes with a headrest and a lumbar pillow, both adjustable and crafted with ergonomics in mind. For me, these are very important in protecting your neck and spine especially if you'll be using your computer for prolonged periods. The 4D adjustable armrests are there as well to support your arms and help keep your hands and wrists in a neutral position.
The AKRacing Masters Series Max is also well-built and robust, boasting a capacity of 400 pounds. The base is made of satin-finished solid aluminum while the upper base is steel which is treated with an anti-corrosive coating to ensure long life. For its upholstery, 55 kg/m3 cold-cured foam padding is covered by stain-resistant PU leather which has a soft, nice feel to it. For its design, you'll be happy to know that this chair is tastefully designed and available in 5 color schemes – black, blue, red, white and indigo – so you can easily match it to the theme of your computer setup.
For its drawback, the first thing I noticed is its high price tag. And, of course, since it is designed for large and tall people, gamers who have a small build will find it too roomy.
With the widest seat in all of the chairs in our list, the AKRacing Big Gaming Chair is the best choice for very wide or obese people. Skinny people need not apply.
Pros:
Offers different color accents with black and dark gray as its main color

PU leather feels soft and luxurious

Stain-resistant upholstery makes it easy to clean

Has a wide back and a wide seat which measures at 23.4" at its widest point

4D armrests, heavy-duty gaslift, tilt function and the 180° recline function

Has a sturdy aluminum and steel base

5-year warranty for the upholstery

10-year warranty for the frame
Cons:
Expensive at over $400

Seat too spacious for people with small builds
| | |
| --- | --- |
| Weight Capacity: | 350 pounds |
| Seat Dimensions (excluding wings): | 16.5"W x 22.5" L |
| Back Rest Height: | 33″ |
| Weight: | 55 lbs |
| Warranty: | 12 months limited warranty |
The KCream gaming chair is one of our favorite gaming chairs for a reason. It blew away our expectations in every respect, from build quality, comfort, to features for its price point.
Let's start with build quality, something that big and tall gamers should pay special attention to. In that respect, the KCream is definitely one level above most of its peers in the $200 price range. The chair was as stable as a tank, and in the course of 6 months that we tested it exhibited none of those annoying creaking or squeaking noises that happen with other cheaper gaming chairs.
The chair also earns high marks in the comfort department, even for large folks. The seat cushion is 5″ thick, blowing away competing chairs like the GTracing out of the water. The armrest are wide, and the 33″ tall backrest should make this chair comfortable for people as tall as 6'3″.
Another highlight of the KCream chair has got to be the pullout footrest combined with the high recline of the backrest, at 155 degrees. It's the only chair I've actually fallen asleep in thanks to these features, and is something you have to experience to appreciate. Laying almost horizontal in an office chair with every part of my body supported is a strange but absolutely relaxing feeling that never gets tiring.
All things considered, the KCream is a heck of a bargain considering the excellent build quality, pull out footrest, thick padding, and robust backrest. At just over $200 (at time of checking) it is also one of the most economical options for big and tall folks.
Pros:
Very economical for a big and tall gaming chair
Footrest plus 155 degree reclining backrest allows for napping
5″ thick memory foam seat that is very comfortable
Superb build quality
Cons:
2D armrests that are quite limiting
Seat depth of 22.5″ may be too deep for people 5'7″ and below
| | |
| --- | --- |
| Weight Capacity: | 300 pounds |
| Seat Dimensions (excluding wings): | 19″ W x 19″ L |
| Back Rest Height: | 34.4″ |
| Weight: | 54 lbs |
| Warranty: | n/a |
For one of the best looking gaming chairs on the block, look no further than the Nitro Concepts s300 chair. Choose from a choice of 6 different attention grabbing fabric upholstery to match the decor of your room and make a statement.
The Concepts S300 use of fabric upholstery isn't just for show. Fabric is much more breathable than PU leather, which becomes apparent during hot summer days.
Inside the chair you'll find thick cold foam padding that's usually found on much more expensive gaming chairs. Cold foam holds its shape better for longer, which is an important consideration for heavy people.
The backrest on the Concepts S300 is fairly robust. Apart from supporting tilt, the backrest can also recline all the way down to 135 degrees. This is the best angle to ease pressure off your back according to research. Along with the two external pillows that come with the chair, and relaxing your back periodically is easy as pie on the Concepts S300 gaming chair.
My main gripe with the S300 is the caster wheels, which are the cheap plastic 2″ wide ones that don't really hold up weight or roll around well. It's a puzzling choice considering all the other components of the chair are otherwise very durable.
With a maximum weight capacity of 300 lbs and usable seat width of around 19″, the Concepts S300 chair is a stylish, breathable gaming chair that caters well to large people in the middle of the pack.
Pros:
Stylish fabric covers with choice of 6 colors
Cold foam padding that retains its shape well
Tilt and 135 degree backrest recline
Wider than average seat with no restrictive bolsters
Cons:
Small, poor quality caster wheels
No clear warranty information
| | |
| --- | --- |
| Weight Capacity: | 265 pounds |
| Seat Dimensions (excluding wings): | 25.5″ W x 29.1″ L |
| Back Rest Height: | 17.7" |
| Weight: | 63 lbs |
| Warranty: | 30-day money-back guarantee, 1-year warranty on parts |
The last chair on our list is a curious one. Available for less than $130, the Homall Gaming Recliner Chair is a great option for people who prefer the spaciousness of a full lounge or sofa chair when gaming.
To start with, this Homall product boasts of a wide seat measuring at 25.5", meaning there's plenty of space for you to move around. You can even sit cross-legged comfortably while playing as I often do. You don't have to worry about support either because it uses thick, high-density foam for its padding. The foam is soft for comfort but it's still firm enough to support you.
And talking about support, the Homall Gaming Recliner Chair has a built-in headrest and a built-in lumbar support to assist your spine and neck. When you want to take a break from playing, just take out the adjustable footrest and push the back of the seat to recline up to 180° and watch a movie or take a nap. Unlike racing gaming chairs which feel wobbly when fully reclined, this recliner chair feels very stable when you lie on it.
The cover is made of PU leather that is very easy to clean. It feels a bit fragile though so it might be a good idea to put a throw cover on it. There's a small bag at the side as well which is very useful for storing things you often use. One user commented that she uses this side bag to keep whatever book she's currently reading so she doesn't have to look for it after playing.
What I found lacking in the Homall Gaming Recliner Chair is its capacity. It can only handle up to 265 pounds and it won't work well for people who are more than 6 feet tall. The headrest and lumbar pillow aren't adjustable either.
Still, I find the Homall Gaming Recliner Chair to be a great buy if the dimensions and capacity are suitable for your build and weight. It's definitely more comfortable than average racing gaming chairs for short term sitting and I find its ability to recline stably to be one of its selling points.
Pros:
Seat is spacious at 25.5 inches

Feels stable even when reclined for 180°

Footrest is adjustable

Affordable at about $130

Easy to clean

Has a side bag

Very easy to assemble

Soft and comfy
Cons:
PU leather cover feels fragile

Headrest and lumbar pillow can't be adjusted

Some people find it to be too firm
How to Properly Measure Chair Seat Size for your Body
As a large user, there is nothing more important in a gaming chair than the size of the chair's seat for long term comfort. Too small a seat, and you'll feel constantly constricted; too big, and it's like putting a kid in an adult chair, with your thighs cut off and entire bottom mis-aligning with the contours of the seat.
Here is how to determine the ideal seat dimensions in a gaming chair for your body.
Step 1: Sit down in your existing office chair (or even just a kitchen chair) in an upright position, your back flush against the backrest. Assume a relaxed position, with your thighs slightly apart.
Step 2: Calculate the ideal chair seat depth for your body. Using a measuring tape, get the vertical distance from your tailbone to the end of your inner thighs. Then subtract 1-2 inches to derive the ideal seat depth for your body, where when you sit flush against the backrest of the chair, there is a small gap at the edge of the seat to promote blood circulation in your inner thighs and legs.
Step 3: Calculate the ideal chair seat width for your body. Still sitting upright and with your thighs slightly open, measure the horizontal distance across your thighs just before they drop off the seat's edge (Assume ideal seat depth, or 1-2 inches before end of inner thighs). Then, add 2 inches to derive the ideal seat width for your body, where when you sit upright with relaxed slightly open thighs, there is still around 1 inch of clearance on either sides of the seat for wiggle room.
Step 4: With these measurements in hand, look up the dimensions of your desired gaming chair to see if the seat will fit you well. For the chair's width, make sure it refers to the width without the side bolsters (wings), which are common on many gaming chairs:
Conclusion
Many hours of sitting hunched over the game console or the PC has potential health risks. Bad posture and uncomfortable chairs can cause backache, stiff neck and shoulder pain which can distract you from your game. Having a comfortable gaming chair can make the difference in not just the comfort factor but can also help to improve the game.
Related Reviews