For a short person, finding the right gaming chair is no small feat and yet so critical for healthier gaming. If the backrest is too tall, your entire neck and back will be out of alignment with the chair's neck and lumbar support. If the seat is too tall, your feet will slightly dangle off the floor, cutting off circulation to your thighs.
Here are 5 gaming chairs that actually fit short people, and well. If you're tired of feeling like a small fish in a big pond every time you sit down, it's time to give the below gaming chairs a good look.
Best Gaming Chairs for Short People at a Glance
What to Look for in a Gaming Chair for Short and Petite People
Many manufacturers label their gaming chairs as ergonomic, but what they mean is ergonomic for people with average body frames. For someone with a petite body or of shorter stature (men under 5'8" and women under 5'3"), the mainstream gaming chair will simply be too big to be comfortable.
There are many factors to consider besides just looking at the overall size of a gaming chair for short people. Here are the two main considerations:
Chair Height
For a short person, look for gaming chairs with a minimum seat height of at least 18″. Dangling feet are not only uncomfortable, but cuts off circulation to your legs, leading to numbness or even varicose veins over time.
Using a 18″ minimum seat height as a starting point , refer to the below table for a more precise height to look for to cater to your leg length:
| | | | |
| --- | --- | --- | --- |
| Your Height (feet) | Ideal Chair Height (inches) | Your Height (cm) | Ideal Chair Height (cm) |
| 4'11" | 15.9 inches | 149 cm | 40.2 cm |
| 5'0″ | 16.2 inches | 151.5 cm | 40.9 cm |
| 5'1″ | 16.4 inches | 154 cm | 41.5 cm |
| 5'2″ | 16.7 inches | 156.5 cm | 42.2 cm |
| 5'3″ | 17 inches | 159 cm | 42.9 cm |
| 5'4″ | 17.2 inches | 161.5 cm | 43.6 cm |
| 5'5″ | 17.5 inches | 164 cm | 44.2 cm |
| 5'6″ | 17.8 inches | 166.5 cm | 44.9 cm |
| 5'7″ | 18 inches | 169 cm | 45.6 cm |
If a gaming chair's seat is slightly too high for you, a good footrest can help to equalize the difference.
Seat Depth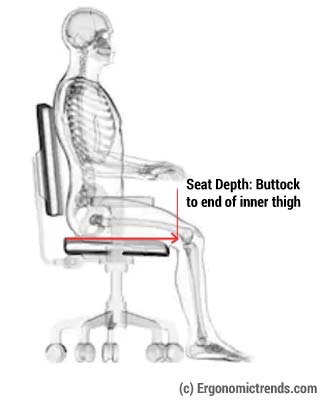 When it comes to the size of the seat on a gaming chair, for short people, what's most important is a low seat depth. The width of the seat pan isn't that crucial, as long as it's large enough to fit your body, which for short or petite people generally isn't an issue.
Seat depth is the distance between the front edge of the seat to the back rest.
An ergonomic chair should leave around 1-2 fingers gap the back of your knees and the edge of the chair when your back is against the backrest. Any contact between the back of your knees and the seat edge can increase pressure behind your thighs, leading to poor circulation to your lower legs.
For short people, look for a seat depth of 20″ or less if the gaming chair comes with an external lumbar pillow, 18″ if it doesn't.
With all that said, here are our top 5 picks for a gaming chair that's best for short and petite gamers.
GTRacing Gaming Chair
Height Range (from floor to top of seat cushion): 16.9″ to 20.9″
Seat Width: 15″
Seat Depth: 20″
Backrest Height: 32.5″
Ideal User: 5'4″ to 6'1″
Top on our list of best gaming chairs for short people is the GTracing gaming chair. It's not the smallest gaming chair on our list, but if you're as short as 5'4″, it does offer the best value in a gaming chair in turns of cost vs features.

With a seat height that can be adjusted between 16.9″ to 20.9″ the chair easily accommodates short people down to 5'4″, allowing them to sit without worrying about dangling their legs. If you're petite, you'll be glad to know the seat width is also modestly sized, at 15″ wide discounting the bolsters.
When we reviewed the GTRacing chair, we found many things we loved.
The backrest recline on the GTRacing chair is extremely robust, and can recline close to a near horizontal 170 degrees. Throw in 20 degree tilting and tilt lock, and sitting in this chair isn't just relaxing, but some might even say fun.
For its budget price, the armrests are on the GTRacing are also quite good. They are 3D, and can pivot in and out to support your forearms when you're typing or on the phone better.
This chair won't outrank the DXRacer chair in comfort, but it comes with a decently padded seat that we found soft yet supportive. The padding is around 3.1″ thick, and is ideal for petite to medium-build users – by medium build, we mean under 200 pounds. We also like the external neck pillow that can be moved up and down up to 4″ to target your neck even if you're shorter.
One user who swapped his old chair for this one extols that he no longer experiences back pain even after sitting on this chair for a lengthy period. He can now game, stream movies, work, or chat with friends with zero worries.
In summary, if you're between 5'4″ to 6'1″ and less than 230 lbs, the GTRacing gaming chair offers tremendous value for the buck.
Sale
AkRacing California
Height Range (from floor to top of seat cushion): 17.5″ to 20″
Seat Width: 15″
Seat Depth: 17.7″
Backrest Height: 27.7″
Ideal User: 4'9″ – 5'6″
In the fashion industry, the term "petite" is used to refer to people 5'3″ or shorter. It embodies not just people who are very short, but small in stature as well. If that's you, the gaming chair you'll want to get is the AKRacing California gaming chair.
The AKRacing California is exclusively reserved for petite people whose height ranges between 4'9 – 5'6″. Everything about the chair is shrunken down to fit petite adults.
The seat height (from floor to top of seat cushion) can go as low as 17.5″. The backrest height is also one of the smallest we've seen at 27.7″ tall. This maximizes the chances that the external neck pillow will fit under your cervical spine when you're leaning back. The seat width measures 15″ across (discounting the wings) just like in the GTRacing chair above.
Like with the GTRacing chair, the California comes with a robust backrest that reclines all the way flat to 180 degrees, and 3D armrests that one ups the GTRacing chair in that they are length adjustable as well (move forward and back).
All this culminates into a a petite gaming chair that one 5'0", 130lbs owner says fits her perfectly.
Another big selling point of the AKRacing California over its cheaper rivals is the higher build quality. When we reviewed another AKRacing chair a few months ago, what impressed us the most was how well everything was put together. There's zero annoying squeaking, and all the parts just spell premium, from the silky smooth PU leather to the cold cured foam padding.
If you're a petite gamer, there aren't a lot of choices when it comes to gaming chairs. Luckily, the AKRacing California is one of them.
Hbada Gaming Chair
Height Range (from floor to top of seat cushion): 15.74″ to 18.89″
Seat Width: 14.5″
Seat Depth: 21.65″
Backrest Height: 31.5″
Ideal User: 5'2″ to 6′
The Hbada gaming chair comes with a ridiculously low seat height of 15.7″, making it perfect for short people as short as 5'2″. But what really makes the chair stand out from the rest is the kick out footrest, which if you like to like to sit in a heavily reclined position often can be indispensable.
From our experience, a footrest is a game changer when you wish to sit in a reclined position for more than a couple of minutes, such as reading or even to take a quick nap:
The footrest on the Hbada chair slides out really easily, making it easy to take advantage of it on a whim. It is a little small however, though for smaller people should be adequate to support your legs.
Going hand in hand with the footrest is a backrest that reclines up to 155 degrees. While this is less than that on the previous two chairs, it's more than enough to fully relax in.
Like all budget gaming chairs, the Hbaba's build quality is acceptable, though definitely not meant for heavy people. In our estimation, it's good for people up to 230 lbs based on the nylon base and abundance of plastic parts. For short to petite people, that's usually adequate.
The bottom line is, if you're a short gamer looking for a gaming chair with a footrest to really kick back in from time to time, the Hbada is a decent choice that won't cost you an arm and leg.
4. KaiMeng Gaming Chair – Best Budget Option for Short and Petite Gamers
KaiMeng Gaming Chair
Height Range (from floor to top of seat cushion): 13.5″ to 16.5″
Seat Width: 19.5″
Seat Depth: 20.1″
Backrest Height: 26.93″
Ideal User: 4'8 – 5'6″
For short or petite gamers on a shoe string budget that can't quite afford the AKRacing California above, the KaiMeng is a decent alternative. Yes it doesn't come with a lot of the ergonomic comforts of a more expensive gaming chair, but what it does deliver is the perfect size for really short/ petite users and even children.

The chair height adjusts between 13.5" to 16.5", and the backrest measures just 27″ tall as a tall backrest with neck support. These miniature numbers spells "heaven" for truly petite gamers as small as 4'8″ tall. In fact, one parent got this for both her 12 and 14 year old teenager, and says the chair fits them perfectly and has held up well even after months of abuse.
In place of a neck pillow, the chair has two holes near the headrest that improve airflow to your neck and head. The padded headrest provide decent support for your shoulders, neck, and head. The seat cushion is also quite comfortable.
For well below $100, you are looking at some sacrifices however. The armrests on the KaiMeng are fixed, and the chair's backrest only tilts back slightly, but doesn't recline (lock in place) to help relieve back pressure from time to time.
The KaiMeng gaming chair obviously has its shortcomings, though its uniquely small size and cheap price makes it great as a chair for petite adults and teenagers as a short term or secondary gaming chair around the house.
SiteRite Children Chair
Height Range (from floor to top of seat cushion): 16.7″ to 19.6″ (not factoring in footrest)
Seat Width: ~16″
Seat Depth: 16" – 17.6"
Backrest Height: 16.1″
Ideal User: 3'3″ – 5'6″
Last on our list is this award-winning desk chair for growing children. As the world embraces virtual learning and homeschooling, more parents are turning to ergonomic chairs for kids to help ensure that their children maintain good sitting postures while studying. The SiteRite chair serves those needs perfectly with a gaming chair that grows with the child.
The highlight of the SiteRite children chair is its small profile plus a collection of features that lets it adjust to the growing child.
Firstly, while the seat height can lower to a modest 16.7″. For really young children (or petite adults), you can attach the included footrest to lower that number to as low as 9.7″.
The seat depth on the SiteRite is also adjustable, a key feature to ensuring it fits your child even as he/she grows. The default seat depth is 16″, though that can grow to 17.6″ by sliding the seat forward.
Throw in a small backrest, and the SiteRite children chair is the ideal gaming and study chair for children as young as 4 years old (around 3'4″) and up to a petite adult that's below 5'6″ and small in stature.
We love the auto breaking casters on the SiteRite that effectively restrict movement the moment appropriate weight is placed on the chair. Not only does this increase safety for young children, but also helps the child concentrate on the task at hand rather waste time moving around in the chair.
As a testament to how well the SiteRite also caters to petite adults, one woman who is 4'10" says she was ecstatic to finally find a comfortable chair that fit her small body frame as well as the SiteRite.
In the end, the SiteRite children chair is easily one of the best investments you can make for your child or even the really petite gamer in your life. With smooth edges, comfortable design, high durability, and expansion options, it's a winner.

Conclusion
Regardless of its application, it's important to find a chair that supports good sitting posture. This means paying extra attention to the backrest height, chair height, cushioning, and seat dimensions, especially its depth.

For gaming chairs, it's especially important to ensure they fit you well, as you'll probably be spending a good 8 to 10 hours in them daily working and gaming. For short people (or kids), the above 5 gaming chairs above represent the best in fitting your body size (also see: Best Office Chairs for Short People). Bookmark this page as we update it whenever newer chairs come out that deserve a spot on this list.