Last Updated: March 8th, 2021
In the market for a Herman Miller Aeron chair but not quite ready for the sticker shock?

The fact is, when it comes to ergonomic chairs, few can match the long term comfort (and durability) offered by the Herman Miller Aeron. From the advanced seating material that offers 8 zones of tension to its highly adjustable lumbar and tilt control, there's a reason why the Aeron chairs cost an armrest and a leg. At the same time however, it doesn't mean there aren't alternatives to the Aeron you can get that offer a similar ergonomic experience for a lot less dough.

I challenged my colleague and ergonomist George to come up with 5 alternative chairs to the Aeron that offer similar comfort and ergonomics at much more affordable price points. I think he did great, but first thing's first.
What Makes the Aeron such a Comfortable and Awesome Chair
The devil is always in the details. There's a reason (or several actually) why the Herman Miller Aeron is such a comfortable chair.
Eight Tension Zones
The Aeron has eight tension zones called the 8Z Pellicle that span the entire back and the seat. It's a tightly woven membrane that provides just the right amount of tension and support for different areas of your body that come in contact with the chair. This is one of the main reasons you can sit in an Aeron chair for so long and not feel restless.
PostureFit SL
The Aeron comes with advanced lumbar support called PostureFit S. It is comprised of two individual flex pads, one supporting the lumbar region, and the other stabilizing the sacrum. Together they encourage the spine to stay in a healthy S-shaped position without having to constantly adjust the lumbar support.
Tilt Limiter and Adjustable Seat Angle
These two features go hand in hand to bring you non stop comfort as you sit and recline. The tilt limiter lets you adjust both the amount of tilt as you lean back, plus the amount of tension required to do so. Then there's the forward tilt feature, a rarity in ergonomic chairs that actually lets you tilt the seat 5 degrees forward. This reduces strain in your entire upper body as you lean forward for tasks such as typing or reaching for objects on your desk.
Pivoting Armrests
The Aeron Chair's armrests are extremelywell padded, plus angle inwards and out. The later is an important ergonomic feature that many lower end chairs lack.
Highly Contoured Waterfall Seat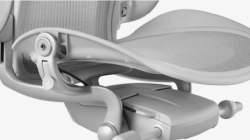 The Aeron chair has a highly pronounced sloping seat edge that reduces the pressure in the back of the thighs and behind the knees. As a result, the blood flow in the lower limbs doesn't get restricted.
3 Different Chair Sizes
Another great thing about this Herman Miller chair is that it comes in three different sizes so that people of all sizes can find the perfect fit. Whether you are 4'10" or 6'6" tall, 90 or 350 pounds, there's an Aeron chair for you.
Caster Glide Options
The Aeron chair lets you choose between standard casters for carpeted floors, and hard floor casters for hard surfaces like vinyl tile, ceramic tile, and wood. The latter comes with a breaking feature and the Quiet Roll Technology.
How We Came Up with the Best Alternatives
Ok, so the Aeron is a tall order to match, but not impossible. There are several factors that my colleague George and I considered in our quest for the best alternatives to the Aeron chair.

Material: Very few chairs offer the same dynamic tension zones that the Aeron provides. Nonetheless, there are mesh and even fabric chairs that offer a similar level of comfort as the Aeron. We focused on those chairs.
Lumbar Support: The chair should encourage good posture and support the lower back. Adjustable lumbar support works best, but we also picked a few alternatives with simply fixed but dedicated lumbar support if they are comfortable enough.
Backrest Tilt and Tension Control: Backrest tilt and tension control work hand in hand to reduce pressure on your back as you sit. When coming up with alternatives to the Aeron Chair, we picked only chairs that support these two features.
Forward Seat Tilting: The Aeron's forward tilt is a rare but important ergonomic feature that adds support when you're leaning forward. In our list of alternatives, 2 of them support forward tilting just like in the Aeron.
Waterfall-Edged Seat: A sloping seat edge is a simple feature that is surprisingly not available in many ergonomic office chairs. It helps reduce pressure in the lower limbs while also encouraging good blood circulation. All of the alternative Aeron Chairs on our list feature waterfall seats.
Adjustable Armrests: The Aeron has 3D armrests that pivot inwards to support your arms when typing. One chair in our list even surpassed the Aeron in that respect with 4D armrests that move in and out as well.
Price: Last but certainly not list, all the alternative chairs to the Herman Miller Aeron on our list come in at a lower price point than the original- much lower in some cases.
So without further aduei, here are the 5 best, much cheaper alternative to the Herman Miller Aeron chair.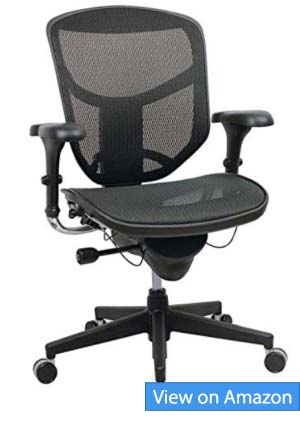 Seat Material and Comfort: Supportive yet comfortable mesh seat and backrest. Highly breathable as well.
Lumbar Support: Fixed Lumbar support unlike the Aeron.
Tilt Limiter and Forward Tilt: Adjustable backrest tilt and tension control. Also supports seat depth adjustment (which the Aeron doesn't). No forward tilt.
Armrest Settings: Gel-padded armrests that moves up/down, and pivots.
At first glance, the Quantum 9000 could even be mistaken as a Herman Miller Aeron knockoff. From its highly contoured waterfall seat, comfortable mesh to decent backrest tilt and tension control, the Quantum 9000 stands on its own just fine, however. It even comes with a few features not found in the original Aeron.

Unlike the Aeron Chair, the Quantum 9000's seat depth is adjustable. This is important in ensuring there is proper spacing between the chair's edge and the bottom of your thighs. Too much or too little spacing, and blood flow is restricted in that region, leading to numbness, tingling, and eventually cramping.

Let's talk about lumbar support now. While the Quantum 9000's lumbar support is fixed compared to being adjustable on the Aeron, it does have a trick up its sleeve that makes up for that shortcoming. You see, the entire backrest on the Quantum can be moved up or down to offer the right support depending on your back length and curvature. It's a good compromise in our opinion.

The armrests on the Quantum 9000 are also comparable to the Aeron Chair, and includes a slight pivot to support your arms at an open "v" angle.

All in all, the Quantum is the closest chair to the Aeron you will probably find, especially aesthetically, while offering a lot (but not all) of the ergonomic features that make the Herman Miller Aeron so great. It stands on its own as one of the best mesh office chairs we've come across.

Watch how adjustable the Quantum 9000 is below or read our detailed review here:
Similarities to Aeron:
Mesh material for the back and seat
S-shaped backrest with lumbar support
Adjustable armrests
Backrest recline with tilt and tension control
Waterfall-edged seat
Uses recycled materials
Differences from Aeron:
Only available in one size
Lumbar support is non-adjustable
Height-adjustable backrest
Has no forward tilt
Adjustable seat depth
4x cheaper than the Aeron Chair
Seat Material and Comfort: Regular foam padding covered with 100% polyester fabric.
Lumbar Support: LiveLumbar technology that's similar to the Aeron's in support.
Tilt Limiter and Forward Tilt: Limited recline angle. No forward tilt.
Armrest Settings: 4D armrests that are superior to the Aeron Chair's.
Steelcase is a high end brand with chairs often uttered in the same breadth as the Herman Miller Chairs. The Steelcase Amia offers very similar overall comfort and support as the Aeron Chair, at around 60% of the original's cost.

The hallmark of the Amia Chair are the LiveLumbar support and 4d armrests that are at the very least comparable, if not superior to their counterparts found on the Aeron chairs.

LiveLumbar compromises of a series of flexors in the Amia Chair's back that move and bend with your back to provide continuous support without becoming protrusive. A slider lets you further customize the exact area in your backside to target.

The Amia chair's armrests are also more versatile than the Aeron's. They are 4D, one upping the Aeron's armrests by also being able to move in and out to cater to different arm lengths.

The main deficiency in the Amia Chair relative to the Herman Miller is the lack of forward seat tilting. If you don't miss it, pound for pound, the Amia chair is your best bet for providing an equal comfort level to the Aeron Chair at around ⅔ the cost.

For a quck overview of the adjustability of the Amia, check out this video:

Similarities to Aeron:
Has adjustable lumbar support, but more relaxed
Can accommodate a lot of body types
Back tension control and lock
Gently sloping seat edge
Available in various colors and finishes
Differences from Aeron:
Adjustable seat depth
Not mesh, uses foam and polyester fabric
Does not tilt forward
Has a more limited recline angle
Only available in one size
4D armrests
⅓ cheaper than the Aeron Chair
Alera Elusion High Back– Best Budget Aeron Alternative with Forward Tilt
Seat Material and Comfort: Mesh back and contoured cushion seat and fabric upholstery.
Lumbar Support: Fixed lumbar support, though backrest can be moved up or down
Tilt Limiter and Forward Tilt: Backrest with recline function. Supports forward tilt. Both lockable.
Armrest Settings: Polyurethane padded armrests adjustable up and down. Can be removed.
Out of the 5 Aeron alternatives that we've found, the Elusion is the cheapest. But, surprisingly, it is also one of only two that has that elusive lockable forward tilt that is so rare even among ergonomic office chairs. This feature is very beneficial when you want to lean forward to focus on your task without straining your waist, knees, and ankles. One owner exclaimed this to be one of the best purchases he has made.

Unlike the Aeron, the seat of the Elusion consists of contoured foam, though the back is made of mesh that offers decent breathability. The chair comes with a fixed lumbar support that can't really hold a candle to Aeron's adjustable version. The good news is, the entire backrest is height-adjustable, so you can position the curve of the backrest to fit you. As for the armrests, they are not the Aeron's 3D, but can still be moved up and down to match the height of your desk.

Similarities to Aeron:
Mesh back
Waterfall-edged seat
Forward seat tilt
Lockable recline function
Made of recyclable materials
Differences from Aeron:
Contoured foam seat
Only available in one size
Height-adjustable backrest
Fixed lumbar support
Armrests are only movable up and down
Comes only in one color
6x cheaper than the Aeron
Seat Material and Comfort: Polyester-striped mesh backrest. Fabric-covered seat.
Lumbar Support: Fixed Lumbar support (on higher end model)
Tilt Limiter and Forward Tilt: Multi-limited backrest tilting and tilt tension. Has forward seat tilt.
Armrest Settings: 3D armrests
The SIDIZ T50 compares favorably to the Herman Miller line of chairs in terms of ergonomics, at ⅓ the price. It actually reminds us a lot of the Herman Miller Embody, but we digress.

The T50 is one of the two chairs on our list that has that rare forward tilt. By adjusting a lever, you can tilt the cushion forward to handle forward leaning tasks without straining your back and waist. This is one of the defining features of the Aeron Chair, and the SIDIZ T50 has it.

Other features we loved when we reviewed the Sidiz T50 is the seat depth adjustment. Along with the waterfall seat edge, it ensures there is minimal pressure underneath your thighs even after long hours of working.

The SIDIZ T50 offers a comparable level of adjustments in the backrest. There's the multi-limited tilting function that supports 5 different levels of tilt. Combined with tension control, and your back will never feel like it's locked into one position.
When it comes to the lumbar support, the T50 comes in two variants- one with a dedicated lumbar, and one without. Many owners found even the basic version more than adequate in terms of comfort, with one owner commenting it's like getting a Herman Miller Embody for ⅓ the price.
Watch the myraid of ways you can adjust the T50 below:
Similarities to Aeron:
Adjustable seat tilt and tension
Waterfall edge seat
Adjustable lumbar support (available separately)
3D armrests
Eco friendly materials
Forward tilt support
Differences from Aeron:
Adjustable seat depth
Comes with a headrest by default
Fabric-covered seat
3x cheaper than the Aeron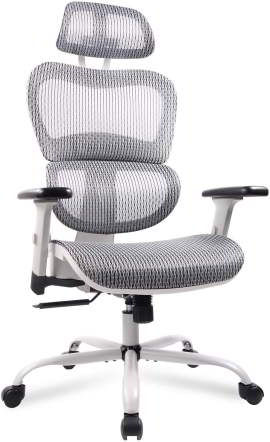 Seat Material and Comfort: Mesh headrest, backrest, and seat.
Lumbar Support: Dynamic lumbar support
Tilt Limiter and Forward Tilt: Backrest supports 90° to 117° tilt. Adjustable tension. No forward tilt.
Armrest Settings: Armrests flips up and down.
Last but certainly not least is the Rimiking Office Chair, a great alternative to the Herman Miller Aeron for people who require dedicated neck support.

Unlike the Aeron and all of the other alternative chairs on this list, the Rimiking comes with an adjustable headrest that pivots to match the angle and shape of your head. If you tend to work in a reclined position a lot, having a headrest may just be indispensable. In that case, the Rimiking should be your pick.

You can recline the backrest about 90 to 117 degrees by leaning on it. Once you have the right angle, just use the tilt switch to keep it into position. You can also use the cylindrical adjuster to control the tilt tension. As for the armrests, they're even more adjustable than those on the Aeron, and are length adjustable besides being able to pivot.

In other areas, the Rimiking features a similar waterfall seat to the Aeron, with a highly breathable backrest that's great for those that tend to sweat easily.
All in all, Rimiking is a great alternative to the Aeron for people who need a headrest. In fact, one owner of both directly commented on the comparison in favor of the Rimiking, saying it's a much cheaper, but just as comfortable alternative to his old Herman Miller Aeron at work.

Similarities to Aeron:
Mesh for breathability
Backrest tilt and tilt tension
Self adapting dynamic lumbar support
Waterfall edge seat
Differences from Aeron:
Has height-adjustable headrest
Limited armrest adjustability
Only available in one size
5x cheaper than the Aeron
Good Alternatives, Not Cheap Knock-Offs
As you can see, there are some great alternatives to the Herman Miller Aeron out on the market for those that are looking for a similar ergonomic experience without taking money out of their children's college fund. Even the coveted forward-tilt feature can be found in a couple of the suggestions above. These chairs aren't simply cheap knock offs of the Aeron design, but great ergonomic chairs that bring something unique to the sitting experience.
Related Reviews