Despite the fact that laptops are getting lighter and more portable day by day, using them in bed is still a nuisance. The constant weight of the device on your lap coupled with the heat generated can be uncomfortable, while the restrictive seating position is an ergonomic nightmare. Moreover, keeping your device in your lap can potentially restrict airflow and cause damage to it. To remedy this situation, we have compiled this guide of the best Laptop tables and trays primarily for use in bed to make sure the continuous sitting does not take its toll on you or your device.
Our panel of experts reviewed a number of products before deciding on the best laptop tables for use in bed. Each product brings a unique set of features to the table (get it?) so you are bound to find the optimal desk that caters to your specific needs. Hopefully, at the end this guide, you would be able to decide on a desk that would make working in your bed a part more pleasant experience.
The Best Laptop Tables and Trays for Beds 2020
We start with Avantree College's adjustable laptop table, one of the sturdiest products we tested in this list. Right out of the box, the table is striking to look at with its sleek, modern design. The use of high quality materials was also noticeable during the simple assembly process.
The table features a wide base that can easily support larger laptops up to 17 inches. The desktop can tilt up to 30 degrees with a simple locking mechanism to keep it in place so you can keep your laptop at the optimal viewing angle. Small protruding plastic tabs prevent the laptop from slipping the table.
The table also features adjustable legs with a simple tab mechanism to adjust height. The legs have a wide base to enhance stability but still manage to be foldable under the surface which, along with its light weight, makes this table remarkably portable. The soft rubber edge around the entire desk is also a nice touch.
Available in a choice of subtle beige or a flashy American cherry, this was also one of the more pricey tables we tested. That said, the use of quality material and sound ergonomic design along with excellent customer reviews makes it an investment worth making.
Pros
Simple, intuitive design with easy adjustability
High quality materials and finish with a 2 year warranty
Large desktop and wide base
Cons
More expensive than the competition
Does not feature cooling fans or drawers
Pwr+ brings a very strong contender to the fray with a futuristic design and strong emphasis on ergonomics. Their portable laptop design features all aluminium construction and a high level of adjustability for optimal ergonomics.
The futuristic design makes this table a pleasure to look at. It features three joints that can be rotated 360 degrees simply at a press of a button. Releasing the button then locks the joint securely in place. The high degree of movement means it can be adjusted to all manner of positions, heights and angles that best suit your requirements.
In addition to this, it also features a built in mouse pad attached to the side and angled level to the main table for ergonomic use. Dual fans powered by your laptop's usb port are built in to prevent heat build-up.
All in all, this desk is ideal for the discerning user. However, the three adjustable joints setup can prove finicky for some users to set up with some users reporting stability problems. However, considering the 2 year warranty, ability to support large 17 inch laptops and great ergonomics, this table is definitely a prime contender in our list.
Pros
Highly ergonomic design with 3 360 degree adjustable joints
Built in fan and mouse pad
Aluminium construction
Lightweight and portable
Two year warranty
Cons
Can be complicated to set up in the optimal position
Some quality issues with the fan and scratches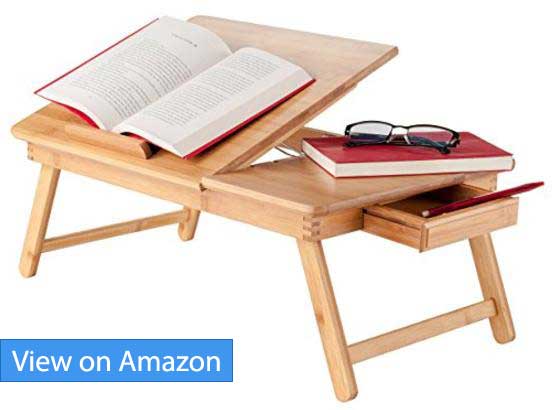 In stark contrast to the sleek Avantree desk, the Winsome follows a more traditional design language with its solid wood construction. It is also one of the most economical tables in our list.
The bed tray comes ready to use and already assembled out of the box. The wood construction gives it a very solid feel but does mean it is quite a bit heftier than the competition. The top flips and locks into one of the four available incline settings allowing you to adjust it to a comfortable angle for easy typing and viewing. A small drawer on the side allows you to store small objects like your mouse or pens.
A prominent shortcoming of this tray is the lack of adjustable legs. As pointed out by a few customers, the lower static height can mean larger users will have trouble fitting this desk over their legs. That said, the legs can be folded away under the table for easy transportation.
All in all, Winsome's solid wood desk is an excellent budget product with solid construction. The lack of height adjustability means it doesn't score as well in ergonomic design and some customers also report quality control issues with scratches and loose parts. That said, with an overall solid customer rating, this bed tray is one of the best if you are on a budget.
Pros
Excellent value for money
Solid wood construction
Drawer for storage
Cons
Quality control issues reported by some users
Lack of height adjustability limits use for larger users
Moclever portable laptop table brings a full featured desk to the mix at a very reasonable price. With its hard plastic construction and dual surfaces for both your mouse and laptop, it is a definite contender for the best laptop desk.
The table immediately checks the ergonomic design box with its main tilting surface and height adjustable legs with two height options. You have the option of keeping the mouse pad level on one surface while keeping the laptop tilted at an optimal angle, preventing build-up of strain in the wrist.
Moreover, the table also features a built in fan to keep your laptop cool as well as an LED light to light up your keyboard should it not have a back light. It also features 4 usb ports to allow you to easily charge devices independent of your laptop. Lastly, a small storage compartment is also included to stow away small items.
The Moclever laptop tray accommodates laptops up to 15 inches. The solid construction and on-board electronics mean it is a tad heavier than the competition. Some users also report quality problems with the electronics and the hard plastic lacks a premium feel. However, a very respectable rating on its Amazon page and a one year warranty make this definitely product worth considering.
Pros
Hard plastic construction
Build in fan for cooling and four usb ports for charging devices
Adjustable tilt and height for good ergonomic fit
LED light for working in the dark
Cons
Heavier than other laptop trays
Nnewvante brings a unique offering to the laptop desk niche with its Bamboo laptop tray. Finished in natural bamboo, this tray offers great features in an attractive design at a very reasonable price.
Right out of the box, the tray feels very solid to hold and requires no assembly other than unfolding the legs. The natural bamboo construction feels wonderful and looks great in its natural brown color. The tray features a single tilting surface with 5 tilt settings up to a maximum of 45 degrees which is ideal for working on your bed while propped up against a pillow. Moreover, the right quarter of the tray remains level to let you use your mouse without any awkward wrist angles, and also features indentations for your cellphone and coffee mug. The height can be adjusted from the minimum 8.8 inches up to 12.9 inches thanks to the adaptable legs.
The tray also features a fan to keep your laptop cool by simply plugging the provided cable into your laptop's usb port. A conveniently places drawer provides easy storage for small items. That said, it does struggle to accommodate larger 17 inch laptops despite stating support for them. A few users also complained about a malodorous smell upon opening the package. However, with its solid construction, reasonable price alongside a one year warranty and good set of features, this tray is definitely worth considering if you want something unique for your work.
Pros
Unique and attractive bamboo construction
Good ergonomics with adjustable height and 5 step tilt
Reasonable price and one year warranty
Built in fan
Cons
Some quality control issues reported by users
Fails to accommodate large laptops comfortably
6. Pixiri Laptop Tray– Simple No Frills Tray with Cup Holder
Pixiri's sleek laptop tray is a minimalist tray with no moving panels, making is suitable for everyone from adults to kids in the family. It also does an excellent job of holding your laptop at a comfortable position for optimal viewing.
The desk requires no assembly; simply unfold the legs and it is ready for use. The folding legs and light weight construction make it remarkably easy to carry around. The laptop tray is made of MDF and features nicely rounded corners for a very pleasant design. The overall dimensions are quite good and it can accommodate a 17 inch laptop with ease.
One thing I really like about the Pixiri tray is that it's height adjustable, apart from being able to pivot up to 36 degrees. Raise the tray all the way up to 12.6″ if you're working on the floor or for kids. If a light weight, modern laptop tray with height adjustability is what you're looking for, then Pixiri's offering is definitely worth a look.
Pros
Attractive modern design
Pivots and is height adjustable
Single panel design makes it easy for kids to operate
Cons
Lack of storage and cooling fans
SofiaSam's laptop table is an ideal table for those who like to multitask and use a variety of devices in bed. With its bamboo construction and choice of three colors, it is also one of the more attractive tables we reviewed.
The table requires no assembly and is usable right out of the box after unfolding the legs. The most noticeable thing immediately is the size of the table. With its large surface, it can easily accommodate large 18 inch laptops. Moreover, it features a level surface to the side with a mouse pad already built in. The highlight of this laptop table has to be dedicated slots from your tablet and phone, tilting them at an optimal angle for use in bed.
Moreover, the main table can tilt to easily adjust your viewing angle. The lack of height adjustability is noticeable but the 9.25 inch height should be suitable for most users. A reasonably large storage box is also included which is actually quite usable, although some users have reported it to be quite loose and sliding opening if the table is tilted.
All in all, the table is especially useful if tend to use a tablet alongside you laptop. The materials and finish is quite good, but the large size means it isn't the most portable table in this segment. Some users have also reported receiving the product with scratches on the surface. However, if you need a large, multifunctional table, then this is the ideal product for you.
Pros
Pleasant design with a choice of colors
Slots for tablet and phone
Large size ideal for larger laptops
Cons
Lacks features like height adjustment and cooling fan.
Some quality issues with scratched product and loose drawer
With a similar highly adjustable design like Pwr+'s table, this one gives you a wider variety of colors at a lower price. While it skimps on some features, it is still a great option for anyone looking for a highly adjustable laptop desk for use in bed.
Like the Pwr+, this stand from Executive Office Solutions comes with three 360 degree rotating joints that can be easily adjusted in all manner of positions for optimal comfort. The stand comes with cooling holes for airflow and is available is a choice of 4 colors. It also features a lower price albeit no mouse pad.
All in all, the solid aluminum construction and ergonomic design make this a worthy adversary to most of the tables we reviewed. That said, some customers have reported durability issues which explains the slightly lower rating than the Pwr+ table. However, given the price point and overall positive reviews, this table is a definite winner with its ergonomic design.
Pros
Ergonomic design with adjustable joints for high degree of movement
Solid aluminium construction
Highly portable and lightweight
Wide variety of colors
Cons
Some durability issues reported by users
As with the Pwr+, can be complicated to set up
Having gone over best products we could find, let's go over common queries users have regarding laptop desks:
Is a laptop Tray or Table really necessary for working in bed?
If you work on your laptop in bed, a laptop table is highly recommended. Using a laptop on your lap isn't ideal, causing constant strain on your neck and eyes due to abnormal viewing angles. Moreover, laptops tend to get quite hot which can be uncomfortable and some studies even point reproductive abnormalities due to radiation output#. Ergonomic laptop desks prevent these to a high degree for a safer, more comfortable experience.
How to choose the best laptop Table and Tray
This is highly dependent on your requirements from your desk. If you plan to use it for your tablet or as a breakfast table, you will have to go for a large model with slots like the SofiSam's multitasking table. If you have back issues and need a highly ergonomic table, choose Pwr+'s offering. All in all, this depends on your use case as well the device you plan to use the table for as well as your budget and aesthetic requirements.
Does it affect the laptop's performance?
It does! A harder surface provides better airflow as there is a smaller chance of the air vents getting blocked. Morever, most tables also come with fans or ventilation holes. This allows your laptop to run cooler preserving its performance.
What features should I look for?
Again, this depends on your use case. If you use a mouse with a heavy, gaming laptop with high heat output, a large rugged table with a fan and mouse pad is ideal. For smaller laptops, you can choose a lighter, more ergonomic design that also offers portability. Or if you don't use your laptop for extended periods, choose a budget option that offers only the basics.
To conclude, a laptop table for use in bed can offer a large number of advantages at quite a reasonable price. It allows you to use your laptop from the comfort of your bed without any of the problems associated with postures, eyestrain and radiation output that can lead to significant discomfort over time. This guide reviewed a large variety of products each with a different set of strong features that is bound to resonate with you and help you choose the best laptop table for use in bed.