Having a massage chair at home is a dream come true for anyone. Like most dreams however, most people never go beyond wishing for one because the cheap ones don't seem good enough, and the good ones are simply beyond the reach of most people.
The fact is, there are some decent massages in and around $1,000 if you know where to look (prices subject to change). In this guide, we spent over 40 hours pouring through all the budget massage chairs out there before narrowing down our list to six of the very best massage chairs under $1000. Each of them provide the highest quality and most comfortable massage in their category based on extensive user testimonials and reviews.
So dream no more, and let's take a look at these chairs right now.
Note: Prices subject to change. Check final pricing before purchasing.
Best Massage Chairs Under and Around $1,000 (or around) at a Glance
Best Chairs Under $1000
Real Relax Zero Gravity Full Body Chair
BestMassage Zero Gravity Chair
Human Touch iJoy 4.0
BestMassage Curved Gaming Chair
Oways 3D Rocking Massage Chair
Rating
5 stars
4.8 stars
4.3 stars
4 stars
4.5 stars
Cost
$$$$
$$$$$
$$$$$
$$$
$$
Massage Techniques
Knead, Shiatsu, Air Pressure
Knead, Shiatsu, Rolling Tapping,  Air pressure
Unique Flexiglide that combines Knead and Glide for a human masseuse like massage
Knead, Tapping, Rolling, Shiatsu, Air pressure
Knead, Tapping, Vibrate
Zero Gravity Mode
Yes
Yes
No
Yes
No
Best for
Full body massage
Full body massage with extra focus on legs and feet
Back, neck & shoulders, butt
Back, neck, utt
Back, neck, butt
Other Features
Fixed rollers, air bags, full body stretch
L track with rollers, covers 60% more area than any other massage chair
Compact chair great for small spaces, comes with a USB charger for devices
Gaming chair with Bluetooth speakers

and hybrid S/L track
Lightweight and compact
Pros
Most economical of all full body massage chairs. Comes with features that are comparable with premium chairs
Offers great customization and many different massage modes
Compact and has a tech cradle for device charging
Includes the hybrid S/L track that spans all the way to your hamstrings.
Easy to assemble, modern looks and rocking function.
Cons
Fixed rollers do not allow perfect adjustment to body
Heavy and takes a lot of space
No heat or leg massage
Is difficult to move around and bulky
Lacks enough padding which makes the massage too intense for some
The Real Relax Massage Chair is a budget massage chair that easily punches above its weight. From the awesome zero gravity feature, built in heaters, and 50 rollers to deliver a complete body massage from neck to toe, the Real Relax Chair gets our pick for the best affordable massage chair. The stellar user reviews seem to agree with our assessment.
Most users are very happy with two of the standout feature of the massage chair- its heat and zero gravity functions. One convinced user reported that it helped him with chronic back pain after only a few days of use. Here are the main features of the chair:
Doubles as a Recliner: Real Relax massage chair looks and feels like a luxury recliner rather than a massage chair. Its premium upholstery and thick padding make it a very attractive and comfortable piece of furniture. It is rated safe for up to 400 lbs and can also be used as a daybed or reading chair.
Built in Back Heater: A built-in waist heater in the backrest provides optimum relief for people with back pain. The 8 massage points in the backrest along with heat therapy really helps to release tension, improve circulation and boost your metabolism. As mentioned, one owner with chronic back pain noticed a difference within just a few sessions in the chair.
Lots of different massage types: This is a full body massager that uses a combination of heater, vibrator and airbags to massage the arms, legs, neck, shoulders, back, hips, and foot to completely relieve stress. It uses the same techniques of kneading and pressing as traditional masseuse use. 50 air bags placed all over the chair cover the entire body making this an ideal pressure massage chair.
Easy to Operate: A smart controller gives you full control of all the functions. It has a HD VFD display screen and 4 preset programs. It lets you customize and set your own programs with the manual programming feature and comes with its own built-in timer which can be set for up to 30 minutes.
Easy to Assembly and Use: The massage recliner is easy to assemble and comes with a detailed installation manual and video. It takes less than an hour to get it fully assembled and working. Once assembled, two wheels make it easy to move the chair around.
FDA Compliant: Though made in China, the chair is designed for the US market and operates on 120V 60Hz voltage. It is FDA compliant and can be used at home or in the office.
For a budget massage chair, it's impressive not only to find a zero gravity mode in the Real Relax Massage Chair, but one that works so well. Used by astronauts to train for weightlessness in space, this reclining position takes the pressure off the spine to achieve a deeply relaxing state. The massage chair supports three levels of zero gravity– initial, comfort and deep- providing you with a complete zero gravity experience that usually are only found on much more experience massage chairs.
The chair comes with a 3-year warranty which, during the first year, covers all maintenance and repairs against manufacturing defects. For the second and third year, you have to pay for all spares and maintenance and the warranty only provides free shipping.
For an affordable massage chair, Real Relax does most things right, but some users felt that the massage rollers at the lower back were too intense; you can always insert a small cushion to make the experience more relaxing, however. Other points against this chair are its fixed rollers that lack the ability to adapt to different body sizes. If you are very tall or short, the Real Relax Chair may not be so relaxing for you unfortunately.
Overall if you're of average height (below 6'1), the Real Massage chair represents pound for pound the best chair you can get at below $1,000. For those able to spend a little more, however, the next chair on our list offers even more massage types, plus the ability to adjust to your body automatically.
For the most feature rich chair under and around $1000, our recommendation is the Best Massage Zero Gravity Chair. Think of it as an enhanced version of the Real Relax Chair above, with more massage modes and a superior leg and foot massage experience. It also incorporates an OPTO scanner that automatically calibrates itself to the head and shoulders to position the rollers accurately based on the height of the user. The extra features come at a premium, however, with the Best Massage costing around $100 more than the previous and just barely squeezing by the sub $1,000 price tag.
One thing this chair does better than anyone else is awesome foot massages. Using rollers that span the entire foot, a good foot massage provides many benefits, from better sleep, blood circulation, to enhanced immunity. One owner
The most admired feature of this chair is the zero gravity massage mode and the way it works on the legs, hips and lower back area. People enjoy its kneading action, which helps to improve circulation and energize the legs and feet so much that a user commented "I did not realize that I had areas on my feet/soles that I actually couldn't feel before we had the chair."
Other features that the users liked were:
Four preset massage modes: For those people who do not like fiddling around much, there are four preset massage modes from which to choose. These are – Relax, Extend, Recover and Refresh. Depending upon the experience you desire you can choose the mode and then let the chair work its way on your body.
Automatically adjusts to different body sizes: This chair offers a feature that is rare in a sub-1000 dollar massage chair. It has an intelligent body shape and size detector. The OPTO sensor device can detect the shoulder position irrespective of the height of the person. It also features an extendable footrest which can extend an additional 8" to accommodate taller people or those with longer legs.
Great foot and back massager: This chair is especially great for people who want a really good foot or back massage. Users have constantly mentioned just how much they love the foot rollers and leg airbags that knead and scrape the foot to improve blood circulation, reduce fatigue, promote relaxations and better sleep.
Most massage modes: The chair offers more massage modes than any other chair on this list to stimulate pressure points, relieve soreness and improve circulation. With its 3D movement, the rollers can penetrate deeper, emulating a massage therapist and provide greater relief in core areas. It offers multiple massage modes including kneading, rolling, tapping, pressing, etc. and also air pressure massage for the shoulder, arms, calves, waist, hips and feet. The back rollers can be combined with heat to give a relaxing massage that helps to reduce lower back pain and eliminate inflammation and soreness.
Long L Track for better contact: A 49" long massage track guides the roller movement from the neck all the way down to the thighs. Its L shape fits the shape of the back providing better contact on the body, which means better and deeper massages. The chair gives sensational back and hips massage and most users love it. One even goes so far as to say, "It works your butt over like a Greek."
Note that this chair requires a larger area when the footrest is extended. Some people found it too heavy and mentioned they needed help to move it into the house. Thankfully once it is in the house, two back wheels make it easy to move it around.
This chair is our top pick if you are looking for a feature rich chair and do not mind paying just shy of $1,000 to get it. But, this is not a compact chair by any means. For people living in small apartments, the next chair on our list is perhaps a better option.
For city and apartment living, the perfect chair is one which demands the least amount of floor space, looks great and can be used as a comfortable chair too. The Human Touch 100-IJOY40-001 iJOY 4.0 Massage Chair fits the bill perfectly. It is a beauty to behold and with its small footprint takes up hardly any space, making it perfect for small living. What's more, it is designed for the present-day generation with a special tech cradle that lets you charge and connect your device while the chair massages away the stress and tension.
A majority of owners like its dual roller function that works on the glutes and the back at the same time. It is an amazing feeling as one user describes as getting a real full body massage. For people who are tall, the back roller may not extend up to the neck and shoulder level, but for average height or shorter people, the chair gives a very relaxing neck and shoulder massage indeed.
Almost all users found the chair to be very comfortable and attractive. But this is just one of the many reasons the Human Touch made our cut for best massage chair under and around $1,000:
Designed for modern living: This is a massage chair that is designed to fit in with modern living. Weighing just 63 pounds, it has a very small footprint and saves on space with its compact size and operating area. It takes modern convenience one step further with its tech cradle which contains a USB port to use and charge devices while you use the chair. It is a delight for seamless modern living that will appeal to a lot of people who need to be technologically connected at all times.
Four Auto Massage Programs: The chair has four preset programs, including two different full back massage modes, one upper back and one lower back mode. The preset programs give a 15-minute seat and back massage.
Emulates a human masseuse: The chair uses an unique Flexiglide orbital motion that emulates the knead and glide actions of a human masseuse and provides the same benefits as an oil massage. The massage can be customized by increasing or decreasing the vertical massage range. Similarly, the width can be adjusted during the glide massage to create a more focused effect. In kneading massage, the rollers can be adjusted to a desired location. Unlike many massage chairs that only massages one area of your body at a time, the Human Touch can massage your glutes and back together at the same time. It uses a knead and glide motion to give the best possible relaxation of the back and hips.
Comfortable Recline: Though it doesn't have the full reclining function of a Zero Gravity massage chair, it still allows you to sit back and recline backwards to a relaxing position (around 140 degrees). The smooth recline function helps to intensify relaxation and focus the massage.
While the chair is great in many areas, it may not be ideal for tall people, as some users said that the rollers could not reach their shoulder and neck area. This doesn't mean tall people cannot enjoy a neck massage, they just need to slouch a bit so the rollers can reach the neck area. As one user said "My husband is 6' and he can get a neck massage if he slouches a bit, and it's still very comfortable."
While the Human Touch is compact, stylish, and overall a decent massage chair, two things you may miss are the lack of heat and leg and foot massage function. It is ideal for tech buffs who wish to stay connected and play games on the smartphones while getting a massage. Speaking of gamers, the next chair on our list is tailored made for them.
If you're a heavy console gamer, you're probably all too familiar with the common back and neck pain after a long session of gaming. The hunched shoulders and forward neck posture are the culprit. For those of you, the BestMassage Video Gaming Chair is perhaps the most important investment you can make in gaming hardware.
To start with, this is a gaming massage chair through and through. It's beautifully crafted and aggressively styled to look like the seat in a F1 race car.
But style alone isn't the main reason we picked the BestMassage Video Massage Chair among the best budget massage chairs. Here are the main highlights of this gaming massage chair:
Hybrid SL track: This is a feature that can often only be found on high-end chairs. The rollers glide on the long track from the neck down to the lower back. They follow the shape of the body, giving a full body contoured massage. The rollers follow the track and cannot be custom positioned to your preference unfortunately. But that doesn't take much away from the overall experience that this chair provides.
Zero Gravity Mode: The chair has a smooth zero gravity function which offers varying degrees of relaxation.
Masseuse like massage: It uses five different techniques, three massage intensities and gives three-speed options for a personalized massage experienced. The techniques include tapping, kneading, a combination of kneading and tapping, rolling, and shiatsu for a massage experience that is very similar to that of a masseuse. It covers the entire body, everything from the head, neck, shoulders. all the way down to the feet. The lower back area comes with a heat massage function which uses next-generation carbon fibers for heating.
Preset Menu: For those who are intimidated by the many functions and settings it offers, the chair offers five preset programs: relax, comfort, recovery, neck & shoulders, or back & waist massages. They are a combination of different massages for a fixed time duration.
Bluetooth Enabled Speakers: Last but not least, as a gaming massage chair, it also comes with integrated bluetooth speakers built in.
Although this chair makes for a great console gaming chair, note that it sits too low on the ground to be used in front of the computer. The chair is rated for a maximum height of 6'2" and weight 350 Lbs. Anyone taller or heavier will have problems with this chair. Some users also mentioned that is was difficult to move the chair around due to the lack of wheels.
With all the money many gamers invest in hardware, the BestMassage Gaming Massage Chair should be on the top of your list, especially with its sub $1,000 price that might just save your body from constant aches and pains after each gaming session.
This chair looks nothing like you would expect a full body massage chair to look. Quite the opposite, the chair could easily pass for a old fashioned indoor lounge chair. Its modern minimalist styling makes the OWays Massage Chair a very attractive option for small apartments that don't want the monstrosity of a regular massage chair messing with its decor. The chair has a wooden frame with thick linen cloth upholstery, and weighs just 40 pounds. Oh yes, and it costs well below $1,000, even $500. Basically for the cost of 5 massages, you can get your own 
Most people who bought the chair were charmed by the fact that it was lightweight, contemporary, and unlike any other massage chair they've seen. The chair's sub $400 price point certainly didn't hurt either.
As far as features go, this chair obviously can't match many of the more expensive chairs we have reviewed here. However, it does a decent job on your upper body and even neck.
Easy to assemble: The chair is extremely easy to assemble. Most people could assemble it in under 30 minutes. Just put together the wooden frame, and the rest was easy to do.
Multiple massage techniques: It uses three different techniques to give a wonderful back, shoulder, neck, lower back and butt massage. These include Shiatsu, tapping and vibration. It also has a heating function that ensures greater benefit from the massage routine. It comes with a vibrating heated seat for a gentle and relaxing butt massage.
Ergonomic Shape: The arc-shaped base cradles the body and provides full ergonomic support even when the massage functions are off. It comes with a detachable massage pillow that can be adjusted to suit your specification and is secured to the chair with Velcro tape.
Powerful for its size: For a lightweight recliner, you might be concerned about just how strong the massages are. Will you even feel anything apart from vibrations? Surprisingly, many owners have commented on how powerful the massages are. As one owner said, the first time he turned it on, it almost made him cry due to the intensity. Another owner mentioned that the "kneading massage has really helped lessen the pain from stiff neck".
Hand held control: The chair has a hand-held controller which can be used to start, stop and set the manual modes. It comes with 6 massage modes to choose from and an auto mode which starts a preset massage program.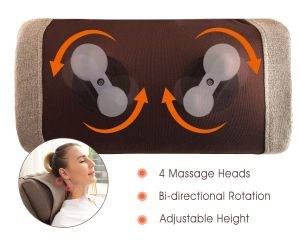 The Oways 3D is perhaps the best starter massage chair to get if you're on a budget. It's lightweight, easy to install, and modern looking that can easily blend in with any decor. It does not offer a full body massage, but does work like a recliner and a rocking chair. Some users mentioned that it did not have enough padding, but this problem can be solved by adding extra cushions in desired areas.
There you have it, all the best massage chairs under $1000 available in one place. Each chair is unique, and your choice should be based on the benefit you believe you can derive out of the chair. Consider its features, ease of use, the space it occupies and of course the price before you make a final decision to buy a massage chair.