There are many reasons for hip pain. According to WebMD, arthritis ranks as the most common culprit, though basically any type of repetitive strain on the tendons and ligaments that support the hips can lead to hip pain.
Whatever the reason, if you suffer from hip pain, picking a suitable office chair can go a long way in preventing your condition from getting worse. After all, most of us spend almost half of our waking hours sitting.
The best chairs for hip pain should have a firm seat that support your two hips evenly, a highly waterfall seat edge, and robust backrest that can take a load off your lower back.
With these criteria in mind, here are our picks for the best office chairs for hip pain.
Best Chairs for Hip Pain at a Glance
It's no exaggeration to say that the Steelcase Series 2 is perhaps the best office chair for hip pain in its price range. With an advanced mesh and fabric upholstery, pliable seat, and unique of ergonomic features, it is an incredibly effective chair for warding off hip pain.
The seat on the Steelcase Series 2 is where a lot of the magic happens. Upholstered in fabric, the cushion is strong yet soft. There are air pockets under the foam that helps with even pressure distribution. The seat also has a sloping edge. But wait, it's not just any ordinary waterfall design. The edge is actually flexible. This further minimizes any pressure under your thighs.
Let's talk about the seat pan. The seat height on the Steelcase Series 2 can be adjusted between 16.5" and 21.5". This means that it's suitable for peopple as short as 5'2″ based on BIFMA's recommendation. The seat is 19" wide so the average Joes and Janes will find it spacious enough. The seat depth is also adjustable by up to 3.75".
A responsive backrest, adjustable lumbar support, and weight-activated synchro-tilt complete this amazingly supportive office chair.
On happy owner of Steelcase Series 2 mentioned that he noticed that the Steelcase Series 2 didn't aggravate his hip pain even during long sitting sessions.
Prepare your wallet though, because the cost of going pain-free is steep with the Steelcase Series 2. But, depending how severe your hip pain is, this could very well be money well spnt.
Pros:
Advanced seat with pliable-edged waterfall design
Suitable for a wide range of body types
Adjustable seat depth
Responsive backrest and synchro-tilt mechanism
Adjustable lumbar support and 4D arms
12-year warranty
When we reviewed the Korean made Sidiz T50, we were taken back with just how adjustable the chair was. This is a high end ergonomic chair without the sky high price tag.
The most notable feature on the Sidiz T50 for easing hip pain is the forward tiling seat. Using a lever, you can slightly angle the seat forward about 5 degrees. This helps bring the hips slightly above the knees to open up the hips, reducing the amount of force exerted to that region. As one buyer pointed out, this is an amazing feature that works similarly to his last Herman Miller chair, except the later costs 3x as much.
We also love other aspects of the Sidiz T50's seat as well. The highly pronounced waterfall edge reduces contact between the back of your thighs and the seat where pressure tends to build up. Throw in adjustable seat depth and soft fabric upholstery, and this is a seat we found to be comfortable even after 8 hour of sitting.
The curved backrest on the Sidiz T50 can tilt into 5 lockable positions, up to 125° to ease spinal pressure. There is also a decent lumbar support that's adjustable in two planes as well.
Great as it is, the Sidiz T50 still has some limitations. For example, it's better suited for short to average sized users (4'9″ to 6'2″). The backrest doesn't recline either, only tit. This is more of a productivity chair than anything else
As long as you fit the bill in terms of body size, the Sidiz T50 can help eliminate your hip pain.
Pros:
Forward seat tilt and waterfall edge seat
Curved backrest tilts up to 125°
3D armrests
Decent lumbar support that is depth adjustable
Cons:
Backrest doesn't reline
Sensitive casters that glide too easily on hardwood floors
Cushion thickness not adequate for heavy people
If you often get sweaty while working, an office chair with a mesh back and seat like the XUER is a good option. With an intelligent lumbar support, a springy mesh cover, and a waterfall edge seat, it's one of the best mesh office chairs to ease hip pain.
Choosing a mesh office chair to prevent hip pain is actually quite tricky. We picked the XUER because it scores well in three critical areas- the seat design, the type of mesh, and the lumbar support.
The XUER has a curved sloping seat design, a must for mesh office chairs where its shape is unyielding. Otherwise, the seat edge will dig into your thighs and limit blood flow to your lower extremities. The mesh material on the XUer is also taut enough so you don't slip down and assume an awkward position. It has just the right amount of give to make it comfortable. The sliding seat pan is a wonderful bonus that you can use to find the least pain-inducing position while working.
The cherry on top is the lumbar support which automatically adjusts to the user. According to one owner, it is even better than that on the much more expensive Gesture chair. With these three factors covered, it isn't surprising that one happy buyer said that his hip pain was gone after he switched to the XUER.
If there's one thing we could improve with the XUER, it's the tilt function. It is decent at a 119° maximum tilt angle that's lockable at 4 points. We'd love to see it upped to 125° though so users can open up their hips more when leaning back. The seat depth, which is about 17.7" when fully extended, is also not suitable for people with long legs.
All in all, the XUER is a great option for people with hip pain looking for a highly breathable office chair that won't break the bank.
Pros:
Ergonomically shaped mesh seat
Excellent lumbar support
Wide adjustable headrest
Cons:
Subpar maximum tilt angle
3D arms move too easily
Seat depth might be lacking for tall users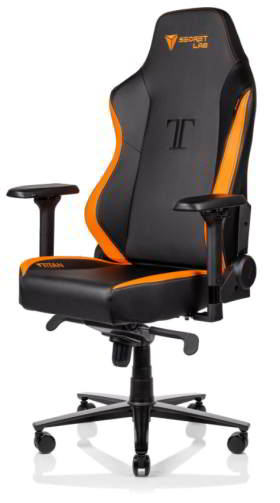 Suggested Retail Price: $419
The Secretlab Titan ranks among our favorite gaming chairs due to its impeccable build quality and all around comfort. For people with hip pain, the spacious and supportive seat in particular will help prevent your pain from getting worse while seated.
The inside of the Titan's seat consists of close to 5″ of cold cured foam. This high end material helps the seat keep its shape even under heavy weight, supporting both of your hips evenly unlike a more mushy seat.
This supportive seat works great with the multi-tilt mechanism on the chair that further relaxes your lower back. The maximum recline is excellent at 165°, and with the seat angle lock engaged, turns the chair into a zero gravity chair of sorts:
The Titan is geared towards users who are 5'9" to 6'7" tall. Its seat is 20.5" wide and 19.7" deep, with gentle bolsters on the sides.
One thing we'd like to see in future versions of the Titan is a more pronounced lumbar support. While you can control its depth, even at the maximum setting, it only protrudes around 2″ out, which may be inadequate for some people.
The truth is, it's really hard to find any serious faults with the Secretlab Titan. You definitely get what you pay for when it comes to this premium chair.
Pros:
165° backrest recline with seat tilt angle lock
Spacious seat with tapered side bolsters
Wide 4D arms
Built like a tank
Cold cured foam padding that doesn't sag
Cons:
Integrated lumbar support might be inadequate for some
Neck pillow doesn't move down enough for short people
The 2xhome Saddle Chair makes for a great secondary chair for people with hip pain. It differs from standard chairs in the forward sloping seat that has been shown to be extremely beneficial for the lower back.
A saddle chair induces what's called an open hip angle while seated. According to Dr A.C. Mandal, this posture helps preserve the natural lordosis in the lumbar region that minimizes pressure in the lower back.
Most people find it difficult in the beginning to adjust to the back saving posture encouraged by saddle chairs. The 2xhome has a more forgiving contour that eases the transition for beginners. What's more, compared to other saddle chairs, the 2xhome's seat is a lot thicker. According to one buyer, this allows her to sit riding style longer.
Aside from the comfort that it provides, we chose the 2xhome because of its adjustability. It's tilt-adjustable and height-adjustable from 22" to 28.25".
The 2xhome is great but it's by no means perfect. People under 5'3" will find the seat too wide. To achieve that ideal 120° to 135° open hip angle, it's best for those who are 5'4" to 6'2" tall.
All things considered, if you're within that height range and need extra relieve for your hip and lower back when seated, we strongly encourage a good saddle chair such as the 2xhome to be used in conjunction with a regular ergonomic office chair.
Pros:
Adjustable by tilt and height
Thicker seat cushion compared to other saddle chairs
Comes with a backrest
>
Cons:
Seat too wide for shorter users
Not suitable for long hours of sitting
FAQs About Hip Pain at Work
What is Causing my Hip Pain?
Hip pain that is felt on the outer hip, upper thigh, or outer backside when sitting is usually due to inflammation of the hip muscles, ligaments, or tendons. Meanwhile, if the pain is coming from the inside of your hip or groin area, it's likely that the issue is with your hip bones or joint. – Source
Existing Conditions
Certain pre-existing conditions can cause hip pain. The following are some of the most common ones.
| | | | |
| --- | --- | --- | --- |
| Condition | Description | Common Causes | Pain Area |
| Arthritis | Worn down protective cartilage of the hip joint | Joint injury, old age, and being overweight | Groin thigh or buttocks |
| Bursitis | Inflammation of the hip joints' shock absorbers | Joint injury, joint overuse, and incorrect posture | Outer and back hips |
| Tendinitis | Swelling of the hip tendons | Hip tendon strain, injury, and overuse | Front part of the hip |
| Sciatica | Pinched or damage sciatic nerve | Herniated disk, spinal stenosis, piriformis syndrome | Buttocks and hip muscles |
Sitting for Too Long
Staying in one position for too long regularly, especially sitting, results in reduced hip strength and hip pain.
Your glutes, core, and hip extensors will be weaker. This is why you'll sometimes feel unstable when standing up after doing hours of computer work.
The following factors increase hip pressure, making you more likely to have hip pain.
Crossing your legs (hip adduction)
Leaning on one side while sitting (hip flexion)
Sitting on an uneven or too soft surface
Improper Seat Height
Improper seat height over time can also lead to hip pain.
While the backrest, seat tilt, and lumbar support are all important, the main culprit as far as developing hip pain is usually an incorrect seat height arrangement. Seat height directly affects your hip joint angle when you're sitting.
When the chair is too high, you're forced to scoot forward and skip using the backrest. Staying in this position can eventually lead to hip fatigue. If you do try to use the backrest, your feet will dangle and add pressure to the back of your thighs.
On the other hand, if your chair is too low, your knees will be placed higher than your hips. This will put your hip joints at an extreme degree of flexion. Since most people aren't flexible enough for this, hip and low back pain can occur.
Extra Body Weight
For every 10 pounds of extra body weight, 50 pounds of excess pressure is added to a person's hips and knees (source). It's no wonder obese people are highly susceptible to hip pain.
Improper Movements
Getting out of your office chair the wrong way can increase your chances or exacerbate your hip pain. There are two ways that this often happens:
Quickly swivelling to get out of the chair while also forgetting to move your feet
Sharply pivoting to get up without pushing the chair from the desk.
What Can I Do to Prevent or Reduce Hip Pain?
There are plenty of things that can help in mitigating your hip pain.
Observe proper workspace ergonomics.
Use an ergonomic office chair that can be adjusted to your size.
Move at least 2 minutes every hour. You can use Healthy Browsing if you're a Chrome user. Otherwise, just set phone alarms.
Avoid sitting with your legs crossed.
Do not sit with your wallet or phone in your backpocket.
Do quick stretches every now and then to keep your hip flexors and hamstrings flexible.
Use a footstool if your chair is too high.
Maintain proper posture while doing computer work.
Take advantage of your office chair's lumbar support. If it doesn't have one, get an external lumbar pillow.
Switch between sitting and standing whenever possible.
Consider alternating between an ergonomic office chair and a saddle chair.
What Should I Look for in an Office Chair for Hip Pain?
An ergonomic office chair that's properly fitted for your body shape can minimize the hip pressure and strain caused by sitting.
Here are the things that you need to consider when buying an office chair for hip pain.
Backrest
Since the hips and back are connected, having a back problem can lead to hip pain as well.
The backrest should be able to recline and tilt with adjustable tension. Aim for a 135° recline and a synchronous tilt.
Forward Seat Tilt
When your pelvis is in the right position, pain-free sitting follows. Ideally, the pelvis should be level or slightly higher than the knees. A chair with a forward seat tilt can help you achieve this.
Seat Design and Cushion
The seat should have a waterfall edge. This relieves the pressure on the back of the thighs and encourages blood flow to the lower limbs. The cushion should be soft but not saggy and firm but not hard.
Seat Height
Finding a seat that will keep your feet flat on the floor and allow your knees to form a 90° to 100° bent angle is important. But what exactly is the right seat height for you?
To calculate your ideal seat height, simply measure the length from the top of your knees to the floor.
Alternatively, you can refer to the table below for the right seat height for every user based on BIFMA's recommendation.
| | | | |
| --- | --- | --- | --- |
| Your Height (feet) | Ideal Chair Height (inches) | Your Height (cm) | Ideal Chair Height (cm) |
| 4'11" | 15.9 inches | 149 cm | 40.2 cm |
| 5'0″ | 16.2 inches | 151.5 cm | 40.9 cm |
| 5'1″ | 16.4 inches | 154 cm | 41.5 cm |
| 5'2″ | 16.7 inches | 156.5 cm | 42.2 cm |
| 5'3″ | 17 inches | 159 cm | 42.9 cm |
| 5'4″ | 17.2 inches | 161.5 cm | 43.6 cm |
| 5'5″ | 17.5 inches | 164 cm | 44.2 cm |
| 5'6″ | 17.8 inches | 166.5 cm | 44.9 cm |
| 5'7″ | 18 inches | 169 cm | 45.6 cm |
| 5'8″ | 18.3 inches | 171.5 cm | 46.3 cm |
| 5'9″ | 18.6 inches | 174 cm | 46.9 cm |
| 5'10" | 18.9 inches | 176.5 cm | 47.6 cm |
| 5'11" | 19.1 inches | 179 cm | 48.3 cm |
| 6'0″ | 19.4 inches | 181.5 cm | 49 cm |
| 6'1″ | 19.7 inches | 184 cm | 49.6 cm |
| 6'2″ | 19.9 inches | 186.5 cm | 50.3 cm |
| 6'3″ | 20.2 inches | 189 cm | 51 cm |
| 6'4″ | 20.5 inches | 191.5 cm | 51.7 cm |
| 6'5″ | 20.7 inches | 194 cm | 52.3 cm |
| 6'6″ | 21 inches | 196.5 cm | 53 cm |
| 6'7″ | 21.3 inches | 199 cm | 53.7 cm |
| 6'8″ | 21.6 inches | 201.5 cm | 54.4 cm |
| 6'9″ | 21.8 inches | 204 cm | 55 cm |
| 6'10" | 22.1 inches | 206.5 cm | 55.7 cm |
| 6'11" | 22.4 inches | 209 cm | 56.4 cm |
| 7'0″ | 22.6 inches | 211.5 cm | 57.1 cm |
Seat Depth
The proper seat depth will allow you to take advantage of your backrest without causing pressure to the back of your thighs.
A seat depth of 17" to 21" is good enough for most people. Even better if the seat depth is adjustable by at least 2".
You'll know if it's the right seat depth for you if there's a 2 to 3 finger gap between the back of your knees and the edge of the seat.
Seat Width
Having adequate seat width will allow you to sit comfortably. Too narrow and it will squeeze at your hips. Too wide and the armrests will be too far apart to rest your arms on.
A 19.2" wide seat pan is enough for most people, according to BIFMA. Meanwhile, OSHA simply suggests measuring the width of your thighs and adding some allowance.
Can a Standing Desk Help With Hip Pain?
Since sitting all day is hard on the hips, periodically switch between standing and sitting can help with stiff hips.
According to a 2013 research, a ratio of 1:2 is optimal. That is, 1 hour of standing for every 2 hours of sitting. If you get tired easily, you can opt for 30 minutes of standing and 1 hour of sitting.
Even when using a standing desk, you should practice "active standing." For example, the Canadian Centre for Occupational Healthy and Safety (CCOHS) suggests:
If adding a standing desk interests you, make sure to also check out our post on the best practices when standing at work.
Is Sitting on a Saddle Chair Good for Hip Pain?
Yes, sitting on a saddle chair can help prevent or eliminate hip pain. But, it takes some getting used to.
A saddle chair enables you to assume a riding style position wherein there is reduced load and pressure on the hip joints. The increased joint space decreases the compression in the hip joint cartilage. There is also more space for the nutritional fluid which enables the hip joints to stay healthy in the long run.
Watch the video below to see how a saddle chair is used:
Especially for people who have stiff hips, using a saddle chair can be uncomfortable or even painful at first. This is because your muscles will have to work actively and your hip joints are still loosening up.
Start by using the saddle chair for one hour each day. Gradually increase the usage time as you get more comfortable with this new position.
Be patient. For some people, it can take weeks or even months to get the hang of a saddle chair.
Hip Strengthening Stretches
Stretching is highly beneficial for keeping your hips healthy when you have to sit most of the day. Here are a couple of stretches that you can add to your routine.
Seated Butterfly Stretch
This is one of the most effective – not to mention easiest – stretches to open up your hips and promote blood circulation to that region.
Sit on the floor with a straight back and your legs open.
Grasp your feet using your hands as you use your elbows to push your knees towards the floor.
Learn forward slowly from your hips as deep as you can.
Hold this position for 20 seconds and repeat 4 – 5 times.
Pigeon Pose
Often referred to as the "King of Hip Openers", the pigeon pose lengthens the psoas muscles while stretching your thighs, groin, and back simultaneously. Your hips will feel like a million bucks after each pigeon pose stretch.
Start on all fours in a high plank position.
Bend your right knee and bring it towards your right wrist, so they are almost touching.
Slide your left leg back and sit down on your right leg. Your right ankle should be underneath your left hip.
Stay in this position or slowly walk your hands forward and lower your upper body for a deeper stretch. Eventually your forehead should be resting on the floor.
Inhale for a few breathes, then switch sides.