Updated: Nov 23th, 2022
Do you suffer from sciatica? If so, the last thing you want is a chair that exasperates your pain or burning sensation. But that's exactly what a poorly designed office chair will do.
First thing's first however.
What to Look for in an Office Chair for Sciatica
The best office chairs for sciatica should promote good blood circulation under your thighs and legs while offering excellent lower back support. Specifically, look for the following features in your next office chair:

A seat with a highly contoured waterfall edge.
Adjustable seat depth to control the distance between the back of your thighs and seat's edge.
A pronounced lumbar support that cradles your lower back
Forward tilting seat to reduce pressure under the thighs when reaching forward
A footrest to more evenly distribute your weight of your lower body periodically
A good sciatica chair should meet at least 3 out of the 5 criteria above.
Best Office Chairs for Sciatica at a Glance
For a well-ventilated office chair that helps with sciatica without breaking the bank, the Office Star ProGrid Chair gets our vote. It boasts an array of adjustable ergonomic features that includes three of the five criteria we mentioned above.

At a lower price point than similar office chairs, the Pro-Line II has a surprisingly robust seat pan that can be easily tweaked. Specifically, the seat's depth can be adjusted, and can even forward pitch to reduce pressure on your thighs as you sit. These adjustments, according to one satisfied buyer, allows him to find the perfect pain-free sitting position.

Rounding off the three features that make this a budget-priced chair a good pick is the sculpted seat with a sloping edge that doesn't cut off circulation and make your sciatic nerve pain worse. The cushion is firm and dense with just enough give to keep it comfy.
The only issue with the Pro-Line II is that the assembly instructions it comes with is hard to understand. This means that if you have poor DIY skills, you might have some trouble assembling it.

Aside from the aforementioned features, the Pro-Line II comes with a mesh back, an integrated lumbar support, and height- and width-adjustable arms. So, all things considered, this high back chair is a great choice for minimizing sciatica pain without shelling out the big bucks.

Pros:
Adjustable seat depth and forward pitch minimizes back and hips pressure
Sculptured seat with waterfall seat edge
Comfortable, breathable backrest
Cons:
Lumbar Support is fixed
Assembly manual is hard to follow
Armrests do not have padding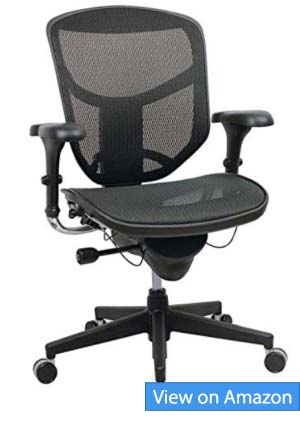 When we reviewed the Quantum Pro 9000 last year, we dubbed it the "most well-built" mesh mid-back office chair for its price range. Turns out the chair is also great in minimizing sciatica pain with its highly pronounced waterfall seat edge and adjustable seat depth, among other features.
The seat on the Quantum 9000 can slide in and out 2″ to cater to your thighs' length. This is one of the most important features to prevent the seat from cutting off circulation to your legs and exasperating sciatica:
Moreover, while the Quantum Pro 9000 doesn't have an adjustable lumbar support, it does compensate with a backrest that can move up and down 3". We couldn't agree more when users praised its ability to be tailored to different body builds.
We also like its robust tilting mechanism of up to 120° with lock and tension control. This allows you to relieve spinal pressure and prevent spinal stenosis, one of the most common causes of sciatica. Finally, the waterfall seat design solves a common problem with mesh seats where the edge cuts into the thighs and restricts blood flow.

We think that there's still room for improvement, however. First, we find the gel-padded 3D armrests to be too sensitive in pivoting when you want them to point straight ahead. Next, a backrest that can rock even when locked would have been better for relieving spinal pressure. Still, the Quantum Pro 9000's 5 degree give at the locked settling is better than nothing.

At the end of the day, this unassuming mid-back mesh office chair really surprised us with its quality build and assortment of features that you typically do not see in chairs under $400.

Pros:
Great adjustability including the seat depth and backrest height
Mesh seat with waterfall edge
Composed of 55% recycled content
Comes with a 10-year limited warranty
Sturdy and durable
Cons:
Arms pivot too easily
Backrest doesn't rock once locked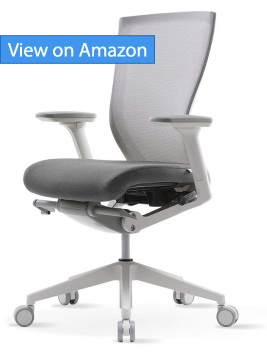 As a sciatica patient, you probably know from experience that cold weather makes the pain worse. This means that having an office chair that can keep your lower body warm no matter the weather is a big plus. This is where the Sidiz T50 comes in with a highly ergonomic design that also comes with a fabric seat to keep your bottom and thighs much better insulated than a mesh seat could.
The T50 is fairly unique in that the backrest is made of mesh while the seat itself is fabric via a cover. This combination helps keep your back cool while your lower extremities warm. For people with sciatica, keeping the buttocks warm can help protect the already overly sensitive nerves from firing even more.
Complementing the fabric seat material options are other features that are also rare in an ergonomic chair in this price range.
The T50's seat forward tilts similarly to the Herman Miller Aeron, a chair that costs 3x as much. Combined with an adjustable seat depth, and the chair even bests the Aeron in potentially relieving pressure under your thighs. We didn't call the T50 one of the best alternatives to the Aeron for no reason. The ability to forward tilt also makes the Sidiz T50 a great chair for people with tailbone pain, as at such an angle the bulk of your body weight is now shifted from the coccyx to the sitting bones and thigh muscles.
Rounding off the features is a robust backrest that comes with decent lumbar support. We love the multi-tilt limiter, which lets you specify how much the backrest tilts as you rock it. As one happy buyer put it, these are quite helpful in keeping back pain at bay.

All in all, the Sidiz T50 is a great buy if you're looking for an ergonomic chair with a seat that isn't mesh based to keep your bottom warmer.

Pros:
Mesh seating with fabric seat cover keeps your bottom warm
Adjustable seat depth
Seat capable of tilting forwards to reduce thigh pressure
3D arms and 5-point tilt limiter
Cons:
Wheels glide too easily on hard floors
Seat padding a little thin
The MooJirs office chair stands out for two things – the unparalleled number of ergonomic adjustments, plus the hefty price tag of close to $1,000. For those of you able to splurge however, the MooJirs rewards you with a sitting experience close to perfect.
The hallmark of the MooJirs is in the backrest that relieves spinal pressure like no other. The 3 piece backrest caters to each section of your lower back separately, and is height adjustable to conform to each person's curvature precisely.
Most notable with the backrest however is the dynamic and twin lumbar support. The lower portion flexes with your lower back as you lean forward or back, while the "wing like" upper portion provides continuous upper body support even when you pivot your body. One owner of the chair that used to get frequent bouts of sciatica says the chair has saved him from expensive visits to the masseuse.
As a high end ergonomic chair, the MooJirs comes with a slew of other features of course that's to be expected. This includes a 3D headrest, 4D armrests, and a seat that is depth adjustable. There is even a coat hanger behind the backrest.
All these goodies come at a steep price, of course.
Pros:
Dynamic and twin lumbar support for unparalleled back support
3D headrest and 4D armrests
Solid metal skeleton frame
Waterfall edge seat
Easy to assemble
Cons:
Expensive
Lack of clear warranty information
According to health experts, changing positions frequently in your chair – including laying flat – can be effective in fighting an episode of sciatica.
For laying down, the KCream Reclining Chair is one of the best, blending the comfort of an executive chair with the versatility of a footrest for kicking back and really relaxing your legs from time to time.

During work hours, you can assume a 90° upright angle. Whenever you need to nap or just rest your back, recline the backrest up to 135° angle and take out the footrest. As one buyer said, the backrest feels very stable even when reclined so you won't have to worry about tipping over.

The plush padding and wide 21" seat only adds to the comfort. You also won't have to worry about aesthetics since the black bonded leather upholstery looks luxurious. 

We find the built-in lumbar support a bit lacking due to the plush backrest. Depending on your build, you might have to get additional lumbar support. Fortunately, you can easily do this with a lumbar pillow.

If you're looking for an office chair with a footrest to relax your legs and back occasionally, the KCream presents one of the best options in an office chair. The other option is a good gaming chair, which we'll talk about next.
Pros:
Among the few comfortable executive chairs with a footrest
Lockable backrest that can go down as far as 155 degrees
Generous padding all around, including armrests
Cons:
Armrest aren't height adjustable
Lumbar support might be lacking for some
Doesn't recline a full 180°
If you're a hardcore gamer, then you probably already know how long hours of gaming leads to numb buttocks and pins and needles in the legs. This is where the GTracing Gaming Chair comes in with features that encourage changes in sitting position while offering relaxation and support. Oh yes, and it's very affordable as well.

First, let's talk about support and relaxation. We found the head pillow and lumbar support surprisingly comfortable, especially the neck pillow that can move up and down a good 4″. The seat cushion also exceeded our expectations, offering just the perfect amount of firmness.
We've talked about the need to change sitting positions often to avoid sciatica symptoms. This is where the rocking and tilt functions of the GTracing shine. You can rock up to 15° for quick back stretching or recline up to 170°, lockable at any angle, to rest your back or even take a nap. In combination with the pullout footrest, it's easy as pie to go from sitting upright, reclined, to almost vertical at a whim.
One complaint – despite the chair's claim of being a big and tall chair, we found it ideally suited for people less than 230 pounds and 6'2″ based on its dimensions and build quality.
If you fit the aforementioned body size, we highly recommend the GTracing gaming chair for providing one of the best values in a gaming chair for sciatica patients who love gaming.

Pros:
Surprisingly comfortable lumbar and neck pillows
Supportive yet soft seat cushion
Robust tilt and reclining backrest
Retractable footrest
Cons:
Not suitable for big and tall users as advertised
Backrest padding a little thin
Last but not least we recommend the Dragonn Kneeling Chair for people with sciatica to alternate using with an standard office chair. A forward leaning seat design such as that found on kneeling chairs has been shown to dramatically reduce back pressure while helping you maintain better posture.
Unlike some kneeling chairs, the Dragonn's seat height is adjustable between 21″ to 28″ (measured from the ground to top of seat). This makes the chair suitable to use with a standard desk out of the box.
In our review of the Dragonn kneeling chair earlier this year, we also loved the cushions on the chair. They're around 4″ thick, and surprisingly supple yet supportive. The faux leather upholstery also exceeded our expectations, and seems to be durable enough to resist tearing, at least easily.
And finally, the casters on the Dragonn kneeling chair are lockable to prevent unwanted movements as you sit. This is a feature not found on most competing products.
For people with sciatica, switching up your posture periodically when you sit remains one of the most important ways to keep flare ups at bay. And for that, a budget friendly kneeling chair such as the Dragonn is one of the best companions you can get.
Pros:
Engages the core and improves core strength
Design shown to reduce spinal pressure
4″ thick, durable cushions
Casters can be locked to prevent unwanted movements
Cons:
Casters don't roll around easily
Assembly instructions not clear
What Is Sciatica?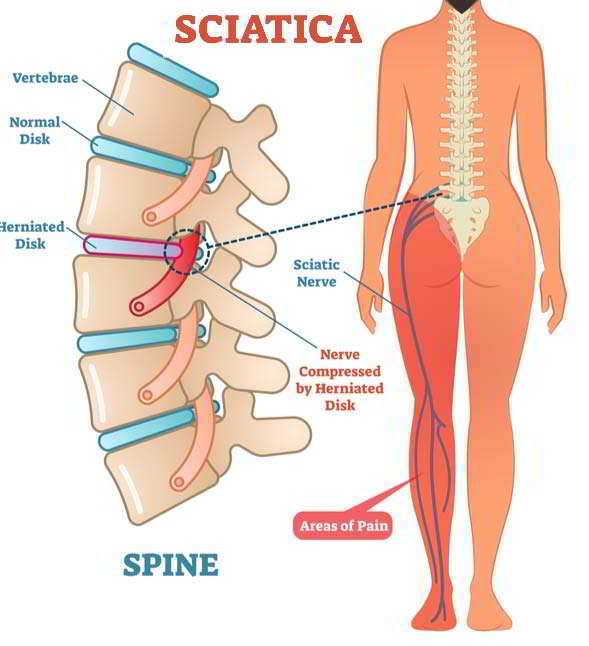 Sciatica occurs when the sciatic nerve is pinched. The resulting pain can be felt from the lower back, buttocks, to the back of the thighs, and legs. It usually only affects one leg.

According to Mayoclinic, sciatica is most commonly the result of a herniated disk in the spine or a bone spur on the vertebrae pressing up against a part of the sciatic nerve. The sensation can range from mild pain, a burning or shooting sensation, to numbness in the aforementioned regions.
How to Sit with Sciatica
There are several ways to alleviate the symptoms and pain brought on by sciatica.
Proper Posture
The most important thing to remember when you're sitting with sciatica is to maintain proper posture. No matter if you're doing stretches or getting regular massages, you'll still end up aggravating your sciatic nerve pain if you're not sitting the right way, especially for long periods of time.
A proper sitting posture follows these main points: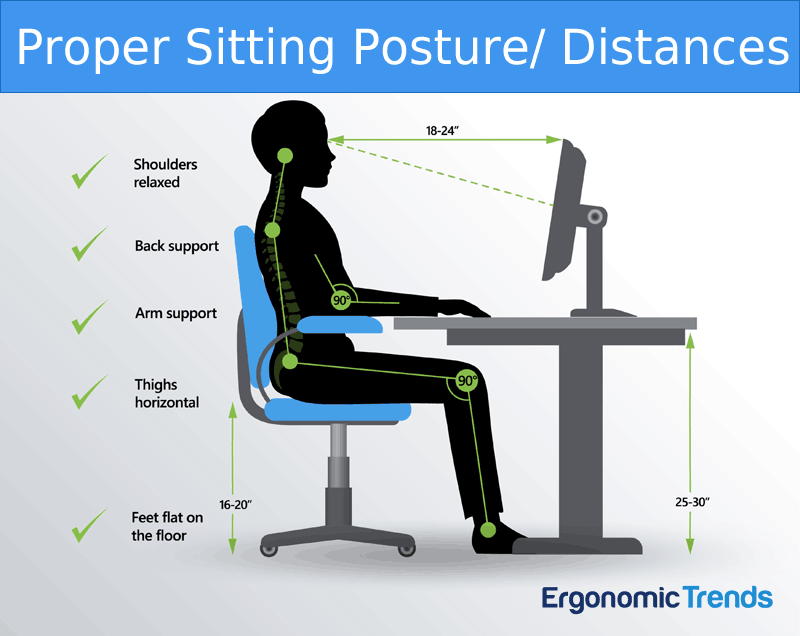 Keep your feet planted on the floor with your legs at a 90° angle from your torso. If your chair is too high, use a footrest or even a small box to maintain this angle.
Use a lumbar pillow to support your lower back. A small rolled-up towel works just as well.
With your back and buttocks touching the back of the chair, sit up straight instead of leaning forward.
Pivot your chair together with your body when reaching for office materials instead of twisting your spine.
Avoid crossing your legs as this constricts blood flow to the lower extremities.
Slightly elevating your knees can help you decrease spinal pressure.
Position your workstation correctly to avoid slumping. The computer screen should be level with your eyes and items you use often should be placed within arm's reach.
Other Helpful Tips
Here are other helpful tips that can help you alleviate sciatic nerve pain when sitting down.
Try using a standing desk to regularly switch between sitting and standing while working to reduce the pressure on your lower back.
If your seat is hard, invest in a sciatica seat cushion to reduce the pressure in your tailbone area.
Avoid rounding out your back when going from a sitting to a standing position. Instead, slide to the edge of your chair and, while maintaining a straight back, put your hands on the armrests or on your lap to push yourself up. Watch this video as physical therapists Bob Schrupp and Brad Heineck show how to do this.
According to Dr. Jon Saunders, it's important to avoid the couch slouch even when sitting on a sofa. Maintain a relaxed posture and use the throw pillow for back support.
Stuart McGill, Ph.D., a professor of spine biomechanics at the University of Waterloo, said that sitting with your wallet stuffed in your back pocket causes your pelvis to tilt on one side. This stresses the hip joint and lumbar area, aggravating sciatica symptoms.
Do the stretches demonstrated here by Dr. Michael Rowe of SpineCare to decompress nerve tension while sitting down.