Last Updated: May 15th, 2021
Most office chairs are built to accommodate an average frame. If you are petite or short in stature (under 5'3" for women and under 5'8" for men), your so called ergonomic chair could be exacerbating your existing aches and pains – or potentially creating new ones.

In this guide we take a look at all the important ergonomic factors that short people need to focus on when picking an ergonomic chair, followed by a comprehensive list of the best office chairs for short people. All of these chairs are appropriately sized in the key areas that make all the difference for short people, from seat depth, height, to seat pan width.

Please note that we will be using terms such as "short", "shorter" or "petite" to describe people that are under the statistically average height for men and women. This post will not focus on chairs for little people, or people with dwarfism.
See Also:
Most Important Features in an Office Chair for Short People
If you're short or small-framed, your choice of office chair is going to be limited. The one universal consideration to keep in mind when you're petite is adjustability.
Seat Depth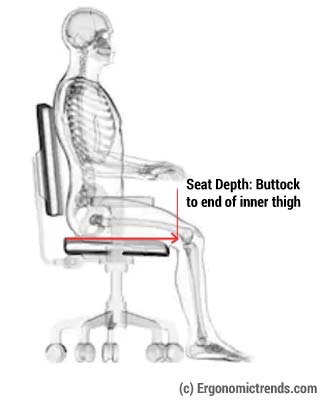 If a chair's seat pan is too deep, it can cause circulation problems for short people, as your legs will be dangling off the floor and applying undue pressure to the soft underside of your thighs.

For shorter people, we recommend a seat depth of around 18" or less. It should also be depth adjustable to allow further personalization.

To calculate the ideal seat depth for yourself, in a seated position, measure the distance from the end of your buttock to the end of your inner thighs. There should be 2″ of space between the back of the knees and the seat of the chair. The best seat depth leaves that space at the end of the seat's edge to prevent cutting off circulation in your thighs.
Seat Height
The seat height of an average office chair is adjustable between 18"-22". If you're short, look for a chair that can at least be lowered to 18" or even lower. The good news is, seat height is not nearly as important as seat depth for short people, as you can always just use a footrest if the chair doesn't go low enough for you.

Proper seat pan height can be calculated by sitting in your chair and calculating the distance from the floor to the backs of your knees. Be sure to take into consideration the thickness of your shoes as this can affect your measurements.
Back Height and Forward Tilt
The backrest should be adjustable to meet your height requirements. Ideally, it should also be able to tilt forward – this avoids you having to perch precariously on the edge of your seat and adding pressure to your lower back.
Lumbar Support
Your backrest should adjust to support your lower back. Depending on the seat depth, a lumbar support that is depth adjustable may be necessary to ensure it meets your back fully to support it.
Armrests
The chair's armrests should be fully adjustable, especially width wise to bring them closer to your body. It might seem obvious, but make sure they are well padded as well. Hard armrests can overtime pinch the ulnar nerves in the bony part of your elbows, leading to cubital tunnel syndrome.
With those prerequisites out of the way, the following are the best office chairs for short people that meet most if not all of the criteria laid out.
Best Office Chairs for Short People at a Glance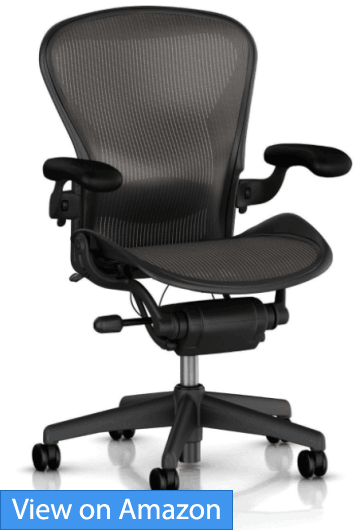 Adjustable Height Range (from seat to floor): 14.75-19"
Seat Width: 25.75″
Seat Depth: 15¾"
Seat Depth Adjustable: No
It's rare that an office chair is available in three different sizes to accommodate a wider variety of users – including the more diminutive crowd. But then again, we're talking about the Aeron, the pinnacle of ergonomic and comfortable sitting.
The Aeron is available in sizes A, B and C, with A being the smallest. Size A has a seat height range of 15-19", which is recommended for someone who measures 4'10-5'9" and weighs between 90-150 lbs. This is a fantastic range for shorter employees in desperate need of ergonomic support. If you're slightly larger than that, go for Size B instead.

Users are supported through a wide range of motion in this chair, whether reclining or leaning forward. An adjustable seat and backrest provide eight "latitudinal zones" of varying tension to hold you when seated, as well as a tilt limiter with seat angle adjustment. No matter how short you think you are, this chair has literally got your back.

The Aeron also boasts adjustable individual pads in the backrest that can adjust lower for petite sitters and provide lumbar support to your spine while maintaining the natural forward tilt of your pelvis. The result is a firmer and more powerful seating position. One user claimed that these individual pads are a marked improvement over standard lumbar support and provided him with additional comfort in the sacro area.

There are a host of cushy extras on this chair that are beneficial to shorter people. Upholstered foam arm pads are fully adjustable in height, depth and angle – perfect for narrower frames. A mesh chair back means that no matter how low your smaller figure rests, the free air circulation regulates your body temperature.

All of the comfort and top-tier design features do come at a cost. Some might find the price point prohibitive, but this chair is an investment piece, as evidenced by the 12-year manufacturer's warranty. If you're petite and looking for holistic comfort backed by years of professional engineering, we think you'll keep it forever.

Pros:
Individual backrest pads for increased lumbar support
Forward tilt ability
High tech fabric and mesh with 8 different tension zones
Available in smaller size (Size A)
Made of 53% recycled materials
Cons:
Seat depth not adjustable
More expensive than other office chairs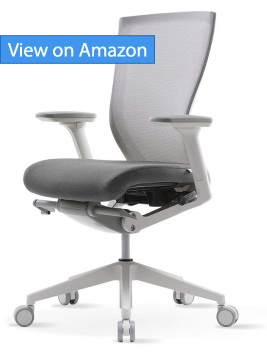 Adjustable Height Range (from seat to floor): 15" to 19"
Seat Width: 18.5"
Seat Depth: 18.3" – 21″
Seat Depth Adjustable: Yes
Sidiz estimates that 1 T50 chair is sold every 1.3 minutes. A fan favorite of IBM, the T50 offers full ergonomic design, fully-adjustable features that benefit people with smaller frames, and great value for the money. In fact, the Sidiz made our list of one of the best Aeron Chair alternatives.
The Sidiz T50 is the only chair on this list other than the Herman Miller Aeron to support forward tilting. In addition to the waterfall seat edge, this helps tremendously in relieving pressure under the thighs and hips when seated. One owner who has chronic back pain credits the forward tilt feature for relieving his lower back pain as well.
The robust seat height range with a minimum height of 15" should also be music to petite people's ears. In our review, our editor who is 5'4″ found the chair's height range on the Sidiz T50 just perfect:
The adjustable seat depth on the Sidiz T5 is another welcomed edition for people with shorter legs. It can be set to a 18.3″ depth, which should be adequate for most people in the 5′ range to prevent the edge of the seat from cutting off circulation.
All in all the Sidiz T50 is an excellent mid range ergonomic chair for short people. The fabric material may not be everyone's cup of tea, and the seat cushion is a little firm. For moderate sitting however, it's an excellent choice.

Pros:
Compares nicely with the Aeron chair at a fraction of the cost
3-way adjustable arms (up/down, left/right, in/out)
Adjustable seat depth and forward tilting
Breathable mesh back
Cons:
Some users report a clicking sound in the mechanism under the chair
Seat padding on the thin side
Adjustable Height Range (from seat to floor): 16″ to 19.75"
Seat Width: 19.25″
Seat Depth: 19″
Seat Depth Adjustable: No
For petite people on a budget, the Hbada Task Chair is a safe bet, and in fact is one of our associate editor Michelle's favorite chairs of 2020. It's not nearly as adjustable as higher end chairs, though the dimensions and key features will serve small people well for moderate sitting.
The Hbada comes with an ultra low minimum seat height of 16″. In her review of the chair, our editor Michelle who is 5'4″ was able to rest both feet comfortably on the ground without evening lowering the seat to its lowest setting.
While the lumbar support on the Hbada is fixed, the mesh backrest is wide and supportive. The armrests can also flip up, which lets you tuck the chair under the desk easily when not in use.

The Hbada task chair does fall short on a couple of fronts as an ergonomic office chair. First is the inability to lock the angle of the backrest. The chair does tilt/ rock up to 30 degrees however. Secondly, like most office chairs with flip up arms, the ones on the Hbada not not height adjustable.
At the end of the day, the Hbada task chair isn't the most ergonomic office chair out there. However, as a office chair for small users on a budget, it is one of the best choices currently out there. And for that it deserves a solid place on this list.
Pros:
Very affordable
Lightweight and easy to move around
Backrest mesh feels strong and channels air well
Comfortable seat and low seat height for petite users
Cons:
Backrest only tilts and doesn't recline (lock into place)
Armrests are not height adjustable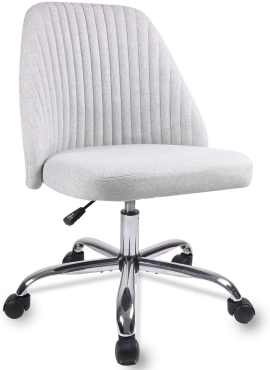 Adjustable Height Range (from seat to floor): 14.5" to 18.15"
Seat Width: 19.7"
Seat Depth: 17.3
Seat Depth Adjustable: Yes
With a small, modern profile and plush fabric upholstery, Rimiking has created a modern, elegant task chair that may not win any ergonomic awards, but is particularly suited for petite people.

The height range can adjust as low as 14.5", so there should be no issues with your legs dangling off the floor – even without heels! While the seat depth isn't adjustable, since it's only 17.3", really helps encourage proper posture in petite frames. One owner says the chair is extremely comfortable and goes low enough for her small desk, unlike all other chairs she's tried.

This chair offers a full range of motion with 360-degree swivel capabilities. When paired with durable casters and lower seat height (so your feet can actually touch the floor), it encourages multitasking and smooth mobility from one work area to another. Sadly, there isn't much in the way of other adjustments such as backrest tilt or recline.
Short person looking for simple-straightforward comfort to complete basic tasks will find that this chair has them covered.

Pros:
Chair lowers to an incredible 14.5″
Easy to assemble, less than 15 minutes
Comfortable, warm fabric upholstery
Cons:
No armrests
Backrest does not tilt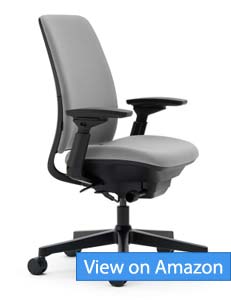 Adjustable Height Range (from seat to floor): 16″ – 21″
Seat Width: 19.25″
Seat Depth: 15.5 – 18.5″
Seat Depth Adjustable: Yes
If there was a perfect chair for short people out of the box, the Steelcase Amia might just be it. From the chair's ultra robust lumbar support, versatile range of height adjustments, to seat pan width and depth that are tailor made for shorter people, this is the chair to get if money is no object.
The hallmark of the Amia chair is theLiveLumbar™ mechanism in the chair's backrest. What does this mean for their petite followers? It means this is a chair that contours to your specific frame, with adjustable seat depth (15.5-18.5") and a flexible seat edge, which relieves pressure on the back of shorter legs when you recline or sit forward. The seat width is narrower than other chairs (19.25") and won't cause circulation issues if you're shorter.

One client said that "vertically challenged" people like her would really benefit from this model. As a result of using the Amia, she no longer has a nagging backache at the end of her day.

The height range goes down to 16" at its lowest point, which is perfect for smaller frames, and pairs nicely with the adjustable and flexible backrest system. Both allow for continuous lower back support regardless of your day-to-day movement.

Steelcase has also incorporated 4-way adjustable armrests: side-to-side, up and down, back and forth and side pivoting. This amount of customizable adjustment gives people who are more petite full control over the width and height of their arm support.

While the Amia is priced at the higher end of most task chairs, the Amia's design and functionality will serve the needs of its shorter consumers for years to come.

Pros:
Livelumbar technology, perfect seat height and dimensions for shorter people
Armrests adjust 4 ways for full comfort and even weight distribution on shorter frames
Weight tested and can hold up to 300 lbs.
Offers a 10-year warranty
Cons:
More expensive than other task chairs on the market
Adjustable Height Range (from seat to floor): 15.8" to 19.7"
Seat Width: 18.3"
Seat Depth: 17″ – 19.5″
Seat Depth Adjustable: Yes
If you're not just short, but petite like a small teenager, the Sidiz Chair might just be the perfect office chair for you.
Primarily intended for children and teenagers up to 16 years old, many petite people have also found the SiteRite perfect for their height and body size. In addition to being able to lower the seat height to 17″, there is a detachable foot ring to further decrease the resting distance for your feet.
Also Consider: The SiteRite Children Chair when the Sidiz Ringo isn't in stock.
The seat itself is also perfect for very small body sizes, with a width of 18.3″ including the armrests. The depth is adjustable to grow with kids (by moving a dial), but at its shortest setting is around 15.5″:
One adult who is 5′ is in love with her Sidiz chair, and says she has finally found a chair that fits her miniature body size perfectly. Gone are her back pain from sitting in large chairs that do not cradle her body properly.
A couple of things we didn't like about the Sidiz Children Chair. Firstly, the backrest does not tilt, which is an asset for releasing back tension. The armrests are also on the narrow side, and are not height adjustable. These shortcomings mostly stem from the one piece design of the chair that does make it a breeze to put together (around 5 minutes).
All things considered, the Sidiz Junior is still the best chair to get if as a petite person you have yet to find a regular adult chair that fits you properly. In this case, the logical next step is to go with a good children ergonomic office chair, which the Sidiz Junior certainly qualifies as.
Pros:
Perfect for short adults that are also really petite
Small seat with adjustable seat depth
Detachable foot ring that lowers seat height to 14″
Effortless assembly in 5 minutes
Cons:
Not suitable for regular sized adults that are short
Backrest does not tilt
Armrests narrow and not adjustable
Adjustable Height Range (from seat to floor): 23.6" to 32.2"
Seat Width: 15"
Seat Depth: 15"
Seat Depth Adjustable: No
As a drafting chair, the Superjare is great for standing desks and tall desks without compromising on safety and comfort for short people. Featuring a round seat measuring just 15″ in diameter, there is no chance the edge of the seat will cut off circulation to the back of your thighs like larger office chairs may do.
A tall gas cylinder offers hydraulic lift to adjust the height range between 24-32" from seat to floor. This lets short people work with a whole range of surfaces, whether it's the kitchen counter or standing desk.
Apart from the small seat, the key feature of the Superjare that makes it perfect for short people as a drafting chair is the height adjustable footrest. This is critical to let you rest your feet as you're perched up high, as most footrests on drafting chairs are positioned too far down for your feet to reach comfortably.

Normally, we wouldn't recommend a drafting chair in a list of office chairs for short people. However, many petite people use drafting tables, standing desks and work in studio spaces, so a drafting chair becomes necessary. In this light, the Superjare drafting chair provides simple, ergonomic comfort and support, no ladder required.
Pros:
Perfectly sized 15″ diameter round seat for short people
Removable backrest
Height adjustable foot ring
Cons:
Seat depth not adjustable.
No armrests by default.
Conclusion
As a short person, you have additional comfort issues to contend with when selecting an office chair. Remember, you'll possibly be using your chair for more than 8 hours, so it's important to know not only the seating measurements, but your own as well.
Thankfully, the companies we've listed have all recognized the importance of avoiding an "average" chair suited for the masses. While it takes an extra bit of research, finding a chair with the right support features and sturdy framework for your petite frame can carry you through the professional work day and beyond in style and comfort.