Last Updated: Dec 8th, 2021
As a tall person, you're probably used to sitting in office chairs with your knees flexed or a good portion of your thighs exposed past the seat's edge. And while this may simply look awkward more than anything else, there are real health and productivity issues that can arise from bein in this anatomically incorrect position for hours every day.

In this comprehensive guide we look at the key things you need to be mindful of as a tall person when picking out an office chair, plus our picks for the best chairs for tall people currently on the market.

How Do We Define Tall?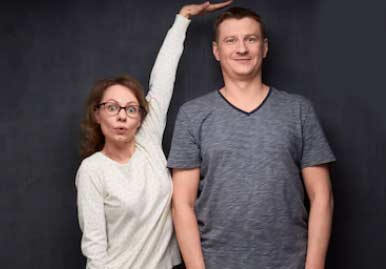 First thing's first- just how are we defining "tall" in this guide? Glad you asked.

"Tall" is obviously a subjective measurement. For the purpose of this guide, we consider anyone that is above the statistically average height for men in North America as tall. With the average height being 5'9", as long as you're 6 feet (182cm) or above, you've made our list.

Note that this guide is applicable to tall women as well if you're 6 feet or above.
Best Office Chairs for Tall People at a Glance
Most Important Features to Consider in an Office Chair for Tall People
For tall people, the two main factors in an office chair to consider are the maximum seat height and depth. These measurements have a direct bearing not just on your comfort level, but health as well. Keep reading to see what you should look out for when it comes to what you should look for in chairs or tall people.
Maximum Seat Height
This one is fairly obvious. Many office chairs come with inadequate seat height adjustment to properly accommodate tall people's legs. This forces you to flex your knees or extend your legs while seated, putting your whole body in an anatomically awkward posture while increasing pressure on your hips and thighs.

The ideal seat height is such your knees are at a 90 degree angle and your two feet planted on the floor when seated.

Seat Height to Person Height Chart
While there is no set ratio between a person's knee height (to derive ideal seat height) relative to his body height, we can still come up with a meaningful range that can apply to most people.

Based on our experience matching people of varying heights to office chairs, the following chart gives you a good idea what maximum seat height to look for in an office chair according to your body height:
| | |
| --- | --- |
| Maximum Seat Height (from floor to top of seat cushion) | Maximum User Height |
| 18" | 5'8" |
| 19" | 6'1" |
| 20" | 6'3" |
| 21" | 6'6" |
| 22" | 6'8" |
| 23" | 7'1" |
| 24" | 7'3" |
This means if you're 6'8" for example, you should look for a chair with a maximum height of 22" or higher.
This is just a guideline obviously, as your knee height differs based on your sex, race, and individual attributives. However, it's a good reference to use when you can't physically sit in a potential office chair to test out its height.
Recommended Seat Depth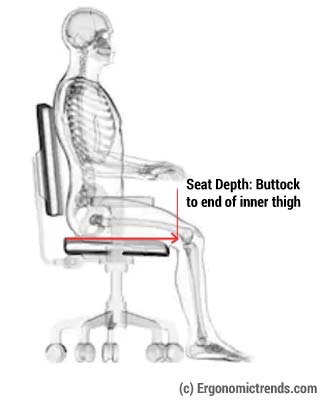 Tall people have longer femur bones that require seats with a greater depth than usual to be comfortable. We recommend a minimum seat depth of 19" or more. A seat that is depth adjustable beyond that depth is even better.

Seat Width and Backrest Height
The next two factors can be important depending on certain conditions.

At a minimum for any tall person, we suggest a seat width of 16" or more. If you happen to be both tall and big, look for office chairs with 19" and greater based on your body size.

Finally, the height of the backrest in general isn't important, unless it comes with a dedicated headrest. Depending on its shape, you'll want to measure your torso to make sure the protruding area of the headrest aligns roughly with your cervical spine or back of your head. There is nothing more discomforting than a fixed headrest that is positioned too low (or high).

WIth all the important criteria laid out, here is my pick for the best office chairs for people that are tall.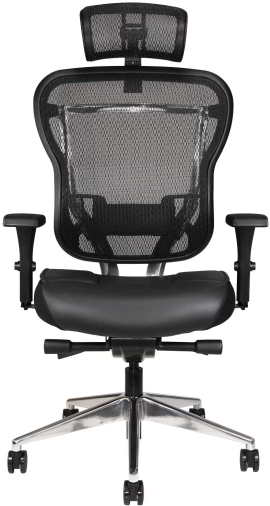 Seat Height: 19 – 23″ (with taller cylinder)
Ideal for: People 7'1" or below
Seat Width and Depth: 21.5″ x 22.25″
Backrest Height: 23.5″ (excl neckrest)
Weight Capacity: 300 lbs
The Oak Hollow Aloria tops our list for the best office chair overall for tall people. If you're 7'1" or below, this is one of the most solidly built, versatile and comfortable chairs you'll encounter in the market today.

The Aloria (leather edition) actually ships with two cylinders to dictate the seat height based on your height. The taller cylinder translates into a seat height of 19" to 23". Combined with an adjustable seat depth that can be extended all the way to 22.25" deep, and this checks off the two most important criteria for tall people that may also be big to feel comfortable- ample seat height and depth.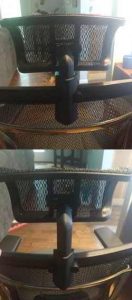 The Aloria also gets high marks from us in ergonomics. Besides the adjustable seat depth, the Aloria's lumbar support can also move up and down to target the area of your lower back that needs support the most. The armrests are 4D and can be moved in and out, an especially important feature for tall people that may have wider shoulders. And finally, the backrest can both tilt and recline to relieve back tension. Oh, and it comes with a neck rest that pivots and goes up and down to support your head at various angles.

All of these adjustments paired with a genuine leather upholstery made of cowhide has one owner gleeing that this is "the most comfortable chair [he's] ever owned "

The Oak Hollow Aloria passes our CAD test with flying colors – comfortable, adjustable, and durable – and as such tops our list for the best office chair for tall people.

Pros:
Ships with two cylinders to accommodate both short and tall people
Excellent build quality with lifetime warranty on components
Adjustable seat depth and lumbar support
4D armrests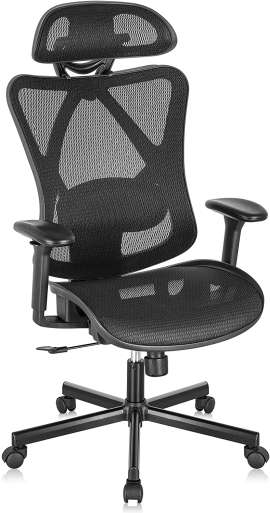 Seat Height: 19.3" – 23"
Ideal for: People 6'7" or below
Seat Width and Depth: 20.3" x 18.3"
Backrest Height: 27″
Weight Capacity: 280 lbs
The Gabrylly is an all-mesh ergonomic chair with a maximum seat height of 23". That's among the highest out there, and as such, is especially well suited for tall people looking for a relatively affordable, high backrest chair. Another noteworthy feature? An ultra wide headrest that spans almost the entire width of the backrest.
Several tall owners of the Sunnow have commented on just how comfortable the chair is for them. Indeed, this chair isn't just tall (seat height between 19.3"to 23"), but the backrest is equally so. This ensures the neck rest can actually rise up high enough to fit under your cervical spine.
One owner that is 6'5" high says he'e never found a mesh chair as comfortable as the Sunnow, due in no small part to the specifications of the chair. He also praised the backrest recline feature on the chair.
Speaking of functions, the Sunnow is fairly robust in that department. The backrest can both tilt and recline (up to 135 degrees), and there is adjustable lumbar support that can move both up/down and in/out. The neck rest can be adjusted the same as well, and is wide enough to cradle your head even when you rotate it.
Pros:
One of the tallest office chairs on the market/li>
Ultra wide, adjustable neck rest
Decent build quality for the price
Cons:
Not suitable for shorter people due to seat height
Mesh seat and back rather stiff
Seat Height: 17.5" – 22.5"
Ideal for: People 6'6" or below
Seat Width and Depth: 19" – 20"
Backrest Height: 22"
Weight Capacity: 350 lbs
With a breathable elastomer backrest that flexes to support your back in any position, the high tech Bowery Management chair can be seen in the offices of many Fortune 500 companies such as Apple and Disney. What makes this chair a great pick for tall people as well however is the decent height range and adjustable seat depth.

The Bowery chair comes with a maximum seat height of 22.5". The seat depth is also adjustable, and when extended fully, measures around 20". This makes the Bowery suitable for people below 6'6".

Getting its design cues from Herman Miller, the Bowery is often spoken in the same breath as the Sayl chair. Apart from looking gorgeous in any office setting, the highlight of each chair is in the rubber elastomer backrest that contours automatically to the shape of your back as you sit to provide continuous support while remaining breathable. One owner of the Bowery with back pain praises the backrest for finally allowing him to sit for longer hours without pain.

The one drawback of the Bowery is the height of the backrest. At 22" high, it just falls short of being able to provide any head support for taller people. However, taken as a mid-back chair, the height works perfectly to not get in the way of your neck as you sit.

Pros:
Cutting edge, contemporary design
Rubber elastomer backrest that offers continuous back support
Adjustable seat depth
Superb customer support with 60 money back guarantee
Cons:
Backrest height just short enough that it won't cushion your head
Cushion is rather firm and needs time to break into
Seat Height: 18.1″ – 21.9″ (for the XL)
Ideal for: People 6'9″ or below
Seat Width and Depth: 19.3" (excl bolsters) x 19.7"
Backrest Height: 35″
Weight Capacity: 395 lbs
When we reviewed the Secretlab Titan earlier this year, we were taken away above all else by the build quality of the chair. Weighing over 77 lbs, this is a beast of a chair that should last you up to 10 years. And for people who are both big and tall, there are few gaming chairs that will fit you more comfortably than this one.
The new Titan Evo 2022 edition comes in three sizes to cater to people of all sizes. Whereas the Regular model is recommended for people up to 6'2″ tall, the XL version can accommodate people as tall as 6'9″ due to the taller backrest and maximum seat height.
Secretlab isn't your typical gaming chair. You won't find the usual hot red color streaks or over-the-top side bolsters here. This is a classy gaming chair with a timeless design that frankly won't look out of place in a corner office.
One of our favorite things about the Titan Evo is the versatile backrest. It's capable of tilt and recline up to 165 degrees . It also supports that elusive seat angle lock to pivot your entire body upwards for that zero gravity feel. But specs only tell half the story- the entire tilt mechanism is perfectly balanced and stable. A friend of mine that's 6'5″ tall commented that the Titan is the first chair he's tried where he doesn't feel like he's going to topple over when rocking in it.
Here's the bottom line- if you're between 6' and 6'9″ and on the bigger side, there are few gaming chairs that can compete with the Secretlab Titans both in terms of fit and durability.

Pros:
Purpose built for big and tall people between 6′ and 6'9″
High quality cold foam seat that's resistant to sagging
Robust backrest tilt and recline that's one of the most balanced we've tested
Innovative magnetic pillow that can be removed/ reattached on a whim
Cons:
Seat may feel too firm for some people
Built in lumbar isn't very protrusive even at maximum setting
Seat Height: 18.9″ – 22.48″
Ideal for: People 6'4" or below
Seat Width and Depth: 21.7″ x 19.7"
Backrest Height: 26.4″
Weight Capacity: 250 lbs
Starspace is known for creating quality big and tall office chairs. Its executive chair model is a decent choice for tall folks looking for that comforting leather upholstery. It also features flip up arm rests.
With a maximum seat height of 22.8" and backrest height of 26.4", we'd recommend this chair for people up to 6'4". The backrest height is the bottleneck here, as it's relatively short for a tall backrest. Nonetheless, it still offers more coverage than most mid back chairs.
Out of all the chairs for tall people on this list, the Starship is the only one with flip up arms. Apart from making the chair easy to stow away under the desk, this feature also makes it easy for you to sit cross legged periodically, by dismissing the armrests.
Most owners of the chair will tell you the chair is very comfortable. Compared to mesh, the thickly padded seat and soft bonded leather material offer more of a bed-like sitting experience.
Like many executive chairs, the Starspace tilting mechanism is rather limited. It only reclines back 110 degrees. The armrests are also not height adjustable.
Pros:
Very comfortable, double padded seat and backrest
Armrests flip up for easy stowing
Affordable price
Cons:
Backrest too short to provide full coverage for tall people
Armrests not height adjustable
Seat Height: 27.5″ – 31″
Ideal for: All tall people
Seat Width and Depth: 23″ x 20″
Backrest Height: 23.5″
Weight Capacity: 450 lbs
Drafting chairs may be inherently tall, but most are not properly designed for big and tall users due to limitations in the components such as seat size and overall durability. This is where the Alera Mota separates itself from the herd. This is a drafting chair built for big and tall people, with the specs to back it up.

First off, the seat on the Alera Monta is really wide and deep, at 23″ x 20″. This lets even tall users sit without half of their thighs dangling off a small seat's edge.

With a maximum seat height of 31", it will accommodate even the tallest person with ease. The footring is extremely stable and can even be removed.
The Alera Mota has an incredible maximum weight capacity of 450 lbs. One owner that is 400 lbs backs up just how sturdy the chair is, saying it has shown zero signs of wear and tear after a year of continuous usage.

Whether you're an NBA player or simply a tall person that needs a high chair for drafting or to pair up with your standing desk, the Alera Mota is one of the best options out there at the moment.

Pros:
Few drafting chairs sturdy enough to support big users
Large seat to accommodate both big and tall users
Footrest height adjustable
Cons:
Armrests are fixed, none height adjustable
Backrest does not recline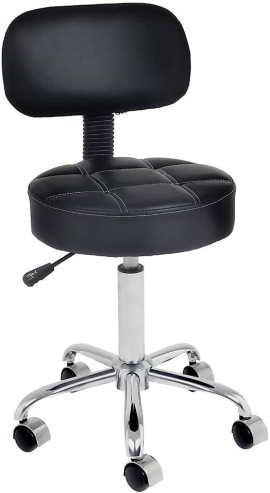 Seat Height: 20" – 27"
Ideal for: All tall people
Seat Width and Depth: 15" x 15"
Backrest Height: 12"
Weight Capacity: 300 lbs
Finally, for short term sitting or a highly portable chair that can be easily moved around from room to room, the CoVibrant rolling stool is our top pick, even for tall users. This is thanks in part to the 15" diameter and 3.75" thick seat that bests many competing stools' by around 20%.

The Covibrant stool can be adjusted between a height of 20" to 27" inches. This range means anyone- including really tall people – can find the perfect height that allows their feet to touch the floor while their knees are bent 90 degrees. There is no need for a footrest unlike with a drafting chair.

The backrest on the Covibrant is fairly standard, and does its job of giving your back a respite from staying upright all the time. Like with most stools, you should not rest your entire weight on it however due to the top heavy design.
The Covibrant stool makes for a great secondary chair for taller people around the house or in the office due to its cheap price.
Pros:
20% larger seat and cushions for larger people
Great height range to accommodate both people short and tall
Cheapest chair on this list
Cons:
Backrest is rather flimsy
No armrests