If you're like many people, you've probably never heard of a pen mouse before, or have it confused with a tablet stylus. But this thing is real, and at the very least provides an interesting alternative to the regular mouse.

In this article, I'll offer my analysis of the pen mice in terms of real world usability and ergonomics. I'll also break down the two most common form factors for pen mouse in the market right now, and which one is better.
So Just What is a Pen Mouse?
Like its name suggests, a pen mouse is simply a mouse packaged in a familiar pen form factor. Almost all pen mice are 2.4 ghz wireless, relying on a battery plus a USB nano receiver to connect to the computer.

Just to bring home the point, a pen mouse is simply a regular optical mouse in a pen factor. Nothing more, nothing less. Unlike a tablet stylus, it does not interact with the screen directly, or offer any pressure sensitivity or haptic feedback.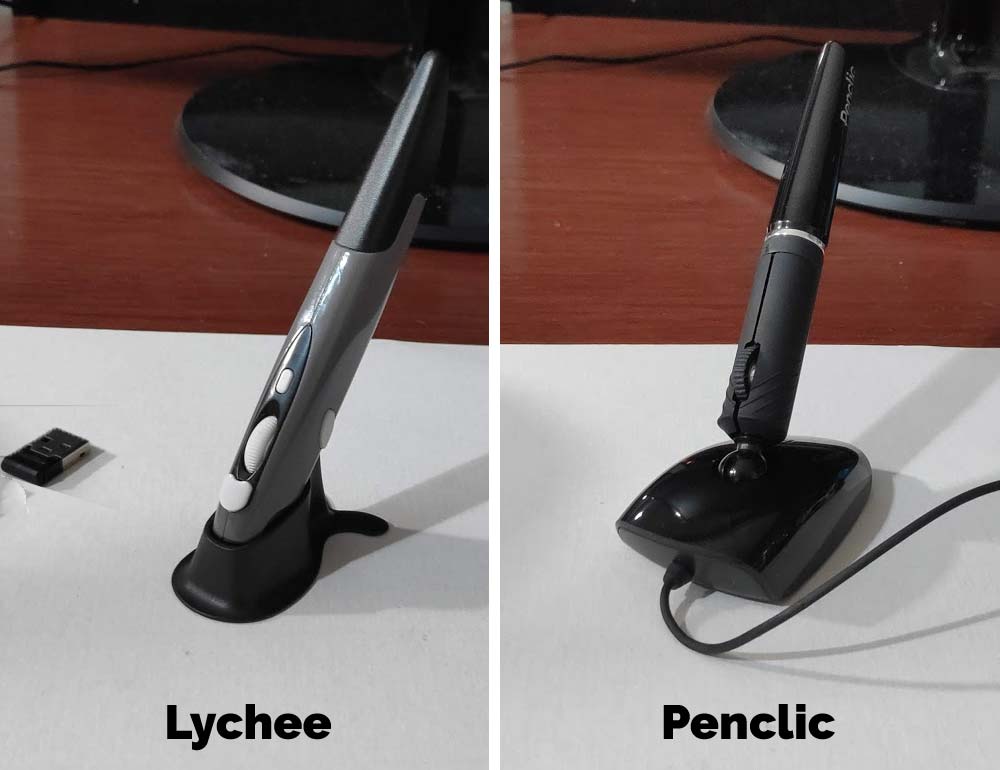 To test out just how practical pen mice are and whether they can offer any relief from RSI, I spent a few days with two distinct pen mice on the market, the Lychee and Penclic mouse. Both offer the same core experience you can expect from any pen mice with a few subtle but important differences:
Usability of Pen Mice Examined
So just how usable is a pen mouse?

When it comes to everyday tasks, the short answer is pretty good. Not quite on par with a regular mouse, but better than I expected.

Point and Left Click Accuracy
This is where you would expect a pen mouse to excel at, and for the most part you'd be right.

Moving the Lychee pen mouse, a sharp pointy device that weighs 60 grams to any point on the screen is as effortless and precise as a mouse.
The Penclic with the large base at the bottom is slightly less accurate, but still more than acceptable.
The bottleneck for most pen mice is the placement and the size of the left click button. If you have large hands, the relatively tiny button may be an issue. This is less of a problem on the Penclic specifically, which features large left and right click buttons.

Drag and Drop
Just like with left clicking, I had no issues dragging and dropping using any of the two tested pen mice. This was expected, as the same exact motion and button are used in both operations, with just dragging requiring one to hold down the left mouse button.

Drawing and Writing (God Forbid!)
If your primary reason for getting a pen mouse is to be able to draw or perform handwriting on the screen with more accuracy than the mouse, don't. Trying to write my name in Photoshop using either of the pen mice in my posession looks like a 3 year old did it, just like with a regular mouse:

Again, a pen mouse is not a stylus. It's just a regular mouse in a pen form factor. It might be slightly more pixel accurate, but that's it. Even if the pen comes with adjustable DPI, it will never be in complete unison with the movements of your hands, unlike a stylus.
Right Click Accuracy
This is a problem I've found on all pen mice I've tested. Using the thumb to click on a small button on a stick just isn't going to be as fast as on a regular mouse. And it's not just the size that's the issue- trying to keep the pen stable with your other fingers as you depress the right click button with the thumb also plays a role.

The bottom line is, right clicking using a pen mice leaves something to be desired in their current state.

Any Ergonomic Benefits to Pen Mice?
To the million dollar question- is a pen mouse more ergonomic?

The short answer is yes, though mostly for a particular segment of people.

If you're reading this article, I assume you're frustrated with your current mouse in some way. Most likely it's giving you wrist pain from the windshield motion maneuvering the mouse.

For those people, a pen mouse is absolutely worth trying. It uses very similar muscles to holding a real pen, with little forearm pronation as your wrist assumes a more natural handshake position. Like a real pen, a pen mouse also provides some leeway on how you can hold it: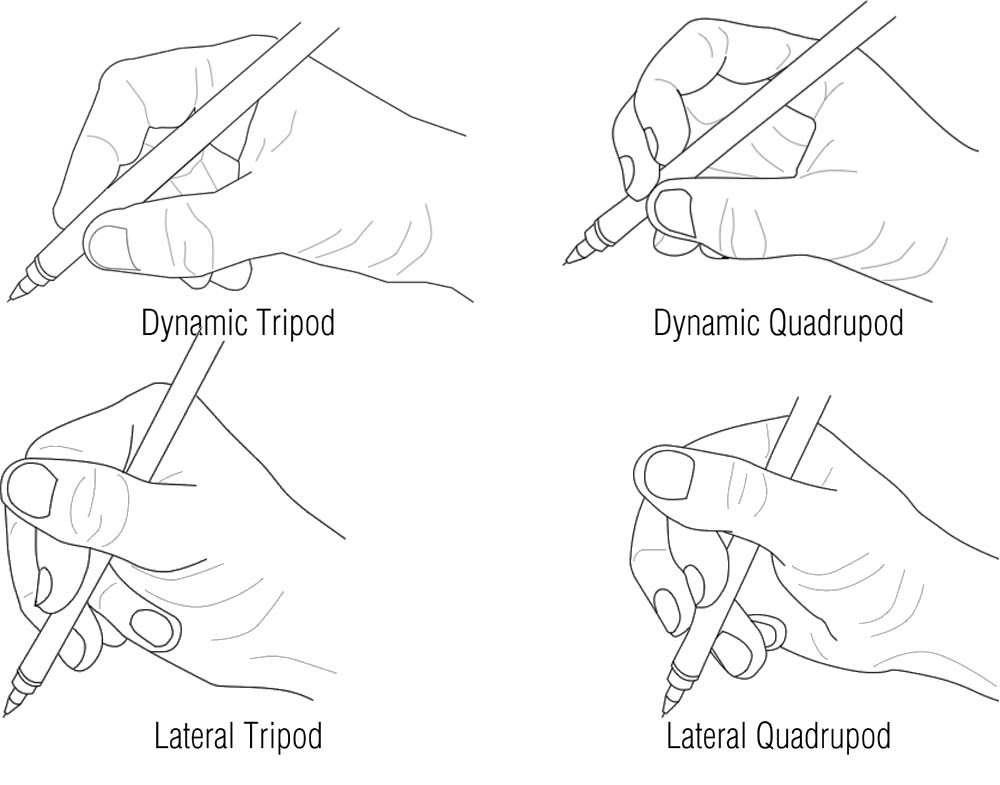 The ability to alternate between different holding positions is one of the greatest ergonomic strengths of a pen mouse in my opinion. This is particularly true for the Penclic. More on this below.

For both the Lychee and Penclic mouse that I examined, there is no shortage of positive testimonials from people who suffer from carpal tunnel syndrome and wrist and hand pain that have found relief by switching over. So if your current mouse is giving you pain, a pen mouse can provide a possible solution.

So What's the Problem?
The problem with a pen mouse from an ergonomic standpoint is that it's simply more clumsy than a regular mouse to operate, due largely in part to the small buttons and less than ideal button placements, at least in its current state.

Firstly, this means you probably won't be as productive with a pen mouse compared to a regular mouse. Ergonomics is about more than just pain relief, but finding the optimal way to interact with our surroundings.
Secondly, a pen mouse doesn't automatically shield you from pain. Long term use of a pen mouse may lead to repetitive strain injury just the same, particularly in the index finger or thumb.

If you're starting to feel wrist or hand pain from using a conventional mouse, the best approach is to alternate it with a device with a completely different form factor and go from there. The idea is to not overuse a particular muscle in your hands and wrist for a long time. Be it a pen mouse or trackball, try to find the best balance where your pain starts to rescind. And of course, always consult with your doctor throughout the whole process.
The Best Pen Mouse on the Market?
So you've decided you want to give a pen mouse a try, whether for novelty sake (it will turn a few heads) or possible pain relief. What's the best pen mouse on the market?

I've tested several pen mouse on the market, and there are really only two form factors out there. The Lychee and Penclic are the best representations of the two designs, each with their own pros and cons.
Lychee Wireless Pen Mouse
More Responsive Point and Left Clicking
Less Responsive Due to Base
Easy to Right Click Due to Larger Buttons
Needs a Cradle to Stand Up During Rest
Always Stands Up Thanks to Base
Works Best when Held Upright Or slightly Tilted
Works with a Wider Range of Tilt Angles
Works Well in General Minus Some Nuisances
Better Option for Prolonged Use due to the Base
Lychee Wireless Pen Mouse
More Responsive Point and Left Clicking
Needs a Cradle to Stand Up During Rest
Works Best when Held Upright Or slightly Tilted
Works Well in General Minus Some Nuisances
Less Responsive Due to Base
Easy to Right Click Due to Larger Buttons
Always Stands Up Thanks to Base
Works with a Wider Range of Tilt Angles
Better Option for Prolonged Use due to the Base
I've touched on some of the differences between the Lychee and Penclic mouse pen already, but here's a more in depth breakdown.
What the Lychee Pen (and its Clones) Does Better
When I compare the Lychee mouse pen with the Penclic, I'm really talking about the Lychee form factor. That is, a straight up pen with no base at the tip to prop it up.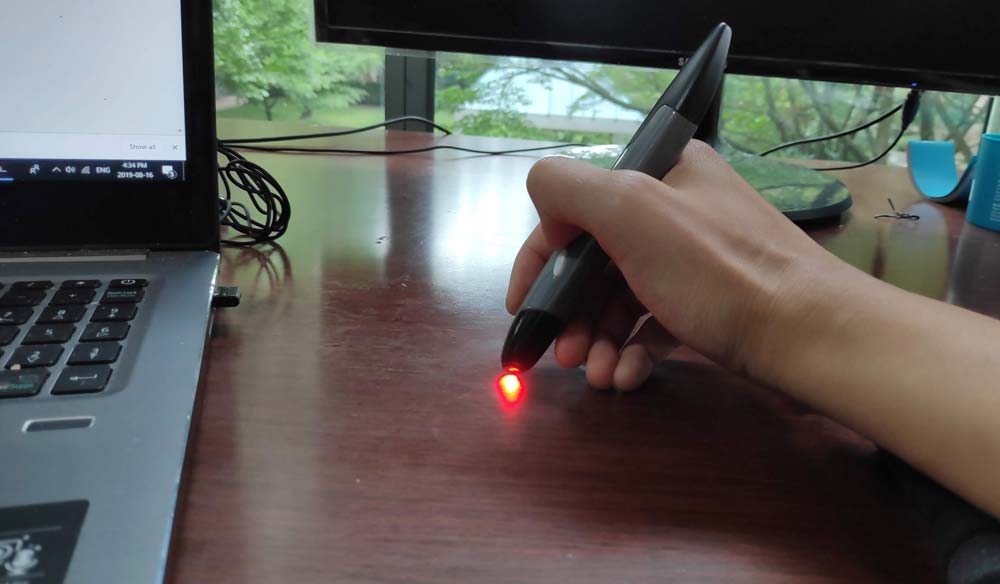 Firstly, when it comes to point and (left) click on the screen, I've found the Lychee slightly better compared to the Penclic. The lighter weight and sharp tip design makes moving to the desired coordinates on the screen and clicking on it super responsive and intuitive. The Penclic on the other hand is heavier, and you're dragging a base around each time you maneuver the mouse.
Secondly, the Lychee comes with adjustable DPI setting (500 and 1000 DPI) via a button on the pen. The lower setting significantly slows down the speed of the cursor, which may be helpful for people whose hands tremble, such as my dad.
Last but not least, the Lychee is extremely affordable (around $15 at time of writing), versus $70 or so for the Penclic. This makes the Lychee an easy choice if you're simply curious about the pen form factor, or are looking for a secondary pointing device to use occasionally so to not overuse the same muscles in your hands and wrist from a traditional mouse.
What the Penclic Pen Does Better
At almost 4 times the price of the Lychee and similar mouse pen, the Penclic does a few things better, mainly due to the large base that at first seems redundant, but quickly justifies itself.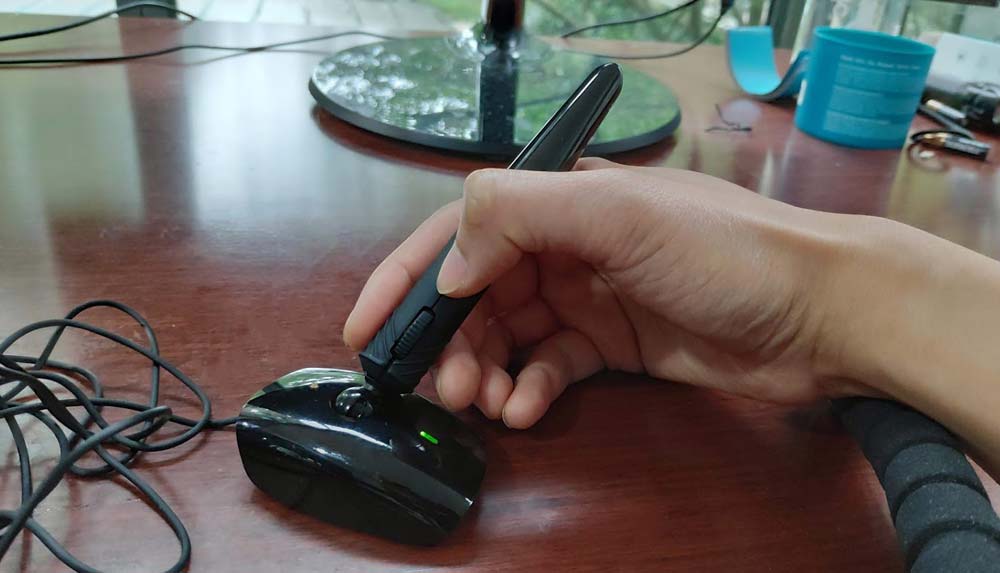 One of the nuisances that emerge with the Lychee pen is the need to constantly pick up the pen off the desk after performing other tasks such as typing. Yes there is a cradle that comes with the Lychee, but it's too small and flimsy to just quickly house the mouse pen without aiming each time. Do that a hundred times a day, and you'll really start to appreciate the base on the Penclic that just keeps the pen portion upright and ready to use at a nano second's notice.
The main benefit of the Penclic design with a stable base though is the wider range of operating angles. It means I can hold the pen at various angles farther away from 90 degrees and still operate the mouse. This is the greatest strength of the Penlic mouse over Lychee from an ergonomic standpoint.
With the Lychee mouse pen, once you angle the pen pass 20 degrees from upright, the optical sensor no longer makes full contact with the desk surface. As such, the mouse cursor will start to skip as you maneuver it.
Lastly, the Penclic's buttons are much bigger than the Lychee's. For left clicking, it's a superior experience, though because the right click button is so close to the left, it's also easier to accidentally right click on the Penclic.
So which Pen is Better?
If you're looking for a clear cut answer on which pen mouse is best, unfortunately there isn't one. Both the Lychee and Penclic bring it own advantages to the pen form factor while leaving something to be desired.
If you're merely looking for a pen mouse to compliment your existing mouse and to use on occasion, the Lychee is the better choice. It's more portable, much cheaper, and is comfortable to use for short bursts of time.
If you're looking at a pen mouse as a possible replacement to a regular ergonomic mouse, or for prolonged use at a time, the Penclic is the best option ergonomically. The stable base provides a much greater range of operational angles, which means you can hold the pen in more varied ways to relax your fingers. Not having to constantly pick up the pen after typing is also a huge asset. Sadly, the left and right buttons on the Penclic are positioned too closely, making it easy to accidentally right click. It's also heck of a lot more expensive than Lychee.
The bottom line is though, if you suffer from carpal tunnel syndrome or hand pain due to overuse of a traditional mouse. either pen mouse is worth testing out as a way to stop the condition from worsening.
In Conclusion: Pretty Usable, Selectively Ergonomic
So what's my final verdict on pen mouse? In one sentence:
They are Pretty Usable, and Selectively Ergonomic
As someone who doesn't suffer from any kinds of RSI or carpal tunnel syndrome yet, I still prefer a regular ergonomic mouse as my primary pointing device. However, a pen mouse is usable enough that, as a heavy computer user, I would consider switching to it from time to time just to activate different muscles in my hands while resting others.
The biggest beneficiary of the pen mouse design are for people with an existing hand or wrist related RSI and can no longer operate a regular mouse. Its radically different yet still familiar form factor makes the pen mouse one of the first devices you should try out to see if it can help you operate a computer again without pain.
See Also: Best Alternatives to a Regular Mouse