The very first computer mouse was introduced way back in 1968, and used a rolling ball to track movement. Its basic shape is not unlike the regular horizontal mouse many of us use today.
Fast forward many decades, and there are now quite a few alternative form factors on the market. This is great news for people suffering from carpal tunnel syndrome or other wrist and hand strain due to griping a horizontal mouse.
Here are the 9 best alternatives to a normal mouse you should consider if you're looking for something different, and their pros and cons.
1. Roller Bar Mouse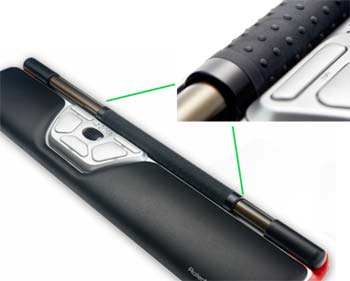 The first regular mouse alternative is a completely radical mouse that frankly looks like it belongs in an article about keyboards. Its stationary design works similar to a trackball but across a wide keyboard length surface. This design can be helpful for people who find it hard to grasp a regular mouse, or suffer from wrist or shoulder strain due to the frequent motions of dragging or reaching for a mouse constantly.
Also known as a track bar, a roller bar mouse is positioned at the base of your keyboard for easy access, which prevents unnecessary overreaching for the mouse that can cause mouse arm, or pain in the arm. There's a long bar you manipulate using any of your fingers to move the cursor horizontally and roll to move it vertically. There's also a palm rest for added comfort.
There's no pinching or gripping needed when operating a roller bar mouse. If you have thumb pain, you can use your other fingers to maneuver the bar. It also has an ambidextrous design which means that you can use it with both hands, preventing fatigue from building up on one hand.
The most well-known product of its kind is the RollerMouse Red, which you can see in the demo below:
2. Joystick Mouse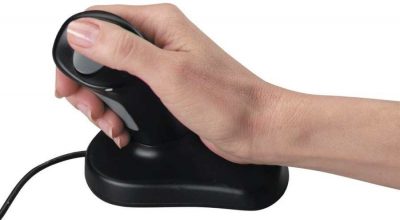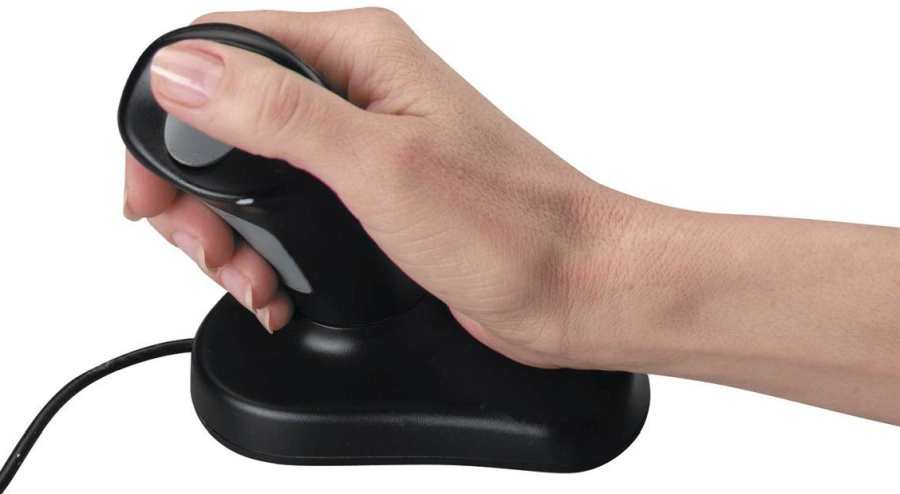 Yep, you've guessed it. A joystick mouse shares the same form as that device many of us have used to shoot down enemy bogies in a video game.
The defining element of a joystick mouse is a stick that forces you to grasp it by assuming a handshake position. Both the forearm and wrist become perpendicular to the desk, resulting in virtually no twisting of the wrist that can put pressure in the median nerve and tendon of the carpal tunnel. As such, a joystick mouse is worth trying for people with carpal tunnel syndrome, tendinitis or arthritis. It's also easier for people with cerebral palsy and other similar conditions to operate compared to a regular mouse.
The biggest issue with a joystick mouse is its lack of precision, at least not without a lot of practice.
The most popular joystick mouse on the market is the 3M Wireless Optical Mouse.
3. Pen Mouse
Another alternative to a normal mouse is the pen mouse. Often confused for a stylus, a pen mouse is actually just an optical mouse in the shape of a pen. It doesn't offer the same type of pixel-to-pixel precision as a stylus, nor haptic feedback or pressure sensitivity.
Like the joystick mouse, the pen mouse is a viable alternative for people with CTS mainly due to the way you hold it, like a pen with the hand resting on its side. In this handshake position, again, there is less twisting of the wrist.
What's more, since it's like a pen, there's more than one way to hold a pen mouse, preventing overuse of the same muscles. You can alternate between griping positions like a dynamic tripod, dynamic quadrupod, lateral tripod, or lateral quadrupod.
In our test of several pen mice, we found a high learning curve to being able to keep a pen mouse steady while left or right clicking at the same time. Compared to a standard mouse, you won't be able to achieve the same level of productivity.
Also, though it might look like a pen, a pen mouse is no substitute for a stylus when it comes to drawing and writing. Its precision is comparable to a normal mouse, not the pixel to pixel detail offered by a stylus.
Se the post "Best Pen Mouse for Navigating, Drawing, and Presenting" for a list of recommended pen and stylus mice.
4. Finger Mouse
A finger mouse is basically a miniature mouse that doesn't require any surface to operate. You use your thumb to maneuver a tiny trackball and other fingers to press the buttons. The trackball is very sensitive, requiring little movement to move the cursor around.
The biggest reason to choose a finger mouse is when need to operate a mouse without a surface, such as when standing, doing a presentation, or bed ridden. It can also be a good choice for people suffering from wrist pain or injuries, and cannot use their wrist at all.
On the market, the best finger mouse is probably the EIGIIS finger mouse.
5. Vertical Mouse
Easily outed due to its shark fin like appearance, the vertical mouse was invented in 1994 by Jack Lo because of his discomfort using a conventional mouse. He wanted something that was both practical to use and more comfortable on the wrist.
All vertical mice come with an aggressive slope where the main mouse buttons are housed to guide the hand into a handshake position when holding it. This reduces forearm and wrist pronation while externally rotating the operating shoulder. You can read more about the benefits of a vertical mouse here.
To maneuver a vertical mouse, you can either pivot from your wrist like in a regular mouse, or use your entire forearm to move it, keeping your wrist stationary. The later is recommended if you're recovering from carpal tunnel syndrome.
One of the best low cost vertical mouse on the market is the Anker vertical mouse.
6. Trackball Mouse
The trackball is a pointing device that has been around since 1946. It consists of a socket-held ball which has sensors to detect its rotation. You'll find two types of trackball mouse in the market.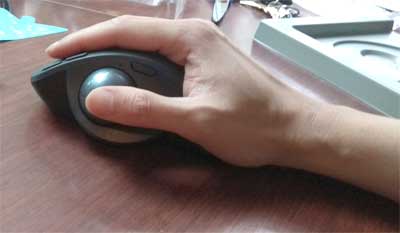 Thumb-Operated Trackball – This type resembles a regular mouse except there's a trackball in the thumb area. The thumb moves the trackball while the index and ring fingers are used for the scroll wheel, and right and left clicks.

Fingers-Operated Trackball – A fingers-operated trackball comes with a large center trackball that you maneuver using any combination of fingers. It has a symmetrical design that makes it suitable for both lefties and right-handed users. The left and right buttons are at the sides and can be accessed using the thumb and pinky fingers.
A thumb based trackball is more similar to a regular mouse, and as such has a lower learning curve. It's arguably also more precise. The fingers based option however can be more ergonomic, since you can use any finger or even your entire hand to maneuver the trackball.
After a vertical mouse, a trackball is what I'd recommend people with wrist pain or CTS and tendonitis try for pain relief.
Trackball mice are also an excellent choice for the elderly who have difficulty keeping the mouse steady while clicking. Once the cursor is in the right place, he can simply take his hand off the trackball and press the button.
The downside of a trackball is in its accuracy and speed. It's simply clumsier getting from point A to point B using a trackball.
See the post "Trackball vs a Regular Mouse" for a detailed breakdown of the two form factors.
7. Keyboard with Built In Trackball
If you're looking for a single device to act as both the keyboard and mouse, there are keyboards with a built-in trackball for that purpose.
The Perixx 522 Periboard is a full size mechanical keyboard with a large, fingers based trackball on the right.
Ergonomically speaking, it's typically better to separate the keyboard and mouse so you can position the two devices separately based on your shoulder's width. However, an all-in-one design makes it possible to both type and mouse on uneven surfaces such as on the couch. People who are bed ridden have also found this form factor a godsend in letting them operate their computers more effortlessly.
8. Handshoe Mouse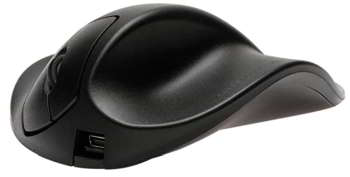 Out of all the alternatives in this lineup, the handshoe mouse resembles most closely to a regular mouse. In fact, it's basically a modified horizontal mouse with two large basins to rest your pinky finger and thumb using.
To use a handshoe mouse, you simply place your palm on the mouse, with the thumb resting in the left basin.
The biggest benefit of a handshoe mouse is that it eliminates the need to grip or pinch the mouse. This reduces muscle activity everywhere from the neck, shoulders, to the arms, and potentially strain in those areas.
A well known handshoe mouse on the market is the Hippus M2WB-LC
9. External Touchpad
Rounding off this list are touchpads. This is the same underlining device as the trackpad built into laptops, but just bigger, slicker, and with more features. The most well known external touchpad is Apple's Magic Touchpad.
There's also no gripping or pinching when using a touchpad, unlike with a conventional mouse. Since users are free to use whichever fingers they want to operate it, people who suffer from thumb pain or in other areas of their hand can easily use it.
The downside of a trackpad is that it doesn't support your fingers or wrist during operation. As such, general hand fatigue can develop faster than when using an ergonomic mouse.
The Jelly Comb external touchpad is a large 6.3″ trackpad that is worth looking into for people who use to upgrade the touchpad on their laptop, or as an alternative input device for desktop computers.