Updated: March 26th, 2021
Despite its name, standing desks are not meant to be used for standing for long stretches of time. In fact, a 2015 study found that prolonged standing can contribute to everything from varicose veins, lower back pain, to cardiovascular problems.
This is where a tall office chair can really come in handy. This lets you alternate between sitting and standing to get only the benefits of a standing desk minus the risks.

In this buyer's guide we researched and filtered the 9 very best tall office chairs that go well with standing desks, each with something unique depending on your needs. Let's get started!
Best Tall Office Chairs for Standing Desks at a Glance
Best Overall Tall Chair
Our pick for the best overall ultra tall office chair is the Nouhaus ErgoDraft chair thanks to its successful melding of a full blown ergonomic chair with a tall cylinder underneath to give you a truly ergonomic tall office chair.
Most drafting chairs fall short in some areas of ergonomics as they awkwardly try to combine an office chair with a tall stool. The Nouhaus ErgoDraft is the first drafting chair we've come across that makes no compromises along the way.
Adjustable headrest to support your neck? Check. Syncro tilting backrest that can recline up to 135 degrees to relax your back? Check. Lockable casters to prevent unwanted movements? Check.
The ErgoDraft's seat is perched on top of a tall cylinder that raises between 23.4″ to 30.9″ (floor to seat). The footrest height is also adjustable, a critical feature to ensure the chair will be comfortable for you regardless of your height.
For anyone that intends to use their tall chair for more than just taking short breaks from standing, the ErgoDraft is among the best in providing long term comfort raising you high up.
Outstanding Features:
Tall backrest that tilts and reclines up to 135 degrees.
Lockable casters to prevent unwanted movments
Large headrest that moves up/ down and pivots
Height adjustable footrest
What other owners say:
This is a great chair to use with a standing desk. I usually sit or just lean against the chair as I stand to take short breaks.
This chair will only be comfortable if you have a tall desk. Even the lowest setting may be too tall for a regular desk.
Check out the latest price and more customer reviews.
Runner Up
Sliding into second place for the best tall office chair is the MOOJIRS Ergonomic Drafting Chair. The S-shaped backrest, mesh material plus independently adjustable footrest together make the MOOJIRS a well-rounded offering.
The standout feature of the MOOJIRS is the curved backrest that properly supports your lower back for a nice respite after standing. The back and seat are made of mesh so you'll still feel fresh even during summer. We also love the waterfall seat that does a great job of reducing pressure in your legs as you're perched up high.
It doesn't have a tilt function, however. According to the manufacturer, the MOOJIRS was supposed to have this feature. They cancelled it for safety purposes since the center of gravity is too high.
Outstanding Features:
Durable Korean-made mesh material
Integrated lumbar support
Waterfall edge seat
Independently adjustable foot ring
Strong aluminum alloy base
Supports up to 300 lbs
3-year warranty
What other owners say:
The height is easy to adjust and the footrest is just right.
The build quality was much better than I had expected.
Check out the latest price and more customer reviews.
Most Stable Base
For very tall people who are concerned about tipping over when using a drafting chair, we recommend the Smugdesk Tall Office Chair for the most stable base in a tall chair we've encountered. This is thanks to its 25-inch wide 5-claw base and 360° swivel.

The ventilated mesh back has a 3° curve to encourage proper posture while the contoured foam seat has a waterfall edge for better lower body blood circulation. The separate adjustments for the seat height and pedal are great additions as well. This makes it easier to find a more comfortable position when you're working long hours on a standing desk.

Outstanding Features:

Wide, 5-prong base for extra stability
Mesh back and seat
Integrated lumbar support
Independently adjustable seat height and foot pedal
Height-adjustable armrests
Excellent customer support
1-year warranty
What other owners say:

This tall drafting chair is a must-have when you work in a laboratory, architectural firm, or any office with a high working surface. It's the perfect companion for long work hours because it's comfortable, supportive, and refreshing.
I understand the purpose of the waterfall edge seat but I keep having to readjust my position since I'm constantly sliding off. No recline function either.
Check out the latest price and more customer reviews.
Best Space Saving Flip-Up Arms
Outstanding Features:
The highlight of the Hylone Tall Office Chair is its easily dismissible flip-up arms. Instead of rolling the chair out of the way when you wish to switch to standing, you can simply tuck the chair under your standing desk to minimize the space it takes up.
The backrest of the Hylone can rock up to 120°, a feature that a lot of drafting chairs lack. This robust tilt and tension control will relieve the pressure on your lower back after prolonged standing. The curved back is also made of a mesh material that will keep you cool while working.
Air-cool curved mesh back
Adjustable tilt and tension mechanism
1-year warranty
Flip-up arms
Waterfall edge seat
Independently adjustable seat height and foot ring
What other owners say:
I love that the chair goes so high. Perfect for the standing desk I got for work from home during this pandemic.
It's super comfy and has great lower back support. My only complaint is that the seat padding is too thin. I ordered a seat cushion.
Check out the latest price and more customer reviews.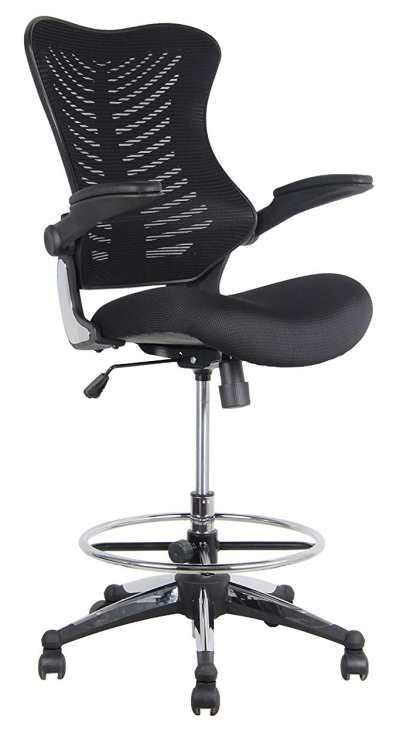 Runner Up for Best Tall Chair with Flip-Up Arms
This is better choice over the Poly and Bark if you're on the short side but still want a tall drafting chair with flip-up arms. It's very similar to the previous product except that it has a lower minimum seat height. This means that it will be easier to reach for people with short legs. You can even adjust the foot ring to match the length of your leg.

The Office Factor tall office chair is also a breeze to put together. All the screws line up perfectly, and assembly should take no longer than 15 minutes.

Outstanding Features:

Streamlined and curved mesh backrest
Independently adjustable seat height and foot ring
Flip-up arms with lock
Tilt function
Easy to assemble
5-year warranty
What other owners say:
As a designer who spends hours and hours painting and drawing on a bar, I've tested my fair share of drafting chairs. This product is sturdy, easy to assemble, and as comfortable as $800+ chairs. I like that you can move the arms out of the way too so I can switch to playing guitar.
The padding is on the thin side. Plus, the lift moves too smoothly, making it a bit difficult to set it at the right height.
Check out the latest price and more customer reviews.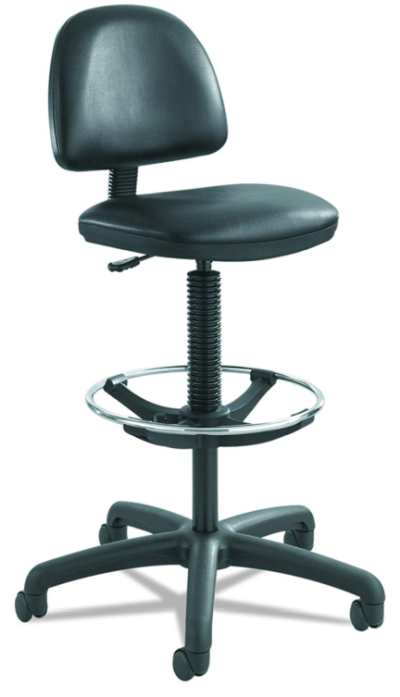 Best Armless Tall Office Chair
Next up we have the Safco tall Task Chair, your best bet for a drafting chair with no arms. Such a design enables the seat to be used by a variety of people big and small, as there is no armrests to get in the way. The downside is that you lose arms support, making these types of high office chairs more suitable for short term breaks from standing.
In terms of ergonomics, the two most impressive features of the Safco Task Chair is located in the backrest. It is both height and depth adjustable, letting you tailor the backrest to cradle your back precisely.
Outstanding Features:

10" seat height range adjustment
Vinyl cover
Backrest height and depth adjustment
Waterfall edge seat
Removable back
Armless
Limited lifetime warranty
What other owners say:

I love that it comes with a lot of adjustments. I spend up to 10 hours a day on my workbench and this eliminated my back and leg pain.
Raising the seat is very easy with the lever but you need to put some force if you want to make it go down again.
You can watch how smooth the pneumatic adjustment of the Safco Precision goes here: Video
Check out the latest price and more customer reviews.

Tallest Seat Height Range
Are the drafting chairs we've listed so far for you not tall enough? We recommend checking out the AmazonBasics Drafting Stool, an affordable, armless stool with a tallest maximum seat height of 36.2".
It looks classy with its black leather cover, making it fit right in in most room decors. What AmazonBasics didn't highlight though is that this stool is also very stable. This is thanks to its 21" foot rest and 24" base being wider than the 16" base.

Outstanding Features:

Black bonded leather upholstery
Armless
High maximum seat height
4-inch thick seat cushion
Easy to assemble
Detachable padded backrest
1-year limited warranty
Wide footrest and base
What other owners say:

Right from the start, I could tell this is a well-made product, very solid. Assembly took less than 5 minutes with the provided screws and allen wrench. It's armless so I can get as close as possible to my workbench. But, best of all, it passed my instability test. No tipping at all no matter how far I leaned or reached.
The padding is thick but I wish it was contoured for better support. The foot rest isn't adjustable either.
Check out the latest price and more customer reviews.
Best Budget Tall Office Chair
The Flash Furniture Tractor Stool has a lot going for it, from its eye catching design to its ultra light weight (15 pounds) for great portability. But the best thing about this tall chair is its budget friendly price tag.
For under $50, you'll get a stool with a 5.5" seat height range, allowing you to adjust to a comfortable posture as you work on your tasks. It's armless so you're free to move closer to your workbench.
The molded tractor seat is comfortable but not meant to be used continuously for long hours. This will get you off your chair to prevent a sedentary lifestyle.

Outstanding Features:

Available in 17 colors
Very affordable
Molded swivel seat
High-density polymer back and seat
Armless
Removable backrest
Uses glides instead of casters
5-year limited warranty
What other owners say:

I am disabled so I have trouble moving around. I use this in the kitchen to scoot everywhere from the sink, refrigerator, and counter. It's lightweight, easy to clean, and way more maneuverable than my wheelchair.
It doesn't come with casters so I had to buy them separately. It requires a lot of arm strength to lower it as well once you have the seat up.
Watch the Tractor Seat Stool in action here: Video
Check out the latest price and more customer reviews.
Best Multi-Purpose Tall Chair
The BenchPro Task Chair is a highly robust high chair that you can use in many different environments, be it in labs, healthcare, offices, or at home. It boasts a 10-year unconditional warranty so you know that you're getting a quality product at a reasonable price.
This tall chair is tested to handle up to 450 lbs of weight (the highest on our list!) though the company suggests switching to glides if you weigh more than 300 lbs for safety. The seat and backrest are firm but still have enough give to be comfortable since they're made of high quality self-skinning polyurethane foam.

Outstanding Features:

Adjustable backrest height and angle
Modifiable seat depth with waterfall edge
10-year unconditional warranty
Self-skinning polyurethane foam
ANSI/BIFMA and DIN-compliant
Armless
Adjustable foot ring
What other owners say:

I bought two of these – one for my lab and another for my garage at home. I can tell that this will serve me well for years, a great thing considering its price. It's very comfortable and, with its adjustments, can accommodate a wide range of seating preferences."
Love this chair! My only gripe is that it slides around too well. I just bought a set of locking casters and installed them in a jiffy. Problem solved.
Check out the latest price and more customer reviews.
Best Tall Saddle Chair
The LCL Beauty Air-Lift Saddle Stool brings the health benefits of the saddle stool to standing desks and other tall surfaces. This includes better posture, less lumbar pressure, better upper limb function, and improved balance.
For a budget-friendly price, you get a large, thickly padded saddle seat covered in chic-looking PVC leather. Aside from being height-adjustable, you can change the position of the foot ring so it can comfortably support your feet. It's quick to assemble and completing the package is a 1-year warranty.

Outstanding Features:

Saddle seat design that encourages better posture
3" thick seat with PVC leather upholstery
Adjustable foot ring
1-year manufacturer's warranty
Budget-priced
What other owners say:

It took me a couple of weeks to get used to this high stool, but I noticed the pain from my tailbone injury getting less and less. Easy to put together. The height is perfect for my longarm quilting machine.
I wish it raised a few more inches to go with the standing desk I bought and that it has a backrest for when I want to take a break. The padding is also on the thin side.
Check out the latest price and more customer reviews.
Common Questions About Tall Office Chairs for Standing Desks
Now, we'll answer some of the frequently asked questions that can help you maximize the benefits of using a tall office chair with your standing desk.
How Often Should I Sit While Using a Standing Desk?
Research says that the optimal ratio is an hour of standing for every two hours of sitting. This will enable you to maintain a good level of comfort and energy without affecting your productivity.

If you get tired from standing easily, use an anti-fatigue mat and switch to 30 minutes of standing and 1 hour of sitting.
What Is the Ideal Standing Desk Height from an Ergonomic Standpoint?
The ideal workstation height depends on your body height. For a standing desk, the goal is to keep your elbows at a right angle from the desk when you're standing up.
That means the desk height should be at or slightly below your elbow height. For example, for a 5'8" person, the standing desk height should be around 44.8" high.

What Is the Ideal Tall Office Chair Height?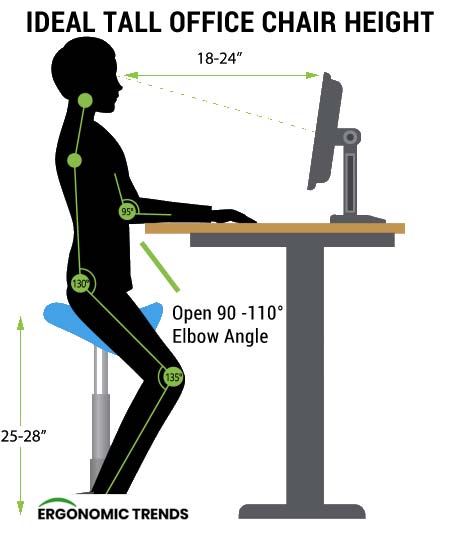 The ideal office chair height when paired with a standing desk again comes down to your elbows' angle.
When you sit on your tall chair, your elbows should still be at a 90 – 110° angle from the surface of the standing desk. At this angle everything from your forearms to your shoulders are relaxed. It also puts your wrists at a neutral position relative to the keyboard to minimize strain when typing.

If your standing desk is height-adjustable, then theoretically any ergonomic office chair can be used, as you simply lower your desk to attain the right elbow angle. However, lowering your desk frequently is not only a hassle, but may mean eventually you'll simply end up sitting down most of the time.

A better set up is to get a tall office chair that can be raised to meet the height of your standing desk in its standing configuration. For most people, a tall chair with a maximum height that is around 12″ below your desk surface height will work just fine.
Most Important Things to Look for in a Tall Office Chair
When it comes to tall office chairs, there's no one-size-fits-all. What works for another user might not work for you. To find out which high chair is the right one for you, here are some factors that you need to consider.
Seat Height
The seat height is the most crucial element of a tall chair. It should support at a minimum height adjustment to 30″ or higher (floor to the top of the seat) to accommodate sitting with a standing desk.
Seat Size and Shape
Since you'll be spending quite a lot of time sitting while working, the next thing you need to ask yourself is whether the seat itself is comfortable. Is it wide enough to support your behind? Does it have enough give or cushioning?

The shape of the seat can affect the overall condition of your tush too. A waterfall edge seat encourages blood circulation to your lower limbs. Meanwhile, contoured seats are designed to distribute the body weight to a larger area and reduce the pressure points in the tailbone and the back of the thighs. A saddle seat, on the other hand, puts you at the most suitable position for long periods of sitting according to Danish surgeon A.C. Mandal.
Upholstery
When it comes to upholstery, you have several options. Mesh and fabric are popular options for people who want to stay cool while working. They are, however, not that durable and are harder to clean.

You can also opt to buy a leather tall chair but the price will depend on the quality of the material. Bonded leather is affordable, easy to clean, and chic-looking but not breathable.
Backrest
A backrest is ideal if you're going to sit for long periods of time. But, if you'll be moving a lot, you might like the extra space that a backless model offers. It will also encourage you to maintain proper posture while working.

If you do decide to get one with a backrest, make sure it has with lumbar support.
Armrest
Just like the backrest, you can get high chairs with or without arms.
If you want to have extra space or the freedom to move closer to your workbench, a model without armrests would be ideal. Should you choose to go for a drafting chair with armrests, it should have some form of cushioning to prevent repetitive strain injuries like bursitis and cubital tunnel syndrome. Alternatively, you can slip on some armrest pads. If you want to get the best of both worlds, flip-up armrests are the way to go.
Footrest
When you're using a high chair, your feet won't be able to reach the floor, so a robust foot ring is a must. Make sure the footrest is sturdy and made out of metal, since you'll most likely be using this to step down from your seat as well. It should also be height adjustable to cater to your legs regardless of their length.
Caster and Glides
Casters allow you to move around without having to get off your high chair. However, if you are more than 300 lbs or have poor balance, it might be dangerous to use a drafting chair with casters, as it might roll off when you're going up or getting off. As such, we'd recommend using replacing the casters with glides.
Weight Capacity
Finally, make sure that the tall chair that you choose is right for your body weight. If you weigh 180 lbs, try to aim for a model that has at least a 200 lbs weight rating. This indicates that the chair has been tested to be capable of handling up to that weight.
Related Resources