Fact: Studying does a number on your body. According to one study, a staggering 74% of college students experience lower back pain.
Apart from remembering to get up frequently to move your body, a good study chair can also help tremendously. They help encourage good sitting posture and are designed to support your body better in the study position. In this post, I'll talk about the 5 best types of chairs for studying, and our top picks in each category.
The Best Chairs for Studying at a Glance
Some chairs are simply better than others for studying from an anatomic and practical standpoint. The 5 best types are:
1. High Back Chairs with Neck Rest
Best For: Long study sessions and at home
For long study sessions, the best type of chair is one that supports all the major parts of your body that fatigue after a while. Think your neck, shoulders, and lower back in particular.
For people that often study for many hours on end, our top recommendation is a high back chair with an adjustable headrest. It offers the best full body support when properly configured.
Sale
Relatively cheap, ergonomic, and highly breathable. The Sihoo M57 is our top pick for a high back office chair for students looking for a supportive chair that won't break the bank to help them ride out long study sessions.
To start, it has a high curved backrest that conforms to the spine to minimize spinal pressure. The integrated lumbar which is both depth and height-adjustable does a good job of supporting your lower back, as we found out.
Having robust neck support is also critical, with the human head weighing more than a bowling ball depending on the angle. Attached to the Sihoo's backrest backrest is a highly adjustable headrest. Aside from changing its angle, you can lock it at 7 different height points within its 3.9" range to cradle your head in different positions.
Take note, you get all these features for less than $250. According to a mom who bought the M57 for her son's study corner, this is the best deal she could find for all these features.
Still, there's no such thing as a one-size-fits-all. The M57 is best suited for average-sized users (about 5'4" to 6').
If you fit the bill, the M57 is unbeatable at its price when it comes to providing constant support to the neck, shoulders, and lower back.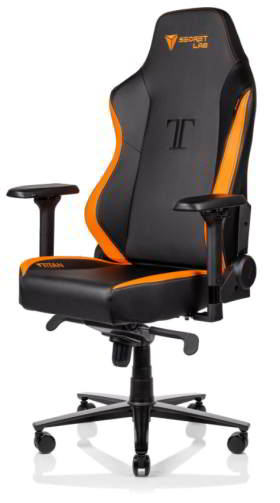 Suggested Retail Price: $499
The Secretlab Titan combines the "coolness" of a gaming chair with the comfort and adjustability of a high end office chair. As such, it received our highest rating ever last year for a chair when we reviewed it.
The Titan comes with one of the most robust tilting mechanism around. We found tilting the chair absolutely effortless despite the massive 33″ tall backrest, which really helps encourage constant movements to your back as you study. Furthermore, the Titan chair supports multi-tilt, a rare feature that lets you lock in the seat angle as well (and not just the backrest). This facilitates working in a back saving reclined position from time to time, by angling your whole body upwards:
The wide armrests on the Titan are also one of the most comfortable we've come across. Its rubbery surface is gentler on the elbows compared to plastic ones. They are also 4-directional, so your arms and shoulders are supported no matter if you're typing or reading a textbook.
According to one mom, she feels less worried about her son sitting too much to study and play because of the Titan. Not only is her son slouching less, he's also moving a bit more thanks to the rocking feature.
The new Secretlab Titan Evo 2022 edition improves upon the 2020 model with a magnetic neck pillow that can easily move up or down or even removed/ reattached on a whim.
Although the adage "you get what you pay for" isn't always true, it is spot on when it comes to the Titan. You can get at least 5 years of support and comfort from this incredibly tanky chair.
2. Mid Back Mesh Chairs
Best For: Short to long study sessions
Certain mid back office chairs are also great for studying.
Firstly, from a decor standpoint, a mid back chair is visually less imposing, and can make your surroundings appear more spacious compared to its high back counterpart. For students that live in a dorm or even adults in a small office, the psychological effect is worth taking into account.
A good mid back chair can be almost as ergonomic as a high back chair for short to medium length sitting. The best ones should be highly breathable (think mesh), can both tilt and recline, and come with a backrest that reaches your shoulders.
One study finds that the preferred backrest angle for comfort for college students when studying is 15 degrees from upright. This means a mid back chair that allows you to recline and lock in the angle of the backrest – instead of just tilt – would be ideal.
Sale
In our 30-day test, we found the WorkPro Quantum 9000 to be one of the best mid back chairs in its price range. Underneath its unassuming look are plenty of adjustable features that will make your long study hours less tiring.
Our favorite two features are the adjustable seat depth and height-adjustable backrest. These are not typical features that you see in an mid range office chair. The ability to adjust the backrest's height in particular (up to 3″) ensures it will provide good coverage for a wide range of body heights.
We also like the tilting mechanism on the Workpro 9000. Unlike many mid range office chairs, it can both tilt and recline, meaning you can lock in the angle of the backrest (up to 120 degrees) to study in a more relaxed position.
One college student remarked that he wanted something similar to his dad's Herman Aeron for his dorm room. He said that the Workpro 9000 hit the spot and it's great because it doesn't make the room look cramped.
Most of the complaints about the Quantum 9000 are due to its 3D armrests. A slight bump and they move out of position too easily.
All things considered, we happily recommend the Quantum 9000 to students who are looking for a well-built and comfy mid back chair that fits right in in spatially-challenged rooms.
On a really tight budget as a student? The TribeSigns office chair is worth a look. It may not have all the bells and whistles of the pricier Workpro 9000 above, but for its price point, this is a relatively comfortable and well built chair.
Comfort starts with the well-ventilated mesh back and high-density seat cushion. The curved backrest can rock up to 30° back with tension control. The seat is also spacious, and measures 19.3″ wide. These attributes has one happy buyer calling the chair "very comfortable and sturdy".
Let's not forget, the TribeSigns is a mid back chair, so it will fit right into even small dorm rooms. For its price point, the build quality is also good. The chair is rated for 300 lbs of maximum weight.
On the flip side, this chair is still rather bare bones in terms of adjustments. The armrests, for example, are fixed into place. The backrest also only tilts, but can't recline and lock into a particular angle.
With the right level of expectation, you'll find that the TribeSigns is actually fairly good in terms of keeping you comfortable for the short to medium term.
3. Forward Tilting Chairs
Best For: Short to long study sessions that involve writing or looking down.
Another type of chair that can be conducive for studying is a forward tilting office chair.
For students in particular, studying usually involves reading a textbook or taking notes where the gaze is fixated downwards on the desk surface, versus straight ahead looking at a computer screen.
In such cases, an office chair whose seat can tilt forward can be a big asset. This neutral sitting position not only naturally directs your gaze slightly downwards, but has been shown to reduce back pain.
The Herman Miller Aeron is one of the most well-known office chairs for a reason – it's simply ergonomically superior to virtually all other chairs on the market. Backed by years of research, it has plenty of human-centered features including a forward tilt function that echoes natural body mechanics.
To use the Aeron's forward tilt, simply rotate the outside knob on the left side forward. This will rotate your pelvis about 5° forward and put your thighs in a declined position. Studies have found such a position to greatly reduce the pressure on your lower back.
One student observed that his back doesn't feel as tired as before once he started assuming a forward-angled trunk while doing intensive tasks like reading or writing using the Aeron's forward tilt feature.
The seat on the Aeron is also perhaps the most comfortable you'll come across in a mesh set up. It features 8 tension zones to adapt to the shape of the your bottom precisely and offer just the right amount of support for each region.
What the Aeron is lacking is an adjustable seat depth. In its defense, Herman Miller does offer the Aeron in 3 sizes.
The price tag of the Aeron might be too steep for most students. But if you do have the means to get one, it will surely make a huge difference to the way you study.
If you're looking for a budget-friendly alternative to the Aeron, the Sidiz T50 is an excellent option. Sporting a similar forward tilting seat in a fabric upholstery, you get similar benefits for declined sitting as the Aeron at a fraction of the price.
First of all, the T50's seat depth can move by up tp 2.7" to better support long thighs. What's more, you can change its angle to forward tilt just like on the Aeron. One student observed that he felt immediate neck, waist, and back relief the first day that he started using the T50.
As for the curved mesh back, it can tilt back a total of 125° at 5 lockable thresholds. This will prove useful when you're doing different tasks, no matter if you want to lean back to read or scoot forward to write.
When it comes to the lumbar support, there's room for improvement on the T50. Though you can control both its height and depth, we wish it was larger to better cover your lower back.
Still, the fact that the T50 supports forward tilting, along with other ergonomic functions, is a great feat at this price point. The bonus? It comes with a neck rest while on the Aeron, that costs extra.
4. Active Sitting Chairs
Best For: Short to medium study sessions and for the restless.
Active sitting chairs try to tackle the fundamental health issues associated with sitting still for a long time, by promoting micro movements as you sit, or positioning your body in a way that deviates from the standard sitting posture.
For best results, alternate between an ergonomic office chair and active one so your body isn't forced into the same posture for too long.
A kneeling chair can provide many benefits when used in short bouts of sitting, such as strengthen your core and alleviate back pain. And for one of the best kneeling chairs on the market, the title goes to the Dragonn Kneeling Chair.
The thing about kneeling chairs is that it can take a while for your body to adjust to kneeling on your shins. The Dragonn comes with 4″ thick high density cushions that make this a lot easier to do – and for longer:
In our 2-week test of the Dragonn, we were equally impressed by the adjustable height on the Dragonn. It can go from 21" to 28", allowing it to work with everything from a standard 29″ desk to a standing desk. Just remember that as the height changes, the back seat angle changes as well. Aim for a 20° angle for the best weight distribution. This the most common
One nursing student's advice is to switch this up with an ergonomic office chair to get the best of both worlds.
What's problematic about the Dragonn are its casters. Though they are lockable, they don't roll smoothly so it's hard to move it.
Despite this drawback, we give the Dragonn two thumbs up for having one of the best cushions that we've ever tried on a kneeling chair.
The Vari Active Seat is an awesome active sitting chair that engages your legs and core muscles as you lean or sit on it. The chair pairs perfectly with a standing desk or your kitchen counter due to its robust height range.
A compact weighted base keeps the Vari Active Seat firmly on the floor as you tilt in all directions. The air lift piston enables the seat to go from a low 22″ to a maximum height of 35″.
A husband got this for his wife's home office because she started to complain of back pain due to extended sitting. With the Vari Active Seat, she can stand, lean, or sit, which has proven very helpful in alleviating her pain.
Just like with the Dragonn, the Vari Curve Seat requires acclimatization. Since it's more a stool than an office chair, the padding isn't that thick. As such, it's best suited for short term sitting or medium length leaning against.
The Vari Active Seat is a great addition to any tall surface around the house to enable you to take short breaks from standing or add movements to your lower limbs as you sit.
5. Flip Up Arm Chairs
Best For: Short to medium study sessions and for small spaces such as the dorm
Last but not least, there are office chairs with flip up arms.
With dismissible arms, these types of chairs excel at fitting into tight spaces, something teenagers and college students will really appreciate. You can tuck the chair under any desk with ease, or create more lateral space for yourself when you need it, such as when you're playing the guitar or need to use the chair's seat as a makeshift dolly.
The downside of office chairs with flip up arms is that the armrests are typically not adjustable in any way other than being dismissible. This means they won't support your arms as well as other chairs, especially during prolonged sitting sessions.
The Mimoglad combines flip up arms with a mid back mesh design to create a compact and comfortable chair for short to mid term sitting.
To start, the armrests on the Mimoglad are generously padded, and can swivel upwards to get out of the way when not needed. One buyer loves that he's now able to easily tuck the chair under his desk to create more space when there are guests.
The Mimoglad is relatively comfortable and adjustable, especially for a chair at this price range. The lumbar support is actually height adjustable, and the synchro-tilt mechanism allows you to tilt the backrest up to 135 degrees, which is very generous for a mid back mesh chair.
The Mimoglad is, however, not for the big and tall. People 5'10 and up will find it too small for comfort.
The good news is that if you are petite or of average size, you'll find the Mimoglad suitable enough for quick study sessions.
Sale
In our review of the Hbada Task chair, we found it surprisingly comfortable for a basic task chair. Like the Mimoglad chair above, being able to do away with the arms on a whim proved handy on multiple occasions.
The size of the seat on the Hbada is fairly wide to begin with, at 19.25″. Throw in arms that can be dismissed, and we found a new sense of liberty sitting on the Hbada. Without arms getting in the way, it's easy to completely sprawl out or scoot right to the edge of the desk.
The lumbar support on Hbada task chair is fixed, though it works well in supporting your lower back, as long as you're within a certain height range (below 6′ or so). The backrest also supports tilting (up to 125″), though like on the Mimoglad, does not recline and lock into a certain angle.
The main caveat of the Hbada for what it is is that the default, non adjustable armrests are a little too low. It raises to 27.5″, which is a few inches short of the default height of standard desks.
For sitting on 2 – 3 hours at a time, the Hbada is a cheap yet comfortable task chair we have no problems recommending.
Related Posts