If you suffer from wrist pain or the dreaded carpal tunnel syndrome, a vertical mouse can help prevent your condition from getting worse, by keeping your wrist as neutral as possible during operation. However, not all vertical mice are created equal.
In this guide I'll show you the 5 best vertical mice specifically for people with wrist pain. All of them push the envelop in some way to protect your wrist better.
The Evoluent Vertical Mouse 4 is the most aggressive vertical mouse currently on the market, which is exactly what the doctor ordered if you have wrist pain, or are at a high risk of developing it.
Evoluent is no stranger to vertical mice. In fact, they were the pioneers of this design when they introduced the world's very first vertical mouse in 2002. The mouse comes in 3 sizes, and it's pivotal to pick the right one based on your hand size to be comfortable.
What differentiates the Evoluent Vertical 4 mouse compared to all other vertical mice is just how far they've decided to take the vertical design. The main buttons are placed at a near 80 degrees slope. The result? A close to perfect handshake position when you hold the mouse. For those that suffer from wrist pain or carpal tunnel syndrome, the key to preventing your condition from getting worse is to keep your wrist as neutral as possible at all times. The Evoluent Vertical Mouse 4 accomplishes this like no other mice we've tested.
Design aside, let's talk about the main features of the mouse now. To start, there is a mouse sensitivity rocker that lets you easily toggle the sensitivity of the mouse pointer. This is by far the best implementation of a DPI switch I've seen on a mouse. An LED bar shows you exactly how sensitive the mouse is right now on a scale, instead of having to guess.
On the right side of the mouse are also the two primary mouse buttons plus a surprisingly helpful middle button. By default when you click the middle button over links on a webpage, it automatically opens the link in a new tab in the background (Ctrl + left click). On Google search or websites with lots of links I want to open quickly in the background, it's a godsend ergonomically to have a dedicated large button that does this (or for any multi-step command) with just one click.
To cushion your pinky finger as you maneuver the mouse, there is a protruding lip on the same side that does add to the overall comfort of the mouse.
So Evoluent's form factor will protect your wrist like no other, though it does come at the expense of being less comfortable, even compared to other vertical mice. This is all because the perfect handshake position basically has you resting your wrist and forearm on its side, which is more bonely and has less surface area then then when you rotate your wrist even slightly. If you have wrist pain already, it's a small price to pay to basically prevent your condition from getting worse.
At the end of the day, the Evoluent mouse is the best ergonomic mouse out there if you're at a high risk of or already have wrist pain or even carpal tunnel syndrome. If you simply want to prevent potential wrist issues down the road, the other mice on this list with a less "vertical" design may be a better fit for you.
Pros:
Keeps your wrist at near perfect handshake position
Most intuitive DPI switching with LED indicator
Awesome 3rd middle click button
Comes in 3 sizes for more personalized fit
Cons:
Quite expensive
Not quite as comfortable to use for prolonged periods versus other vertical mice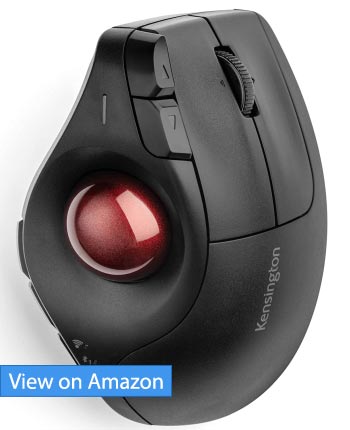 When it comes to protecting your wrist, the two best form factors in a mouse are the vertical and trackball design. Whereas the first form factor helps keep your wrist at a neutral position, the later minimizes any wrist movements required to operate the mouse.

The Kensington Pro Fit combines both designs to create a truly ergonomic mouse for people with wrist pain. The vertically sloped design in combination with a thumb operated trackball means your wrist remains neutral and completely still at all times. You don't need an ergonomist to tell you just how great that is for your wrist.
It took me literally 5 minutes to feel right at home with the Pro Fit. Granted, I've used a trackball before, though credit must be given to Kensington for its great execution that made this possible. The trackball itself is sized just right and perfectly placed underneath my thumb. The mouse is hefty and stays completely stationary with no chance of sliding during use.
Let's talk about features now, which the futuristic looking Pro Fit comes with quite a few actually There are 9 programmable buttons, a physical DPI (mouse sensitivity) switch at the bottom, plus dual wireless and bluetooth connections to let you connect the mouse with up to 3 devices at once (similar to the Logitech MX Vertical).
The one downside of a trackball is the higher learning curve. Certain tasks that require holding down a mouse button and maneuvering the trackball simultaneously will take a little time to master (such as drag and drop). And some people simply never get fully used to this type of mouse. Regardless, if you suffer from wrist issues such as carpal tunnel syndrome, a good vertical trackball mouse like the Kensington Pro Fit may be the holy grail of mice for you.
Pros:
Vertical plus trackball design keeps wrist completely still
9 customizable buttons
Physical DPI switch underneath mouse
Supports both wireless and bluetooth
Cons:
Higher learning curve compared to standard vertical mouse
Trackball might need some greasing to be perfectly smooth
The MX Vertical Mouse is one of the most well rounded vertical mice we've come across in recent years, and earns a solid 3rd place in our list of best mouse for wrist pain.
The MX Vertical is sloped 57 degrees on the right side, compared to the much more drastic 80 degrees on the Evoluent. The thumb rest on the left side is also less defined, allowing you to rest your thumb more freely where you choose.
This "gentler" design means most people will adapt to the MX Vertical much faster than the Evoluent. A good portion of these people will probably also find the MX Mouse more comfortable to use in a marathon session due to the less pronounced right side slope that won't have your wrist and forearm resting completely on their sides.
Logitech's own research shows a 10% reduction in muscle strain thanks to its 57 degrees vertical design. In my estimation the number for the Evoluent is naturally even higher thanks to the near perfect handshake position it helps you assume.
A physical DPI button at the top of the MX Vertical enables you to toggle between various mouse sensitivity settings. At its most sensitive 4000 DPI, less movement of the mouse is required to make broad cursor moves, further minimizing strain on your muscles.
Finally, the MX Logitech mouse comes with FLOW, an exclusive technology that lets you use the mouse with up to 3 devices simultaneously. For me, I frequently switch between my desktop in my room and laptop in the other during work, and the feature basically doubles my investment, by letting me use the same mouse seamlessly across the two devices. That alone is worth the price of admission for me.
Pros:
Scientifically proven to reduce muscle strain
Physical DPI switch with up to 4000 DPI sensitivity
Premium rubber texture
Can be simultaneously used with three devices
Cons:
Back and forward button placed too high
The best way to describe the R-Go Tools Break Mouse is that it's basically Evoluent's little brother. The mouse is smaller, cheaper, and not quite as radical in terms of design. For people with less severe wrist pain or are new to this type of mice, the R-Go Tools mouse is a good alternative to the original vertical mouse that started it all.

The R-Go Tools Break comes in a regular and large size. The normal size should fit both folks with regular and small sized hands just fine, as the "peaks" and "valleys" on the exterior of this mouse are a lot less dramatic than those on the Evoluent, making the need for a small size unnecessary.

The slope where the main buttons are housed on the R-Go Break is angled around 60 degrees at the top, creating a vertical mouse that's arguably more comfortable to use after a while compared to the Evoluent. However, this does translate into more wrist rotation, which if you have severe wrist pain will want to minimize as much as possible.

Like the Evoluent, there is a physical sensitivity control to toggle the responsiveness of the cursor (though no LED indicator). There are also two customizable buttons on the thumb side.

What sets the R-Go Break mouse apart from its peers is its lofty goal of getting you to practice more healthy computing. It does this through software that keeps track of your mouse usage (time, clicks etc), and by using an LED indicator on the mouse and audible sounds, remind you when you should take breaks. In reality how effective this is really depends on your commitment level, but the tools are there, and it's something only the R-Go Break Mouse offers.
Pros:
Good alternative to the Evoluent Mouse 4
Physical DPI switch with LED indicator
LED light and software that tracks and reminds you to take breaks
Cons:
Slope of mouse may be too gentle for people with advanced wrist pain
Last but not least, we have the J-Tech v628 mouse, a great vertical mouse for people with larger hands.

The J-Tech v628 towers over all the other mice on our list with a height profile of 5.8". For a vertical mouse, this means more surface area for your hand to rest on. The joystick-like form factor also enables a variety of ways to hold the mouse, from gripping it to loosely resting your digits on the buttons. All this makes the V628 mouse extremely accommodating for people with large hands.


The maximum angle of your wrist relative to the desk surface when holding the J-Tech V628 is around 40 degrees. This isn't quite as pronounced as most of the other mice here, but still much better than any traditional mouse.

Like any good ergonomic mouse, the J-Tech V628 comes with a physical DPI switch to adjust the mouse sensitivity between 800, 1200 and 1600. Sadly the button is on the bottom of the mouse, making it hard to toggle on a whim. The mouse also comes with a plastic palm rest that some people will appreciate for cushioning part of the hand.

One legitimate complaint of the V628 mouse is that it can be unwieldy due to its size and weight (11 ounces compared to say 7 ounces for the Evoluent Mouse 4). This can be true for people with smaller hands, or if you're trying to maneuver the mouse with your forearm instead of your wrist. As someone with medium hands, I have no issues with the V628's larger profile. I hold the mouse very loosely and use my wrist to control it. It's very comfortable this way.

The J-Tech V628 was our top pick for the best vertical mouse of 2019 for a reason. It's the least expensive of all the mice on this list, and allows you to hold the mouse in a variety of ways to maximize your comfort. The height profile and weight however means it is still best suited for people with larger hands.

Pros:
Profile ideal for people with larger hands
Unique form factor allows a variety of ways to hold it
Detachable palm rest
Cons:
People with small hands may find mouse too cumbersome