Considering most of us spend half of our waking hours sitting, if you suffer from lower back pain, learning the dos and don't of how to sit is pivotal for not only preventing your condition from getting worse, but potentially even improving it.
In this post I'll share some best practices when it comes to sitting – backed by research – that will bring relief to your back pain.
See also: How to Sit with Sciatica
Get the Sitting Angle Right
When you're sitting, there are two points that you should pay special attention to:
Your back angle
Your knee angle
Backrest Angle
Contrary to what mommy may have told you about always sitting up straight, if you have back pain, make sure the backrest on your office chair is reclined to at least 100 degrees. This alone can reduce the pressure on your spinal discs up to 20% relative to a 90 degree upright backrest:
Never slouch or hunch forward, which is the worst posture to assume if you have back pain. Such a posture compresses the spinal cord and exerts tremendous pressure on your back, as you can see in the chart above.
While studies have shown the ideal recline angle for minimizing disc pressure to be 135 degrees, it's simply not practical to be working at that position (unless you're an astronaut perhaps). While taking a break, however, it is the perfect angle to set your chair's backrest angle to (see "Best Office Chairs for Back Pain").
Your Knee Angle
Your sitting knee angle is also important, which dictates your entire lower body posture:
Avoid crossing your legs when you sit. This is especially important if you suffer from sciatica.
Keep your knees bent at around 90 degrees
Make sure your two feet are both planted on the floor. Use a footrest if needed.
While these guidelines may seem rigid, the whole idea is to put your body into a neutral position that minimizes straining your back while encouraging good blood circulation. If you start to feel restless at this position, it's your body's way of telling you to get up and move a little.
Refrain from Overstretching and Twisting
Another important tip when seated is to avoid overstretching or twisting your torso.
Overstretching usually occurs when frequently accessed items are placed too far away from you on the desk, such as he keyboard, mouse, and documents. Apart from straining your shoulders, this also adds pressure to your spine as you lean forward.
Organize your workspace so items you access frequently are within your "primary zone".
Raise your chair and bring your keyboard and mouse close enough to you that your elbows are at an open 100 – 110 degrees, no wider.
Also, minimize twisting your torso when seated. When you repetitively twist, you can tear one of the large muscles or ligaments surrounding your spine. This leads to lower back inflammation and spasm. If you do need to reach for an object, turn your office chair along with your whole body. Avoid twisting your waist while seated.
Take Advantage of Those Armrests
Your upper extremities make up about 12% of your body mass. When left unsupported, the burden all goes to your spine, eventually leading to neck, shoulder, and lower back pain.
Always rest your arms on your chair's armrests or desk when typing or on the phone. Supportive armrests on an office chair can decrease the weight on your spine by about 10% of your body mass.
Armrests are also great in providing leverage when you want to get up.
Ensure Proper Lumbar Support
Lumbar support is crucial for helping your lower back maintain its natural curvature as you sit, which in turn reduces pressure build up on the spine.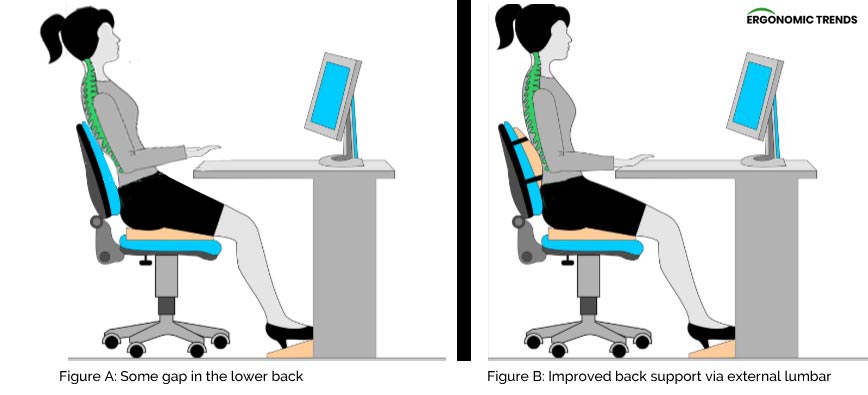 To determine if you need additional lumbar support in your office chair, sit with your hips pressed against the backrest. If there's a sizable gap between your lower back and backrest, you need more lumbar support.
When it comes to external lumbar pillows, research shows that ones with a a cut out design works best in improving the comfort in both healthy individuals and those suffering from lower back pain.
An orthopedic back stretcher behind the chair can also be helpful to speed up healing of the back.
Alternate Between Different Neutral Sitting Positions
Even if you're already in the "ideal" sitting position, alternating between different positions periodically is important, especially if you have back pain. Changing your position shifts where the stress points are located, giving other key areas in your back and legs a quick break.
Here are the 4 best "neutral" sitting positions you can adopt into your daily sitting patterns if you have back pain:
Reclined Sitting:- This posture is characterized by a backward-angled trunk. Since some of the upper body weight is supported by the backrest, this option has the lowest back muscle activity and, as such, reduces back fatigue.
When doing active work, set your backrest angle between 100 – 110 degrees. When doing passive work such as taking a call, set your backrest to 135 degrees, which studies have shown to exert the least amount of pressure on your spine out of all the reclined angles.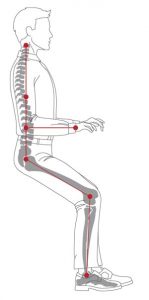 Declined Sitting: The highlight of this sitting position is a forward-angled trunk. The forearms are rested on the desk, and the thighs angled downwards. The back remains straight.
A study by A.C Mandal showed that declined sitting posture can significantly reduce low back fatigue, by making it easier to maintain the lumbar curve, plus shifting part of the body weight to your thighs. This is why students naturally tilt their chairs forward at school when sitting if their back is tired.
There are a few ways to achieve declined sitting. Certain office chairs such as the Herman Miller Aeron support forward tilting, though usually only slightly. To get the maximum benefits of declined sitting, look at kneeling chairs or saddle chairs with a 20 degree seat decline.
Standing: If you suffer from lower back pain, standing periodically can be extremely effective in taking a load off of your spine, and bringing blood circulation to your lower body. One study showed alternating between sitting and standing helped decrease lower back and neck pain by up to 54% in participants. Stand with a straight back to get the maximum benefits.
So what's the ideal duration to stand per hour? Research from the University of Waterloo found that the best sit-stand ratio for maximum health benefits is between 1:1 and 1:3. This means that for every 15 minutes of sitting, stand between 15 – 45 minutes, but no longer. Start at the lowest end to allow your body to adjust to standing.
Supine Sitting – More aptly termed supine computing, this is characterized by laying near horizontal as you work on your computer. At this position most of your body is supported by the workstation.
Research have demonstrated that laying flat results in the least pressure placed on the spinal discs out of all the typical positions our body assumes. This is where the genesis of supine computing comes from.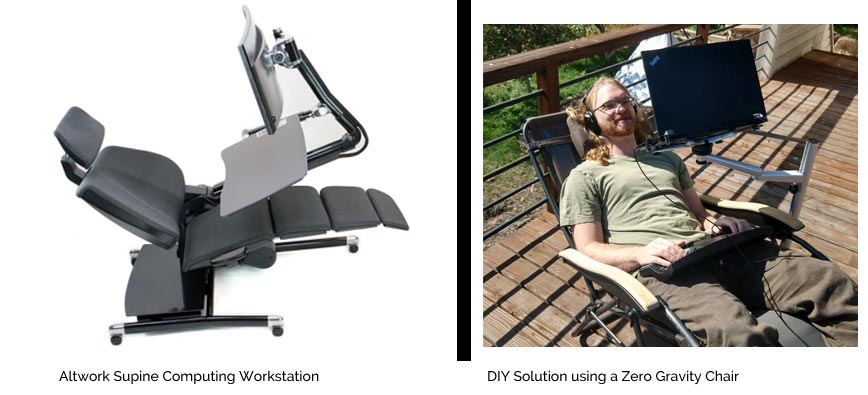 Supine workstations generally don't come cheap, though you can always go the DIY route.
For people with more serious back pain, supine computing is a more drastic option that can yield the greatest relief. Nonetheless, it should not be the only position you assume when you work- rotate with the other postures mentioned above.
Try Heat and Ice
Heat and ice have both been shown to bring temporary relief to back pain. Use either solution on the small of your back as you sit.
Icing numbs the area and helps decrease tissue damage. Meanwhile, heat therapy eases the soreness, tightness, and spams of tense back muscles.
Apply an ice or heat pack for 15 minutes two to five times a day. You can also alternate them to maximize the benefits.
Stand Up from a Sitting Position the Right Way
Aside from a proper way to sit, there's also a better way to stand up from a sitting position if you suffer from back pain:
Scoot to the edge of the seat.
Spread out your feet for stability and support.
Bring one leg a bit back for leverage.
If your chair has armrests, use them as leverage to shift the weight to your legs.
To stand, slightly lean forward and use the muscles on your legs to lift your entire body up.
Avoid bending the waist or using any back muscles.
Upon standing up, relax your back by doing a few back bends.
For a demonstration of how these steps are done, watch the video below. Video
Dietary Advice to Beat Back Pain
You are what you eat as the saying goes. Here are some important dietary tips if you suffer from back pain.
To Reduce Inflammation
An anti-inflammatory diet prevents cartilage inflammation in the spinal column. Your meals should focus on foods like the following:
Fruits and vegetables with deep colors – carrots, beets, cherries, berries, grapes, pomegranate, and watermelon
Omega-3-rich coldwater fish – Salmon, mackerel, sardines, tuna, and trout
Herbs and spices – basil, ginger, rosemary, garlic, onions, oregano, and turmeric
Green, leafy vegetables – Kale, spinach, and broccoli
Nuts – Walnuts, almonds, and pecans
Lean protein – Chicken and turkey
To Reduce Pain
Some foods are known to encourage inflammation. Avoid eating or drinking the following to ease your back pain:
Caffeine and alcohol
Processed foods and fast foods
Foods with partially hydrogenated oil in the ingredients list – Chips and crackers
Refined carbohydrates – Pasta, rice, and white bread
Sugary drinks and snacks
To Keep Your Spine Healthy
Eat vitamin D and calcium-rich foods to maintain a healthy bone mass.
Teens and older people need 1,300 mg and 1,000 mg of calcium daily. However, it's best to only take 500 mg calcium supplements and get the rest of what you need from natural sources.
Dairy products – Milk, cheese, yogurt
Seeds – Poppy, sesame, chia seeds
Sardines and canned salmon
Beans and lentils
Leafy greens – Collard greens, spinach and kale
Edamame and tofu
Calcium-fortified drinks and foods
Stretches and Exercises for Back Pain Relief
Last but certainly not least, every once in a while, stretch out your back to encourage movements and blood flow to your lower back and legs. "Move it or lose it" certainly applies to your back as well.
In a study involving over 4,310 participants, exercises that strengthen and stretch the back were shown to not only help prevent lower back pain, but make existing pain less severe.
There are many back stretches you can do even at your desk. Here are a few of my favorites:
Downward Facing Dog Stretch
This pose stretches the entire back and chest. It also targets the hamstring and increases the range of movement of the hips.
Sit up straight with your feet flat on the floor.
Raise your hands over your head.
Slowly bend forward at the waist until your neck and upper back is parallel to the floor.
Rest your palms on the desk.
Keep your back straight and head slightly engaged.
Hold this position for 5 seconds before slowly releasing.
Seated Pigeon Trunk Twist
This is one of my favorite lower back stretches. It opens up your lower back, hips, and even gives your legs a good stretch. This is an excellent exercise to do if you have sciatica.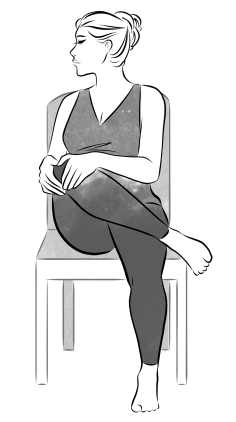 Sit up straight with your feet on the ground.
Lift your right leg and rest the ankle on the left thigh.
Grab your right knee using both hands and slowly lift it towards your torso.
On your exhale twist your body to the right.
Hold this position for 3-4 seconds.
Inhale and slowly release to original position.
Repeat on the left side.
Overhead Shoulder Stretch
This is a great stretch that helps elongate the neck, shoulders, and upper back. It puts your entire upper body back into proper postural alignment.
Raise your right arm overhead and bend it at the elbow towards the left side
Catch the right elbow with your left hand
Pull the right arm towards the left side and hold for 5 seconds. Feel a stretch along the entire side of the right arm and obliques.
Repeat this for the left arm now.
See more great back exercises at the desk you should be doing.