Looking for a gaming chair? The first dilemma you'll probably face is how much to spend, considering most gaming chairs are virtually indistinguishable from one another.
In this post, we'll take a look at what makes expensive gaming chairs different compared to their cheaper counterparts, and which one you should get.
Hint: cheaper isn't always worse.
Cheap vs Expensive Gaming Chair – What's the Difference?
Quite a few actually. Let's run down the list of things that you'll want to pay attention to.
The Upholstery
The first major difference that often separates cheap and more costly gaming chairs is the upholstery.
PU leather is cheap and easy to manufacture, and hence is the most widely used material to cover gaming chairs, especially in the lower end.
Once the price reaches $250 or more, you'll start seeing higher end options like PVC leather, fabric, and even real leather.
Here's a quick comparison of the pros and cons of each type of upholstery:
| | | | | |
| --- | --- | --- | --- | --- |
| | PU Leather | PVC Leather | Fabric | Real Leather |
| Cost | Very cheap | Mid Range | Mid Range to Expensive | Very expensive |
| Breathability | Limited | Poor | Excellent | Good |
| Feel | Thin and light | Thick and elastic | Soft, thin and light | Soft, thick, and heavy |
| Durability | Prone to flaking off, doesn't do well against heat and humidity | Durable and flame-resistant | Not very durable | Extremely durable and fade-resistant |
| Maintenance | Easy to clean and spill-proof | Easy to clean and spill-proof | Hard to clean | High maintenance |
| Examples | GTRacing | Anda Seat Dark Demon | Fabric Gaming Chairs | SecretLab Titan NAPA |
Under normal usage, PU leather is adequate. It's easy to clean and water resistant.
The more durable PVC leather or even genuine leather is warranted if you fall into one of the following categories:
Are above average weight (250 lbs or higher)
Like to sit with one or both feet on the seat
Sit for over 10 hours a day in your chair
Based on our experience, the above types of sitting patterns are most likely to cause premature wrinkling or even tearing in PU leather seats.
For much better durability, look at PVC or real leather upholstery. The main drawback of PVC is that it's not very breathable, making it ill suited for hot climates. PVC can also feel rougher than the other materials.
Real leather is the gold standard when it comes to the perfect upholstery, though is very expensive and high maintenance.
Finally, if you live in a humid climate or tend to sweat a lot below the waist, fabric, real leather, or mesh are your best choices due to their high breathability. Bear in mind however that fabric upholstery is much more prone to staining. (See Also: Best Mesh Gaming Chairs that Offer the most Breathability ).
Seat Padding
The padding inside the seat and backrest is often where you'll find cheaper gaming chairs cutting corners to save cost, as it's not visible from the outside.
There are three main types of padding that are commonly used in gaming chairs:
| | | | |
| --- | --- | --- | --- |
| | HD36 Foam | Lux Foam | Cold Cure Moulded Foam |
| Commonly Used In | Low to mid range gaming chairs | Mid-range gaming chairs | Top-tier gaming chairs |
| Density | 1.8 to 2.8 lb/ft3 | 1.8 to 2.8 lb/ft3 | 5+ lb/ft3 |
| Firmness Factor (ILD) | 36 | 50 | 50 |
| Typical Lifespan | 7 years | 7 – 16 years | 16 years |
The density of a foam refers to how compact the materials inside are, and is a good indication of its quality. The denser the foam, the heavier and in general more durable it is.
Then, there's the firmness factor. Measured in ILD or Indentation Load Deflection. ILD refers to the amount of force required to depress a foam 25% downwards. Foam with higher ILD values are more resistant to sagging and indentation over time. A common misconception is to equate foam density to firmness, when the two are different measurements altogether.
In terms of quality, regular HD36 foam with a low density of 1.8lb/ft3 is the lowest, and is very common in cheap gaming chairs in the $100 level. Higher density HD36 or Lux foam (2.5lb/ft3 or higher) can be found in the mid range category, while cold cured foam is the best but also the most expensive.
You may have owned chairs like this before- the seat completely lost its bounciness and condensed to half its size after a few months. Regular HD36 foam is to blame.
Strive for at least high density HD36 or lux foam in a gaming chair. They are usually adequate for weight up to 250 lbs (see list of those chairs below). If you're heavier than 250 lbs, cold cured foam is a must to ensure it keeps its shape after a few months.
Armrest Adjustability
Though often neglected, good armrests can actually do a lot to reduce neck and shoulder pain brought about by long hours of gaming.
Properly configured armrests can reduce the load on your spine by up to 10% of your body weight. The key are armrests that can be adjusted to support your arms in different positions, such as when you're typing or with your back reclined.

The good news is, many cheap gaming chairs (under $200) come with armrests that not only move up and down, but pivot as well to support your arms when you're keyboarding or on the phone better.
The difference you'll find in more expensive gaming chairs ($300+) typically are:
4D Armrests that can also be adjusted for length (back and forth) and width (move closer or farther away from your torso)
Modified armrests positions can be locked into place to prevent unwanted movements.
Length adjustability is most useful if you like to recline your backrest often. As you body shifts backwards, fixed armrests usually can no longer provide full coverage of your forearms, leaving them partially dangling.
Width adjustability is critical if you have narrow or very board shoulders. This usually means petite and large folks should opt for more expensive gaming chairs that come with the ability to bring the armrests closer or farther away from your torso.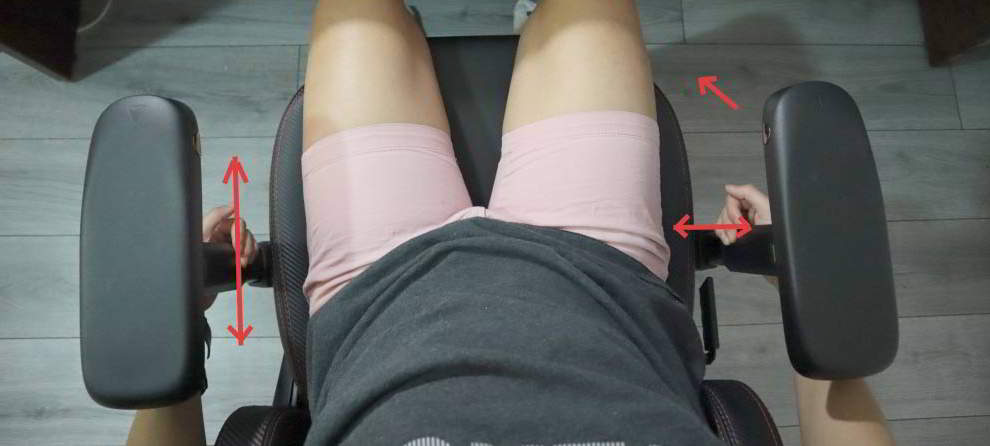 In gaming chairs with the most adjustable armrests, you can expect the ability to lock in the adjustments to the armrests as well, such as the Secretlab Titan. The only thing worse than fixed armrests are those that shift around inadvertently.
Tilt Mechanism
Regardless of price, most gaming chairs come with a healthily degree of backrest recline to help relax your back. In fact, it's not uncommon to find one where the backrest almost flattens to horizontal: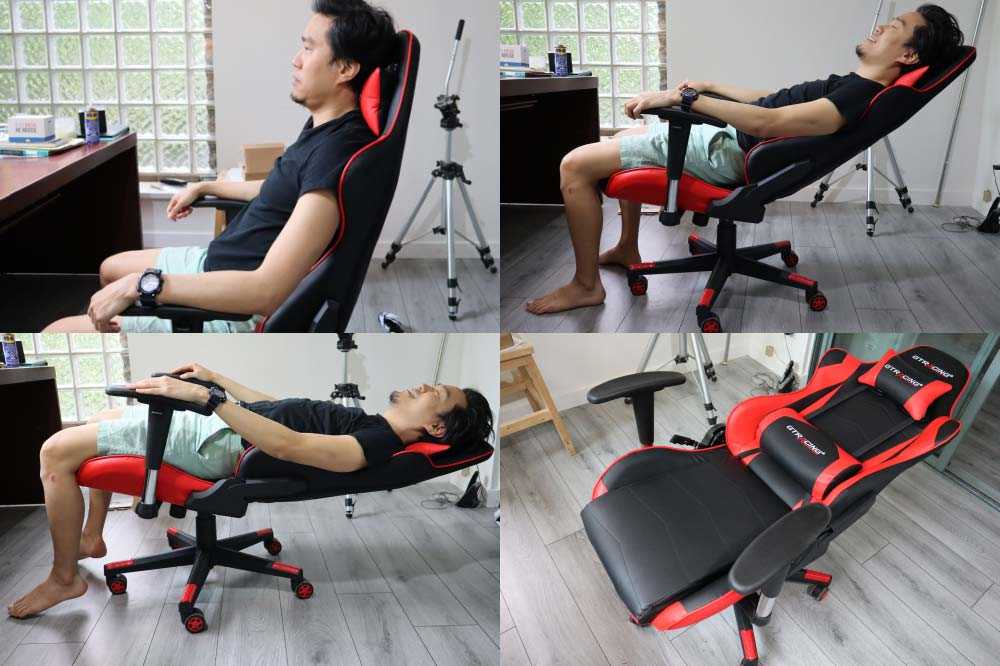 What differentiates budget from premium gaming chair however is usually in the tilt mechanism.
Expensive chairs come with a multi-tilt mechanism. which lets you not only tilt (aka rock) the backrest, but lock the angle of the seat as it angles upwards as well:
This is done using an additional lever that is usually found underneath the left side of the seat.
A multi-tilt mechanism is most useful if you like to work with the backrest reclined greatly occasionally to really take a load off your spine. By angling and locking the seat upwards, now your whole body is pointing in the direction of your workstation, including your gaze, to facilitate working in such a position:
The Squeak Factor
Here's an audible distinction between cheapo and primo gaming chairs – the propensity to squeak.
We've tested a lot of gaming chairs, and the vast majority of those that make theses annoying noises are in the sub $200 level. Misaligned parts or loose bolts are the most common sources of squeaking in office and gaming chairs.
What this all means is that if you value long term silence in your gaming chair, you'll have a lot better luck finding it in the higher priced chairs from our experience.
5 Star Base Material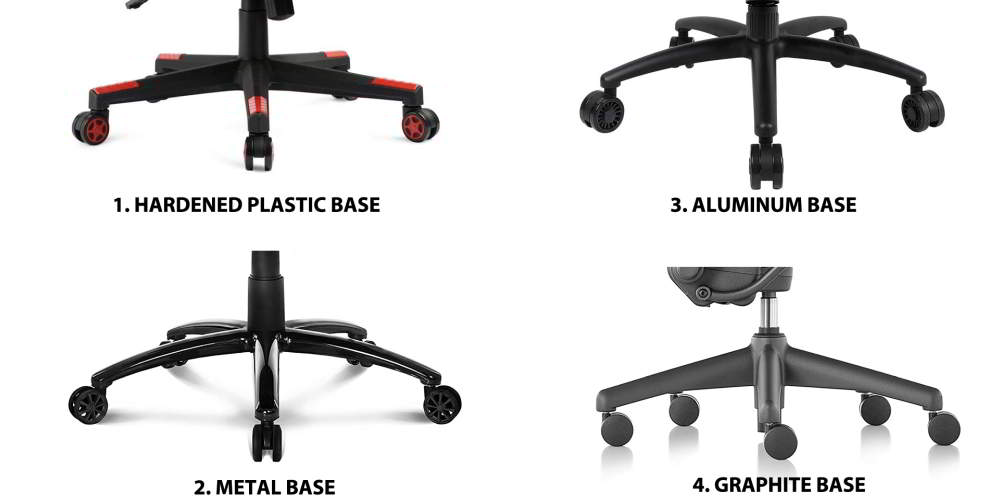 And lastly, to tell what type of gaming chair you're looking at, just look down.
To keep the price of the product low, companies often use hardened plastic / nylon for its five-star base. On the other hand, premium chairs come with a metal, aluminum, or graphite base.
Hardened plastic is light but typically can only handle up to 250 pounds of dynamic weight. This is your weight when you're sitting in your gaming chair and moving.
Metal bases are tougher than hardened plastic but they're heavier, making the gaming chair harder to move around.
Aluminum and graphite bases, which can be found in $300 plus gaming chairs, give you the best of both worlds. In fact, aluminum is so lightweight and incredibly strong that even modern airplanes use aluminum.
Don't forget the Warranty
Premium gaming chairs often come with longer warranties. For example, the Secretlab and AKRacing gaming chairs both come with 3 – 5 year warranties, whereas the GTRacing chair – one that is a lot cheaper – is only covered for one year.
The length of warranty is typically a good indication of the average time of a chair before it starts to exhibit wear and even more serious issues.
Choosing Which One to Buy
The saying "You Get What you Pay For" generally rings true when it comes to gaming chairs. HOWEVER, depending on your needs, spending more for a gaming chiar might be overkill.
When to Invest in Expensive Gaming Chairs
A high-end gaming chair might be the better deal for you if you fit into one of the following.
Your weight should be the single biggest determinant on how much to spend on a gaming chair. If you're are on the heavy side (think 170 pounds and up), we highly recommend investing in a higher end gaming chair. From our experience, cheap chairs – even if they are advertised as suitable for bigger people – simply lack the durability and padding needed to properly support heavy people in the long run.

If you'll be sitting in your chair for 8+ hours a day, a higher priced gaming chair will also turn out to be a better investment in the long run. Ergonomic features like a multi-tilt mechanism and 4D armrests matter that much more the longer you sit in a chair.

If you don't want that annoying squeaky noise interrupting your spouse while you game at night, an expensive gaming chair from our experience is much better at remaining silent even after years of usage. Cheaper chairs? Try a few weeks sometimes.

If you tend to sit in a way that often tears the upholstery on your chair after just a few months, you're also better off with a more expensive gaming chair. The PU leather on the premium Secretlab Titan for example is 4x more durable than standard PU leather. The upholstery on the Noblechairs Hero also looks as good as new even after 3 years in our review.
When to Settle for Cheap Gaming Chairs
Here are the scenarios when a budget-priced gaming chair makes more sense:
If you're of average weight, that is less than 170 lbs, a quality gaming chair in the sub $200 category should hold up just fine. You won't need to pay extra for the stronger and more durable materials.

If you'll only be sitting in the gaming chair for a few hours a day, it would be a waste to invest in superior padding and more supportive features. HD36 foam, PU leather, and 2D armrests will do the task quite well.

If you're petite or buying this for a teenager. Budget-priced gaming chairs tend to be on the smaller side in terms of dimensions and seat height. This actually makes them a better fit for smaller people.

Cheap gaming chairs can double as a study chair for students. It will last long since it will only be used for a couple of hours per day. Plus, it teaches good posture habits to preteens.

If you don't sweat a lot while playing games or if your room is air-conditioned, the limited breathability of PU leather gaming chairs shouldn't be a problem.
The Best Expensive Gaming Chairs
Here are four of our favorite high-end gaming chairs that have all been field tested and proven their worth:
Outstanding Features: Multi-tilt mechanism, 4D armrests, integrated adjustable lumbar support, head pillow with cooling gel, cold cure foam, ultra durable PU leather, aluminum base.
Weight Capacity: Up to 390 lbs
Height Range: 5'3″ – 6'10"
Warranty: 3 – 5 years
The Secretlab has made a name for itself by creating some of the most coveted gaming chairs in the industry. In fact, top Esports teams like Team Liquid, OG, and Evil Geniuses all use Secretlab gaming chairs.
After testing out the Secretlab Titan, we can confirm the hype mostly matches the reality. These are simply some of the most refined and comfortable gaming chairs on the market right now.
To keep things simple, the company offers just three models based on your body size- The Omega, Titan, and Titan XL.
The Omega is for petite to average-sized users while the Titan is for large users. The Titan XL is their largest offering, and boasts a heavy-duty tilt mechanism with a maximum capacity of 390 lbs.
Outstanding Features: High strength aluminum base, steel framework, 4D armrests, cold cured foam padding, premium PVC leather or linen fabric, up to 160° reclining angle
Weight Capacity: Up to 441 lbs
Height Range: 4'8" to 6'10"
Warranty: Lifetime warranty for the steel framework and 2 years for other parts
Andaseat comes with one of the most muscular and heavy duty lineups in the industry. The Dark Demon, T-Pro 2, Fnatic and Kaiser II chairs are all suitable for large gamers. Even the lower end Jungle series can handle up to 265 lbs of weight.
When we reviewed the Kaiser II chair from Andaseat (2nd from the right in image above), we were blown away by both the building quality and sheer amount of padding on the chair. This is a true big and tall gaming chair.
Founded in 2007, Anda Seat started by manufacturing race car seats before shifting to gaming chairs in 2016. This origin is evident in many of their chairs such as the Kasier II that models itself after the seat found in BMW cars.
Outstanding Features: Cold cured foam, steel frame, 4D armrests, adjustable and lockable tilt and recline
Weight Capacity: 170 to 390 lbs
Height Range: 5'5″ to 6'7″
Warranty: 5 to 10 years
Just like Andaseat, AKRacing started off by producing car seats in 2001 before expanding to gaming chairs years later. They're also active in the esports scene, sponsoring several esports teams and being part of the Tokyo Game Show and CES. The company is able to maintain the quality of their gaming chairs since they're all manufactured and tested for quality under one roof.
We spent 30 days with the AKRacing SX, and immediately noticed a difference in quality compared to most $200 gaming chairs. The padding is made of cold cured foam, the base is metal, and it's quiet as a mouse.
Their Masters Series is great for big and tall gamers. It has a more robust tilting mechanism and 70% more padding than their budget-priced offering, the Core Series. They solved the breathability issues that PU leather has by adding perforations along contact spots.
Three chairs makeup this premium lineup – the Max, Premium, and Pro. The Max is the widest, tallest, and strongest with a 390-pound capacity. On the other hand, the Pro is the most expensive with its 5.3" thick cushion and choice of real Brazilian leather upholstery.
The Best Cheap Gaming Chairs
Next, let's take a look at our favorite budget-priced gaming chairs. We've tested all of the recommended brands below, and generally came away impressed, especially given their price points.
KCream Gaming Chair
Outstanding Features: Flip out footrest, 5″ thick seat cushion, best build quality in its price range, 3D armrests
True Weight Capacity: 300 lbs
Height Range: 5'8″ and above
Warranty: 1 Year
The Kcream gaming chair is one of those rare budget gaming chairs that easily passes for one that cost $300.
In our 2 week review of the Kcream, we found all components of the chair to be much higher quality than what we typically see in this price range.
The seat padding for example on the KCream is an incredible 5″ thick and very supportive:
The armrests are also thicker than usual.
Oh, and the gaming chair is completely squeak free, unlike so many other gaming chairs in that price point or below.
GTRacing Gaming Chair
Outstanding Features: Backrest reclines near horizontal, 3D armrests, perfect size for normal build people
True Weight Capacity: 230 lbs
Height Range: 5'4″ – 6'1″
Warranty: 1 Year
We bought and tested the GTRacing Pro for two weeks. Conclusion? As budget chair, it's one of the most well rounded ones in the budget category. Some call it a DXRacer knockoff for the masses. It has a pretty good set of ergonomic features, surprisingly supportive padding, and a decent build. We especially like the robust backrest that can recline to a near coma-inducing 170 degrees, and a size that's perfectly suited for small to medium build people.
Based in California, GTRacing started making gaming chairs in 2013. They're highly popular for their affordable but good quality chairs especially in relation to other chairs in their price range.
Here's what we think of the GTRacing after using it for a few weeks:
Sale
Homall Gaming Chair
Outstanding Features: 4″ thick seat cushions,
True Weight Capacity:220 lbs
Height Range: 5'4″ – 6'2″
Warranty: 1 Year
The Homall is another very decent gaming chair if you're of average weight and size. The highlight is the generously padded seat and backrest. It trumps most budget gaming chairs in terms of support in our testing:
The chair doesn't have as many features as the KCream nor GTRacing. In particular, the armrests are fixed, so to raise them, you need to raise up the seat instead.
Having said that, it is the cheapest gaming chair we still feel comfortable recommending. For people looking for a gaming chair for casual use or for their kids, it's a great entry level chair.
Final Words
At the end of the day, both cheap and expensive quality gaming chairs can provide you good value for your money depending on your needs.
If you're of average build and weight (less than 180 lbs) and you'll only be using the gaming chair for a few hours per day, an affordable gaming chair can meet your needs. However, expect the PU leather upholstery to peel after 1 or 2 years of usage especially if you're heavier or tend to sit with one or two feet on the seat. The same goes with the padding.
On the other hand, paying more will give you superior quality, build, durability, and features. Go for more expensive gaming chairs in the $300+ category if you're tall, wide, weigh more than the average person, or are a full-time gamer.