Children's ergonomics refers to the process of optimizing the environment in a way that enables a child to study and play with greater comfort and less chances of getting injured.
Children are constantly growing, making a one size fits all model for ergonomics impossible. What's a comfortable fit for a fully grown adult is usually a stationary set of metrics, such as shoe size or desk height. With the average child growing around 2.5" annually [1], those numbers are always changing,
Taking the unique challenges of child development into account, here is an overview of the key areas of children ergonomics parents and educators should pay attention to at home and in the classroom.
Importance of Children's Ergonomics
The widespread use of tablets, laptops and smartphones in children these days means the issue of ergonomics is no longer just confined to adults.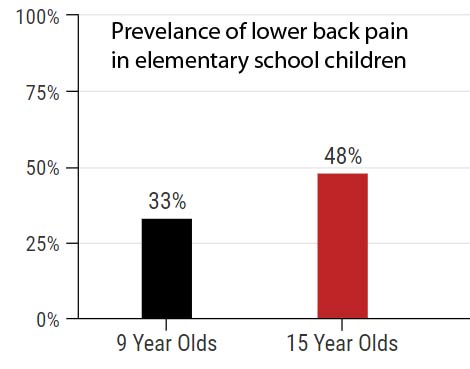 Case in point: In one study involving over 600 elementary school students [2], the prevalence of lower back pain in kids as young as 9 yrs was at 33%. In the 15yr old age group, that rose to 48%.
When it comes to instilling good ergonomics, there is no better time to start than when the child is still young. These are the crucial formative years where good long term sitting, computing, and studying habits can be established.
Ergonomic Sitting for Children
Parents may have the idea that their children are always running around or being active, though in reality, they probably spend most of their time sitting down. [4]
Bad sitting posture at an early age can cause improper formation of the bones. Spinal issues like postural kyphosis can develop, making them hard to correct later in life. [3]
For good sitting posture in children, ergonomists and physical therapists generally agree that the same guidelines for adults should be followed, or the 90-90-90 rule. There is where the following right angles can be observed when the child is sitting:
The child's back is straight and forms a 90° angle with the thighs
Both thighs are flat on the seat and form a 90° angle with the knees
Both feet are flat and resting on the floor (or footrest) to form a 90° angle with the shins.
Having said that, it is absolutely natural for kids to be fidgeting or sitting in unusual positions from time to time. The key is to teach your kids not to be hunched over or slouching all the time.
See this post for a more in depth look at proper sitting posture for children.
Ergonomic Computing for Children
Most kids these days have access to a computer at home to do their homework and for gaming. [6] As such, basic computer ergonomics is critical in the prevention of eye strain and wrist and back discomfort.
Laptop Selection and Setup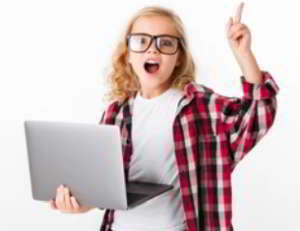 Parents are advised to pick laptops that are as lightweight as possible for their children. Kids maneuvering a bulky laptop or carrying it around can injure their small wrists and back.
An external monitor is also advised. Children have shorter arms, which means in order to type on a laptop's built-in keyboard, he/she has to get quick close to the laptop screen. By attaching an external monitor, it can be placed further back to reduce eye strain. The larger screen will also improve your child's productivity.
Mouse and Keyboard Selection
In general, any external mouse and keyboard will be superior to the built-in counterparts on a laptop. In fact, a laptop's design inherently favors portability over ergonomics.
Due to the size of their hands, for kids below 10 years old, the best type of external mice is a kid's mouse. These are petite horizontal mice purpose built for young children.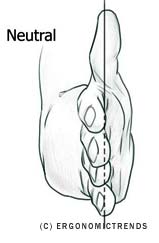 Tweens can start to transition to a small adult mouse that's more ergonomically shaped. Consider a small vertical mouse that helps the child maintain a neutral wrist a lot easier. This is where there is minimal forearm pronation or rotation of the wrist that can cause wrist pain or even carpal tunnel syndrome over time.
Computer Glasses
According to a NEI-funded study, children don't filter blue light as well as adults do [7].
Prolonged exposure to blue light can harm the eyes in several ways:
Macular Degeneration: The high energy of blue light can penetrate all the way to the very back of the eyes, killing photoreceptor cells in the retina. The result is macular degeneration over time, or reduced vision and even blindness.
Digital eye strain: Bluelight can lead to digital eye strain, by decreasing contrast to the eyes. Symptoms include eye fatigue, blurred vision, and even neck and back pain.
Disruption of Circadian Rhythm and Sleep: Studies have found a 90% association between screen use and later bedtime at night.

[8]

This is partially due to bluelight's disruption of melatonin production, and further exacerbated by children's increased sensitivity to light compared to adults.
Apart from limiting screen time 1 – 2 hours before bedtime, consider the use of computer glasses that can filter out up to 100% of blue light at night.
Limit Computer Usage
All parents should limit their child's computer usage and try to encourage more physical activity.
Aside from time spent doing homework, the American Heart Association (AHA) recommends a maximum of 2 hours daily of screen time for kids and teens. [10] Younger children below 5 years old should only have a maximum screen time of 1 hour daily. [11]
The sad reality is, most kids these days spend a lot more than the recommended time staring at some sort of screen. To combat this, here are some suggestions:
Set aside times when kids should unplug. This includes dinnertime and bedtime. A longer digital detox can also be done every weekend wherein the family can do physical activities together.
Establish technology-free zones like the kitchen, dining room, and bathroom.
Encourage kids to opt for activities that don't require a digital device. Reading, playing board games, or taking walks are good examples.
Get a timer and make it a rule for kids to take a break away from the screen every 30-45 minutes. Encourage them to do stretches, hydrate, or walk around during that time.
Children's Ergonomics In the Classroom
A report by the University of Manitoba shows that 83% of elementary school children sit at a chair-desk combination in class that aren't suitable for their bodies. [12]
In the classroom, the single biggest ergonomic challenge is how to effectively cater to kids of varying heights.
Any talk of ergonomic equipment in the classroom will no doubt have to factor in allowable budget. However, there are a wide range of available options on the market, some very affordable.
Ergonomic and Active Sitting Chairs
For the classroom, for chairs to be ergonomic, they should at the very least be height adjustable. This lets teachers adjust their height when necessary to better suit taller or shorter students. The ideal chair height is such that the kid's two feet are comfortably planted on the floor.
On the market, basic children task chairs are quite affordable, and can cost as little as $40. Higher end ergonomic chairs with armrests and better padding usually cost $70 and more.
To counter the ill effects of lengthy stationary sitting, schools should also look at incorporating active sitting into the equation. Designate an hour or so everyday where kids are seated in a way that is less restrictive and allows for small muscle movements. Kids are usually more restless than adults, making active sitting an easy sell for them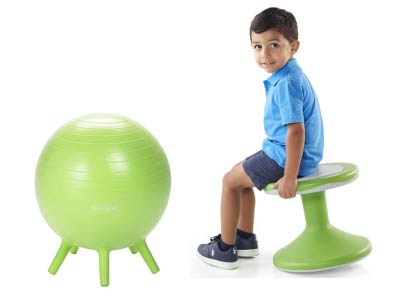 Two easy ideas for adding active sitting in class are getting kids to stand periodically or even squat. Both postures elicit more muscle activity than regular sitting.
In terms of equipment, there are yoga balls with built in feet and wobble stools designed specifically for children. Each class can procure a couple of them and allow students to take turns using them.
Adjustable Children Desks
Just like the chair, an ergonomic desk in the classroom should allow for height adjustments to adapt to children's changing heights. If the budget allows, look for children desks with a top that can tilt, which can prevent the natural inclination of kids to learn forward while drawing or reading.[12] This encourages them to sit up straight and rest on the backrest.
Backpack Ergonomics
The biggest ergonomic hazard for children traveling to and from school is the backpack that they have to shuttle around each time.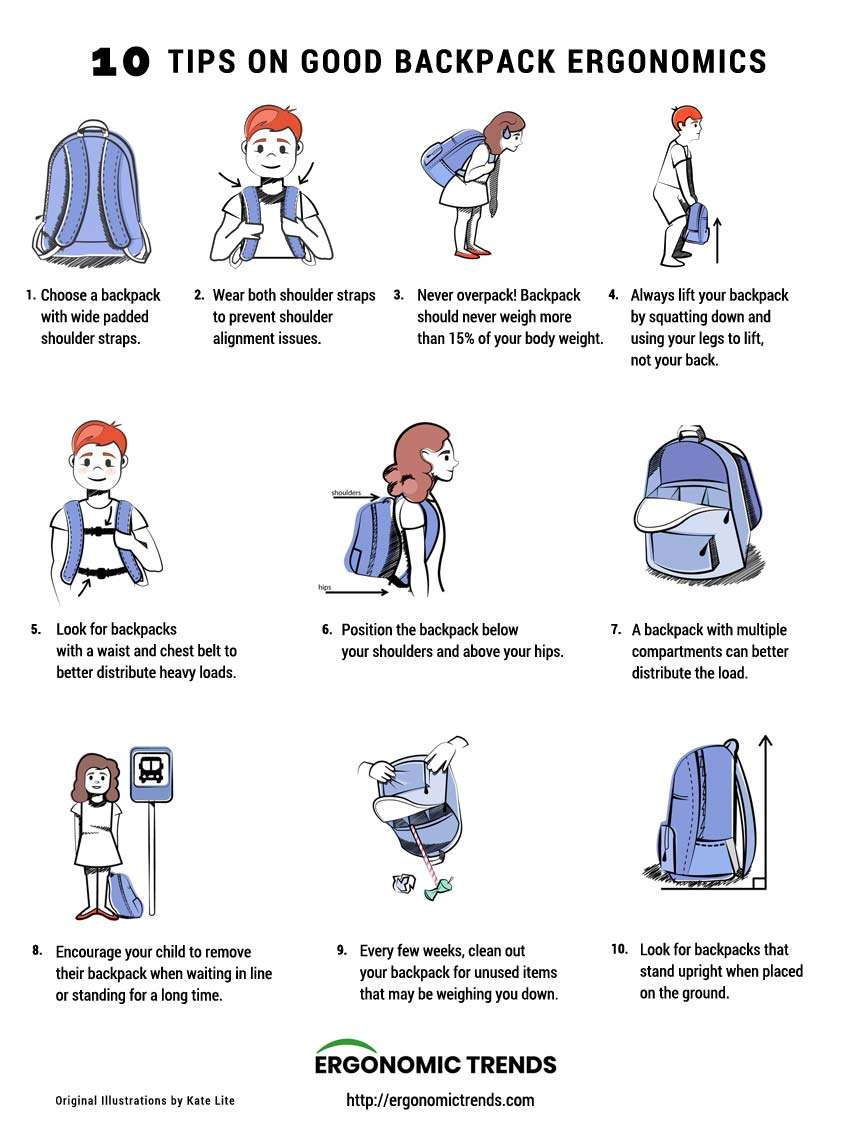 Poorly worn or heavy backpacks can cause deformation of the spine over time, leading to kyphosis, lordosis, scoliosis, and back pain in students. [13]
60% of orthopedics report seeing cases of backpack-related pain in children. In schools, 23% of elementary students and 33% of secondary students complain of back pain. [12]
To start, parents should make sure your child's backpack never exceeds 10% of his own weight. [14]
Also, encourage them to always wear both shoulder straps on a backpack, and to remove the backpack when waiting for the bus. For more tips on backpack safety and ergonomics, see this guide.
Gaming and Smartphone Usage Guidelines
Excessive usage of digital devices can affect a child's mental health, social interaction, cognitive development, vision, sleep quality, and attention span. [16]
If these aren't enough, the awkward position and repetitive movements children assume while using their smartphones can lead to the development of text neck and gamer's thumb.
Like with computers, limit a child's daily time allowed using smartphones. Take advantage of parental control and time restriction apps.
According to Michael Cheng, a child psychiatrist at Ottawa's Children's Hospital, smart phone use by very young children can be damaging to their brains. Like a drug, the device overstimulates and wires the child's brain to crave easy dopamine.
In fact, Michael recommends that children 12 yrs and younger should only be given phones to allow them to call their parents.
In terms of ergonomics, to minimize the forward bending of the neck when using a smartphone, teach children to hold the phone up towards the chest or even eye level instead of down at the stomach level. On the desk, use a smartphone stand to elevate and hold the phone in place.
Parents should teach their children responsible digital device use and lead by example, especially when in view of a child.
References