Ergonomic injuries can strike workers in any industry, though some occupations pose much higher risks. To prevent such work-related medical conditions from developing, the first step is to be well informed on the type of ergonomic issues and their causes.
In this post I'll go over all you need to know about the type of ergonomic problems that can arise in the workplace, their causes, and the jobs most susceptible to these issues.
Most Common Ergonomic Issues/ Symptoms
Ergonomic issues most commonly arise in a person's neck, shoulders, back, or extremities. Depending on the condition, common symptoms can include:

Tingling or numbing
Dull and aching, sharp and stabbing, or burning pain
Muscle weakness, decreased grip strength, or cramping
Loss of coordination
Decreased range of motion or discomfort
Coldness or discoloration of the affected area
Swelling of inflammation
Joint stiffness
Visual fatigue
Blurred vision
Burning or watery eyes
Frequent headaches
34% of all lost workdays are due to work-related musculoskeletal disorders (1)
Some musculoskeletal disorders (MSDs) can lead to early retirement, less accumulated wealth, and reduced inability to fulfill social roles. As such, patient awareness and education is more important than ever for early diagnosis and treatment of ergonomic problems.
See Also: Examples of Ergonomics at the Office (Problems and Solutions)
Worldwide, back pain is the number 1 cause of disability
[2]
Most Common Tasks that Lead to Ergonomic Problems
There are many variables that affect the chances of developing ergonomic problems. Identifying these risk factors is fundamental in making the necessary changes to mitigate and prevent MSDs.
1. Prolonged Repetitive Tasks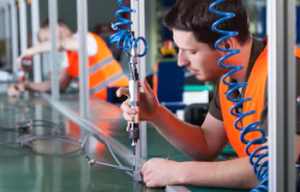 Repetitive tasks refer to using the same joints and muscle groups to perform the same tasks over and over again. This causes fatigue and, eventually, injuries to the affected area since there's little time for the body to recover.
If 50% of your work time consist of repetitive motions or the time between frequent repetitive motions is less than 30 sec, you're at a high risk for developing an ergonomic injury.
[3]
2. Sustained Awkward or Static Posture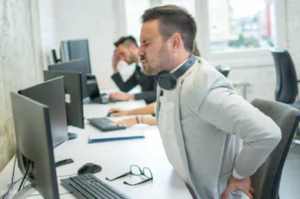 Over time, these two types of postures are more likely to lead to ergonomic injuries:
Awkward Postures: Bending, twisting, and overextending, which puts the body out of its natural alignment.
Static Postures: Non-changing positions like gripping, standing, and sitting, which cause muscle fatigue and prevent natural body restoration from restricted blood flow.
An improper workplace setup is one of the most common causes of awkward posture in the office.
3. Vibration
Vibrations may feel innocuous, but when it's sustained can cause MSD.
Whole body vibrations like those experienced by bus drivers or localized vibrations caused by power tools can damage the small capillaries that bring nutrients to the body. This leads to less feeling in the affected area, and overtime, pain and stiffness.
Up to 65% of occupational drivers are at an increased risk of developing lower back pain due to whole body vibration. (5)
4. Exerting Too Much Force
The greater the force exerted, the higher the stress on the body. When little recovery time is given or the force exceeds the worker's capability, the higher the risk of developing ergonomic injuries.
Examples of overexertion include lifting, pushing, or pulling heavy loads, using worn-out tools, and controlling equipment. Cold temperature can also numb hands, which lead to workers misjudging how much effort they are expending.

35% of work-related injuries are caused by overexertion. It is also the top contributor to workers' compensation costs at 25%. (6)
Industries and Jobs Most At Risk
Some industries and jobs are much more prone to ergonomic injuries.
The health care sector, retail trade, and manufacturing industries accounted for about half of all Musculoskeletal Disorders cases in the US, according to the US Bureau of Labor Statistics [19]. The top 5 industries with the highest incidence rates are:
The health care sector, retail trade, and manufacturing industries accounted for about half of all Musculoskeletal Disorders cases in the US.
Here are the specific types of occupations that are at the highest risk.
Construction Workers
Construction workers are often subjected to prolonged awkward positions, lifting heavy loads, repetitive arm-hand movements, and controlling vibrating hand tools. This makes them especially prone to developing MSDs like tendonitis, back pain, arthritis, herniated discs, CTS, and hand-arm vibration syndrome.
Operators, fabricators, and laborers make up 38% of back injury cases and 36.7% of CTS cases. [8]
Computer and Office Workers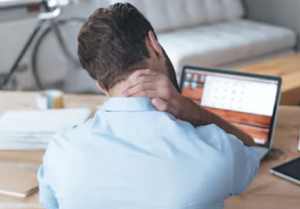 Office workers often type, mouse, and sit for long periods of time. When these aren't paired with good sitting habits, enough breaks, and proper ergonomics, employees can develop CTS, forward head posture, low back pain, radial tunnel syndrome (RTS), tendonitis, eye strain, and more.

A 2008 BLS report found that 60% of US computer workers complain of wrist pain due to poor ergonomics and inadequate breaks.
In a 2016 survey, 41% and 38% of the surveyed computer workers in a study had upper back and neck fatigue respectively.
Technical, sales, and administrative support office workers account for 34.2% of carpal tunnel syndrome cases. [8]
Healthcare Professionals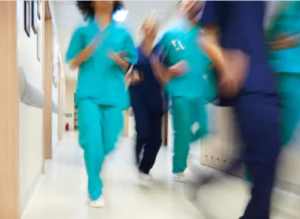 Healthcare professionals such as nurses are the most susceptible to ergonomic injuries according to data. Patient handling, moving machines, working in cramped areas, standing for prolonged periods of time all contribute to their risk levels.
This leads to work-related MSDs like back pain, tendonitis, CTS, and tension neck syndrome.

According to the US Bureau of Labor Stats, Healthcare as an industry ranks #1 for instances of musculoskeletal disorder among workers. [19]
In terms of annual prevalence, hospital workers, particularly nurses, have neck pain (40%), back injuries (30 to 60%), and shoulder injuries (47%).

[13]

The work-related MSD rate for nurses is four times higher than other workers.
Up to 11% of nurses change jobs due to MSDs
[13]
Cashiers and Retail Workers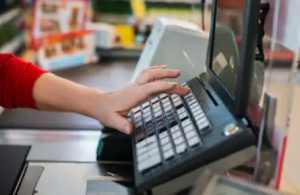 Cashiers often develop Carpal Tunnel Syndrome due to the repetitive scanning of products. Meanwhile, baggers and shelf stockers are more prone to low back pain, tendonitis, and herniated discs due to handling of heavy loads and awkward hand postures.

93% of cashiers perform low force, repetitive tasks for at least half of their work period.
According to the US Bureau of Labor Stats, Retail Trade as an industry ranks #2 for most instances of musculoskeletal disorders.
31% of full-time and 19.3% of part-time cashiers exhibit symptoms of CTS. (14)
Maids and Cleaners
Maids and house cleaners often perform repetitive swiping motions and assume awkward positions to clean hard to reach areas at work. For men in particular, they are often required to lift, move, or carry heavy equipment or furniture, leading to back pain, tendonitis, and herniated discs.

54 to 79% of cleaners do frequent or continuous repetitive movements.

[15]

More than 25% of cleaners are required to manage loads that are more than 25 kg.

[15]

The MSD hot spots for cleaners are the low back (46%), neck (33%), knees (24%), right shoulder (23%) and right wrist/hand (22%).

[15]
90% of cleaners report occupational musculoskeletal discomfort in at least one part of the body.(16)
Transportation Workers
Workers in the transportation industry such as drivers are also at a high risk of developing ergonomic health issues. Hazards for drivers include sitting for long periods of time and whole-body vibration. As such, they develop back injuries, hip pain, arthritis, and vibration disease.

According to the Centers for Disease Control and Prevention (CDC), in 2014, 23% of the sick work days of bus drivers are due to MSDs.
In terms of annual occurrence, the most problematic areas for bus drivers are neck (26%), back (24%), upper limbs (20%), knees (6%), and ankles (4%). In another study, the prevalence of neck pain is as high as 49%.

[17]

The prevalence of low back pain over 12 months for truck drivers is 60% and 51% for taxi drivers.

[17]
46% of bus drivers are at high risk of developing musculoskeletal disorders. [17]
Manufacturing Workers
As an industry, manufacturing and warehousing comes in third for highest rate of MSD in the US, according to the US Labor Bureau 2018 statistics.
Assembly line workers often get stationed in areas where they do repetitive assembly work while standing, which not only strains the eye but increases their risk of CTS and hip and back pain. Male production workers usually get tasked with operating machinery and heavy loads, causing them to overexert and develop back pain and tendonitis.

In a 2010 study of 500 assembly workers, one third had upper and lower back pain.
Upper limb MSD prevalence is 35% for women and 12% for men in some manufacturing plants. For neck, shoulder, and back MSDs, the prevalence was 27% female and 18% for male workers.
Musculoskeletal discomfort is rampant among assembly workers in the following body areas: right shoulder (61.4%), right wrist (60%), and upper back (63.2%).

[18]
75.4% of assembly workers complain of musculoskeletal pain in the lower back. [18]
For more information on which occupations are at high risk of ergonomic injuries, the CDC has a detailed report.
Ergonomic Issues Infographic
Educate your audience on the perils of ergonomic hazards in your industry. Share or embed the below infographic!
Embed Code:
References