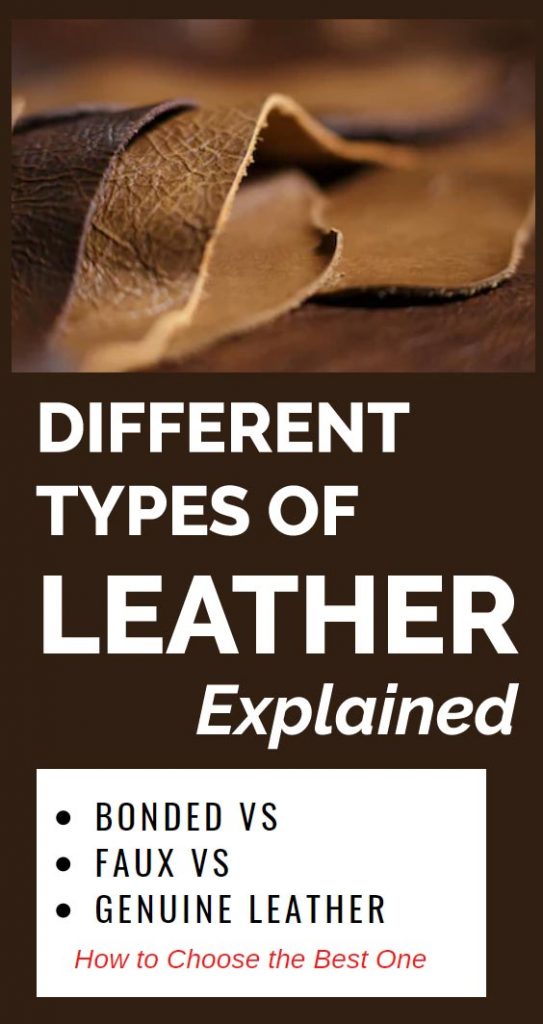 When buying leather office chairs, the first thing you should educate yourself on are the different types of leather materials available. Bonded, Faux and Genuine leather can all look and feel quite similar when new, but overtime can result in very different sitting experiences.

The key to getting exactly what you expect and pay for? Be a well-informed buyer.
Different Types of Leather at a Glance
To start, here's a quick side-by-side comparison of the main types of leather used in office chairs, sofa, and other furniture today:

| | | |
| --- | --- | --- |
| Bonded Leather | Faux Leather | Genuine Leather |
| Cheap | Affordable | Expensive |
| Contains small bits of animal hide | No animal hide at all | 100% animal hide |
| Poor durability; Prone to peeling | Resistant to cracking and peeling | Prone to cracking if it dries out |
| Easy to clean | Easy to clean | High maintenance |
| Lasts from a few months to 2 years | Lasts at least 2 years | Can last for 20 years or more with proper care |
| Unlimited color, style, and pattern combinations | Unlimited color, texture, and pattern combinations | Limited design options |
| Thin and stiff | Soft and supple | Stiff and thick; Softens up with age |
| Off-gasses | Has a slight synthetic smell | Has a distinct, earthy fragrance |
| Not breathable | Not breathable | Breathable |
| Non-hypoallergenic | Non-hypoallergenic | Hypoallergenic |
| Doesn't age well | Appearance remains constant | Develops a patina as it ages |
| Minimal batch to batch variation | Consistent product appearance | Each product looks unique |
| Non-Biodegradable | Non-biodegradable | Biodegradable |
| Tears and punctures easily | Tears and punctures easily | Tear and puncture-resistant |
| Stain-resistant | Fading and stain-resistant | Stains easily; Vulnerable to UV light |
What is Bonded Leather?
Out of the three types of leather, bonded or recycled leather is generally the cheapest. It also has the nasty habit of peeling over time.

Bonded leather is made by milling leftover hide, including its dust and shavings, and spray gluing them onto the back of a hard fiber surface. During the finishing process, it is dyed, coated with polyurethane to give it a nice sheen, and embossed to make it resemble real leather.

Because it contains 10 to 20% real animal hide, a lot of companies use the term "leather" in their description, misleading buyers. The people who buy then get sadly surprised when they realize that it's not durable at all like real leather.

However, being the cheapest type of leather, there will always be a place for bonded leather office chairs based on your budget.
Pros of Bonded Leather
Budget-Friendly – Bonded leather is significantly cheaper than authentic animal hide.
Easy to Clean – Because of its plastic surface, bonded leather is easy to clean
Customizable Appearance – This material can be printed in just about every color, style, and pattern.
Cons of Bonded Leather
Short Lifespan – Bonded leather is non-elastic. This means that it only lasts a few months to a couple of years of continuous use before it starts peeling and cracking.
Thin and Stiff – This type of material lacks the softness and thickness associated with authentic animal hide.
Off-Gassing – The plasticizers and other chemicals used to manufacture bonded leather sometimes exude an unpleasant chemical odor.
Not Breathable – Bonded leather doesn't breathe unlike true leather so it could be uncomfortable to use during summer.
Not Hypoallergenic – When you sit on a bonded leather office chair, what comes into contact with your skin is the stamped polyurethane coating. Since this is a synthetic material, this can cause allergies to people with very sensitive skin.
Doesn't Develop a Patina – Though it contains bits of true leather, bonded leather doesn't get lustrous over time.
How to Clean and Take Care of Bonded Leather
Cleaning bonded leather isn't difficult. The most important thing to remember is to never use harsh detergents or abrasive cleaners. It's also advisable to do a colorfastness test first on a small unobtrusive area of your office chair.
General Cleaning – Most of the time, gently wiping with a damp cloth and then a clean, dry cloth is enough to get rid of most dirt. If you accidentally spill liquid on your chair, just wipe with soapy water, rinse, and dry.
Conditioning – Every 3 months, apply leather conditioner to give it a protective coating that will extend its lifespan.
Repair – To repair cracks and peels, sand the affected area to remove the bits of leather that are sticking out. Then, use a self-adhesive leather patch to cover the area. If it's just a scratch, a leather repair solution is the better choice. Just mix the appropriate tint and apply it over the affected area.
What is Faux Leather?
Faux leather is made from synthetic materials that mimic the appearance and texture of genuine leather. Also called PU leather, vegan leather, pleather, and leatherette, it does not contain any real leather components.

The most common material used by far is polyurethane (PU) though there are polyvinyl chloride (PVC) and polyester microfiber faux leathers too. Compared to the other types of faux leather, PU leather is softer, more environment-friendly, and most similar to real leather.

To make PU leather, a fabric backing made of cotton or polyester is coated with a flexible polymer. Then, it's treated to resemble animal hide.

Pros of Faux Leather
Affordable and Realistic – Faux leather is budget-friendly compared to the real thing. But, despite being cheap, it is a very realistic imitation. So much, in fact, that many people confuse it for real leather. It even wrinkles like authentic leather when stitched or tufted.
Free of Animal Cruelty– Many shoppers opt for faux leather simply because no animals are harmed to make this material.
Very Durable – Unlike bonded leather, PU leather is more resistant to cracking, peeling, scratches, and scrapes. It is stain and fade-resistant as well. If you buy a decent faux leather office chair, you can expect the upholstery to last at least two years with proper care.
Soft and Supple – Faux leather is softer than bonded leather.
Low-Maintenance – This material type is very easy to clean, requiring only a quick wipe with a damp rag.
Excellent Fashion Freedom – The sky's the limit when it comes to faux leather. Not only can it be dyed different colors, it can be printed in a wide array of patterns and textures too.
More Manageable – Compared to true leather, PU leather is lighter and easier to cut and sew. When sewn, the needle marks and thread also blend well with the fake leather material.
Environment-Friendly – Though it isn't as biodegradable as authentic leather, PU leather uses less natural resources and is cleaner to manufacture.
Cons of Faux Leather
Not Breathable – Faux leather lacks the breathability of real leather due to its coating. This means that it can get quite sticky during sweltering weather.
Not Hypoallergenic – This leather type is not the best option for you if you have sensitive skin. It also often has a distinct plastic smell which usually goes away after a few days.
Doesn't Get Lustrous – Unlike authentic leather, PU leather doesn't develop a patina over time.
Tears More Easily – Faux leather is more prone to tearing and punctures than its authentic counterpart.
How to Clean and Take Care of Faux Leather
Faux leather is durable but still requires proper cleaning and care to last. Here are a few guidelines that you need to follow to make your faux leather last long.
General Cleaning – Most of the time, a damp cloth is enough to wipe away dust and smudges. If you spill water-soluble drinks like tea, coffee, and soda on your PU leather office chair, wipe it immediately with some soapy water. Then, wipe it again, this time with clean water. Finally, dry the surface with a soft cloth. Remember to only use gentle, unscented soap to protect the coating.
Stubborn Stains – For difficult oil-based stains like lotion, use a solution of equal parts isopropyl alcohol and water to wipe the area. Rinse with clean water and dry with lint-free cloth.
Disinfecting – Wipe your faux leather office chair with 5 parts bleach and 1 part water to disinfect. Rinse and dry thoroughly.
Conditioning – Even if PU leather isn't porous, you can still use leather conditioner to give it a thin protective coating.
What is Genuine Leather?
Real leather is made from animal hide, commonly cows, deer, horses, and sheep. To turn the rawhide into usable leather and prevent it from rotting, it undergoes a tanning process.

The basic principle is to remove the water from the skin collagen and replace it with a tanning agent. Compared to stiff dehydrated leather, the result is flexible leather.

There are different ways to tan animal hide, chrome and vegetable tanning being the most popular.

| | |
| --- | --- |
| Chrome Tanning | Vegetable Tanning |
| Efficient and cost-effective | More expensive and time-consuming |
| Accounts for 80 to 90% of tanned leather in the world | Traditional tanning method used by our ancestors |
| Thinner and softer tanned leather | Thick and stiff; Becomes supple over time |
| Available in a wide range of colors | Rich, deep earthy colors |
| Doesn't develop a patina as quick and as well as vegetable tanning | Grows softer and darker as it ages |
| Good resistance to water, stains, and heat | Absorbs body oils, water, and heat |
| Not as durable; Can't be patterned and stamped | Extremely durable and strong; Can last lifetimes |
| The fibers aren't as visible; Looks less natural | Natural fibers are visible |
| Can contaminate the environment due to the use of acids and chemicals | Eco-friendly; Uses natural tannins from barks and leaves |
| Scratches can't be buffed out | Scratches easily but minor ones can be buffed out |
| Becomes more prone to breakage with age | Prolonged heat exposure can lead to cracks |
No matter the tanning process used, authentic leather has, by far, the greatest aesthetics, durability, and feel. Of course, all of these benefits come at a higher price. See our picks for the best genuine leather office chairs.
Pros of Genuine Leather
Ages Well – Over time, genuine leather will become softer and richer in appearance. How quickly or how well it develops a patina depends on the tanning method used.
Hypoallergenic – Authentic leather is hypoallergenic, making it the best choice for people with sensitive skin. Moreover, it is resistant to allergens like pet dander and dust mites.
Biodegradable – Genuine leather is a by-product of the meat industry, turning what would have been waste into beautiful products. Since it is an organic material, it decomposes much faster than its fake counterparts. Once decomposed, it will then nurture plants that will be eaten by animals, making it a closed-loop natural process.
Pleasing Aesthetics – Office chairs made from true animal leather look luxurious and stylish.
Extremely Durable and Strong – With proper care and maintenance, genuine leather chairs can outlive bonded and faux leather ones several times over. Because of its strength, it doesn't tear or puncture easily.
Breathable – This type of material is naturally porous, so it's much more breathable than faux and bonded leather.
Cons of Genuine Leather
Not Environment-Friendly – Since most leather office chairs are made from chrome-tanned leather, the process of making them can contaminate the environment.
Not Animal-Friendly – Since it is made using animal hide, a lot of people associate genuine leather to animal cruelty.
Expensive – Genuine leather costs much more than faux and bonded leather.
Prone to Staining – Unlike its synthetic counterparts, genuine leather is naturally absorbent, making them more prone to staining.
Requires Special Care – Authentic leather requires more effort to prevent stains and cracks.
The Three Grades of Genuine Leather
Genuine leather is divided into three grades depending on its quality.
Full-Grain Leather – This is the most expensive and highest grade of genuine leather that you can get. Since it uses the entire layer of the animal hide that hasn't been buffed or sanded, it includes the imperfections and natural marks on the rawhide. It's extremely tough and durable, making it ideal for heavy-duty use. Full-grain leather ages better compared to the two other grades.
Split-Grain Leather – Sometimes called suede, split grain leather is the most affordable and has the lowest quality out of the three grades. Since the entire layer can be hard to work with, manufacturers split the hides into two, dividing it into the upper and lower layer. Split-grain leather uses the lower layer which is flexible and abrasion-resistant. To give it an artificial grain texture, it is pigmented and embossed.
Top-Grain Leather – Ranking between full and split-grain leathers, this is comprised of the upper layer of the animal hide. The imperfections of the rawhide are sanded away before being treated and dyed for a consistent look. Appearance-wise, it is on par with full-grain leather but, it doesn't age as well.
Watch as Boss Leather president Ralph Ricciardi explains the differences between the three grades of genuine leather in detail:
How to Clean and Take Care of Genuine Leather
Genuine leather office chair maintenance is a little bit more involved. But, your effort will be well-rewarded with a long-lasting and luxurious-looking office chair.

Do not use abrasive cleaners and cleaners containing alkalis, ammonia, and caustic ingredients. As much as possible, stick to mild, neutral-pH non-detergent liquid soaps or leather cleaners.
General Cleaning
With the brush attachment on, vacuum your genuine leather office chair.
To remove dirt buildup, make a cleaning solution by mixing some mild soap and distilled water.
Do a spot test on an inconspicuous spot to ensure that there's no discoloration.
If it passes the test, moisten a microfiber cloth with your cleaning solution.
Wipe your office chair gently from top to bottom.
To rinse, wipe the office chair again, this time with clean distilled water.
Dry with a clean lint-free towel.
To use your leather cleaner, just follow the instructions indicated on the product. Don't forget to do a spot test.
Spills and Stains
Use a white damp cloth to wipe water-based spills like juice and milk. Let the area air-dry. Never use air dryers as it will dry out the leather.
For oil-based stains like body oil and lotion, gently blot the affected area with a white dry cloth. The remaining oil stain will dissipate over time.
Conditioning
Applying a leather conditioner every six months can help keep your leather office chair soft and supple. If you live in an area with a hot, dry climate, you'll need to treat the leather more often.

Conditioning the leather will keep it soft and supple. It will also keep it moisturized to prevent drying and cracking.
To apply the conditioner, just place a small amount on a soft white cloth. Then, gently rub it all over the leather upholstery of your chair.
How to Differentiate Genuine Leather from Faux and Bonded Leather
When purchasing leather office chairs, you need to be well-informed so you know exactly what kind of material you're getting.

There are several ways to know if your office chair is made from genuine leather, faux leather, and bonded leather.

The most obvious indication is the price. Authentic leather is much more expensive than imitations.
Look at the back of the material. If it has a woven fabric backing, then it's faux leather.
Closely examine the pores. Faux leather has pores that are consistently patterned while authentic rawhide leather has inconsistently placed pores.
Genuine leather has a distinct smell that can't be replicated by PU leather. If you're familiar with this tell-tale scent, smelling the office chair you're planning to buy can help you differentiate real leather from its cheaper counterparts.
Watch as this leather expert explains how to differentiate each type of leather including the various genuine leather grades:
The Takeaway
As you can see, each type of leather has its own benefits and drawbacks. The right leather office chair for you depends on two main things – durability and budget.

If you're shopping on a budget, bonded leather office chairs can be a good choice. You need to compromise on the durability, however, as bonded leather doesn't have a long lifespan.

If you have a bit more extra room in your budget, faux leather offers a good balance of price and durability. Do note though that this is a purely synthetic material.

Of course, the best option is to invest in a genuine leather office chair if you have the extra cash. Not only does it look and feel luxurious, it is also extremely durable and can last many years. It comes with its own trappings, however, being high maintenance and sensitive to some cleaning products.