I'm not one to buy into hype, which is why I've never reviewed a DXRacer gaming chair before. But I figured if I were to, purchasing a model that the manufacturer claims can handle up to 300 lbs is a good place to start. And that's exactly what I did. This is where the posers (ie: the Killabee Big and Tall) start to fall short.
So how did one of DXRacer's most expensive models perform, and is it worth the price? Find out now.
Overview of DXRacer Big and Tall Chairs
DXRacer pushes out a mind boggling array of models, so it's not always clear which one to go with based on body size.
For the big and tall folks, the two models you'll want to look at are the King Series and Tank series: The one we reviewed is the left one:
Seat Size: 17.5"W x 21.5"D
Ideal Height:: 5'9" - 6'2"
Ideal Height:: 6'1" - 6'5"
Ideal Height:: 5'9" - 6'2"
Seat Size: 17.5"W x 21.5"D
Ideal Height:: 6'1" - 6'5"
How We Tested the DXRacer King Chair
I purchased the DXRacer King gaming chair off of Amazon (ouch) just like a regular consumer would for the review. Nothing in this review has been influenced by the manufacturer.
DXRacer King Series Chair Specs at a Glance
Before getting into all the salacious details, here is a quick glance at the specs for the DXRacer King gaming chair. Note that some are my own measurements to provide the most accurate numbers possible:

Chair height from floor to top of seat cushion: 19″ – 23″
Usable seat width and depth: 16″W x 21.5″D
Backrest height: 33.5"
90 – 135 degree backrest recline plus 30 degrees tilt
4D armrests
Two detachable lumbar and neck pillows
Gross weight: 77 pounds
Advertised max weight: 300 lbs
At the time of writing, three colors are available – white, black, and blue.
Assembly of the DXRacer King Gaming Chair
Putting together the DXRacer King is do-able with one person, though expect to set aside 45 minutes to an hour.
On one hand, the armrests are already preinstalled (shaving off a good 10 minutes), and the major bolts placed in their places so you know where everything goes.
On the other, the DXRacer King is one heavy dude at 66 pounds, so maneuvering the pieces into place is more challenging than usual. There are also these 5 faceplates you need to snap onto the 5 star base for aesthetics, which takes additional time. All in all, no unexpected surprises however.
Build Quality
This is the most important factor for me – the build quality. Why spend more on the DXRacer brand if it basically looks and functions like any other gaming chair?
To that end, the DXRacer King really lives up to its name. This is a beast that will have no problems properly supporting a big person up to 300 lbs (the suggested limit).
Firstly, the seat on the DXRacer King is the heaviest I've ever come across, and for good reason. Turn it over, and you see why:
See those 3 slabs of metal beams? How's that for piece of mind?
The amount of cold cured padding inside the seat and backrest of the King chair is also frightening. The backrest literally feels like another seat with the 4″ thick foam at the tail end of it:
The metal 5 star base on the DXRacer King also extends further than in any gaming chair I've seen, with massive 3″ casters that dwarfs even those on the Andaseat Big and Tall.
The only weak link I could find are the armrests- they are all plastic, and feels flimsy compared to other components of the chair.
Conclusion: The DXRacer King measures up as one of the heaviest and most solidly built gaming chairs we've ever reviewed (except the armrests). If finding a chair that won't sag or break on you after just a few months or even years is your goal, this is a good chair to consider.
DXRacer King Chair Size and Target Audience
The DXRacer King is not for everyone, and by that I don't just mean petite or short people. In the specifications, the company is very honest about the ideal range of users for the chair:
Ideal Height: Between 5'9″ and 6'2″
Ideal Weight: <275 lbs
BMI of Recommended User : <30
I find these numbers mostly true. The chair's build quality may be able to handle 300 lbs or even 350 lbs, but its dimensions limit the type of people that will find the chair comfortable. I feel the company perhaps did this on purpose to create more distinction between their King and even larger Tank Series.
The seat dimensions on the King measures 16″ wide by 21.5″ deep, discounting the side bolsters. While is this certainly bigger than normal, it's not exactly "King" size. Gamers over 300 lbs will probably start feeling restricted by the side bolsters.
The seat height on the DXRacer King adjusts between 19″ – 22″ (ground to top of seat cushion). As who is 5'8″, my feet just manages to touch the floor. Without a footrest, it's too high for me. If you're 5'9″ or higher, you should be good.
Finally, thanks to the absolutely massive backrest, the DXRacer King should be more than comfortable for people even up to 6'3″.
Conclusion: I find the DXRacer King ideally suited for people between 5'9″ – 6'3″ and below 300lbs. Those bigger than that may want to look at the DXRacer Tank Series instead.
Features and Adjustments
As a premium gaming chair, the DXRacer King comes with a much more robust tilting mechanism and armrests relative to cheaper chairs. A full rundown of its features:
Backrest tilting and reclining 135 degrees recline plus 30 degrees tilt)
Tilt angle lock
4D armrests
Two external lumbar and neck pillow
The standout feature to me is the multi-tilt mechanism on the King chair. In a nutshell, it's perfectly balanced to enable you to rock the heavy backrest with complete ease and buttery smoothness. There is even a bounciness that helps automatically return the backrest to upright each time, turning it into a rocking chair of sorts that really encourages constant movement.
Like the multi-tilt mechanism on some other high end chairs, the King chair also sports seat tilt lock, which means you can lock the angle of the seat independently (between 0 – 30 degrees) as it inclines:
Seat tilt lock is great for people who like to work in a heavily reclined position.
You'll find 4D armrests on the King chair, which means they move in every direction imaginable- up/down, in/out, forward/back and pivot. Every adjustment is lockable except for pivoting, though it's tight enough that there's little chance of accidently shifting angles. They are also large and comfortable,.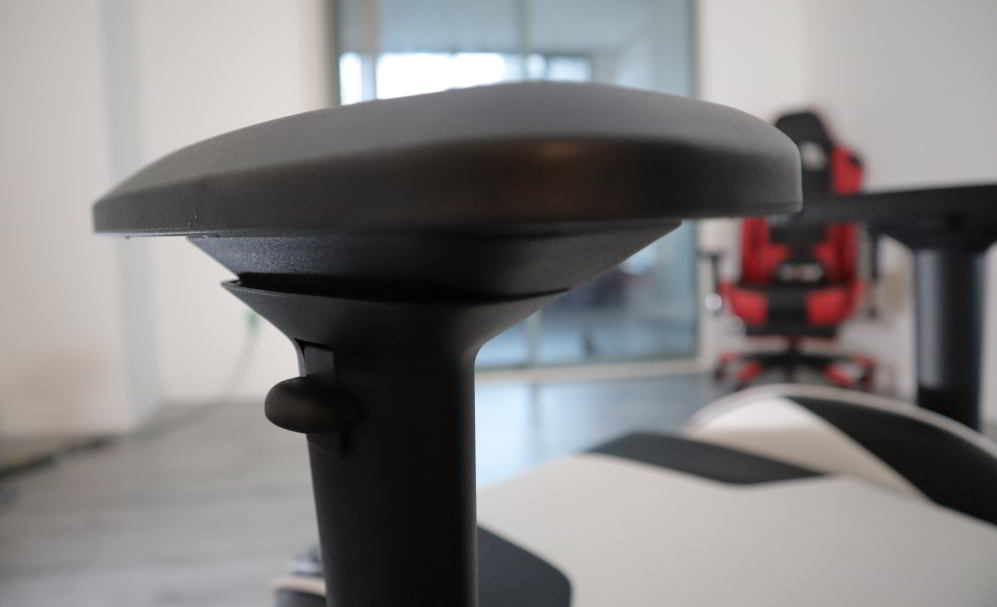 As robust as the armrests are, my main complaint is that they just don't feel very premium. They're mostly made out of plastic, and the track underneath isn't completely smooth. This becomes apparent when trying to bring the armrests closer towards you. Perhaps I'm just spoiled by the quality of the armrests on the Secretlab Titan.
The pillows on the King chair are fairy standard. One cool thing is that the neck pillow can either go over the backrest, or through the cut out near the top to bring it closer down if needed using the included clip. That's a nice touch that can be found in the AKRacing Masters series as well:
Conclusion: The multi-tilt mechanism on the DXRacer King is top notch, and encourages frequent back movements. The armrests while highly functional could be better implemented.
How Comfortable Is It?
This is the perfect time now to talk about comfort at large. After all, comfort in a chair is King.
The best metaphor I could find to describe the sitting experience on the DXRacer King is that it's akin to riding shotgun in a high end Mercedes. It feels eerily quiet, smooth, and stable. There's a sense of stability and reassurance that even the best lightweight (literally) gaming chairs can't match.
A lot of this comes down to the sheer weight of the chair distributed perfectly over the large five star base and huge casters.
Another big factor is the quality and amount of padding on this chair. It actually feels like you're sitting between two mattresses, one underneath and one behind you. The cold cured foam is extremely dense (hence supportive) while being medium in firmness.
So is it comfortable? You better believe it.
DXRacer King Gaming Chair Final Verdict
At the end of the day, if you can afford it, I can confidently say you'll be happy with the DXRacer King if you fall within the suggested range of body sizes. This chair will make you feel like a King perched up high in comfort overlooking your Kingdom.
Having said that, sadly, most of us are not royals. As a chair that cost around $500, the DXRacer King's value is really only fully justified if you're big and tall (250 – 300 lbs) that tend to shred budget gaming chairs for breakfast. If that's you, you'll probably save money by going with this chair. For the rest of us, you will find cheaper alternatives like the Kcream or even Secretlab Titan a lot more palatable.
See Also: DXRacer vs Secretlab Gaming Chairs Compared
Pros:
Extremely smooth and balanced tilt and recline
Thickest backrest padding in a gaming chair we've seen
Large 5 star metal base and 3″ casters for stability
Will last a good 10 years
Cons:
Chair width not exactly king size
Armrests are plastic and feels rather flimsy
Very expensive
---
Related Reviews