The modern office is set up to encourage you to work as long as possible without distractions or fatigue. Hidden behind all the niceties however are plenty of ergonomic hazards that can greatly impact your health overtime.
The following are the most common examples of ergonomics at the office, and how to address them.
What Is Ergonomics and Why Is It Important?
Simply put, ergonomics is the discipline of optimizing a user's environment to minimize the likelihood of developing injuries.
Does your neck or back often hurt at the end of a workday? Is there a tingling sensation in your palms and fingers? Perhaps you've noticed a decreased range of motions after working for a few hours.
All of the above are example symptoms of poor ergonomics that when left unchecked can turn into debilitating MSDs such as carpal tunnel syndrome or chronic back pain over time.
Examples of Ergonomic Hazards at the Office and Solutions
Just in the office alone, there are many potential ergonomic hazards lurking. The most common ones to watch out for are the following:
1. Poor Sitting Posture
Poor sitting posture may feel innocuous, even satisfying. Whether you're slouching or leaning forward at your desk, there is a sense of relief as your core and lower back muscles relax. The problem is, your spine ends up working overtime to pick up the slack.
Poor sitting posture such as a kyphosis posture exerts uneven pressure on your spine This is a recipe for spinal dysfunction, premature joint degeneration, nerve pinching, and even chronic back pain.
Solution: Practice a Neutral Sitting Posture
A neutral sitting posture is where the natural curvature in the three sections of your spine (cervical, thoracic, and lumbar spine) is preserved and balanced when you sit. In this position the spine is best able to handle and distribute any weight placed on it.
To achieve a neutral spine, check in on your sitting posture from time to time for the following:
Back should be straight with a slight lordosis (inward curve) in the lower spine
Neck and head upright (ears aligned with your shoulders)
Shoulders should be pulled back but relaxed
No twisting or leaning on one side
Knees bent at 90° and positioned slightly lower than the hips
2. Awkward Postures
Closely related to the first item above is awkward postures in general. These are unnatural body positions that you assume when bending, twisting, and overreaching. These postures push the joints past the mid-range of motion, leaving you a lot more susceptible to ergonomic injuries.
Examples of awkward postures at the office include looking down at your monitor, extending your wrists to type, or overreaching to operate the mouse.
Solution: Optimize your Workstation to Minimize Awkward Postures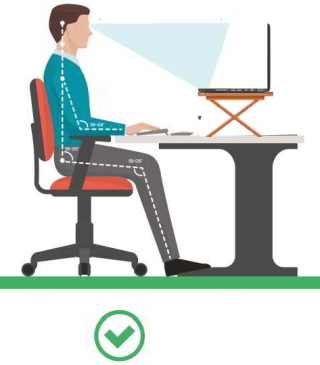 To address awkward postures when you work, do an audit of your workstation to make sure it's properly optimized:
Adjust the height of your monitor so the top line is at eye level.
Adjust the height of your chair so your elbows are at an open angle (90 -110 degrees) when typing.
Organize your workspace into zones and keep frequently accessed items within arms reach.
Set your armrests to desk level to help you more easily maintain neutral wrists.
Swivel your chair instead of twisting your waist when rotating your body.
Use the speaker function instead of holding up your phone using your arm or shoulder.
3. Prolonged Stationary Position
One of the biggest silent killers at the workplace (and home) is a sedentary lifestyle. This is when we stay in the same position every day for many hours on end. At the office, this typically takes the form of sitting in a chair.
Assuming a stationary position for a long time sets in motion a series of changes in our bodies. This includes a drop in metabolism, muscle atrophy, rise in bad cholesterol, and resistance to insulin. According to statistics, a sedentary lifestyle increases certain types of cancer by 66%, and diabetes by 112%.
Solution: Take Frequent Microbreaks
The solution to this ergonomic hazard is easy – take frequent microbreaks. These refer to small breaks that last anywhere from 30 seconds to 5 minutes, performed at least once every 30 minutes. Use this time to get up, stretch, and move your body.
4. Frequent, Repetitive Movements
Performing repetitive motions repeatedly, however small, can cause microtrauma to the surrounding tendons and tissues, leading to inflammation and eventually dysfunction.
At the office, the most common repetitive movements are performed by your fingers, wrist and arm. When you operate a mouse for example, you're performing hundreds of small windshield movements with your wrist daily. This is made worse if you're assuming an awkward position, which can occur if you're using a horizontal mouse and have to pronate your forearm to grasp the mouse.
Solution: Take frequent breaks, minimize awkward postures
The key to disrupting the damage caused by repetitive movements is two fold:
Rest the affected area periodically: This allows your body to repair any microtrauma before it passes the point of no return. Frequently switch tasks to utilize different muscle groups and joints without affecting your productivity.
Eliminate awkward positions: Repetitive motions are greatly exasperated when they are done in an awkward position. When typing and mousing, pick ergonomic peripherals that help you maintain neutral wrists easier, such as a split pane keyboard and a vertical mouse.
5. Poor Lighting
Insufficient lighting, unwanted dark spots and shadows, glare, and improper color temperature are some of the most common examples of poor lighting at work. They can negatively impact your vision, mood, and even productivity.
Solution: Check the lighting in your workspace to make sure it conforms to good lighting ergonomics. This includes:
Arrange your office so that you get as much natural light as possible.
Make sure that there's adequate lighting (300 – 500 lux) around your immediate workspace.
Use a combination of direct and indirect lighting to eliminate shadows.
Position your chair at a right angle from big windows to reduce glare
Optimize your computer screen for good color and lighting contrast
Add diffusers to light fixtures to make them less harsh on the eyes.
Use monitor filters or computer glasses to reduce blue light and glare.
Examples of Potential Ergonomic Injuries
When ergonomic hazards aren't addressed early on, musculoskeletal disorders can ensue. Refer to the following table for examples of common symptoms of poor ergonomics plus types of MSDs and RSI:
| | |
| --- | --- |
| Common Symptoms of Poor Ergonomics | Common MSDs and RSIs from Poor Ergonomics |
| Tingling or numbing | Back or neck pain |
| Dull, sharp, or burning pain | Carpal Tunnel Syndrome |
| Muscle weakness | Vibration Syndrome |
| Decreased grip strength | Tendonitis |
| Decreased range of motion | Trigger Finger |
| Swelling or inflammation | DeQuervain's Syndrome |
| Joint stiffness | Digital Eye Strain |
| Eye fatigue | Ruptured discs |
| Loss of coordination | Arthritis |
| Coldness or discoloration of the affected area | Epicondylitis |
| | Thoracic outlet syndrome |
Examples of Ergonomic Equipment
Here are some essential ergonomic equipment that can help reduce the chances of developing ergonomic issues:
Keyboard trays
Desk Risers
Standing Desks
Balance balls