When it comes to instilling good sitting posture, the best time is when they are still young. In this article I'll go over some generally accepted guidelines for what the most ergonomic sitting posture for children is, and how to set that up in your child's desk and chair.
See Also: 5 Best Types of Chairs for Studying
Q: What is the Correct Sitting Posture for Children?
The correct seated posture for children is not much different to that of adults. The important thing is to not let them slouch or hunch their backs. Encourage them to maintain a straight back as much as possible, and to lean on the backrest as much as they can. They should not be leaning over excessively or have a rounded neck while they are seated at a desk.

Ideally, the seated posture for kids follow a '90-90-90 degrees rule.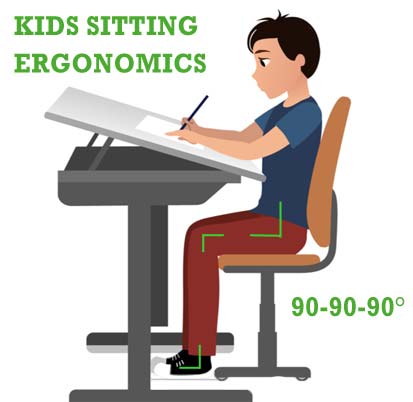 Following this guideline, their spine would be straight and make a 90 degree angle to their thighs, which are resting flat on their seats. Then their knees would be right angle to their thighs. Lastly their feet would be resting flat on the floor, making a right angle to their shins.
Pay special attention to the depth of the seat on the chair as well. It should be shallow enough that there is a 1" to 2" gap between the seat's edge and back of the child's knees. This ensures the edge doesn't cut off circulation or apply unnecessary pressure to the child's thighs.
Note: It is absolutely natural for kids to be fidgeting or sitting in unusual positions from time to time. The key is to teach your kids not to be hunched over or slouching all the time.
Q: Why is it important to teach your kids good posture?
Because the bones of children are still malleable and haven't fused yet, maintaining the correct spinal alignment is especially important for children. Bad posture at early ages can lead to permanent changes in spinal alignment later in life, possibly leading to spinal issues such as kyphosis and scoliosis.

Permanent changes in the spinal alignment can lead to chronic pain, hunched appearance and affect balance when walking or running. Bad posture has been linked to health problems like digestive issues, heart disease and varicose veins later in life. As this study shows, poor posture also leads to musculoskeletal pain and higher risk of injury.

Also, seating habits are harder to correct as your kids get older. A lot of the time, adults with bad posture started out as kids with bad posture, and they have become too set in their ways to correct it. Hence, it is never too early to teach your kids good posture habits.
Q: What is the Benefit of a Height Adjustable Desk for Children?
As the average kid can grow up to 2.5" a year, any talk of an ergonomic workstation for kids has to include height adjustability as part of the equation.

A desk that is too high puts the child's arm in an awkward and stressed position. When they are reading, it also means the words on the page may be too close to their eyes, leading to eye strain and fatigue.

A desk that is too low is even worse, forcing the child to instinctively hunch over to read, write, and type on the computer. This leads to not just poor posture over time, but serious chronic issues such as back and neck pain.

With that said, the advantage of an ergonomic children's desk that is height adjustable becomes apparent. Not only does it allow you to optimize the desktop's height based on your kid's specific size, but also ensures you don't have to keep getting a new desk as your kid grows (and grow they will!).


Q: How Should I adjust my Kids' Desk and Chair for Optimal Ergonomics?
Height is the most important thing to consider when you adjust your child's desktop. The table should not be too high, otherwise they will be resting their hands awkwardly on the table and putting unnecessary stress on them. If the table is too low, they will be leaning forward too much and more likely to round their necks or hunch their backs.
The same principle applies for chair height as well. If the chair is too high, they won't be able to rest their feet flat on the floor, applying excess pressure to the back of their thighs. If the chair is too low, this puts them at an awkward position and causes unnecessary strain on their knee joints.
The end goal when it comes to setting up a workstation for your children is so that:

The child's back and neck is relatively straight with little to no hunching over
The child's elbows is at a 90 – 110 open angle when the forearms are rested on the desktop, especially when typing.
The child's feet is fully touching the floor.
Based on this goal, begin by adjusting the chair's height so your child's feet are touching the floor. Then, adjust the desk height so the child's elbows are at 90 degrees or slightly past 90 degrees when rested on the desktop. This open angle is especially important if your child is typing on the computer, as it keeps their forearms relatively parallel to the desk, and in turn, helps keep their wrists straight and in a neutral position relative to the keyboard.

Q: What are the Benefits of a Desktop that Tilts?
A great feature to have in a workstation for kids is a desk that tilts. This minimizes your kids natural inclination to lean forward when writing or drawing, as it allows the material to be brought closer to them.

No matter how much you advise them, they will always be tempted to hunch their backs. Having a tilting desk means they are less likely to lean over and hunch their backs in the process. It encourages them to maintain a straight spine and rest on the backrest.

Angled desks also allow better positioning of the arms and hands for certain tasks that require fine motor skills, like drawing. They can fully rest their wrists and arms on the desk, minimizing the strain on the shoulder and neck muscles. It also helps them flex their wrists properly and better grasp pencils or markers when writing. A good ergonomic children desk should also be height adjustable.
Having said that, the tilted position should only be maintained for short bursts of time, when they are drawing or reading, for example. When the child is on the computer, make sure the desktop is flat and their wrists are neutral to prevent straining their wrists.