In the market for a cheap gaming chair but don't want to end up with a dud? On paper the GTracing gaming chair looks like a winner, costing less than $200 (at time of writing) and with mostly glowing reviews on Amazon. But how is the chair really?
In this post, we put the GTracing Gaming chair through all of its paces to see how it fares beyond the first couple of days, and whether you're really saving money, or just wasting it with this gaming chair.
Overview of GTracing Gaming Chairs
GTracing launched their first line of gaming chairs in 2013. Headquartered in Azusa California, the company now produces a plethora of gaming related hardware, from gaming desks, keyboards to mice. It is most well known however for its line of budget gaming chairs, the Pro Line being the most popular.
There are 3 editions of the Pro Line Gaming chair available. The one we reviewed is their most popular one in the middle:
Reviewed Item
GTracing GT099
6 Hours Bluetooth Speakers
Bluetooth Speakers and Footrest
Recommended Height: 5'4" - 6'1"
Recommended Height: 5'4" - 6'1"
Recommended Height: 5'4" - 6'1"
6 Hours Bluetooth Speakers
Recommended Height: 5'4" - 6'1"
Reviewed Item
Recommended Height: 5'4" - 6'1"
Bluetooth Speakers and Footrest
Recommended Height: 5'4" - 6'1"
How We Tested the GTracing Gaming Chair
I purchased the GTracing gaming chair off of Amazon just like a regular consumer would for the review. Like all of our chair tests, I used the GTracing gaming chair exclusively for 2 weeks.
GTracing Gaming Chair Specs at a Glance
Before getting into all the salacious details, here is a quick glance at the specs for the GTracing gaming chair. Note that some are my own measurements to provide the most accurate numbers possible:

Chair height from floor to top of seat cushion: 16.9″ to 20.9″
Usable seat width and depth: 15" x 20"
Backrest height: 32.5"
90 – 170 degree lockable backrest recline and tilt
3D armrests that can pivot inwards and out
Two detachable lumbar and neck pillows
Unit weight: 50 pounds
Advertised max weight: 300 lbs
At the time of writing, five colors are available for the PU leather upholstery- red, white, black, purple, and blue.
Assembly of the GTracing Gaming Chair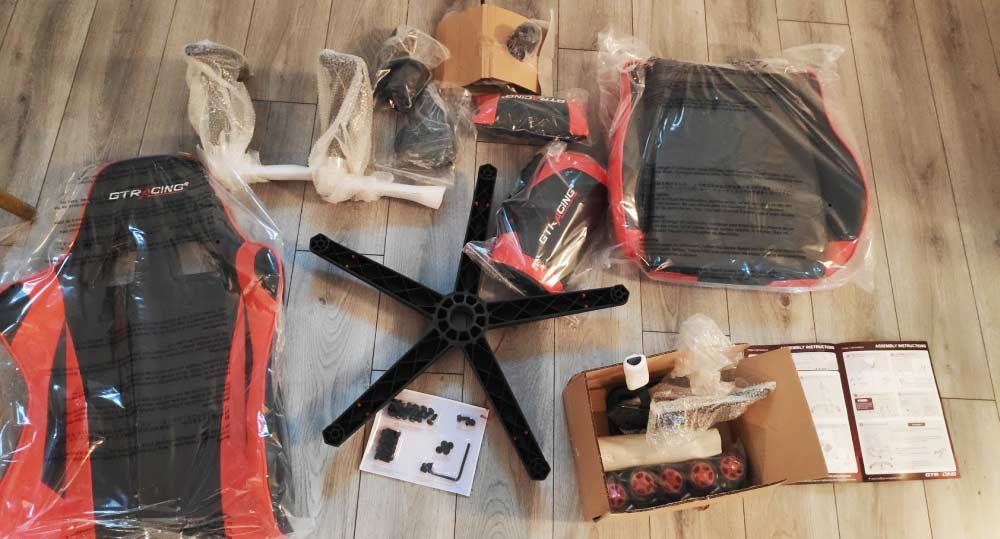 As you can see in the picture above, pretty much every part of the chair needs to be assembled, unlike with some gaming chairs we've encountered where the seat plate or armrests may come attached already.
Fortunately, as a relatively lightweight chair at 50 lbs, each piece of the GTracing puzzle is light enough for just one person to handle. The entire process took me around 35 minutes.
I did run into one snafu, however, and that was connecting the backrest to the seat (Step 3 above). The fitting was so tight that I literally tore a bit of the PU leather on one side of the backrest trying to get it into the proper position between the two metal plates on the seat. I'm not sure how prevalent the issue is.
GTracing Chair Size and Target Audience
Despite the advertised 300 lbs maximum weight limit, the specs of the GTracing chair means it's really best suited for people below 6'1″ and less than 230 lbs in my estimation.
The seat height range on the GTracing falls between 16.9″ to 20.9″ measured from the floor to the top of the seat cushion:
This should comfortably accommodate your legs if you're between 5'4″ to 6'1″. If you're shorter, a footrest will take care of the problem, though if you're much taller, even the tallest setting may still feel too low.
The width of the seat discounting the bolsters measures exactly 15″ wide. With the bolsters that number is 21″.
From an ergonomic standpoint, it's best that your thighs aren't pressing up against the bolsters when seated, as they can inhibit blood flow. This leaves around 16″ of sitting area for your body.
I'm average build around 154 lbs, and there's about a 1″ maximum clearance on both sides of the seat between the edge of the bolsters. While each person's body shape is different, if you're over 230 lbs, you probably will start to feel slightly constricted in this seat.
Features and Adjustments
As a budget gaming chair, the GTracing chair does pretty well when it comes to ergonomic features:
Backrest tilting and reclining (up to 170 degrees)
Tilt tension control
Tilt can be disabled
Two external pillows that are actually comfortable
3D armrests that pivot inwards and out
My favorite feature has to be the high degree of recline. Better yet, you can still tilt the backrest even after it's at 170 degrees, creating a rocking motion that's nothing short of coma-inducing: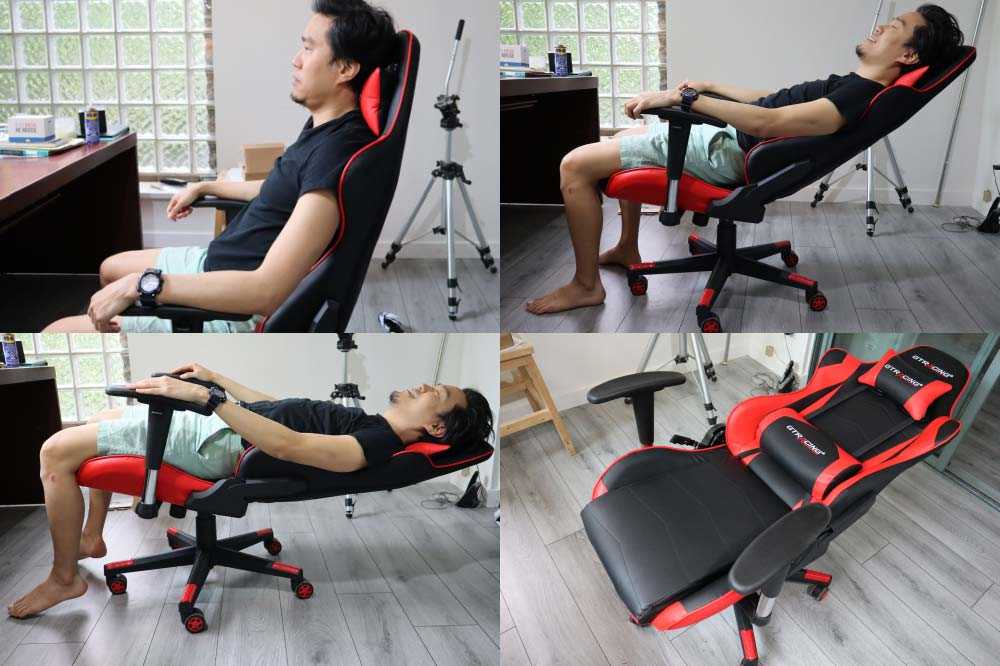 I've actually taken a few power naps while at this angle on the GTracing chair.
The included external pillows also deserve praise for actually being functional. Attached using straps, both are height adjustable; I'm particularly fond of the neck pillow that is shaped perfectly to fit under my neck, and can be moved up and down depending on my posture.
The armrests on the GTracing chair are 3D, and pivot inwards and out. This is a nice surprise coming from a chair in this price range:

How Comfortable Is It?
This is the perfect time now to talk about comfort at large.
With a decent backrest and external pillows down, the main unknown at this point is the chair padding- just how good (or bad) is it?
At a glance, the padding inside the seat looks to be inadequate, at only 3.1″ thick. The good news however, is it's surprisingly supportive and more than comfortable for the average build person even after long hours of sitting in it.
And that's one thing to keep in perspective- the GTracing gaming chair is not meant for the big and tall. And based on its cost, I'd run if it claimed to be. The chair padding is more than enough for someone like me that weighs 143 lbs. Never during these two weeks did I wish it had more. However, if you're 243 lbs, that could be a whole different story.
So is the GTracing chair comfortable? Yes. Will it be comfortable for everyone? If you're outside the profile I described earlier, probably not.
Build Quality
In terms of build quality, the GTracing chair met my expectation, which is to say it's decent for a budget chair, but just average otherwise. You'll find more plastic parts compared to higher end chairs, though the key components are made of metal.
The swivel, tilt and recline functions all work very smoothly, and balance is good even when the backrest is almost horizontal to the ground.
The one complaint I have is that the chair does squeak a little whenever I exit the chair. It's among the quieter ones I've encountered, though squeaking seems to be a problem (of varying degrees of severity) on most budget gaming chairs I've come across.
GTracing Gaming Chair Final Verdict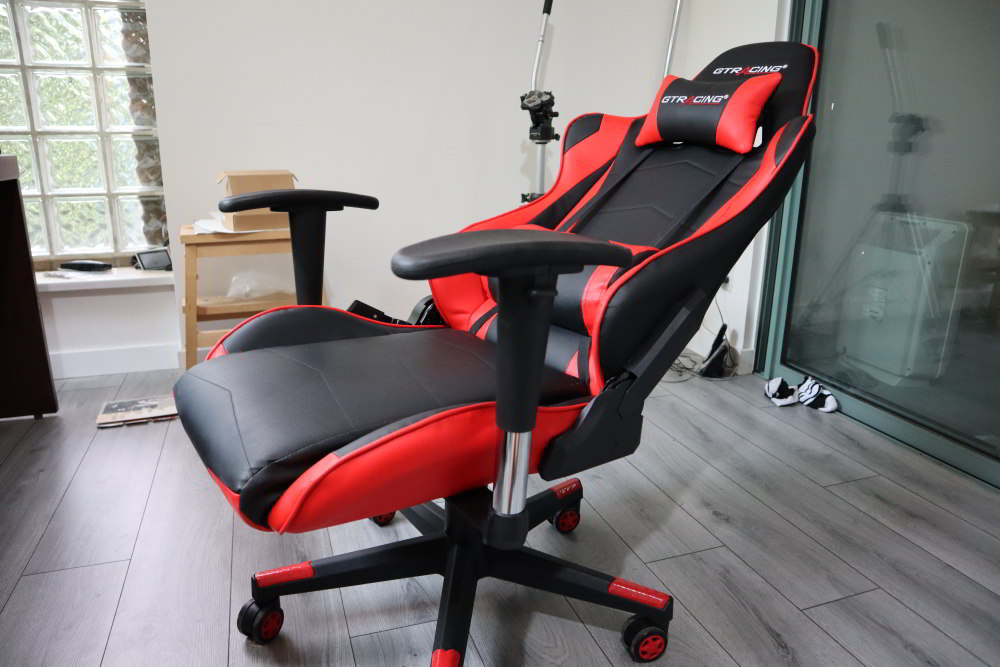 After 14 days with the GTracing, I find myself strangely attached to the chair, despite having right next to it an office chair that cost 3 times as much.
And that's the allure of the GTracing chair- if you're the right body size, it is an extremely comfortable and even fun chair to be in. Of course the chair has its shortcomings, but relative to other cheap gaming chairs, it's a good bet.
Pros:
Robust backrest that tilts and reclines up to 170 degrees
Functional external pillows that are height adjustable
3D armrests that pivot in and out
Comfortable memory foam padding on seat
Cons:
Chair dimensions not suitable for large users
Chair squeaks a little bit
---
Related Reviews