I'll be honest- when I purchased the Homall gaming chair for the purpose of this review, I was expecting the worst. As the cheapest gaming chair we've ever bought ($120 on sale), this wasn't going to go down well. I even came up with the introduction in my head already, starting with something like "You know the saying, you get what you pay for?".
Well, let's just say I was surprised.
In this post, I'll go over my candid thoughts on the Homall gaming chair after several weeks of real life usage, and whom I think should – and should NOT – get this chair. Lets' get rolling.
Overview of Homall Gaming Chairs
Homall is an Amazon exclusive gaming chair brand, meaning they only sell their products through the ecommerce platform. This can be seen as a good thing, as it means they need to be extra sensitive to Amazon shoppers' feedback and reviews to remain viable as a business.
Apart from gaming chairs, Homall also sells other gaming related furniture such as recliners and gaming desks. All of their products are shipped from China as far as we could tell.
Reviewed Item
Homall Classic
Recommended Height: 5'4" - 6'2"
Recommended Height: 5'4" - 6'2"
Recommended Height: 5'4" - 6'1"
Recommended Weight: 200 lbs or less
Recommended Weight: 200 lbs or less
Recommended Weight: 230 lbs or less
Recommended Height: 5'4" - 6'2"
Recommended Weight: 200 lbs or less
Reviewed Item
Recommended Height: 5'4" - 6'2"
Recommended Weight: 200 lbs or less
Recommended Height: 5'4" - 6'1"
Recommended Weight: 230 lbs or less
How We Tested the Homall Gaming Chair
I purchased the Homall gaming chair off of Amazon just like a regular consumer would for the review. Like all of our chair tests, I used the chair exclusively for at least 2 weeks.
Homall Gaming Chair Specs at a Glance
Before getting into all the salacious details, here is a quick glance at the specs for the Homall gaming chair. Note that some are my own measurements to provide the most accurate numbers possible:

Chair height from floor to top of seat cushion: 18″ to 21.5″
Usable seat width and depth: 14.5" x 20"
Backrest height: 32"
90 – 155 degree lockable backrest recline and tilt
Fixed armrests height: 25.5″ to 29.5″
Detachable lumbar and neck pillows
Unit weight: 51.4 pounds
Advertised max weight: 260 lbs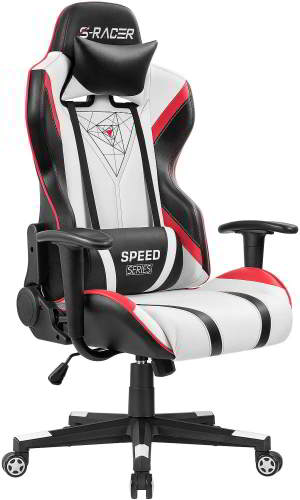 Homall S-Racer Specs Review
At the time of writing, five colors are available for the Homall classic S-Racer model – red, white, black, green, and blue.
Assembly of the Homall Gaming Chair
Putting together the Homall chair was extremely easy due to its light weight. All the pieces could easily be handled by a single person, including propping up the backrest as I fastened it to the seat. The caster wheels also all went into the base with relative ease.
I did run into an issue at this stage however that points to possible quality control issues while simultaneously demonstrating the company's stellar support.
When I tried to attach the backrest to the seat, I noticed – to my horror -that the seat was missing the two screw holes on each side of the seat.
I looked through the packaging and found a support email to reach Homall. To my surprise they responded within just a few hours and offered to send me a new seat. And no, they didn't know who we were or that we're writing a review of the chair.
All ended well on my own however. I could feel the two holes from underneath the leather upholstery, and simply used a screw driver to puncture the seat myself.
Homall Chair Size and Target Audience
Most gaming chairs overstate their maximum weight and size capacity.
The Homall gaming chair is advertised with a maximum capacity of 260 lbs. In reality, the chair's dimensions and materials tell us the real number is around 200 lbs and 6'2″. See the "Build Quality" section below for more details.
The width of the seat discounting the bolsters measures exactly 14.5″ wide. With the side bolsters that number is 20″.
This is on the small size, which is why I feel anyone over 200 lbs will probably be too wide to be comfortable in the seat. Even if the seat was wider, due to the nylon base, I would air on the side of caution against recommending this chair to anyone above that weight.
The seat height range on the Homall chair falls between 18″ to 21.5″ measured from the floor to the top of the seat cushion:
The maximum seat height is actually quite high. Taking into account the modestly sized backrest though, and I'd say the ideal user height for the Homall gaming chair lies between 5'4″ and 6'2″
Features and Adjustments
This is a budget gaming chair after all, and as such it's pretty basic in terms of features.
Backrest tilting and reclining (up to 155 degrees)
Tilt tension control
Tilt can be disabled
Two external pillows
Fixed armrests (not height adjustable)
The backrest tilts around 20 degrees when you apply force, and can be locked. There is a tension control knob below the seat as well. At the loosest setting, rocking the backrest is effortless.
Like most gaming chairs, you can also recline the backrest, in the case of the Homall chair, around 155 degrees back. At the maximum recline angle you can continue to rock the backrest another 20 degrees back if you wish. While this is less than that on the GTRacing chair, practically speaking it's more than enough for me to kick my feet up on the desk and take a quick nap in.
The two external pillows that are included are fairly standard. I like the fact that the neck pillow is attached by going through the cut out in the backrest, which lets me move it up and down a good few inches to provide support where I need it the most.
And finally, we have the armrests, which in fact are fixed and non adjustable. This means the only way to move the armrests up is to increase the height of the chair:
As you can see, the height of the armrests falls between 25.5″ to 29.5″ by changing the height of the seat. At the lowest setting the armrests can go under my standard 29″ tall desk.
So are non adjustable armrests a deal breaker? It really depends. If you rely on a chair's armrests mainly to rest your arms during breaks, looking at your phone, or in a reclined position, then the height of the armrests do not really matter that much.
However, if you use the armrests even while you're working (such as typing or writing), then I'd recommend going for a different chair with adjustable armrests that can be brought up to desk surface level without messing around with the seat height (such as in the GTRacing chair).
For me, the fixed armrests are not a big deal, as I usually scoot the chair slightly under the desk and rest my elbows on the desk when working anyway. So know yourself in that respect first.
How Comfortable Is It?
Regardless of how much money you spent or saved, the first rule of any office chair is that it must be comfortable.
In that respect, the Homall really surprised me.
Let's start with the backrest. It's generously padded, unlike many other cheap gaming chairs where it's basically just a piece of cloth covering the backrest.
The seat cushion was also much better than I expected. It's around 4″ thick, and uses high density foam that feels like it will hold up over time better than that on the GTracing chair.
And finally, the external pillows were decent as well. The lumbar pillow is very protrusive, which is a good thing for people who like a more pronounced back pillow like myself.
In summary, the Homall gaming chair gets a thumbs up from me in the area of comfort, as long as you're an average sized person (< 200 lbs and < 6'2″).
Build Quality
At such a low price, you know some sacrifices had to be made. Still, the overall build quality of the Homall chair surpassed my expectations for such a budget chair.
Structurally the chair feels quite solid. It's on par with the GTracing Chair in that regard.
The seat's padding is especially worth mentioning; it's denser than that inside the GTracing chair, and should keep its shape longer as a result.
Having said that, two things remind me this is a still very much a budget gaming chair. First is the nylon (hardened plastic) base, and the second is the modest Class-3 gas lift (versus Class-4 found even on the GTracing chair). Both parts theoretically can safely support over 300 lbs of weight, but these are just two more reasons why I'm only recommending this chair for people below 200 lbs.
So the takeaway here is that this feels like a solidly built chair and should last a while, but only if you're an average sized dude (or gal).
Homall Gaming Chair Final Verdict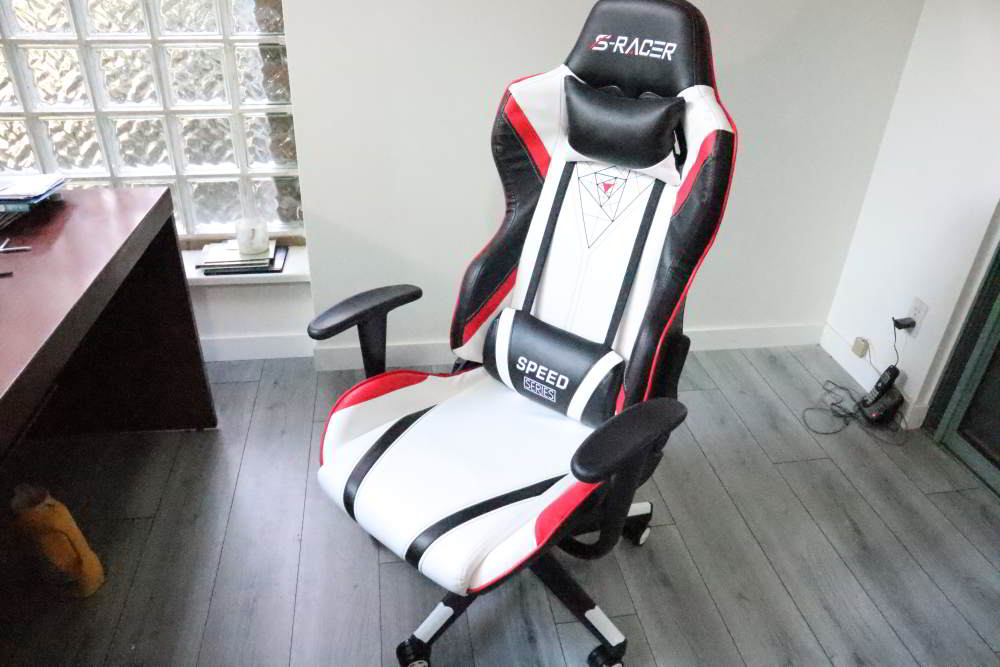 For the right segment of people, you will most likely be happy with the Homall gaming chair. That is, if you're not looking to spend a lot, weigh less than 200 lbs, are shorter than 6'2″, and do not use a chair's armrests that much when typing or gaming. For the price you're paying, it's hard to do better.
For other people, I'd recommend the slightly more expensive GTRacing Chair for better adjustability, and the much pricier Anda Seat Dark Demon if you're a bigger person.
Pros:
Firm yet supportive 4″ thick seat
Thickly padded backrest
Decent build quality
Cheapest gaming chair we've reviewed yet
Cons:
Chair dimensions not suitable for large users
Nylon base and class-3 gas lift not suitable for people above 200 lbs
Chair squeaks a little
Armrests are non height adjustable
---
Related Reviews