Is your office chair sitting too low for comfort? A chair that's not tall enough isn't just uncomfortable, it can lead to postural problems and MSDs over time such as neck and back pain.
In this post I'll show you 7 creative ways to make your office chair higher short of getting a new chair. Some are free, while others are inexpensive relatively speaking.
Tip 1: Replace your Existing Casters with larger 3" or even 4" Casters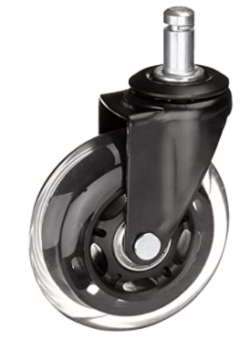 The standard size of office chair casters ranges from 2" to 2.5" in diameter. If your desk sits a little higher, then a simple and inexpensive way to raise your chair is to replace your current casters with larger ones. You can opt for 3" or 4" wheels, which gives you an additional 1" to 2" lift. These extra large chair wheels by Miracle Caster for example are a massive 4″ in diameter.
In addition to providing that extra height, larger casters also roll more freely. Thanks to their larger diameter, they're able to distribute the weight placed on them more easily.
Tip 2: Add a Seat Cushion
An external seat cushion is one of the easiest ways to turn any uncomfortable chair into something bearable. However, another added benefit for shorter people is the extra height it adds to the chair.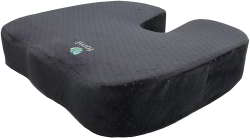 The thickness of the cushion plus density will determine just how high you're able to raise your office chair. The highly rated ComfiLife Seat Cushion. for example is made of gel memory foam and is 2.8″ thick. When you sit on it, you can probably expect around a 2″ height boost depending on your weight.
If you need to raise your seat much higher than that, pick a thicker cushion that's also denser, like the FOMI Extra Thick Seat Cushion. This one is constructed using high-density memory foam, and has a thickness of 3.5 inches. It will give you around 3" of lift.
Tip 3: Replace your Office Chair's Gas Lift Cylinder
Also known as a pneumatic cylinder, a gas lift cylinder is the mechanism responsible for moving your office chair up and down.
The standard length of an office chair gas cylinder is about 5 inches. However, on the market you can find ones that size range from 4 up to 10 inches. Thus, you can always replace your current cylinder with an ultra-tall one to raise your office chair. This Heavy Duty Gas Lift Cylinder gives you a whopping 8 inches of adjustment range.
Replacing a gas cylinder is actually a very simple process. Here are the steps to follow:
Raise the chair to its maximum height, then flip it upside down or place it sideways on a table top.
First thing to do is to detach the cylinder from the 5 star base on the chair. Using a hammer or rubber mallet, strike at the end of the cylinder where it's protruding from the base while holding on to the later. This should separate the two.
Next is to separate the cylinder from the tilting mechanism on the chair. Use a pipe wrench and securely fasten it to the metal portion of the cylinder. Twist it counter clockwise t loosen the cylinder from the tilting mechanism.
All that's left to do is to insert the new cylinder into the tilting mechanism and chair base, and turn the chair back upright.
Tip 4: Use a Drafting Stool Kit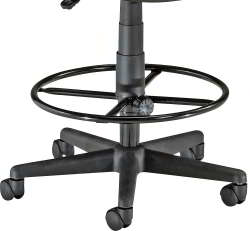 Another way to elevate your office chair is to invest in a drafting stool kit. This toolset gives your old chair the highest lift possible, making it suitable to use with a standing desk.
Most office chairs have a seat height ranging from 16 to 21 inches. By contrast, the height of a drafting chair can go all the way up to 30 inches. This means that with the height-extension kit, you can achieve a lift of up to 9 inches or more.
A good example of such a toolset is the DK-2 Stool Drafting Kit by OFM. It comes with two different size extenders. Thus, you can either extend your chair by 5 inches or completely transform it into a drafting stool using the 9-inch extender.
There's no question that drafting stool kits help you get a substantial amount of lift, which is a plus. However, most of these kits are designed to work with brand-specific office chairs, so keep this in mind when shopping for a suitable extender.
Some DIY Alternatives
If you're looking just for a quick fix to address a sinking office chair cylinder, the following DYI solutions might be worth trying.
Tip 5: Stuff Some Paper Towels Down the Gas Cylinder (No, Really)
As unorthodox as it might seem, stuffing some paper towels into the gas cylinder column actually helps to elevate your office chair. Follow these steps:
Detach the spring section of the cylinder from the column
Fill the column with paper towels. Be sure to compact them so that gas spring does not settle when you fix the chair back together
Finally, put the spring back and you'll notice the increase in height
Tip 6: Use Wooden Blocks as a Platform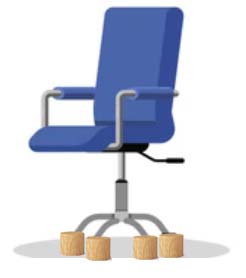 This is similar to tip #1 above, though if you don't wish to spend money on new casters, what you can do is carve out some wooden blocks and use them to elevate the office chair that way.
To do this, remove the original casters on the 5 star base first. This creates a stable, 5 prong platform for you to rest and fasten the blocks to. Then, either tape the blocks to each leg of the base, or better yet, drill holes 11mm in diameter and use bolts to secure the blocks to the base. Here is a video showing this done on desks and chairs.
Tip 7: Add Aluminum Foil to the Base
Some seats ride low because the gas cylinder has settled further into the base. If upon inspection you notice that the cylinder column has protruded below the base, you can use this technique to raise your chair. Follow these steps:
Detach the base from the gas cylinder
Look for an aluminum sheet. Shape it into a cylinder that can fit the hole where the column goes into the base
Line the hole with the aluminum sheet. This will shrink the diameter of the hole. Reinsert the gas cylinder where it should no longer sink due to the aluminum inside the base.
Wrap Up
Maintaining the right posture when sitting at your desk requires balancing several factors, one of which is setting your chair to the correct height. Use the above techniques to achieve this without having toss your precious office chair out.