Sitting for long hours and working is hard enough for healthy people, and it's even harder for people with sciatica. If you suffer from sciatica, learning the proper way to sit can go a long way in relieving the frequent burning, tingling, or numbing sensation you feel.
Read on to learn all the most important things you can do when sitting to lessen the effects of sciatica, plus some of the common misconceptions people have about the condition.
Understanding Sciatica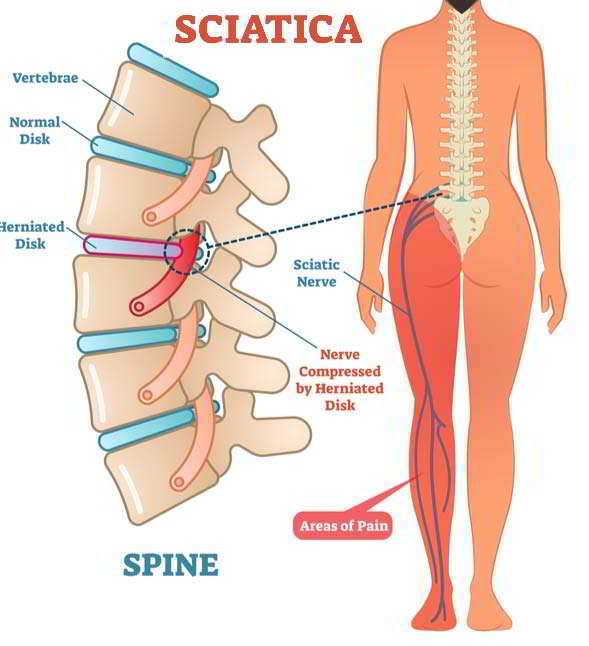 Sciatica is a surprisingly common condition among sedentary adults, yet there is so much false information surrounding it. Often, people confuse sciatica with regular lower back pain.
According to Dr. Jeffrey N. Katz, a professor of medicine specializing in orthopedic surgery at Harvard, people suffering from chronic back pain are at a higher risk of sciatica. The risk is also higher for smokers, obese people and even those who are just sedentary.
Sciatica is a condition that affects the sciatic nerves, the two largest nerves in the human body, that are as thick as your pinky. The nerves start from the lower spine (lumbar) and extend through the entire leg right down to the toes. The function of the sciatic nerves is to relay messages from the brain to the legs.
Sciatic pain happens when the root of the nerves become compressed or pinched. This can happen as a result of other health issues like osteoarthritis. The pain can also affect any part of the leg, as the nerve extends down the entire leg. This includes pain in the lower back, calves and upper thighs.

Sitting With Sciatica
When sitting with sciatica, the goal is to do so in a way that minimizes pressure under your thighs and legs while maintaining a neutral spine.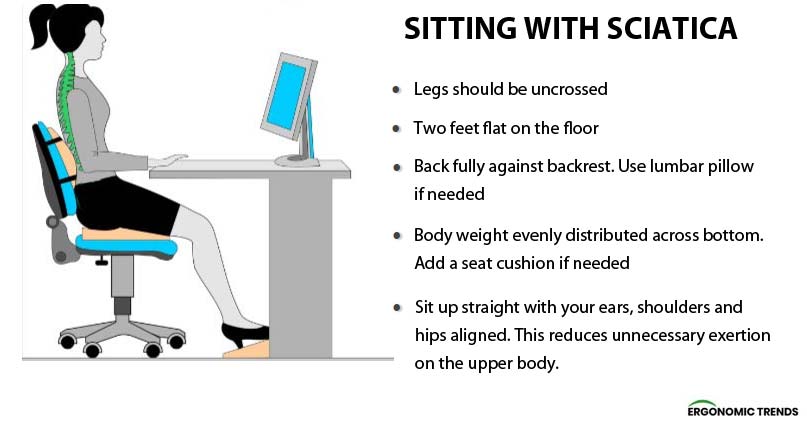 Avoid crossing your legs, as it can impede proper blood circulation.
Make sure both of your feet are planted on the floor to minimize pressure under your thighs. Use a footrest if necessary.
Sit all the way back against the backrest so the weight of your body is distributed evenly across your entire bottom.
Keep your back straight with your lumbar supported to maintain a neutral spine. Use a roll up towel or lumbar pillow if needed.
Check that your body weight is not disproportionately being borne by one side of your bottom or body. Add a seat cushion if needed.
Practice good sitting posture by sitting up straight with your ears, shoulders, and hips in one line. This reduces unnecessary exertion on your neck, chest, and back.
When seated, avoid twisting and turning your body as much as possible. Use the swivel feature on your chair to rotate your whole body in the direction you want.
Here are more things that you can do to relieve sciatic pain:
1. Invest In the Right Chair
Experts agree that what you sit on has as much of an impact as how you sit when it comes to sciatica.
A poorly designed office chair or sofa can exasperate the sensation of sciatica by impeding blood circulation in your limps or encouraging you to slouch or slump. Such poor posture leads to the development of herniated or bulging spinal disc that is one of the main triggers of sciatica.
For sciatica patients, I always advise they look for an office chair that fulfills at least 3 of the following 5 checkpoints:
A seat with a highly contoured waterfall edge.
Adjustable seat depth to ensure there is sufficient distance between seat edge and back of thighs.
A pronounced lumbar support that cradles the lower back
Forward tilting seat to reduce pressure under the thighs
A footrest to support the feet at an elevated position from time to time.
See Also: Best Office Chairs for Sciatica and Best Chairs for Hip Pain
2. Take Frequent Breaks
For sciatica specifically, the pain arises when the nerves are compressed, which can happen after prolonged sitting, regardless of how you sit.
The solution is simple but hard for many people to adhere to – take frequent breaks from sitting. Get up every 45 minutes at a minimum to take a water break or stretch your body.
3. Sciatica Stretches and Exercises
Not all exercises help with sciatica. In fact, some can aggravate the condition.
According to Dr Roy at Advanced Wellness and Rehab, the worst exercises for sciatica are those that overload the hamstrings or require you to lift both legs at the same time. Examples include bent over rows, squats, and double leg lifts.
For sciatica relief, the best exercises are those that stretch the piriformis muscle, loosen the glutes or lengthen the hamstring, one side at a time
Here are 3 of my favorite stretches for sciatica:
3.1 Figure 4 Piriformis Stretch
This is one of the best exercises for sciatica, by targeting the piriformis muscles that lie deep in the bullock where the pain often originates .
To perform the Figure 4 Piriformis Stretch:
Lie on your back with both knees bent and feet flat on the floor. Use a small pillow under your head.
On the side of your body where the sciatica pain is, cross the ankle on that side over to the other knee to form a "4" shape.
Using your hands, pull the knee on the side of the pain towards the opposite shoulder.
Feel the stretch along the entire buttock on the painful side as you hold for 30 seconds.
Release and repeat 2-3 times.
Another variation of the Figure 4 you can do in conjunction with the above is the following:
Start by performing steps 1 to 2 above.
Interlace your hands behind the knee on the non painful side
If you're not flexible enough to get your hands around your knee, use a belt or a resistance band
Pull the knee towards your chest and hold for 30 seconds
Release and repeat 2 -3 times.
3.2 Sciatica Press Ups
Press ups another highly effective exercise for sciatica. It helps take pressure off the sciatic nerve, by lengthening the distance between the bulging discs in your spine.
Lie flat on your stomach on a yoga mat or bed with your arms to your side and close to your ears.
Position your forearms flat on the floor and shoulder width apart.
Push up using your forearms to lift your chest off the floor and arch your back (prone prop). Keep your pelvis glued to the floor.
Repeat step 3, by coming up and down 5- 10 times per session.
If this feels fine, come up on your hands and push up to arch your back even more. Depending on your flexibility, you can straighten your elbows half way (half press up) or even all the way until they are locked (full press up) to deepen the bend.
Repeat step 5, by coming up and down 5- 10 times each session.
Chiropractors recommend doing the sciatica press up routine multiple times a day.
Note: As you arch your back, notice if the pain starts to radiate further down your legs or gets worse. In that case, you're overdoing it. Revert to a milder arch. As Dr Mike Hus explains, after a few stretches, you should start to feel the pain shift from your legs up to the lower back where it is more centralized. This is when you know it's working.
3.3 Seated 4 Piriformis Stretch
The next stretch for sciatica can easily be done sitting down. It stretches the lower back and piriformis muscles at the same time in one fell scoop.
Begin by sitting upright at a chair.
Cross the leg on the side of the sciatica over to the other leg so the former ankle falls on the later's knee, forming a "4" shape.
Engage your lower back and sit up tall. You should already feel a stretch on the side of the hip and buttock where the pain is.
Slowly bend at the hips to lean forward a few degrees while keeping your lower back completely straight. You should feel an even tighter stretch.
Repeat this a few times a day whenever your sciatica flares up.
4. Get Up the Right Way
According to Dr. Stewart Eidelson, an orthopedic surgeon, it is best for sciatica sufferers to avoid bending their lower back when getting up from a chair. Doing so can further irritate the sciatic nerve.
Instead, slide to the front of the seat and use your leg and arm muscles to push yourself up while keeping your back relatively straight throughout.
5. Use Cold or Heat Therapy
Another overlooked way to relieve sciatic pain while seated is to apply a constant source of cold or heat to your lower back area. Dr. Vijay Vad, a sports medicine specialist at the Hospital for Special Surgery in New York advises the use of heat therapy to alleviate lower back pain.
Cold treatment is generally recommended in the first few days of an injury,, such as an ice pack wrapped in a towel. Afterwards, heat therapy works better.
You can buy special heat pads that can be worn under clothing, which can last several hours.

6. Use Lumbar Braces To Limit Spine Movement
Additionally, wearing lumbar braces could also help relieve sciatic pain. Lumbar braces help to stabilize the lower spine, and limit its excessive movement which could compress the sciatic nerve.
Common Questions About Sciatica
What health and lifestyle factors increase the risk of sciatica?
According to Dr. David Petron, a sports medicine physician, anyone who sits for prolonged periods is at risk of sciatic pain —regardless of age. While sciatica can happen to anyone of any age, including college athletes, some people with underlying health issues or even just physical characteristics are at more risk than others.
For example, risk of sciatica increases with a person's height and weight. Very tall and overweight people are more at risk of sciatica, especially men above 6 ft 1.
People with herniated discs, narrowing of the spinal canal or misaligned vertebrae are also at risk of sciatica, because the vertebra can lean forward and compress the nerve. This could be a side effect of another injury or even age. As people age, their spinal discs become weaker due to a loss of water, increasing the risk of sciatica.
According to University of Rochester Medical Center, the following can also put pressure on the sciatic nerve:
Tumors
Nerve disorders
Blood clot
Diabetes
Lyme Disease
Osteoarthritis (narrows the spinal canal at the nerve roots)
Piriformis Syndrome (where the piriformis muscle can compress the sciatic nerve)
Lifestyle factors such as heavy manual labor can also increase risk. If a person is frequently bending their back, lifting heavy weights, twisting and turning, it can increase pressure on the nerve. However, in a lot of cases, an exact cause of sciatic pain can't be found.

What are the signs of sciatica?
Sciatica is not always easy to diagnose because the symptoms can overlap with other health problems. Because the sciatic nerve is also quite a large nerve that runs through the entire leg and lower back, the pain symptoms can vary with regards to where the pain occurs (e.g. lower back, buttocks, calves, upper thighs, etc).
Pain can also vary in intensity. For example, it can feel like an electric shock to some, while feeling like numbness to others. It could be an annoying ache or it could be so severe that it interferes with walking and bending.
Commonly occurring symptoms include:
Weakness or numbness in parts of your lower body
Pain that extends through the lower back and leg (this is different from back pain where the pain just affects the lower back)
Sometimes, the pain can even skip areas. So, for example, someone can have what seems like ankle pain—but that pain actually originates from the sciatic nerve in the lower back.

For an exact diagnosis, a physical exam should be done by a physician. Sometimes, tests for sciatica can also include MRIs, X-rays and EMGs. EMGs look at electrical impulses in muscles and can locate nerve problems. It is extremely important to get any pain checked out by a doctor because sciatic pain can also be due to something far more serious, like a spinal tumor.
How is sciatica treated?
As sciatica has symptoms in varying degrees, treatment options also vary. For some people, sciatica goes away on its own or with some light physical therapy. Others may require more intense options like surgery.

According to Dr. Petron, around 90% of sciatica cases can be treated without surgery. Surgery is usually needed when the sciatica pain is due to an underlying problem like a herniated disc. So, surgery is needed to correct the herniated disc, which will also get rid of the sciatic pain.
Treatment for sciatica includes:
NSAID pain medications like ibuprofen
Steroid pills or injections
Heat or cold therapy
Physical therapy
Surgery to repair herniated disk
Is it bad to exercise with sciatica?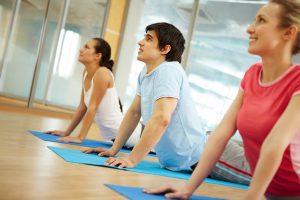 People often believe the myth that exercise is bad for sciatica. While you should avoid extreme twisting, turning or bending movements, it is still important to stay active. In fact, most doctors would recommend a structured physical exercise regimen for sciatica patients.

Bed rest can work for very short periods during extreme sciatica flare ups where every little task is painful. However, staying in bed rest for long periods of time can actually make sciatica symptoms worse. Regular exercise helps to increase muscle and bone strength, which is important in treating sciatica.

When should I see a doctor?
You should consult a physician if you:
Develop lower back pain but also have a history of tumors
Start to feel numbness or intense pain your leg
Pain deters you from doing basic things like walking, sitting or standing
Pain persists after short term sciatica treatment options
Bottom Line
With sciatica, prevention is better than cures. Avoid sitting for long periods of time and take frequent breaks to move your legs. Do frequent stretching exercises for the lower back as well. If you do feel any pain in the lower back or any numbness in the leg, see a doctor as soon as possible because sciatic pain could be a sign of something very serious—such as a tumor.